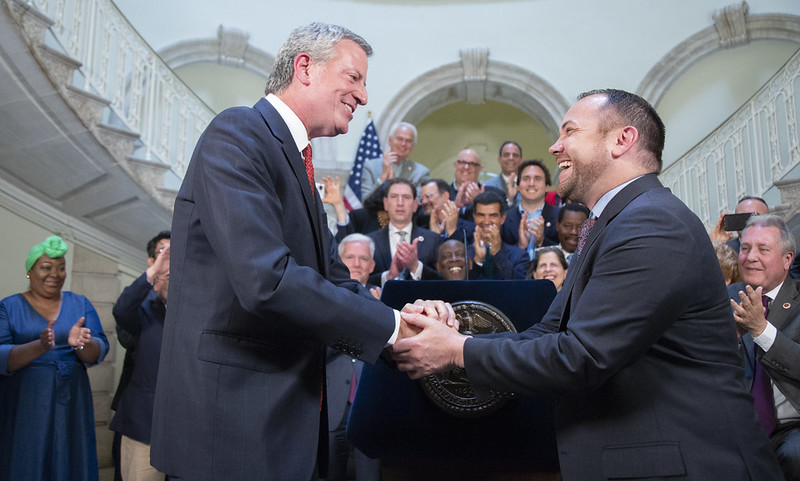 Mayor and Council Speaker in 2019 (photo: John McCarten/City Council)
---
Mayor Bill de Blasio and City Council Speaker Corey Johnson on Wednesday announced an agreement on a $98.7 billion "recovery budget" for the 2022 fiscal year, which begins Thursday.
The budget, the final one for both de Blasio and Johnson as they reach term limits, was $100 million more than the executive budget that the mayor unveiled in April, flush with billions in federal aid that helped the city significantly increase spending. The mayor and speaker announced it from City Hall with the traditional "budget handshake" that they skipped last year as COVID-19 raged through the city.
"This is one of the greatest investments in working families in the history of New York City," de Blasio said at the announcement, an in-person event symbolic of the city's delicate emergence from the pandemic. "We are sending resources to the communities that need them most."
The budget reflects a roughly $26 billion increase over de Blasio's two terms in office, which the mayor defended on Wednesday. "We made it a purpose to redistribute wealth to working people. It's as simple as that," he said. The mayor outlined his "efforts to help working people put money back in their pockets directly" over the last seven years including establishing universal pre-kindergarten and creating his affordable housing program, plus the agreements with the city's many labor unions and expansion of the city workforce. "I'm very comfortable that it worked. It helped the city to move forward. And it helped us address some of the sins of the past and it's stable fiscally, because we've added back to reserves," he added.
Throughout de Blasio's tenure, save last year's pandemic-stricken budget, city revenues have been exceptionally strong amid a powerful overall economy and very low unemployment, allowing city government to spend much more and also be in somewhat stable shape to withstand a major blow. Nothing could fully prepare the city for a near-shutdown of economic activity during a raging pandemic, however.
The new budget agreement announced Wednesday restored many of the cuts that were made last year and invests in public health, education, sanitation, public safety, economic growth, and the city's continuing recovery. It will bring the city's reserves up to $5.1 billion, after depleting much of those funds last year. The reserves include $3.8 billion in the Retiree Health Benefits Trust fund, $993 million in the newly-created rainy day fund, and $300 million in general reserves.
Though there were large budget gaps for future years, of nearly $5 billion by some estimates, the mayor insisted that they will be "absolutely manageable" as he expects revenues to bounce back. There was some indication of that this year as the city saw $2.1 billion more in revenue come in for the current fiscal year than previous projections.
At the announcement, Johnson recounted the budgets passed in the last three years under his speakership. "In the beginning we were fortunate to be in a time of prosperity for our city," he said. "Last year we were dealing with a devastating economic crisis brought on by a global pandemic, and this year we are supporting a city reopening and recovering from unimaginable loss. But through it all, we remain committed to equity, to protecting our social safety net, and to doing the most good for the people who need it the most."
More than half the budget accounts for personnel costs covering salaries and wages, pensions and fringe benefits. The two city agencies with the highest expenditure are the Department of Education, with a budget of nearly $29 billion, and the NYPD, which will be funded at roughly $5.3 billion.
The budget takes specific aim at education issues created or exacerbated by the pandemic through a Universal Academic Recovery Plan. This year, the city will fully invest in fair student funding, bolstered by the new state education budget which meets the Campaign for Fiscal Equity settlement for the first time.
The budget will also expand the mayor's free 3-K for All initiative, working towards a universal program by the fall of 2023. And it includes other investments, which were first announced in the executive budget, to provide social emotional learning in schools and at least one social worker in every school, increase funding for special education, expand early childhood special education, fund summer youth employment and a newly created Summer Rising program.
The budget agreement comes in the wake of a spike in shootings and homicides that began last year and has continued into this year, making public safety a top concern for New Yorkers and influencing a perception of worsening disorder even though the major crime rate has fallen overall. While last year there was a contentious budget process with disagreements over "defunding the NYPD" during widespread Black Lives Matter protests, no such debate unfolded in any prominent way this year and the next adopted budget will increase police funding by about $200 million.
"We all know the way to recovery is through public safety," de Blasio said. "I keep saying it and I believe it."
The budget also includes funding to reduce incarceration and targeted investments against gun violence through community programs. There is $24 million in funding for a Precision Employment Initiative, aimed at hiring 1,000 at-risk New Yorkers in Mott Haven, Brownsville and South Jamaica. Another $57 million will help provide reentry housing with supportive services, for New Yorkers leaving the justice system. The administration will spend $6.6 million to expand the "Jails to Jobs" program for formerly incarcerated individuals and another $5 million on a peer mentorship program. Another $6 million will be invested in the Crisis Management System's Hospital Violence Intervention Program and $6 million will help expand the CMS system to the 40th and 44th Precincts in the Bronx.
The budget also includes varied streams of funding, all aimed at encouraging the city's revival, ameliorating the many consequences of the pandemic, and generally improving city services. It puts $30 million towards boosting tourism, lifeblood of the city's economy. It provides grants and low-interest loans to small businesses which have been decimated over the last year, as well as $11 million for NYC Business Quick Start, which will help small businesses navigate city regulations. It funds a new City Cleanup Corps of 10,000 people, who the city is already in the process of hiring.
"We're gonna once and for all win the battle against covid, that is job one," de Blasio said, "and then take the lessons we've learned and establish New York City as the public health capital of the world. We're going to bring our economy back, bring our small businesses back."
The budget attempts to tackle the city's racial wealth gap through the new Juneteenth Economic Justice Plan, which includes $15 million for Universal NYC Baby Bonds, which will give all kindergartners a college savings account with at least $100, $4 million for four-year CUNY Scholarships for Black and low-income students, and $500,000 for paid internships for students at Medgar Evers College.
It also invests resources in career pathways for college students and graduates. With $6.5 million in funding, the Department of Small Business Services and CUNY will partner to train about 1,000 people for jobs in high demand. Another $4 million will go to the Advanced Manufacturing Career Collective, to train about 400 students in its first year for manufacturing jobs.
Comptroller Scott Stringer praised the budget agreement, though he noted that many of the new programs are funded with the one-time infusion of federal funds and urged the administration to continue to find ongoing savings. "This budget is our opportunity to lay the foundation for New York City's recovery from one of the most challenging periods in our history," Stringer said in a statement. "We must make sure the building blocks of that foundation are sound so that we not only rebuild, but build a stronger and more equitable city for all New Yorkers."
While giving the mayor and Council some credit for investments in a recovery agenda and putting some money into the new rainy day fund, nonprofit watchdog Citizens Budget Commission criticized a lack of planning ahead in the new budget. "[T]he agreement largely misses a golden opportunity to stabilize the City's finances in the long run, which is critical to addressing future New Yorkers' important needs," said CBC President Andrew Rein, in a statement. "Despite fiscal year 2021 tax revenues being $2.1 billion more than previously expected and $15 billion in additional federal aid, the budget hamstrings the next Administration with sizable future budget gaps, plus looming fiscal challenges when federal funds are depleted, and labor contracts are negotiated."