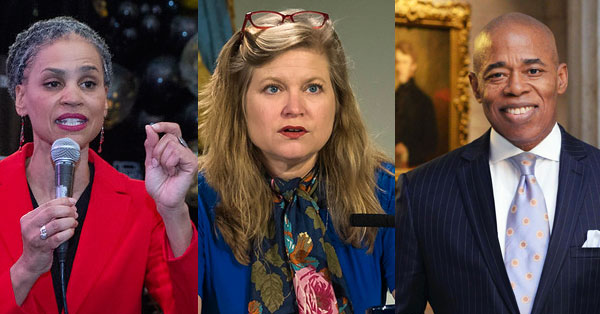 Maya Wiley, Kathryn Garcia, and Eric Adams
---
The New York City Board of Elections on Wednesday released a corrected tabulation of preliminary, unofficial ranked-choice votes from the June mayoral and comptroller primary elections, a day after an initial release that included erroneous numbers.
On Tuesday, the BOE published an unofficial tally that included roughly 135,000 more ballots than were cast by primary night. The extra ballots were said to be left over from a test run prior to what was supposed to be the initial RCV runoff count of in-person votes, an error for which the BOE subsequently apologized as it took down the tabulation.
"Yesterday's ranked choice voting reporting error was unacceptable and we apologize to the voters and to the campaigns for the confusion," said BOE President Frederic Umane and BOE Secretary Miguelina Camilo, in part, in a Wednesday statement. "Let us be clear: RCV was not the problem, rather a human error that could have been avoided. We have implemented another layer of review and quality control before publishing information going forward."
[Board of Elections Sows Chaos in Mayoral Race with Errors in First Unofficial Ranked-Choice Count]
The new tally of roughly 820,000 votes cast by Democrats in the citywide primary does not include about 120,000 absentee ballots that will be counted over the next week. The results in the updated count were still roughly similar to those presented by the erroneous tabulation.
In the Democratic mayoral contest, after nine rounds of ranked votes counted, Brooklyn Borough President Eric Adams emerged with 358,521 votes, 51.1%, and former sanitation commissioner Kathryn Garcia came out in second with 343,766, 48.9%, after all other candidates were eliminated and non-exhausted ballots transferred, a difference of just 14,755 votes. In the next-to-last round, Garcia edged out former mayoral counsel Maya Wiley by just 347 votes, meaning that absentee ballots could easily change either of the final two rounds.
Once the absentee votes are counted and added to the in-person votes, the Board will re-run the final ranked-choice runoff, expected the week of July 12. (There is expected to be at least one other unofficial RCV runoff next week.)
"Our campaign was the first choice of voters on Election Day and is leading this race by a significant margin because we put together a five-borough working class coalition of New Yorkers to make our city a safer, fairer, more affordable place," read a statement from the Adams campaign. "There are still absentee ballots to be counted that we believe favor Eric -- and we are confident we will be the final choice of New Yorkers when every vote is tallied."
Garcia was similarly confident about absentee ballots, though there are indications they might favor Adams. "While we remain confident in our path to victory, we are taking nothing for granted and encourage everyone to patiently wait for over 124,000 absentee ballots to be counted and included in the ranked choice voting tabulation," Garcia said, in part, in a statement. "Every vote is important and deserves to be counted."
Wiley was eliminated in the eighth round where she had 226,575 votes or 29.5%, just behind Garcia, who had 226,922 or 29.6%, results that will change, at least in raw numbers, when absentees are tabulated and another runoff tallied.
Wiley, in a statement, insisted the race was "wide open" and called on the BOE to count votes "in an open way" to ensure confidence in the count. "We have made tremendous strides in making it easier to vote. Now residents deserve to have full faith in how our elections are administered," she said. "New Yorkers expect and deserve a transparent process and that every single vote is accurately counted - our democracy will be the stronger for it."
In the Democratic comptroller primary, Brooklyn City Council Member Brad Lander had a strong lead on primary night from the in-person votes. In the initial unofficial RCV count, he comes out on top in the tenth round with 296,081, or 51.9%, with City Council Speaker Corey Johnson just behind with 274,949, or 48.1%, a deficit of 21,132 votes.
"After yesterday's debacle with additional test ballots, the NYC Board of Elections' new run at a first tabulation of the ranked choice vote allocation shows that Brad Lander continues to lead the race for NYC Comptroller by 3.8%," said Chris Walsh, Lander's campaign manager, in a statement. "We look forward to every vote being counted and continue to be confident that absentee ballots will widen Brad's lead.
Though there are several close races for borough president and many for City Council, and the BOE has yet to release any RCV tallies for them, though the initial unofficial runoffs are expected on Thursday or Friday.