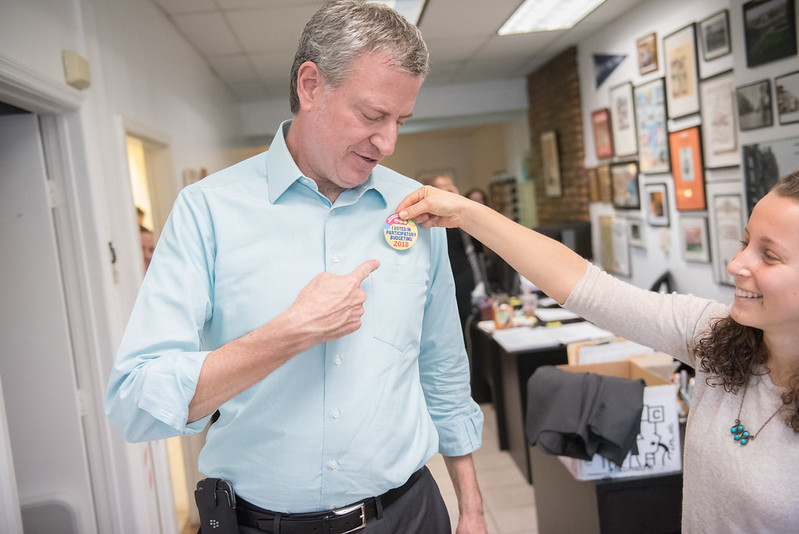 Mayor de Blasio votes in participatory budgeting in 2018 (photo: Michael Appleton/Mayor's office)
---
When New York City voters approved the creation of a Civic Engagement Commission (CEC) in 2018, one of the only defined mandates for the new body was to set up and run a citywide participatory budgeting program. But due to pre-pandemic delays as well as the impact of COVID-19 on the city, the commission has yet to establish such a program, well after its deadline to do so.
Participatory budgeting (PB) is a process through which residents and communities determine how a certain amount of public money is spent. There has been a voluntary participatory budget run by members of the City Council in their individual districts for many years.
A charter revision commission empaneled by Mayor Bill de Blasio recommended the creation of a civic engagement commission, and the proposal was put on the ballot for the 2018 general election. New Yorkers approved the measure and voted to establish the CEC as a 15-member commission. It is tasked with enhancing participation in local democracy through several projects, including a citywide PB program, improved language access, and has a broader mandate to suggest and create other initiatives.
Now, in August 2021, the CEC is just beginning to receive PB funding, but not enough to fulfill its citywide responsibility as outlined in the charter change.
"By the next year, July 2020, the CEC will need to be ready to implement citywide participatory budgeting," said Dr. Sarah Sayeed, chair and executive director of the CEC during its first public meeting in May of 2019. In a memo put out in February 2020, members of the commission in partnership with multiple advocacy groups requested at least $500 million be allocated in the mayor's next budget plan for the fiscal year beginning July 1, 2020.
But soon after the CEC's first meeting, COVID-19 ravaged the city, killing thousands, shutting down much of the economy, and creating a fiscal crisis. The City Council suspended its participatory budget programming and Mayor de Blasio did not allocate new funding for the CEC, as Gotham Gazette reported in February 2020.
Though the CEC's website acknowledges its promise to "run a citywide participatory budgeting program," there is no current mention of any progress toward that goal.
The commission has launched PB on a smaller scale, through the youth-driven project known as "Our Money." That $100,000 project, which used money the CEC already had available, targets communities disproportionately impacted by COVID-19. After several rounds of youth voting, it will fund five $20,000 community-based projects.
"This innovative program will put NYC youth at the center of our city's participatory process in a way that is safe and interactive," said Dr. Sayeed, in a press release in November 2020.
The CEC also plans to implement a larger-scale participatory budgeting project targeting 33 neighborhoods hardest hit by the pandemic. "The Mayor is investing $1.3 million of expense funding or $40,000 per neighborhood towards this process," said Daniel Abramson, Director of Intergovernmental Affairs & Communications for the CEC, by email. He did not show where in the city budget this money is coming from.
Since its establishment, the CEC has also launched an interactive website for participatory budgeting project ideas, which has over 3,000 accounts now registered. It has engaged over 2,000 youth through the "Our Money" Program, the first PB program to be hosted in the U.S. on an open source digital engagement platform called Decidem.
"Each participatory budgeting process will continue to build off of the infrastructure and lessons of the last, as we work towards a Citywide participatory budgeting program," Abramson added.
While they continue their PB efforts, the CEC is also working on other projects. They have continued their language access program, and are currently in the process of contracting professional vendors to provide poll-site language interpretation. In early June 2021, they created the "People's Bus," a community center on wheels set out to promote civic engagement. The CEC is also partnering with the Mayor's Taskforce on Racial Inclusion & Equity in an effort to reduce equity gaps in communities of color.