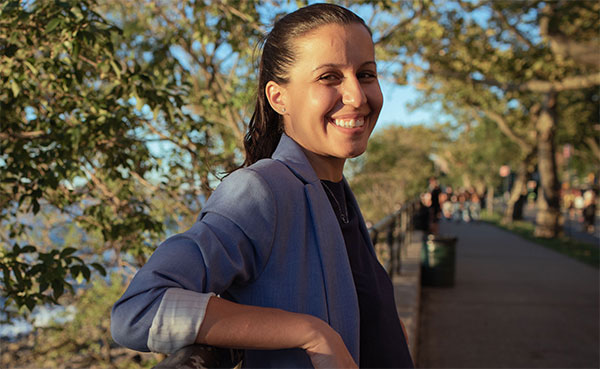 Tiffany Cabán (photo: cabanforqueens.com)
---
Tiffany Cabán, one of the city's most prominent leftist leaders and the recently-victorious Democratic nominee for City Council in Queens' 22nd District, says that no other profession could have prepared her for politics more than her seven years as a public defender.
And as Cabán, who must still win the general election in which she is heavily favored given the district's overwhelming Democratic voter enrollment advantage, eyes joining the City Council and making an impact there, she is reflecting on her strengths and priorities, and outlining some of the strategies she is employing.
"We may not have agreed on much of anything on one side of the aisle, between me being the defense attorney and their being a prosecutor, or even the person on the bench, but you trusted me," Cabán said in an August 3 appearance on the Max Politics podcast. "You respected me. You knew I was going to communicate with you."
Cabán joined the podcast, hosted by Ben Max of Gotham Gazette, to discuss her political journey and primary win, her policy and budget priorities as a likely future City Council member, how she's working to build leftist political power in the city, and more.
Cabán surged into the public eye two years ago in the 2019 Queens District Attorney Democratic primary race, where she nearly upset eventual winner Melinda Katz, who prevailed in a recount. The near-win and shockingly strong performance helped turn Cabán into a leading figure of the city's Democratic Socialists of America branch and fueled speculation about what she would run for next, which turned out to be City Council, in a district including Astoria and Long Island City that has become a hotbed of leftist activity.
After the district attorney race, Cabán went on to engage in political organizing on the national, state, and city levels with the Working Families Party, before launching her campaign for City Council. "The relationship building never stopped," she said on the podcast. "I remained very present, involved in my community, continuing to do the work that I did…I am really proud of the fact that actually, in a lot of ways, we performed better than we did in the DA race and it showed a progression of how many more folks we were connecting with and having conversations with."
Cabán said that she knocked on an average of 800 to 1,000 doors a week during the campaign. "My philosophy in all of the work that I do is that I'm going to come in at it from a place of genuinely wanting to work hard with and for folks," she said. "And that nobody is going to out-work me. Period."
Cabán went on to win over 93% of the election districts in the Democratic primary race. Her victory gave her a clear mandate from her community, she said, on what they want her to fight for at City Hall, assuming she wins the general election. With that major Democratic enrollment advantage in the district, Cabán is expected to best Republican nominee Felicia Kalan and independent candidate Edwin DeJesus Jr. The district is home to 101,328 enrolled voters — including 65,612 Democrats, 9,763 Republicans, and 22,609 party-unaffiliated voters.
In conversations with voters during the primary, Cabán said she emphasized public safety and climate above all else, but that many other issues are of clear importance and interconnected. Her one takeaway from these door-to-door conversations was the falsity of the notion that average people cannot understand and engage in conversations about environmental justice, she said.
"It's such nonsense," Cabán said. "At every single door, we talked about the high asthma rates here, people connecting them to the power plants in our district. If they didn't know that another power plant was about to come, and we were the ones to tell them, they immediately wanted to know what we could do to stop it and what the alternatives were."
Discussions about public safety, according to Cabán, were strongly focused on how disproportionate resources are for those workers who hope to create substantial change in communities. "The conversation around public safety was very firmly rooted in budget justice and having meaningful conversations about what actually produces safety in our communities," Cabán said.
Cabán has been an ardent advocate of the "Defund the NYPD" movement and describes herself as a police "abolitionist." But, even if not everyone readily supports divesting from the police budget and removing NYPD from certain responsibilities, Cabán hopes to fight for policies that most people can agree on, such as building up more community resources or altering some of the response to certain public safety issues.
"That building up, that creation, most folks agree with," she said. "If you don't really support defunding the police but you do believe that mental health issues shouldn't be criminalized, that we need to expand health and hospitals, that we have to have more clinics that can provide comprehensive care, all those things, that's part of my public safety plan, right? In my mind, we are successful if the order, or the trajectory of progress, is that we build up those systems of support."
Though Cabán pledges that her ultimate goal is abolishing the police, she made clear that this is a long-term vision and portrayed herself as pragmatic.
According to Cabán, since there cannot realistically be a world of complete nonviolence, there must be infrastructure and processes available to respond to, prevent, and change violent behavior and exponentially reduce the chances that perpetrators will harm again and victims will harm others. Incarceration, she said, does not achieve this goal.
"What I like to remind people is that abolition is both a noun and a verb, so 'abolition' the noun is that world without the prison industrial complex, right, without police and prosecutors and prisons," she said on the podcast. "But 'abolition' the verb is about taking steps towards creating a health infrastructure. It's about taking steps towards creating systems of accountability, not systems of punishment."
The answer to combating violent crime without police, Cabán said, lies in violence interruption programs. These programs, such as Cure Violence and 696 Build Queensbridge, are incredibly effective at reducing gun violence, she said, but they need to be fully invested in.
"There comes a point when they make the case in their catchment area that you cannot deny these results," ​​she said. "It's so much more effective than policing ever was, ever could be, at interrupting and preventing the gun violence. And they'll ask for more money because they want to expand their catchment area. They, consistently, will never get a proper amount of money."
She said that the next city budget, which she hopes to help negotiate in the Council, should cut "upwards of $2 or $3 billion" from the police department. She said that the movement should not be so focused on a number, but making the argument around what works and what doesn't, and funding for "the best public health and public safety outcomes."
Though other Council members and the likely incoming mayor, Democratic nominee Eric Adams, may disagree with her on a variety of issues, Cabán said she understands the importance of finding common ground.
"Eric Adams has made it clear, for example, that his goal is to make sure that we have an equitable recovery from the pandemic," she said. "There is no doubt about the fact that Eric Adams cares for Black and brown and low-income New Yorkers. We may disagree on strategies for how to better care for our neighbors, right, for our constituents. But I think it's pretty clear that the desire is there."
Cabán pointed out potential areas of concern about a Mayor Adams when it comes to policing, saying she wants to ensure there's no return of the plainclothes "anti-crime" unit or increase in the use of stop-and-frisk.
The characterization that she is some kind of political bomb-thrower, Cabán said, couldn't be further from the truth, and she is always ready to listen to people, meet them where they are at, and try to find common ground.
One policy that Cabán indicates she has no intention of compromising on, however, is the construction of new jails in the city. In 2019, the City Council passed a plan to close the jails on Rikers Island and build four borough-based jails, one in each borough but Staten Island, with some replacing current jail facilities.
"No new jails," Cabán said. "That is firmly where I stand. I think that every penny we put into our prison industrial complex is one that absolutely should be spent on providing care and support in our community. Again, they produce better outcomes."
Something that people may not know about District 22, Cabán said, is that it includes Rikers Island.
"We have spent a lot of time debunking a lot of the myths around who's on Rikers Island and who isn't," she said. "We know that the majority of people on Rikers Island are people who are there because they can't afford their bail. And, you know, if they had enough money, they'd be able to fight their case from the outside—they're presumed innocent."
Other portions of the population on Rikers include those who are serving short jail sentences for technical offenses and misdemeanors that are rooted in public health issues, she said. These offenses are grounded in the criminalization of poverty, mental health, and substance use, according to Cabán.
"When you build jail cells, you fill them," she said. "The more that we allow this system to catch all of our societal problems and ills, the less reason or room there is to create real, long-lasting solutions."
"No," Cabán said when asked if she is running to be the next City Council speaker, an internal race among the next class of 51 Council members to lead the legislative body, but that she is working to get to know her likely future colleagues and build political power to help select a leftist speaker.
She also noted that because the District 22 seat is currently vacant after the resignation of former Council Member Costa Constantinides, who took a nonprofit executive job, she could be seated in November or December if she wins the general election and once the results are certified.
[Listen to the full conversation on Max Politics: Tiffany Cabán Heads Toward the City Council]