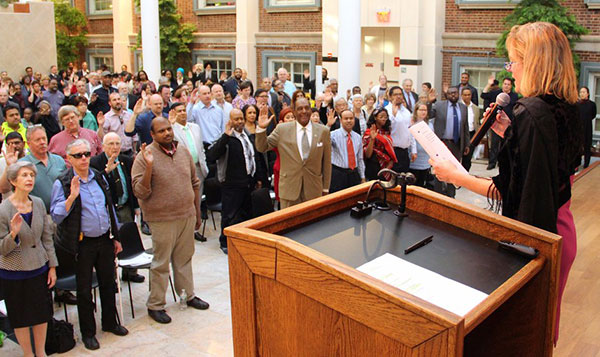 Queens Borough President Katz swears-in community board members (photo: @QueensBPKatz)
---
Uncontested for seven terms spanning more than a quarter-century, Queens District Attorney Richard Brown has hung back while his counterparts in Brooklyn and Manhattan join a growing national conversation about criminal justice reform and the power of prosecutors to decarcerate jails. While the retiring Brown is a "dear friend," former New York Appeals Chief Judge Jonathan Lippman told Gotham Gazette recently, "it's time for a new prosecutor with new, up-to-date modern views."
Answering that call, six of seven announced candidates in the upcoming Democratic primary are campaigning as the best progressive reformer for the job. Even the exception, self-described "middle of the road" attorney Betty Lugo, has aligned herself with the pack in promising fewer low-level prosecutions and condemning a surge in Immigration and Customs Enforcement (ICE) arrests outside Queens courts.
The June 25 election will almost certainly determine Brown's successor and reset the prosecutorial tone in a vast, diverse borough of more than two million residents. "We're really looking for someone who works with the community and understands that we're in a new era. We're no longer in a tough-on-crime, war on drugs era," said 18-year-old Andrea Colon, a member of the Rockaway Youth Task Force, one of several criminal justice and immigrant rights groups demanding change in the office.
But Queens is an ideological patchwork. "It's an older voter, especially out east where it's more suburban," said one party insider, who requested anonymity in order to speak freely. "They don't like people who jump turnstiles. They don't want people smoking [marijuana] on the streets." Former Queens Supreme Court judge and county prosecutor Greg Lasak, who's pitching himself as the only candidate who can properly balance public safety with reform, has endorsements and donations from a number of law enforcement unions, including court clerks and officers. He's leading in funds raised for this race, with more than $800,000 to date, but trails Borough President Melinda Katz and City Council Member Rory Lancman in money available given their resources from prior campaign accounts.
Conversations with each candidate -- prosecutors Jose Nieves and Mina Malik and public defender Tiffany Cabán round out the field -- reveal real differences: on prosecutorial priorities and experience, as well as how they view the scope of the job. Now that the term progressive has wide application, says Steve Zeidman, director of the Criminal Defense Clinic at CUNY School of Law, "we have to push and get into the fine print."
Prosecutorial Differences
Katz and Lancman are both established politicians with law degrees, strong name recognition in the borough, and early fundraising success. Both formerly served in the state Assembly. "I think there needs to be a change in focus in the DA's Office," Katz told Gotham Gazette, outlining her plan for new bureaus focused on immigrant rights, housing fraud, and worker rights.
But Katz -- who recently won the endorsement of the Queens County Democratic Party -- has proposed narrower prosecutorial reforms than most of the pack, pledging along with Lasak only to decline to prosecute marijuana possession cases. By contrast Lancman, Cabán, Malik, and Nieves have all outlined do-not-prosecute lists including fare evasion, drug possession, and prostitution -- in the style of recently-elected reform district attorneys like Larry Krasner in Philadelphia and Rachael Rollins Boston.
Judge Lippman told Gotham Gazette that though he doesn't typically endorse candidates, Lancman, the first candidate to enter the race, "was always the first one to be there to generate support for a new view for criminal justice." But the City Council member has lots of company now. He, Cabán, and Nieves have all pledged to never request cash bail, on the grounds that it perpetuates racial- and class-based inequities.
Four of the candidates -- Malik, Nieves, Lasak, and Lugo -- tout their prosecutorial experience. Malik, who is originally from Queens, served most recently as a deputy for the District of Columbia Attorney General. She also helped the late Brooklyn DA Ken Thompson implement a policy for fewer marijuana prosecutions. Like Lasak, she's served in the very office she's running to lead. "Queens deserves someone who can come into the DA's office, know from day one how it operates," Malik told Gotham Gazette.
Nieves, meanwhile, emphasizes his recent experience prosecuting police officers at the state attorney general's office and holding "the system itself accountable."
Cabán's status as the only public defender in the race, most recently with New York County Defender Services, has won her endorsements from ascendant groups on the left. "Her ultimate responsibility is to the public and that's what it's always been," said Zohran Mamdani, an electoral organizer with the Queens branch of the Democratic Socialists of America.
Addressing a crowd of supporters in Jackson Heights this month, Cabán said she'll fight for defendants, not convictions. As a queer Latina from a low-income family, she relates to the challenges her clients face. "For me, my decision to run in this race very much so feels like the natural progression of my advocacy for my clients," she said.
How the candidates approach the prosecution of violent crimes, from murder to burglary, is another useful differentiator. Most say that fewer misdemeanor cases will free up resources to prosecute violent crimes. In endorsing Lasak, Glen Damato, president of the New York State Court Clerks Association, praised "his work putting away Queens' most violent criminals and his compassion in exonerating the wrongfully convicted."
When Katz was a child, a drunk driver struck and killed her mother. She said that if she's elected district attorney cases involving intoxicated driving are going to be prosecuted "to the fullest extent of the law, in my administration." She said life sentences can be justified "on a case by case basis" while Lancman, Nieves, and Cabán say they'll never request such a sentence.
Cabán has been most vocal about a less punitive approach to violent crime. She says her father, a retired elevator mechanic, has struggled with alcoholism and that her grandfather, a veteran with PTSD, was abusive. Incarcerating people for repeat violent behavior "is not changing the behavior," Cabán said, calling for a shift in funding towards alternatives such as mental health services. "Sometimes that means showing compassion for someone who does harm."
Race Strategy
Increasingly, district attorney candidates are expected to weigh in on political debates outside the courtroom. Lancman and Cabán, for example, have promised not to join the statewide district attorney association, which has recently lobbied against pretrial reforms currently up for consideration in Albany, like open file discovery and the elimination of cash bail.
Everyone but Lasak, who declined to weigh in, told Gotham Gazette they support the city's commitment to close the jails on Rikers Island. Cabán and Nieves have taken this a step further, saying they oppose replacing them with new or revamped jails across the city. "I don't think we need 40-story super structures to house more people," Nevies said. "I think we need less people incarcerated."
Cabán is also refusing corporate donations: a position that aligns her with other DSA-endorsed New York candidates like Congressional Rep. Alexandria Ocasio-Cortez and Cynthia Nixon, who ran an unsuccessful 2018 Democratic primary challenge to Governor Andrew Cuomo. Doing so, Cabán says, will reassure Queens residents that she's not afraid to prosecute landlords or employers accused of wage theft.
Lancman is dismissive of the stance. "I am not bringing a knife to this gun fight," he scoffed. "I am not in this race to lose but claim a moral victory and then see black and brown people terrorized."
Voters are also considering candidates' proximity to the Queens County Democratic Party. Its endorsement of Katz is bad optics for both, according to Jesse Rose, founder of the New Queens Democrats, a progressive civic engagement group that has endorsed Cabán. "It was just absurd to me," he said. "They didn't have a forum. They didn't have a vetting process. They didn't ensure that there was transparency in any way." (The party did not respond to a request for comment, but has defended its process to the Queens Daily Eagle.)
The dynamic isn't a major concern for Lugo. A singer by hobby, she says she even performed the traditional Irish ballad Danny Boy at a recent county party dinner. "I think had they interviewed me they would have found me the most qualified, but it is what it is," she said.
But Katz, who has won two borough-wide elections, seems to be downplaying her endorsement. She plans to implement a grassroots strategy with "a volunteer army knocking on doors," according to Doug Forand, a campaign advisor with Red Horse Strategies. "She'll be reaching out broadly, and engaging the newer voters who are bringing new energy into Democratic primaries, and we look forward to earning their support."
The groups already rallying around Cabán have proven formidable in this realm, knocking on doors for Ocasio-Cortez and, more recently, protesting the ill-fated Amazon campus in Queens. "I wouldn't be surprised if their activity [and] endorsement means something considerable, even in Queens, which still has conservative areas," said Baruch College political scientist Doug Muzzio.
Regardless of who wins in June, advocates are hopeful that this election will increase awareness across the borough that district attorneys are powerful, and elected by their constituents.
"This not about winning an election," explained Alyssa Aguilera, co-executive director of VOCAL-NY, a nonprofit that works on criminal justice reform, among other issues. "It's about, how do you get into the public narrative and get people in Queens talking about criminal justice reform, the power of prosecutors, and how you hold them accountable?"
Gotham Gazette is cosponsoring a candidate debate on March 12 at 6 p.m. RSVP here.
Note: soon after this article was published, DA Brown announced that due to health issues he would be stepping down as district attorney effective June 1. His chief assistant, John M. Ryan, will run the office in his absence.
Correction: this article has been updated to clarify that Lasak leads in funds raised for this race, though he does trail Katz and Lancman in funds available.