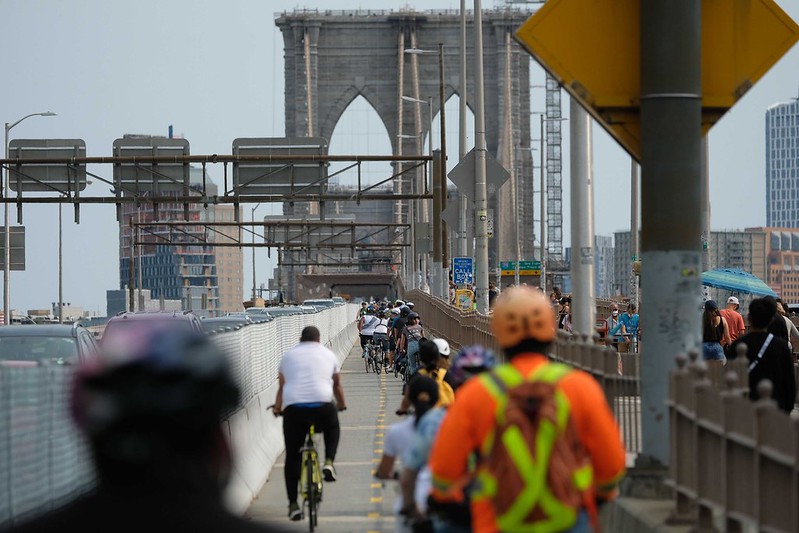 The new Brooklyn Bright bike lane (photo: Ed Reed/Mayoral Photography Office)
---
The administration of Mayor Bill de Blasio is putting the final touches on its efforts to combat climate change and create a more sustainable city, with significant short- and long-term challenges at play, major decisions to be made in the mayor's final months in office, and questions about its policy choices.
Ben Furnas, the director of the Mayor's Office of Climate and Sustainability, points to key accomplishments of the last several years as well as new announcements and upcoming areas where the de Blasio administration is looking to make progress before handing over the reins to the next mayor on January 1.
Furnas recently appeared on the Max Politics podcast from Gotham Gazette at the end of Climate Week 2021 to discuss the administration's policies — some of them landmark achievements like regulations around harmful carbon emissions from big buildings, a leading polluter — and what comes next.
Furnas explained that his office is dedicated to fundamentally changing the city by examining where New Yorkers use fossil fuels and contribute to global warming and enacting policies to reduce carbon emissions from buildings, transportation, waste management, and other key sectors in the discussion. He said that addressing climate change writ-large includes tackling immediate issues like air quality and use of public space, touted some of the administration's top programs to create a more livable city now and for years to come, hinted at some of what might be coming in these final months of the administration, and discussed big picture goals that the next mayor should take on.
Two big goals that the city has already set: making New York City carbon-neutral by 2050 and powering all of the city government's electricity needs with renewable energy by 2025.
Furnas pointed to the importance of Governor Kathy Hochul's September 20 announcement that the state awarded contracts to build new transmission lines delivering clean energy from Upstate and Canada to New York City. He said that this influx of wind, solar, and hydropower will provide 100% of the city government's electricity needs, especially making a difference for communities adjacent to power generation sites. The de Blasio administration has pledged to have all of city government powered by clean energy in the next four years.
"Climate is an existential generational crisis facing us all," Furnas said, adding that "environmental justice" is one key "imperative that drives us."
"It's this concept that we can be using climate action and sustainability action to improve the lived experience of folks in neighborhoods that might have traditionally been left out both of a lot of the planning processes and have environmental outcomes that are not where they need to be — the air is too dirty, there's too much exposure to either hazards or infrastructure that they don't appreciate having to live nearby," Furnas told host Ben Max. "And there's obviously a really sour and bleak history of the racial dynamics of a lot of these things so this is the desire to have our sustainability and climate action both be improving our city for the future but also correcting inequities in the here and now."
To that end, Furnas said that his office is helping spearhead the development, with public input, of an "environmental justice for all" plan that will continue into the next administration.
During the conversation, Furnas boasted several city policies and programs aimed at a carbon neutral future and more livable city. ElectrifyNYC, for example, is a brand new initiative helping 1-4 family homes to electrify heating systems, put solar panels on roofs, and improve insulation. Furnas said that the program targets low- and mid-income families in Staten Island and Queens but that all New Yorkers should look into it.
The "NYC accelerator" program is back after a COVID-19 hiatus, according to the city's website. Furnas lauded the program, which offers free guidance for New Yorkers looking to make cost-saving, energy-efficient home upgrades. The city has also expanded, Furnas highlighted, its "carbon challenge," where institutions and landlords voluntarily commit to even deeper carbon emission reductions to showcase how aggressive targets are possible. Columbia University, NYU, Mount Sinai Health System, Google, Goldman Sachs, and StuyTown Property Services are just some of the over 100 participating universities, hospitals, and corporate entities to take the challenge.
That challenge builds on a major new law in the city that de Blasio signed after the City Council passed it in 2019, a key piece of what the mayor has called the city's own "Green New Deal."
The Climate Mobilization Act is multi-pronged, including requirements for new buildings or buildings undergoing roof renovations to install solar panels or green roofs. It also modified how buildings' energy efficiency ratings are calculated and provides low-interest financing for climate conscious building upgrades. The most aggressive component of the Act is Local Law 97.
That law, which Furnas spoke of proudly during the podcast, will require increasingly strict limits on greenhouse gas emissions for most buildings over 25,000 square feet by 2024, or the building owners must pay fines. Furnas estimates that the law covers about 50% of the built environment in New York City and is a key piece of the city's goal to hit carbon neutrality by 2050.
Furnas said the city is also working to get smaller buildings to move toward cleaner energy use and fewer emissions, with several programs available, and that he is hopeful most of the larger buildings will comply with the emissions targets instead of paying the fines.
"It's worth the investment," Furnas said. "It's worth the work, not just because we're facing an existential threat, not just because there's this big scary law that threatens fines if you don't do this work, but because they can really both make a business case and a quality of life case for the workers in their buildings, the tenants in their buildings, to improve these systems and burn a lot less fossil fuels and do a lot better by way of the climate."
For many City Council members and advocates, the next major policy priority to help the city meet essential climate goals is the passage of Intro. 2317, which would in essence ban new gas hook-ups in the city, thus ensuring the use of electric heating and cooking, and helping to reduce greenhouse gas emissions. The bill is sponsored by Brooklyn Council Member Alicka Ampry-Samuel and co-sponsored by about half the members of the City Council, but has not advanced yet and Mayor de Blasio has been lukewarm about it.
But, Furnas appeared to give a shot in the arm to proponents of the bill, reiterating that the mayor believes it makes sense to impose a date on when new development can't use fossil fuels, but it's a matter of negotiating the specifics with the City Council.
"We are broadly supportive of this," Furnas said. "We really look forward to working with the City Council to get this done. I think if you look at the state and federal level and you look at the direction the industry is going, I think everybody agrees that the buildings of the future are ones that don't rely on fossil fuels."
As for a timeline, Furnas cited the International Energy Agency's "narrow but achievable path" for emissions reductions and its recommendation to stop constructing buildings that rely on fossil fuels for heating after 2025.
"Any building that we build shouldn't be one that we'll need to retrofit later," Furnas said.
He went on to say that about one third of the city's emissions come from "under the hoods of our cars and trucks," prompting his office and the mayor to push for interventions like protected bike lanes and high quality bus service. Furnas also cited a recent $75 million investment in new electric vehicles that will go toward everything from sedans to ambulances to retrofitting existing diesel powered vehicles. He said that the city has among the lowest per capita carbon emissions in the country and that the subway above all is his "favorite electric vehicle."
"The best transit system is one where people don't think about it very much," Furnas said. "That type of transformation is really possible."
Furnas mentioned that the city has made a "transformational set of investments" that would electrify vehicles and reimagine streets. The new bike lane on the Brooklyn Bridge, which opened on September 14 in place of one lane formerly dedicated to automobiles, is one of the most recent examples where the city is trying to move people out of cars and into more sustainable, green transportation.
Transit is a centerpiece of a great deal of climate action. Transportation Alternatives, a nonprofit group, and its allies recently launched "25x25," an effort to see that 25% of street space in New York City is turned into "space for people" by 2025. Transportation Alternatives' website elaborates, explaining that space for people entails improved bike and bus lanes, pedestrianizing streets, and safer intersections among other improvements.
Appearing on an early September episode of Max Politics alongside two other experts and advocates to discuss climate and resilience in the wake of Hurricane Ida, Transportation Alternatives Executive Director Danny Harris said that a key issue when it comes to the built environment is that 75% of New York's streets are devoted to moving and storing vehicles while a minority of New Yorkers own a car. Electric vehicles are not the answer either, Harris argued, since they too, take up space that could be used for walking, biking, greenery, and other things.
"From our perspective, no amount of death, whether it's a child crossing the street or a superstorm, seems to be enough to move our elected officials to inconvenience a few drivers and take away this incredibly precious asset that we have, which is street space, and start to repurpose it for all New Yorkers," Harris said.
During that same show, ALIGN Executive Director Maritza Silva-Farrell expressed concern about policy implementation when it comes to climate change and related issues like transit. She mentioned 2019's Climate Leadership and Community Protection Act, a landmark state law that requires New York to reduce greenhouse gas emissions by 40% by 2030 and at least 85% by 2050 from 1990 levels. She worries that the state isn't moving quickly enough on implementation, including the lack of follow-up legislation to ensure funding for the transitions required.
Rob Freudenberg, vice president for energy and environment at the Regional Plan Association, was the third member of that early September Max Politics panel and said that he is also concerned about urgency in government.
He talked about how the city has transformed 14th street "from the slowest to the fastest busway," redeveloped waterfront areas, and expanded bike infrastructure. He said that New York has "no shortage of data points" for what does and doesn't work. His question: where is the scale?
"We need to take elected officials from Albany and New York [City] to the corners of New York City that actually have proven these models and start asking our leadership why they continue to fail to scale," Freudenberg said. "Why aren't you bringing this across the city especially to the most vulnerable communities, to the [environmental justice] communities?"
Despite the daunting existential challenges, Furnas expressed optimism that New York can rise to meet them, especially given recent changes and the next generation of leadership coming into city government.
The pandemic has allowed for New Yorkers to see "amazing things" as streets have become transformed, he said on the podcast, with parking spaces turned into outdoor dining areas and more. He agreed when Max asked about the importance of improving bus service and making buses an increasingly high priority for policy-making and better option for New Yorkers. He also stressed the administration's support for the congestion pricing program that has been delayed but is now moving forward and aims to reduce car traffic into Manhattan while funding mass transit upgrades for the city's subway system.
"I'm cautiously optimistic that folks sort of see a future where we so dramatically need to be moving rapidly away from fossil fuels," Furnas said. "We need to be embracing what's great about New York City by continuing to let people move to places that are easy to get around using only the subway. I have a lot of friends and acquaintances who ran races and are now coming into the City Council, there's a lot of generational changes going on all across the city and i think there's a lot of dynamics that are really positive in that, it's exciting to see a next generation of leaders sort of come up and think about these things in a broader, more holistic way, part of that is I think younger people see the realities of climate change…It is this generation of professionals that needs to do this."
[LISTEN: Max Politics Podcast: New York City's Climate and Sustainability Efforts, with Ben Furnas of the Mayor's Office]
[LISTEN: Max Politics Podcast: Hurricane Ida, Climate Change and Where We Go Next in New York]