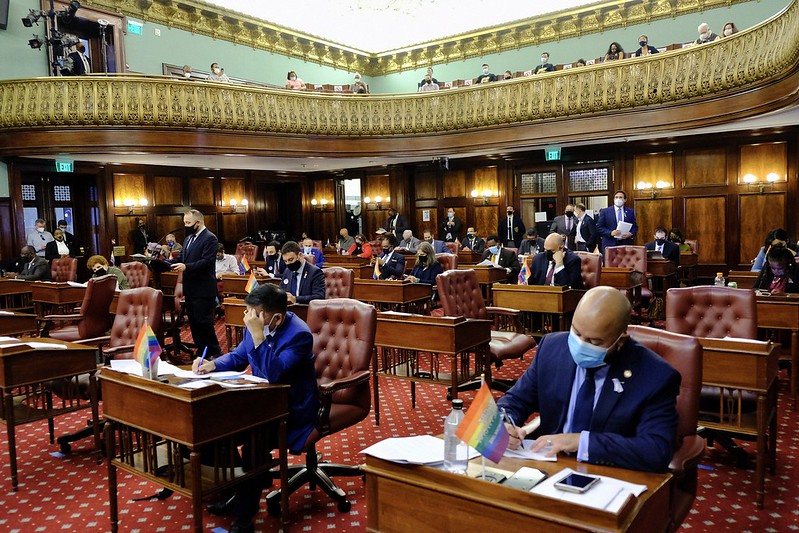 City Council chambers (photo: Gerardo Romo/NYC Council)
---
With less than three months before the end of its term, the City Council is assessing legislation that could weaken rules meant to prevent the use of government resources for political purposes.
City officials are banned, with few exceptions, from sending official mass mailers to constituents for 90 days before a primary or general election. The rationale behind that blackout rule is to thwart the potential use of city funds and resources to boost an elected official's image and political prospects, giving them an unfair advantage over opposing candidates.
On Tuesday morning, the City Council's Committee on Governmental Operations will hold a hearing for the first time on legislation that would reduce the blackout period to just 30 days, which was the previous rule before being expanded to 90 days in 2004.
City Council Member Farah Louis, a Democrat from Brooklyn, is currently carrying the legislation, which was first introduced by former Council Member Andrew Cohen in December 2017. Cohen stepped down last year after being nominated for a judgeship on the ​​state Supreme Court.
The hearing was put on the calendar only a few days ago. The bill currently has only one sponsor, Louis, in the 51-seat Council, which is dominated by Democrats. It is exceedingly rare for a bill with one sponsor to get a hearing.
Louis did not respond to a request for comment from Gotham Gazette. Neither did Council Member Fernando Cabrera, a Bronx Democrat who chairs the governmental operations committee. A spokesperson for Democratic City Council Speaker Corey Johnson said in a statement, "The bill is going through the legislative process."
The hearing won't be the first time that Council members take exception to the city's limits on government mailers during campaigns. In 2017, several City Council members running for reelection faced challenges from sitting state legislators who benefited from a loophole in the law. As state elected officials, they were not bound by the city's 90-day rule and instead faced shorter blackout periods – 30 days before a local, special, or primary election, and 60 days before the general for members of the state Assembly. The Council members objected to their opponents regularly mailing constituents updates on their work in overlapping districts, something they themselves were prohibited from doing.
Good government groups, however, say the solution lies in strengthening state law rather than diluting the city's rules. And they question both the rationale behind the bill and the timing of Tuesday's hearing, which comes nearly four years after the bill was introduced and in the waning days of the current Council session.
"The City has taken important steps to level the playing field in campaigns, and ensure that incumbents do not have unfair advantages over challengers. Weakening the prohibition on the use of government resources for mass mailers would be a step in the opposite direction," said Ben Weinberg, director of public policy at Citizens Union, a nonprofit reform group. Weinberg is expected to testify against the bill on behalf of Citizens Union at Tuesday's hearing. "NYC is a leader in campaign finance, ethics, and lobbying regulations. These regulations do not put our local elected officials at a disadvantage – they create a healthy democracy."
Weinberg also noted that complaints that state elected officials enjoy an unfair advantage may be unfounded. In several elections in 2017 and this year, state legislators tried and failed to unseat incumbent Council members. "The real effect of cutting back on the blackout period won't be in helping local council members who are running against state lawmakers but in hurting new candidates who are trying to enter the political arena," Weinberg said. "Rather than weaken the city's regulation, we should be looking to strengthen this regulation at the state level."
Note: Gotham Gazette is an independent publication of Citizens Union Foundation, sister organization of Citizens Union.