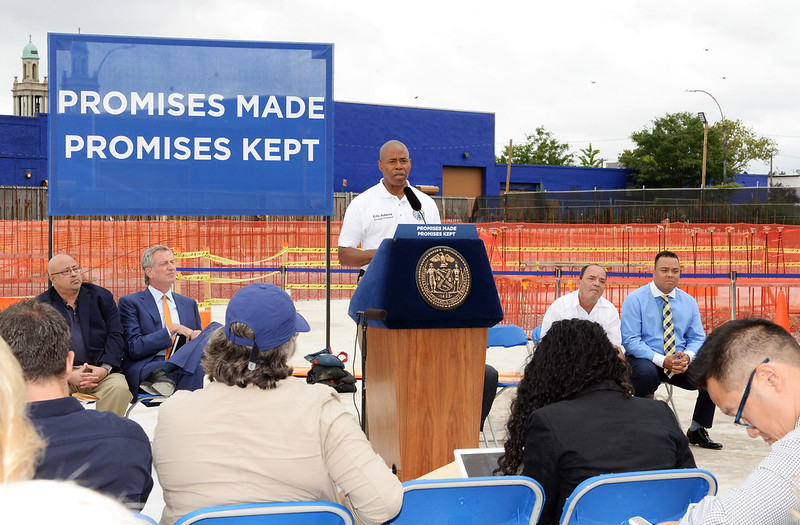 Eric Adams at a press conference with Mayor de Blasio (photo: Erica Sherman/Brooklyn BP's Office)
---
Eric Adams, the Democratic nominee for mayor, is running on a combination of classic political charisma, a blue-collar background, and a host of promises to transform New York City.
His nuanced approach to public safety and resume as a former cop and police reformer distinguished him in the Democratic primary, where he was among the more moderate candidates in a large field. In part because of his background and in part because the primary unfolded amid a large spike in gun violence, Adams' marquee campaign promise is to make the city safer while ensuring that policing is done appropriately and without racial bias. But his platform goes beyond pragmatic policing -- touching on many issues and problems with a range of proposed solutions.
As the Democratic nominee in a city where Democrats outnumber Republicans 7-to-1, Adams is almost assured to win when ballots are counted after the polls close Tuesday evening. Then, attention will shift to how he forms his government ahead of taking office January 1 and the steps he will take to follow through on his many promises.
Adams' commitments revolve around making the city safer, services more accessible, and the economy more hospitable to doing business, whether for traditional mom-and-pop stores, big corporations, or burgeoning industries in the science, technology, and environmental sectors.
He is promising to create more affordable housing, significantly improve city schools, revamp public health, and take on climate change. A major part of his platform is making city services more accessible to New Yorkers and information more available to bureaucrats and watchdogs alike in an effort to improve their efficiency and effectiveness.
He has promised to be a huge friend to labor and to titans of industry, appoint the city's first woman police commissioner, transform what kids eat at school, create a single digital portal to distribute all city services, and more.
"We're too bureaucratic, too expensive and too difficult to do business in," Adams, the Brooklyn Borough President, said during the first of two mayoral debates against Republican nominee Curtis Sliwa. "We can turn around this economy by number one, looking after the families, getting them employed. And number two, have a more efficient government."
But while ambitious in quality, Adams rarely puts numbers on his goals -- whether they are budget estimates, timelines, units, or recipients. There are some notable exceptions, like his commitment to creating 150 miles of new bus lanes and 300 miles of protected bike lanes. Or his goal of completing an ongoing effort to build 15,000 units of supportive housing by 2025.
Before public safety took center stage in the Democratic primary and Adams leaned into his policing bona fides, his biggest single idea on the campaign trail was his so-called MyCity app -- a one-stop shop where New Yorkers could sign up for virtually all government services. Through it New Yorkers could receive anything from pre-K to bulk trash pick-up. In his campaign policy book, this tool gets a lot of mileage, serving as a solution for problems ranging from food insecurity to unemployment to small business support.
The idea runs parallel to another big one: a single data platform to house every city government metric, which could be used by agency officials and the public to create a more efficient and accountable government.
"MyCity will allow users to type just one number into a secure app or website to instantly received [sic] every service and benefit they qualify for — such as SNAP — without an abundance of paperwork," Adams' campaign website states.
He has also offered the portal as a solution to health disparities, as a conduit to existing city services, which he's promising to update and enhance.
The portal is also his biggest promise to small businesses, claiming it will ease administrative and financial burdens and cut through red tape. "They will be able to better manage paperwork and have direct access to permitting agencies, such as the Department of Buildings," the website reads, pledging: "Those who opt-in can use a chip-enabled City ID to sail through in-person interactions with agencies, instantly have access to a bank account, and even get loyalty discounts at participating local businesses. In sum, this a 311 for the digital age."
Veterans of city politics have noted how difficult this will be, especially for Adams, who, as borough president, has not had to manage a vast workforce or particularly complicated systems. "It's going to be awfully hard to get this done; even the city's Department of Education has had trouble consolidating and connecting its data systems," wrote Josh Greenman of the Daily News editorial board last July.
Part of centralizing the city's data would be a massive initiative to "skills map" each City Council district to find out what job skills are common and what training is needed to develop the workforce. Workforce training providers have been advocating for skills mapping and bridge programming for years but the city has so far only engaged in piece-meal initiatives. Doing what Adams promises will require significant person-power and funding; he has not said explicitly where these would come from but the answer may lie in some of the cost savings programs he's also promised -- if he can achieve them.
One of the salient themes of Adams' platform is improving the services the city already has.
Looking ahead to managing the city's roughly $100 billion annual operating budget and projected multi-billion-dollar deficits, he wants to institute a Program to Eliminate the Gap (PEG) to potentially reduce city agency spending from 3-5%, "while using an inequality impact test to protect programs vital to lower-income New Yorkers." The program would be overseen by a new "Efficiency Czar" who conducts quarterly agency audits and oversees large contracts, especially with utility companies, to ensure compliance with new standards. He also wants to establish an inter-agency advisory council to align city work toward his goals.
On Day 1, Adams said he would review use of all city property and contracts over $10 million to ensure New Yorkers are getting the most bang for their buck. Better using the city workforce and resources would also, ostensibly, enable the two-year hiring freeze he's promised to save $1.5 billion.
Efficiency and better management also applies to his approach to policing, where he wants to civilianize parts of the NYPD to save $500 million in personnel costs each year. He also wants to recruit more officers of color, insist new officers live in the five boroughs, and send top NYPD brass to executive leadership training. He has promised that within a year of his mayoralty, New Yorkers would see a drastic difference in policing and members of the NYPD would feel much more supported by the public, in large part because more supported, better trained, and more accountable department.
When it comes to on-the-ground tactics, Adams says his NYPD would continue using the controversial practice of stop-and-frisk but properly, meaning judiciously. "The average person can't talk about how to properly use stop-and-frisk, but I can," he told Eric Lach of The New Yorker, before the primary in May. "We're not talking about just some average cat coming around. This is why people know me."
Curtailing shootings is a top priority. Adams wants to "reinvent" the now-defunct plainclothes "anti-crime" unit as a dedicated gun violence squad without the belligerence and lack of accountability that made it so controversial. His website says he'll make this transformation not through structural change but with more sensitive recruitment: by "hiring officers with the skills and temperament for this kind of intense, on the ground police work by removing overly aggressive cops and by targeting known shooters with precision policing tactics." He has discussed creating a tri-state consortium to crack down on arms trafficking and place gun checkpoints across the city's transit system.
To improve police accountability, Adams has committed to publishing a "monitoring list" of cops identified as exhibiting bad behavior and making it easier for officers to report on one another anonymously. One of his goals is to create "a citywide law enforcement intelligence committee," with appointees from the Mayor's Office, City Council, Public Advocate, and borough presidents. The committee would have the power to view secret information on police cases and operations and determine how and when certain details would be made public. And Adams said he would give community boards and precinct councils the power to veto precinct commander hires.
Adams has vowed to continue on a trajectory of fostering new sectors of the city economy that dovetail with the changing climate.
He has promised to continue to build wind power generators along the city waterfront -- at South Brooklyn Marine Terminal, the Red Hook Container Terminal, Port Richmond, and the Brooklyn Navy Yard -- in tandem with upgrades to the city's electrical grid.
He has promised to change regulations to develop new industries, chiefly making New York City "the life sciences capital of the world," already a big priority of Mayor Bill de Blasio. "We will double-down on the existing life sciences initiative with incentives and zoning changes that will draw in private investment and federal dollars for research," his website says. On expanding urban agriculture, another of his lofty promises, Adams said he would change building codes and business regulations, and create tax breaks and guaranteed city contracts for entrepreneurs in the nascent industry.
After Hurricane Ida pummeled the city, killing more than a dozen New Yorkers, Adams released a climate resiliency plan. It included updating the city's early warning systems for extreme weather -- an effort already underway and something de Blasio recently committed to expediting -- bringing basement apartments up to code, and creating a building retrofit incentive program. The plan also included finishing unfunded NYCHA resiliency projects and "requiring a single comprehensive citywide resiliency plan," which is in line with legislation the City Council has now passed to mandate a climate adaptation plan and de Blasio is expected to sign into law.
On the campaign trail, Adams has advocated for year-round public education, more after-school options, and an expanding the Summer Youth Employment Program into a full-year initiative. He wants to improve remote learning options with more devices and better WiFi subsidized by a "data tax" on big tech companies that use and sell people's personal information.
Adams has indicated he opposes de Blasio's recent plan to phase out the city's gifted and talented programs for a new universal enrichment model with accelerated learning opportunities at every school, instead favoring a major expansion of the "G&T" enrichment courses, especially in underserved areas. He supports universal dyslexia screening and other support initiatives to curtail the school-to-prison pipeline. He's indicated he will support the expansion of charter schools in New York City, which are now limited by a state cap that has been hit. He has promised to take aggressive action to desegregate the city's highly-segregated schools, but it's not clear what those steps will be, other than through his affordable housing plans that he says will better integrate neighborhoods.
On the city's elite specialized high schools, which enroll disproportionately low numbers of Black and Latino students, Adams supports keeping the Specialized High School Admissions Test (SHSAT) as the sole admissions criteria for the eight schools where it is currently in place, five of which are under the city's control. He has said he will build a new specialized school in each borough that will consider the SHSAT and other academic metrics for admissions, in part to expand the number of specialized high school slots for top-performing students in each middle school. For the three specialized high schools -- Bronx Science, Stuyvesant, and Brooklyn Tech -- that require the SHSAT under state law, he has said it is up to state lawmakers to decide on any changes to admissions criteria.
One of Adams' biggest promises is to create a "prenatal to career" continuum, including by providing childcare for children 0-3 for every family that cannot afford it. His childcare proposal focuses on subsidizing space for providers through tax incentives, building bonuses, and the use of city-owned buildings. His plan also depends, in part, on the success of childcare provisions in President Joe Biden's $1.75 trillion Build Back Better reconciliation plan, which is currently being negotiated in Washington: his policy book states, "we must also get much more out of our federal government."
On his website, he proposes using $6 billion in pandemic-related federal aid (much of which has already been spent by the de Blasio administration) to convert vaccination sites in low-income neighborhoods into permanent healthcare centers. He also wants to improve access to healthy foods, substance abuse treatment, and preventative care. Part of that includes reevaluating the location of treatment centers and expanding telehealth options.
On housing, Adams says he wants to chart a different path from the de Blasio administration, whose Housing New York initiative has been the biggest affordable housing program since the Koch administration. Where Housing New York has largely focused on rezoning lower-income neighborhoods to create more housing, including rent-regulated units, Adams wants to upzone wealthier neighborhoods and eliminate 'community preference' rules that opponents say contribute to racial segregation. One of his biggest promises in this regard is rezoning a large part of Manhattan's West Side.
"For years, our re-zonings focused on adding apartments in lower-income areas — which led to higher-income people moving in, making communities less affordable, and often forcing out longtime residents," Adams' website reads (though those assertions are disputed).
Unlike de Blasio's goal of 300,000 new or preserved affordable units over 12 years, Adams' housing plan offers few specific figures as of yet. He says he will convert "a number" of city buildings into fully affordable housing and create "hundreds-of-thousands of affordable apartments" by legalizing accessory dwelling units, basement apartments, and SROs. It is among the many issues where expectations will be high for a Mayor Adams to release a more specific blueprint not long after he is in office.
One concrete housing commitment is to speed up the timeline of de Blasio's 15/15 Supportive Housing Initiative, intended to create 15,000 units of supportive housing over 15 years. Adams promises to reach that goal in 10 years, or by 2025.
Adams has promised to update the city's streetscape for greener modes of transit. He has backed Transportation Alternatives' 25x25 Challenge to repurpose a quarter of city streets for pedestrian and public transit use. Part of the plan is to build up the city's bus system ​​with 150 miles of new bus lanes and busways and an "in​​terconnected Bus Rapid Transit system starting on roadways with service roads in transit deserts."
Another part is adding 300 miles of protected bike lanes. He also wants to "speed up our conversion to all-electric buses," without commiting to a timeline.
One of his most straightforward and ambitious promises is committing a full 1% of the city budget to the Parks Department. By expanding the parks budget "we can fund long-deferred maintenance projects while achieving vital goals," his policy book states, like "making sure 100 percent of New Yorkers live within a 10-minute walk of a park by opening dozens of new public spaces, closing the park equity gap in high-need, underserved neighborhoods, and transforming 100 asphalt schoolyards into new green community playgrounds."
The current Parks Department budget is roughly $620 million -- about .6% of the $98.7 billion overall budget. Bringing it to 1% of the current budget would add over $360 million to the Parks Department, an increase of more than 150%.