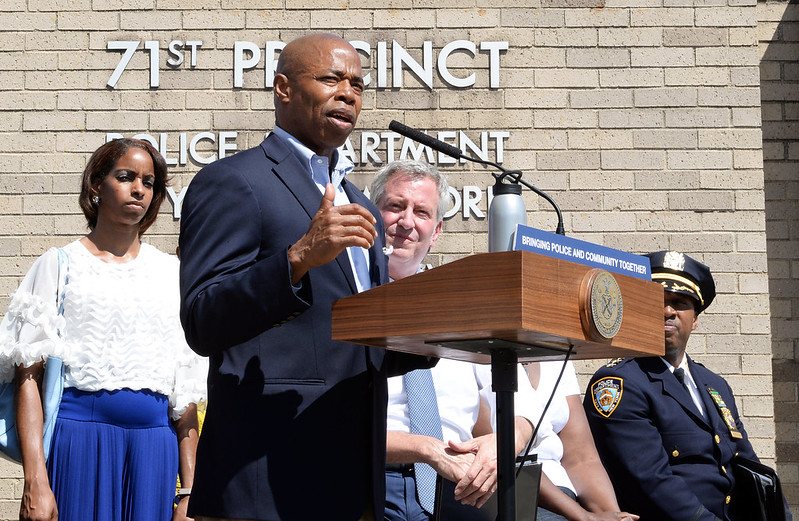 Eric Adams (photo: Erica Sherman/Brooklyn BP's Office)
---
Eric Adams believes government inefficiency is at the root of many ills that plague New Yorkers. The ineffective delivery of public services and waste of taxpayer dollars, he says, create the very inequality and suffering that city government is meant to ameliorate.
For years leading up to and throughout his run for mayor this year, Adams -- the two-term Brooklyn borough president and former state senator -- has been calling city government "dysfunctional" and pointing toward a new way of doing government business, a "real-time governance" model he says can revolutionize how the city serves New Yorkers.
Now on the verge of becoming the next mayor, the Democratic nominee has a plan to improve city government efficiency and service-delivery, reign in profligate spending, and ease access to public benefits. Though it is vaguely defined and missing an estimated price tag, among other details, Adams' plan involves revamping and redesigning how city agencies coordinate and use data and technology. It is a monumental task that experts say can't be done overnight and will require a drastically different approach to how the city currently employs and procures technological tools, among other shifts.
"Our city's dysfunctional," Adams said in an interview with Gotham Gazette, just prior to launching his campaign. "Inefficiencies are leading to inequalities that are causing the injustices that we are witnessing." He has harped on that theme throughout, even recently at the second official general election debate. "We're too bureaucratic, too expensive, and too difficult to do business in," he said. "We can turn around this economy by number one, looking after the families, getting them employed. And number two, have a more efficient government."
The mayor of New York City is in charge of what is now a $100 billion budget, more than 300,000 public employees, and a sprawling city government that includes roughly 40 departments and offices. It is at once inefficient and bloated, full of calcified bureaucracy and stifled by many rules and regulations meant to avoid past abuses of the public trust and also capable of nimbly accomplishing major feats and bringing some order to the sprawling, diverse city of almost 9 million residents. Adams is promising, if elected, to turn it on its head.
The former police captain references often that he started his career in law enforcement as a programmer, and he wants to take an approach to city government that replicates CompStat, the NYPD's digital crime-tracking tool that delivers regularly updated information on incidents around the city and is regularly used for intra-departmental and public accountability, strategy reevaluation, and more. It is credited by many, including Adams, with significantly improving policing via the use of data and analytics and a more proactive and precise approach. Adams' plan to fully use real-time governance across city government would be similar, but would be a massive undertaking.
He has promised to establish a single data platform for all of city government under an "efficiency czar," with constant information sharing among city agencies to eliminate duplicative work and "go from a reactive management approach to being proactive and, eventually, predictive," according to his campaign website.
Each agency would have a real-time public score – as opposed to the twice-a-year Mayor's Management Report on city agency performance – akin to Boston's CityScore system. A public score would show, if Boston's system is any indication, whether trash collection and parks maintenance is on time, if graffiti is being cleaned, if homicides, shootings and stabbings are trending up or down, for example.
And Adams has pledged to create the centralized MyCity digital portal allowing New Yorkers to immediately access city services and benefits like the Supplemental Nutrition Assistance Program (colloquially known as food stamps), rental assistance, business licenses, unemployment assistance and the like.
"It's a long time coming to actually build a personalized version of NYC.gov," said Noel Hidalgo, cofounder of BetaNYC, a civic technology group. "And to do so it is a massive investment in building digital services for all New Yorkers, which we have not seen."
Adams has promised to ensure that city agencies will stop working at cross-purposes, in part by following what he's said will be a Day One order to reevaluate their mission statements in concert. And, broadly speaking, things involving government will happen much faster, he's pledged: for example, new restaurants will be able to get their permits and inspections done and open more quickly under an Adams administration.
"Eric believes that many of the problems created by the City's dysfunctional agencies can be addressed through better use of data and technology," said Evan Thies, a spokesperson for Adams' campaign. "One of Eric's top priorities during transition would be to vet possible solutions to improving the systems we rely on for the efficient delivery of City services so that he can immediately begin providing a better quality of life to New Yorkers who depend on their government every day."
Adams has yet to offer more detail about those plans, the timelines for achieving them, or the costs they will incur. Experts say those proposals would require a new technological and digital service infrastructure to replace the antiquated and disparate elements that currently manage different functions. For instance, the city has a Mayor's Office of the Chief Technology Officer and a Department of Information Technology and Telecommunications, which are separate entities with overlapping purviews that report to different deputy mayors. (There is also a centralized Cyber Command that oversees cyber defense for all city agencies.)
However complicated they may be to execute, Adams' ideas aren't pie in the sky. There are current models employed in other jurisdictions. Besides Boston's CityScore, experts point to gov.UK, the United Kingdom's national centralized portal that covers everything from applying for state financial benefits to citizenship applications, drivers licenses, and even filing taxes. Another example is the government of Estonia, where 99% of government services are online.
"This could be done extremely inexpensively and easily, basically, at this point," said Devin Balkind, a civic technologist and Libertarian candidate for public advocate.
Balkind said the city needs to move away from its current approach to building technological solutions, which relies on contracts with large tech firms that deliver customized and proprietary products (as opposed to open source) that city has a difficult time leaving behind. "The city basically contracts out all of the software to people who, their number one economic incentive is to make sure that they keep getting contracts," he said.
"If Adams follows the IT strategy that the city has been following for decades, which is outsourcing software development to for-profit companies that are developing proprietary solutions that lock him in, he is in for a billion-dollar boondoggle," Balkind added.
Instead, he said the next administration should model best practices like those used by the federal government through 18F, a digital services team housed under the General Services Administration. If Adams follows the digital service organization principle, "which is open source first, build it in-house leveraging open source components, publish it as open source, engage the developer community, he could do this faster, better, and cheaper," Balkind said.
Civic tech experts like Balkind have for years railed against the city government's slow pace to adapt modern digital solutions. City agencies at large, he said, have been resistant to establish automated decision-making processes. There have been some efforts, however. The Bloomberg administration launched ACCESS NYC, which helps people determine their eligibility for government benefits. The portal was relaunched in 2017 by the de Blasio administration and, spun out of it, the city created ACCESS HRA where New Yorkers can apply for SNAP benefits. It was only in March 2020, when the pandemic hit the city, that ACCESS HRA allowed online applications for cash assistance too.
ACCESS NYC was an innovation of NYC Opportunity, which is housed under the Mayor's Office with the stated goal of reducing poverty and inequality in the city. Under de Blasio, the office attempted to create a centralized 'data locker' of sorts that would store all the necessary information that New Yorkers would need to apply to various city services.
Hana Schank, director of strategy for Public Interest Technology at New America, a nonprofit think tank, worked with NYC Opportunity on that project, which was funded by The Rockefeller Foundation. "That was three years ago," Schank said in a phone interview. The team did produce a digital product that ended up being delivered to the city of Baltimore. "The one that was produced for New York ran into so many hurdles that we haven't even been able to pilot it," she said.
Part of the reason the project failed, she said, was "because there was no executive muscle behind the project...It's been completely derailed by the fact that there isn't a champion."
"You cannot make these projects go without someone at the very top saying, 'This is the most important thing. This is your North Star. This is what your agency is now focusing on," Schank added. "At least since Bloomberg, there has been no tech North Star for the city."
"There's a tremendous amount of inertia in government that he's going to have to overcome to be able to deliver these solutions," Balkind said of Adams, if he's the next mayor.
As Balkind noted, the next mayor already has access to all, or at least much of, the data needed to produce (a close approximation of) real-time scores of city agencies. The city collects hundreds of data sets from agencies and periodically publishes them to the Open Data Portal. For example, things like the number and type of 311 requests made every year, the number of active for-hire vehicles on city streets, motor vehicles collisions, and citywide payroll data, to name a few of the most popular data sets.
The next requisite steps would be to make that data easily machine readable, update it faster and more regularly, and figure out performance metrics for city agencies, which could require establishing new benchmarks. Adams has not detailed what his version of real-time city governance would look like and how it would be used on a daily or weekly basis by his administration, other than as a public accountability tool.
"It has almost nothing to do with funding...It has everything to do with changing the way the city builds technology," Balkind said of creating the necessary infrastructure.
"All the ingredients are there for massive success. It's a question of whether he can understand the game and deliver reform," he added.
"He hasn't as borough president done anything that I've seen that indicates that he has a grasp of how to actually implement digital solutions," Balkind cautioned. But, the mayor of New York City has far greater resources at their disposal than a borough president, and Adams has now promised to deliver this new way of doing government and showing its effectiveness as among his top campaign promises.
Chris Whong, a civic technologist and Outreach Engineer at Qri, had a series of prescriptions for a potential Adams administration. Whong previously spent three years at the New York City Department of City Planning, where he founded NYC Planning Labs, a digital services unit that has launched interactive digital portals using data to visualize the city's urban landscape.
In an email, Whong said the new administration should require all agencies to publish performance metrics in a standard machine-readable format, create reasonable data standards for city services, hire the right people, use free and open source software and be agile.
"The last bit is important. You can't really be agile if you specified all of the functionality up front in a contract," he wrote. "They say software is done like the dishes are done. It's not a project, it's a program. Fund it and maintain it as such."
He also noted that the products created by the city should be consumer-friendly. "Quick and inexpensive are only part of the equation," he wrote. "The products must also be good. Delightful even. 'The software must not suck' is not something you can put in an RFP, you need someone in charge who has the vision and resources necessary to build delightful digital products."
Among the challenges that Whong and other experts pointed to is the city's civil service system for government jobs, which "doesn't have roles that match those required for modern digital service delivery. Product Managers, UX/Interaction Designers, Content Designers, Frontend, Backend, Full-stack engineers, etc, are all required to build modern digital services."
The solutions that Adams has promised have been a cause for optimism for Rohit Aggarwala, senior fellow at Cornell Tech's Urban Tech Hub, under the Jacobs Technion-Cornell Institute on Roosevelt Island. Aggarwala led the Hub's efforts to examine technological solutions for the city's future, presented in a report titled "Rebooting NYC" that was released in May.
"All of Eric Adams' ideas are the right ideas," Aggarwala said in a phone interview. The centralized platform for services is "long overdue," he said, and that real-time reporting would be a drastic improvement on the Mayor's Management Report, which was once considered state-of-the-art but hasn't been for decades.
"It would be ridiculous to think that these should be billion-dollar proposals," Aggarwala said, echoing Balkind. "The challenge with these is not actually going to be cost...The challenge with these is going to be how you organize the technology functions within city government, and whether you can staff up so that you can manage technology problems." He cited the duplicative nature of the city's CTO and DoITT as epitomizing that issue. "They, as far as I can tell, don't work together very well and that's not about the individuals, that's institutional," he said.
Aggarwala, who was previously director of long-term planning and sustainability under Mayor Michael Bloomberg and was a founding member of Sidewalk Labs, said Adams should avoid the pitfalls of how technology has been handled by mayoral administrations so far.
"We've allowed there to be what happens in many corporations where none of the really senior people, i.e. no deputy mayor, nobody who reports directly to the mayor is both focused on technology implementation and sufficiently savvy about the technology to manage it well," he said. Among the recommendations of the Rebooting NYC report is that the city should establish a Deputy Mayor for Technology to replace the Chief Technology Officer and break up DoITT into smaller agencies that report to that deputy mayor.
Currently, DoITT runs and maintains the city's information technology infrastructure, performing that function for all city agencies. It's purview also includes managing 311 operations, expanding broadband to underserved communities and generally improving the city's technology services.
Another necessary step Adams should take, Aggarwala said, is to bring in a mass of new technology talent, to prevent outsourcing of work and to build tech tools more efficiently. He cited, for instance, the disastrous attempts at technological solutions to respond to the covid pandemic. The most egregious example was the city's and state's failure to create stable working systems for vaccine appointments, which led an independent software designer, Huge Ma, to develop the widely praised TurboVax website. (He received a State Senate proclamation for his efforts, among other recognition.)
"A well-run government shouldn't need that kind of help for core mission critical functions," Aggarwala said.
[Read: Experts Release Agenda for Next Mayor to Better Use Technology in Solving City Problems]
Most of the experts interviewed for this article pointed to the slow evolution of the city's digital technology. As Aggarwala noted, when the Mayor's Management Report (MMR) was first launched, it was state of the art. The same could be said about NYC.gov, the city's website, and the 311 helpline. But they have all stagnated, experts agree.
"I think we learned after this pandemic how important government technology is in delivering services and we saw many failures," said Emil Skandul, founder and principal of Capitol Foundry, a digital innovation firm, in a phone interview.
Skandul said the city needs to replace the current waterfall approach to technology – chronologically delivering a project that may become outdated in the years it takes to complete – with a more agile method, relying on adaptable and modifiable technology that can be tweaked and improved constantly with "an entire team around this that's going to exist permanently, that's going to grow."
"The way that we envision a City portal right now, it's needs are not going to be the same two or three years from now," Skandul said. "There's going to be other technology that's going to exist, there's going to be new features that are going to have to be built into it. So it can't just be a project that's handed over to city government at the end of a six-month contract and boom, we're done."
"This is such an ambitious project that I really think that it will take many years to develop and build," he added of Adams' vision. "And if it's done correctly, it's going to be one of the most impactful things for New Yorkers over the next decade."
Adams' ideas already have some apparent support in the City Council. Council Member Bob Holden of Queens introduced a bill in June to create a "centralized mobile application for accessing city services." Holden's office did not respond to a request for comment for this article.
Council Member Ben Kallos, a Manhattan Democrat, has been an evangelist for improving municipal digital services, particularly through open source software. "The fact that we're in the 21st century and so much of the government still requires a paper application is a problem," he said in a phone interview.
Kallos, who is term-limited out of office at the end of this year, has repeatedly expressed frustration at the meager progress in civic technology solutions under the current administration. "Mayor de Blasio rolled out a lot of dashboards, but at the end of the day, 311 still doesn't work," he said, pointing to a City Council oversight hearing on Tuesday on the NYPD's apparent mishandling of 311 complaints. He was optimistic that an Adams administration could make major strides, and reiterated the expert consensus that the city needs an agile in-house team of software developers to create and consistently improve digital service platforms, rather than relying on major technology firms to deliver a finished product.
"If Eric approaches this with a Big Tech mindset, spending millions of dollars to launch something that is ready on day one with a big bang, then we're gonna have healthcare.gov all over again," Kallos said, citing the Obama administration's botched rollout of the Affordable Care Act's enrollment portal. "We can do this inexpensively, we can do this scalably. And we can do it in-house so that we can keep making changes," he said.
But, Kallos warned, "none of this works unless we end the digital divide. Because the same people who are going to get these benefits are the same people who need the internet to get them."
The pandemic exposed the harsh truth that in the richest city in the richest country in the world, nearly one out of five New Yorkers lack consistent access to the internet, which was a necessary tool to interact with the government when the city shut down. Mayor de Blasio has taken slow steps to bridge that digital divide, including with his Internet Master Plan, which he launched in January 2020 and accelerated in July at the height of the pandemic.
On Thursday, he announced several milestones and new projects under the plan. By the end of the year, 40,000 NYCHA residents in 18 developments will receive free or low-cost internet options. Over the next 36 months, the city will spend $157 million to build publicly-owned, open-access broadband infrastructure, reaching 1.6 million people. And the city will also choose several companies to provide affordable internet options to 70,000 NYCHA residents and 150,000 residents in neighboring communities by early 2022.
Kallos and Adams have their own plan for expanding broadband. The two partnered on a white paper with several proposals, including "rezoning to require affordable Mandatory Inclusionary Internet, just like we required affordable housing with Mandatory Inclusionary Housing."
"This next administration is going to have to hit the ground running and work on multiple things at the same time," Kallos said. "It's the equivalent of building a car while you're driving it."