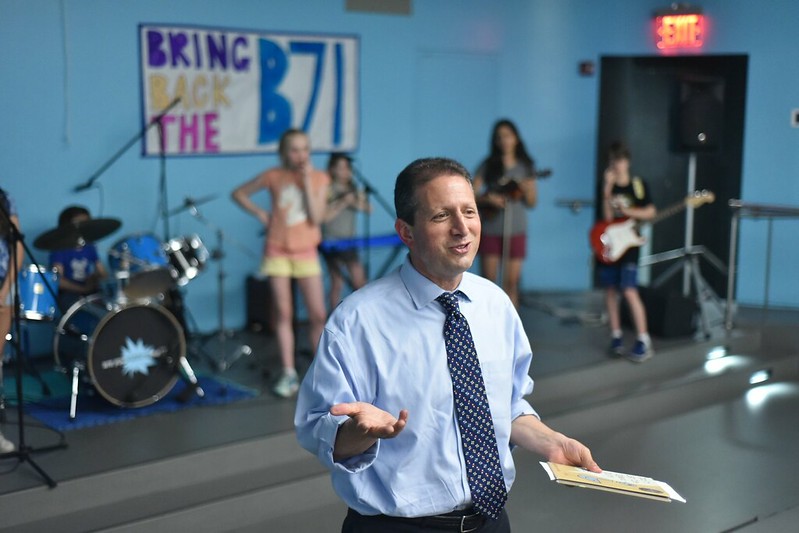 Brad Lander, the next city Comptroller (photo: John McCarten/City Council)
---
Brad Lander, the Democratic nominee for New York City Comptroller, is sailing to victory in the general election, putting him on the verge of becoming the city's 45th chief financial officer when the new class of elected officials is inaugurated on January 1.
It was no surprise that the term-limited City Council Member, who has represented his Park Slope district since 2010, won given the large ratio of New York City Democrats to Republicans. A Republican has not held the office in nearly eight decades. The Associated Press called the race for Lander not long after polls closed at 9 p.m. and early returns showing Lander well ahead of his opponents.
Given the comptroller office's charter-mandated responsibilities, Lander will become one the most powerful checks on the next Mayor, Eric Adams, a fellow Brooklyn Democrat who won citywide office by a wide margin on Tuesday.
"It's a humbling moment," Lander told Gotham Gazette at his election night party in Brooklyn, shortly before polls closed at 9 p.m. "The citywide office is a big deal and it is really a profound moment for the future of the city. We have big choices to make. How are we going to move through the pandemic and what kind of city we're going to set up on the other side? Being the budget watchdog and the pension fiduciary and the chief accountability officer is a humbling responsibility, one I'm really grateful to New Yorkers for supporting me to win and I'm ready to get started."
The comptroller's office is responsible for city budget oversight and auditing city agencies, overseeing and advising the city's five public pension funds (worth $273.4 billion), and enforcing the city's prevailing and living wage laws. Though most of the comptroller's duties are somewhat narrowly defined, the position comes with the bully pulpit of a citywide office and a stepping stone to higher office (Abe Beame was the last comptroller elected to mayor, in the mid-1970s, but others have tried since). The office comes with a large staff and budget, including a policy shop that comptrollers typically use to advance priorities and shape the political discourse.
When asked on Tuesday night what tool of the comptroller's office will be most significant to achieving his platform, Lander said, "It really is the combination so I don't know that I'm ready to pick a favorite tool because obviously if you're a public sector who is counting on a pension then you think pension fund management; if you're a New Yorker whose garbage wasn't picked up this week you're saying get the auditors out there and make sure our garbage gets picked up on time. If you're thinking, how do we have a recovery from this pandemic that really is vibrant and thriving and just across the city?, you want someone who is, as the budget watchdog, really keep an eye on American Rescue Plan spending. So those I guess are the three that seem to me most significant."
In debates during the primary, Lander repeatedly said the most important aspect of the job was to "ensure an economic recovery that works for all our neighborhoods, make sure agencies work better, and take the long-term view on our recovery."
"There's so much short-termism in our politics, the comptroller can take the long-term view to secure a better future," he said, while stressing the importance of closely tracking the city's spending of federal pandemic relief funds to ensure they are spent wisely.
On the campaign trail, Lander has emphasized the urgency of bringing the city in line with global climate goals and conforming to calls for racial and economic justice in employment, housing, and government services. He wants to use his office to foster investments in city infrastructure, new tech, and life sciences. And he has ideas for incentivizing clean manufacturing, energy, and building upgrades.
Lander beat his Republican challenger, Daby Carreras, a right-wing financial adviser, and Conservative Party nominee Paul Rodriguez by wide margins, though votes were still being tabulated and many thousands of absentee ballots won't be opened for days.
"New Yorkers voted overwhelmingly for a just and equitable recovery, a thriving city that works for all neighborhoods, and one that's more prepared for crises to come," Lander said in a victory statement issued Tuesday night. "As New York City's next Comptroller – our budget watchdog, pension fiduciary, and chief accountability officer – I'll fight hard every day to build that city. I'm deeply grateful for the support of New Yorkers, and eager to make government work better for all of us. Let's get to work."
Lander cruised in the general election after winning a hard-fought, crowded primary against a number of other sitting elected officials and other active candidates. He was the candidate of the city's left wing, receiving endorsements from progressive leaders like Rep. Alexandria Ocasio-Cortez, U.S. Senators Elizabeth Warren and Bernie Sanders, and the Working Families Party, among many others, along with the New York Times editorial board.
He beat City Council Speaker Corey Johnson, the perceived favorite early in the race, and other candidates in the June primary with roughly 52% of the vote after all ranked-choice ballots were counted. Financial journalist Michelle Caruso-Cabrera came in third and Brian Benjamin, now the state's Lieutenant Governor, came in fourth in that primary.
Since the primaries, Lander has held a series of events around the city as part of a "listening tour" to connect with voters, hear their concerns, and refine his stances on key issues.
He has said he will wield the office to crack down on waste and poor performance in the city Department of Correction, NYPD, Homeless Services, and public housing, among others. Lander supported the "Defund the NYPD" movement last year and voted against the Fiscal Year 2021 city budget because it didn't go far enough to move non-law-enforcement functions away from the department and cut NYPD funding. Through the comptroller's audits, he plans to identify officers involved in multiple police brutality settlements and "intervene proactively."
He also wants to use audits to ensure the city is meeting its goals on capital projects. Part of that means monitoring affordable housing developments that use the state's 421-a tax incentive, which Lander has said should not be renewed when it expires next year.
One of the key indicators of a candidate's direction is how they plan to balance the resources of the office. The New York City Comptroller employs over 800 attorneys, accountants, investigators, and researchers, divided into a range of dedicated bureaus. Lander has vowed to create an audit team within his office devoted to sustainability and equity in environmental projects that will focus on both city agencies and businesses with city contracts. He also wants to bolster the comptroller's Bureau of Labor Law and identify the city's most "exploitative employers" -- something of a "Worst Landlords List" of labor.
Like the current comptroller, Scott Stringer, Lander views certain social and environmental issues as crucial to the long-term success of the city's pension funds. He will use his position as the funds' top advisor to move on broader issues -- like environmental welfare and income equality -- "consistent with fiduciary duty," according to his website.
"Achieving maximum risk-adjusted market returns for the retired workers who rely on the funds now, and those who will in the years to come, requires an integrated approach that is mindful of long term risks, including climate change and inequality," said Naomi Dann, Lander's spokesperson, for a prior article on his vision.
His "Strategic Plan for Responsible Fiduciary Investing" includes using a growing field of "environmental, social, and governance" measurements (ESG) to guide investment decisions. That includes possible divestment from companies tied to fossil fuels, private prisons, and weapons production. It also means pushing for boardroom and C-suite diversity. Both would be further steps on the trajectory Stringer has championed.
In 2018, Stringer and Mayor Bill de Blasio announced a plan to divest $4 billion in pension fund assets from fossil fuels -- a commitment de Blasio raised to $6 billion in March. But the mayor and comptroller need buy-in from other fund trustees and so far green divestment goals have only gained traction with three of the five funds. A test of Lander's tenure will be how well he is able to move the city's police and fire pensions in this direction.
He may have an ally in Adams who, as Brooklyn Borough President and trustees of the city's largest fund -- the New York City Employees' Retirement System (NYCERS) -- has voted in favor of divestment initiatives in the past.
"Sustainable investments are good for our environmental and fiscal health of our city. In fact, going green will earn us green," Adams said in 2018 after voting to divest part of the NYCERS fund from fossil fuels.
UPDATE (Wednesday, November 3, 2021): The morning after declaring victory in the General Election, Lander unveiled his transition team, co-chaired by Carol Kellermann, former president of the Citizens Budget Commission, and Mark Winston Griffith, executive director of the Brooklyn Movement Center. The team includes former city officials, like Comptroller Bill Thompson, labor leaders, like Henry Garrido of DC37 and Hae-Lin Choi of CWA District 1, and business, climate advocacy, and community leaders.
"The job of the Comptroller is to make NYC government work better, confronting the challenges of today and tomorrow by working to improve services, build better-shared prosperity, and prepare our city for the future," Lander said in a statement.
"New York City is facing an extraordinary set of challenges right now – ending the COVID public health crisis, winning a vibrant recovery, addressing the economic and racial inequities that have long plagued our city, and confronting the climate crisis that threatens our shared future," he said. "I'm grateful to this extraordinary group of people for investing their time and expertises to ensure we are ready to get to work tackling these challenges on Day 1."
The transition team includes 40 members:
Rohit T. Aggarwala, Senior Fellow, Cornell Tech
Sasha Ahuja, National Director, Strategic Partnerships at Planned Parenthood Federation of America
Eddie Bautista, Executive Director, New York City Environmental Justice Alliance
Vonda Brunsting, Program Manager, Initiative for Responsible Investment, Harvard Kennedy School (fmr. SEIU Capital Stewardship)
Richard Buery, Chief Executive Officer, Robin Hood
Victor Calise, Commissioner of the New York City Mayor's Office for People with Disabilities
Sean Campbell, Founder, Capital for Communities (fmr. Macquarie Group, Marathon Asset Management, D.E. Shaw & Co.)
Eduardo "Eddy" Castell, Managing Partner, MirRam Group
Rafael E. Cestero, President & CEO, Community Preservation Corporation
Hae-Lin Choi, New York State Legislative and Political Director NY, Communications Workers of America, District 1
Louis Cholden-Brown, Deputy Counsel to the Speaker, New York City Council
Ashley Cotton, Principal, MAG Partners
Elisa Crespo, Executive Director, The New Pride Agenda
Henry Garrido, Executive Director, DC37
Matt Gewolb, Associate Dean & General Counsel at New York Law School
Megan Golden, CEO & Co-founder, Mission: Cure
Colvin Grannum, President and CEO, Bedford Stuyvesant Restoration Corporation
Elizabeth Guernsey, Senior Program Officer, Open Society Foundations
Eric Horvath, Director of Capital Strategies, Common Future
Maura Keaney, First Vice President, Amalgamated Bank
Carol Kellermann, Co-Chair, Former President, Citizens Budget Commission
Carol Kostik, Former Deputy Comptroller for Public Finance, City of New York
Bill McKibben, Founder and Senior Adviser Emeritus, 350.org
Hon. Ruth Messinger, Global Ambassador, American Jewish World Service & Former Manhattan Borough President
Carlos Naudon, President and CEO, Ponce Bank
Sochie Nnaemeka, State Director, New York Working Families Party
Theo Oshiro, Co-Executive Director, Make the Road New York
Randolph ("Randy") Peers, President & CEO, Brooklyn Chamber of Commerce
Andrew Rein, President, Citizens Budget Commission
Amy Rutkin, Chief of Staff, Rep. Jerry Nadler
Hon. Max Rose, Former Special Assistant to the Secretary of Defense Senior Advisor for COVID-19 of the United States of America, Former U.S. Representative
Tom Sanzillo, Director of Financial Analysis, Institute for Energy Economics and Financial Analysis
Nick E. Smith, First Deputy Public Advocate, City of New York
Roy Swan, Director, Mission Investments, Ford Foundation
Hon. Bill Thompson, CUNY Board Chair and Partner at Siebert Williams Shank & Co., Former NYC Comptroller
Maf Uddin, Treasurer, District Council 37
Javier Valdés, U.S. Director of Civic Engagement and Government, Ford Foundation
Carra Wallace, President, MBE Capital Partners
Mark Winston Griffith, Co-Chair, Executive Director, Brooklyn Movement Center