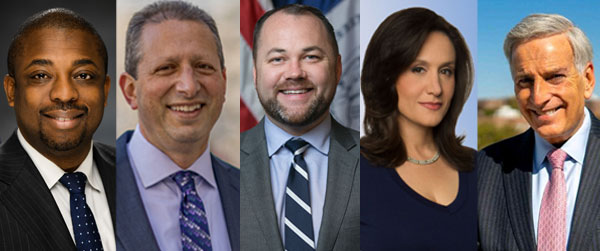 (l-r) Brian Benjamin, Brad Lander, Corey Johnson, Michelle Caruso-Cabrera, David Weprin
---
Leading Democratic candidates for New York City Comptroller, the city's chief fiscal officer, met for two debates this past week, just ahead of the Saturday start of early voting, where they laid out a range of positions and occasional attacks.
Candidates discussed how they would use the comptroller's power to audit city agencies, provide oversight of city budgeting, manage the city's sizable pension funds, and more. They also answered questions on hot-button issues like the size of the NYPD budget and the city's total workforce, and the impending fiscal chasm the city is facing when federal covid aid dries up.
The two debates showed most other candidates view Corey Johnson, the current City Council Speaker, as their most formidable opponent, criticizing his record as a progressive, his role in the size of the city budget, his attendance at budget hearings, and inaction on some commitments.
This Democratic comptroller field, unlike the contentious mayor's race, includes several elected office-holders. In addition to Johnson there is State Senator Brian Benjamin, financial journalist Michelle Caruso-Cabrera, military veteran and entrepreneur Zach Iscol, City Council Member Brad Lander, State Senator Kevin Parker, financial advisor Reshma Patel, fiscal analysis Terri Liftin, and Assembly Member David Weprin. Patel and Liftin, who have polled and fundraised at lower levels than the others, were both left out of the first of the two debates by WABC radio, while Patel was included in the second, on NY1 and WNYC, along with the other seven while Liftin did not make the cut based on fundraising thresholds set by the Campaign Finance Board.
Johnson has the greatest backing in the race from major labor unions and political leaders, including many of his Council colleagues, but Lander has been endorsed by The New York Times editorial board and progressive stalwarts like Reps. Alexandria Ocasio-Cortez and Jamaal Bowman, Public Advocate Jumaane Williams, the Working Families Party, and many others, including U.S. Senators Elizabeth Warren and Bernie Sanders. Benjamin and Weprin both have their fair share of endorsements, too, with Benjamin finding a lot of support among fellow senators and leaders from Upper Manhattan, and Weprin from fellow Assembly members, Queens leaders, The Daily News editorial board, and more.
The City Comptroller has the power to audit all city agencies, with the obligation to do so at least once every four years. It has oversight over the budget, reviews and approves many city contracts, and sets and enforces the prevailing wage. It is also the fiduciary of the city's five pension funds, worth about $250 billion. The office-holder can use these powers to expose poor performance and inefficiencies in government, hold the mayoral administration to account, and more. In recent years, Comptroller Scott Stringer -- a leading mayoral contender -- has leveraged the pension funds to influence corporate policies related to climate and diversity.
The first of the two comptroller debates was broadcast live Wednesday on WABC radio and moderated by Dominic Carter. The second -- the only televised debate thus far -- was broadcast Thursday night by NY1 and WNYC and co-hosted by several other partners including The City and Citizens Union as part of the city's official campaign finance and debate program. The two events exposed recurring fault lines amongst the contenders and gave voters just tuning into the important citywide race a chance to get to know the candidates, particularly in the context of the first use of ranked-choice voting for primaries across the city, under which voters can rank up to five candidates in order of preference.
Caruso-Cabrera, who primaried Ocasio-Cortez from the right in the congressional primary last year, blasted Johnson for allowing the city budget to grow more than $20 billion in the eight years of Mayor Bill de Blasio's tenure (Johnson has been City Council Speaker for the past three years, and was a rank-and-file Council member previously). "Does this city feel $20 billion per year better to you," she asked voters during both debates. Johnson, in response, frequently criticized her past as a Republican and backing by Wall Street donors.
Lander was also on the offensive, calling the Speaker out for a stalled report on the Council's sexual harassment policies and missing all 23 of the body's recent executive budget hearings. Johnson defended the sexual harassment work, saying it was important but got held up by the pandemic. He did not directly address missing budget hearings, but stressed his leadership on the city budget continues. Patel also needled Johnson on a domestic workers' rights bill. "We are going to get the bill done very soon, I don't have a date, but we are going to get it done, I commit to getting it done," Johnson said, calling it "incredibly important."
Benjamin, who has made NYPD accountability the centerpiece of his campaign, critiqued Weprin for accepting police union endorsements. Weprin in turn questioned Lander for voting against the city budget last year because it allocated too much funding to the NYPD. Iscol and Parker had mostly nice things to say about the others.
In "lighting rounds" across both nights, all candidates said they supported raising the prevailing wage, keeping outdoor dining sheds, and continuing to grade city agencies on diversity and inclusion goals. All but Weprin said they would specifically audit the use of city-issued parking placards, though he said he would do it as part of agency audits. Caruso-Cabrera, Iscol, and Parker said they were opposed to closing the Rikers Island jail complex.
Auditing
Between the two debates, candidates were asked which agencies they felt was most bloated and in need of auditing beyond the once-every-four-years minimum.
Patel and Cabrera-Caruso both identified the Department of Education, with its immense budget, huge influx of state and federal aid, and close to 1 million students relying on it. Weprin has been concerned with large outside contracts in general, of which he said the DOE has some of the biggest. He committed to auditing all contracts with outside vendors valued over $100 million. Johnson included the DOE in a list of four agencies he felt most in need of scrutiny and efficiency, along with the Department of Homeless Services, Department of Housing Preservation and Development, and the NYPD. For the NYPD, specifically, he noted the large settlements the city metes out for police misconduct, though that liability under recently passed legislation falls on the city's general fund.
Parker and Benjamin also cited the NYPD. "The NYPD, as far as I can tell, has never been properly audited," said Parker, who chairs the Senate committee on energy and telecommunications, to moderator Errol Louis during the second debate.
Benjamin, who chairs the Senate committee on revenue and budget, said the next comptroller needs to "take a very close look particularly at some of our cure violence groups...who are doing incredible jobs but we haven't audited them effectively to have a clear understanding of how well they are doing.
For Lander, while the NYPD is in serious need of oversight, DOC needs more: "We actually incarcerate fewer than one half as many people as we did ten years ago but we're spending 20% more," he said. "That's money we could instead be spending on mental health care, supportive housing, and job opportunities."
Iscol said he would take an issue-based audit approach, examining services across multiple agencies rather than within one agency or looking at entire agencies (that position parallels a common theme in the mayor's race: to reorganize City Hall and desilo related efforts, like housing and homelessness prevention).
Relationship to Mayor
When asked in the second debate how they would approach the mayor all candidates suggested they would have a balance between independence and collaboration as is required of the position.
Caruso-Cabrera said she would be cooperative or antagonistic depending on whether the next mayor's actions aligned with her goals of universal broadband access and free CUNY education.
Benjamin said he would need to collaborate with the mayor on his goal to finance the creation or preservation of 500,000 units of affordable housing.
In the first debate, Benjamin, Caruso-Cabrera, and Weprin each said outright that they had no intention of becoming mayor themselves, despite the fact that every comptroller for decades has run for that higher office.
Pension Funds
Candidates were divided on whether the comptroller should use their sway with the city pension funds, which are governed by their own boards, to maximize returns or to consider certain non-fiduciary causes when making investments, though some argue it is a false choice.
Most candidates said it was possible to do both, noting that many progressive climate goals will in the long term help industries and thus investments.
"Protecting our retirees is of utmost importance to me but I don't believe that it's a trade-off between taking a position and climate change on investing in companies that are trying to do social good," said Patel on Thursday evening, in response to a question from The City's Rachel Holliday Smith.
"Our pension investments are long-term investments, they're 40-year investments, and in the long-run those are the things that are going to produce the best results for us," she said in a statement echoed by Lander, Parker, and Johnson.
Iscol agreed that fossil fuel divestment could be prudent if done carefully and emphasized the importance of the office's Bureau of Asset Management, while touting his experience managing nonprofits. Benjamin also indicated he supported divestment and pointed to his own background at Morgan Stanley and on the board of trustees at Brown University. Caruso-Cabrera said she would follow so-called "environmental, social, and governance" standards, a set of criteria to guide socially-positive investments.
"First and foremost its fiduciary obligation and I would try to get the best returns on the assets," Weprin said Thursday.
Post-Federal Aid
The city has received billions of dollars in direct and indirect aid from Albany and Washington to provide relief to people and businesses, and fund services depleted by the pandemic. Brigid Bergin of WNYC pressed candidates at Thursday's debate on what the city needs to do to continue paying for those programs when the federal aid runs out.
Johnson said the city needs to put more money in reserves, and said he would "push for that in the upcoming budget," which is due by July 1, while making sure those funds don't come out of education or healthcare budgets. Lander has proposed a bill to track federal American Rescue Plan dollars and blamed Johnson for holding it up. "I've asked the speaker when we can pass it. I don't know what's going to happen first: releasing the Redwood report, releasing his schedules, passing human rights for domestic workers, or tracking the American Rescue fund," he said.
Benjamin also talked about the importance of reserves, having sponsored legislation to create a Rainy Day Fund for New York City after it was approved by voters in a referendum in 2019.
For Patel, "what we should do during this time is figure out how to create recurring revenues to support programs such as universal pre-K, such as the Summer Youth Employment Program."
Iscol criticized de Blasio, Johnson, and Lander (though not all by name) for their roles in the city's predicament. "Somehow this administration and some of the folks on this stage have taken these bailout funds and used it to march off a fiscal cliff," Iscol said, outlining the steep hill of savings and job creation the next government faces. Parker also said the city needed to focus on creating quality jobs.
Caruso-Cabrera also blamed Johnson "who has presided over this debacle," she said Thursday. "The power of the audit, financial statements. They are tools, they are revealing, and in the right hands they can be weapons."
"We have to get our finances under control," said Weprin on Thursday, going on to talk up his experience chairing the City Council finance committee post-9/11 and during the 2008 recession. "We made some tough decisions," he said, adding, "I'm not looking to lay off city employees…but I'd like to see more efficiency and saving money." Weprin later indicated he supports shrinking the city workforce. Caruso-Cabrera and Iscol were the only others to join Weprin in that stance when all the candidates were asked it as a yes/no question on NY1.
NYPD Budget and City Workforce
In response to questions from Bergin about what the comptroller can do to shed light on police spending, Benjamin reiterated support for fully auditing and evaluating non-police responses. Parker called for a cost-benefit analysis of education and crime-reduction programs. Caruso-Cabrera also supported a broad "full-scale" audit of the police department.
Patel supports cutting the NYPD budget. She said she would look at what recent budget increases have gone to "and show what kind of services we need to be providing instead of having a militarized police force."
"The comptroller needs to be someone that takes a holistic approach at looking at how the NYPD is functioning and making recommendations to the Council and to the mayor on an annual basis, and I would do that," said Johnson, who agreed with broader audits and the "need to demilitarize the NYPD."
"I would take a different approach. I'm not a fan of the 'defund the police' movement," said Weprin, who has been endorsed by all of the police unions, claiming a reduction in the NYPD budget was contributing to an increase in gun violence.
Lander, who voted against the budget last year over concerns that too much had been allocated to the NYPD, disagreed. "More police doesn't equate to more safety. We already have more cops per person than any other big city in America, according to the Vera Institute of Justice," he said."
According to Iscol, "the NYPD has too many bank accounts," making it "incredibly difficult to audit."
[WATCH: 30 Minutes with the Democratic Candidates for New York City Comptroller]
Anna Kaufman contributed to this story.