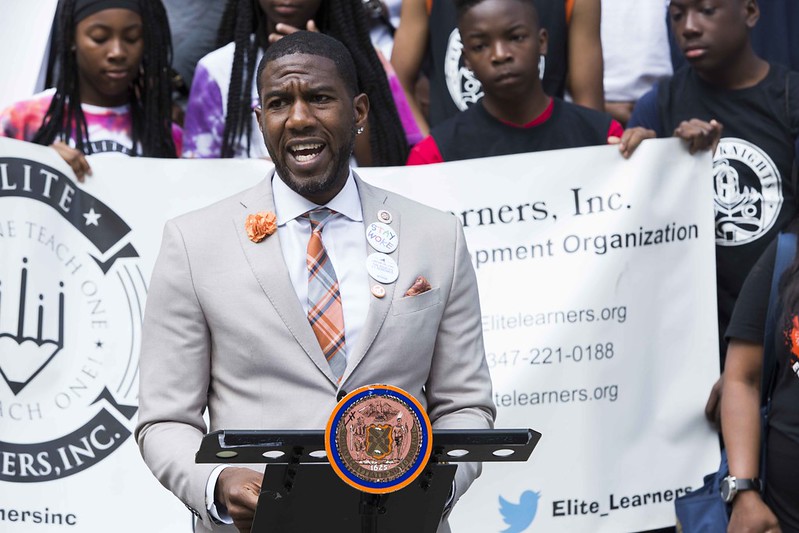 Public Advocate Jumaane Williams (photo: Emil Cohen/City Council)
---
Public Advocate Jumaane Williams, a Democrat, won reelection Tuesday for his first full term in the role, easily defeating three opponents on the general election ballot. Without many thousands of absentee ballots counted and in-person returns still flowing in, Williams had a very large early lead and the Associated Press called the race for him just after polls closed at 9 p.m.
Williams was first elected to the seat in a special election, then another election in 2019 to serve the remainder of then-Public Advocate Letitia James' term when she became state Attorney General.
Williams emerged victorious in the nonpartisan special election in February 2019 by a wide margin against 16 other candidates including City Council Member Eric Ulrich, a Queens Republican who came in second, and the City Council speaker at the time, Melissa Mark-Viverito, who was third in the race. That win came on the back of his unsuccessful but strong campaign for lieutenant governor in 2018, where he lost by eight percentage points to incumbent Kathy Hochul, now the governor who Williams is openly considering challenging in next year's primary.
While he's drawn some criticism for essentially running for two offices at once, it did not appear to dampen voters' enthusiasm for Williams. On Tuesday, he came out ahead of Republican nominee Dr. Devi Nampiaparampil, Conservative Party nominee Anthony Herbert, and Libertarian Party nominee Devin Balkind by wide margins.
"This is exciting," Williams told Gotham Gazette at his victory party Tuesday night. "The message has worked each time. We haven't changed it. I'm so honored that New Yorkers, they took time out of their day every single time and cast a ballot for me. That's pretty amazing. I'm just so honored that I don't take it for granted at all. We have a lot of work to do."
Williams, a longtime tenant organizer before being elected to the City Council from Brooklyn three times, has developed a reputation as an "activist elected official" and has been a vocal critic of Mayor Bill de Blasio's administration while also finding some common ground with the fellow Brooklyn Democrat. Unlike his predecessor, who used her legal background to challenge the mayor through lawsuits, Williams has been on the ground protesting the administration, particularly on policing practices, passing legislation, and altering how the office functions, he has said.
"Since my time in office, we've completely restructured it, we've redefined the scope of what it can do, we've had some tough fights, and we've won some tough victories," Williams said of the office, in his opening statement at the only official televised debate ahead of the general election.
Though Williams has repeatedly insisted that he has his eye on the ball as public advocate, he has at the same time announced his intention to explore a run for governor in next year's Democratic primary and opened a state-level campaign account. As a progressive with a powerful base in Brooklyn, he would present an ideological alternative to Governor Hochul, a moderate Democrat with upstate roots who succeeded disgraced Governor Andrew Cuomo after his resignation amid sexual harassment and other scandals.
Hochul has already announced that she will seek a full term as governor, and Attorney General James, another Brooklyn Democrat, announced her own bid for governor just last week, while de Blasio appears close to launching his own campaign for the state's highest office as well.
"I think it'd be dereliction of duty not to say I'm even going to explore a position that actually has more tools than I have now to do the things I'm actually advocating for," Williams explained of his gubernatorial exploration at the debate. Williams is among the few high-level elected officials in New York with major enthusiasm behind him from the party's left wing, but James could complicate any intention he has of being the candidate of the left in the primary.
On Tuesday night, Williams told Gotham Gazette that a new announcement would be forthcoming soon after he sealed victory in the public advocate race. "We're going to close our exploratory committee in the coming days and make an official announcement," he said of running for governor. "But we have experience running a few years ago as lieutenant governor. I fell in love with the state. It's amazing and we're getting a warm reception like we did when we had the exploratory committee in 2018. One of the reasons I fell in love with the state so easily is — you know they try to create this upstate-downstate divide, but most of the issues we're dealing with here, I've seen it, especially in the cities across the state. Of course there's regional differences, there's cultural differences, but the issues of housing, of transportation, of public safety, of education, of health are very similar. And everybody is looking at Albany for the assistance that they haven't been getting for a long time. And that's what the vision that we've been pushing forward in the exploratory committee of making sure Albany addresses those issues and the reception has been warm."
On the City Council, Williams – along with Council Member Brad Lander, another Brooklyn Democrat who won the city comptroller race on Tuesday – spearheaded an effort to increase oversight of the NYPD and to end discriminatory police practices under the Community Safety Act. He has continued his advocacy in that vein as public advocate, which has brought his views in some conflict with Eric Adams, the next mayor and yet another Brooklyn Democrat, who ran a tough-on-crime campaign.
"I have worked with Eric on a whole host of issues, including gun violence," Williams said in an appearance on the Max Politics podcast after the June primary. "I know he believes very much in a holistic approach. So, my hope is that the Eric Adams that shows up is the one that I've worked with on all these issues and the one who was talking about the holistic approach, and not the one that I heard some things said that I'm hoping was said in the moment of a campaign and now when we get ready to govern we'll go back to the things that I worked with him on for a number of years."
Williams' top priorities during the campaign have been criminal justice reform, tackling gun violence, and housing affordability. But he has also called for strengthening the office of public advocate, with subpoena power and the right to vote on legislation before the City Council – currently, the public advocate can only introduce legislation.
As a Council Member, Williams sponsored dozens of pieces of legislation, which he has touted on the campaign trail. He's continued that trend as public advocate, and now has a proposed bill requiring racial impact studies before city rezonings, an attempt to blunt the forces of gentrification and displacement in communities of color. He has also proposed legislation to mandate that private employers provide paid personal leave to their workers. It would impact up to 3.4 million New Yorkers, his office estimates.
As he heads into his new term, Williams has said he's focused on the city's recovery from the pandemic, particularly ensuring that it does not bounce back to where it was but rather does better.
"As we're reopening, it really is about making sure that we don't go back to normal because normal simply didn't work for most New Yorkers," he said on the Max Politics podcast. "We have an opportunity now. We lost tens of thousands of New Yorkers. It's horrific. We have an opportunity to remember them by not going back to normal, by actually going back to a new normal to deal with some of the issues that we were talking about pre-pandemic."
Ethan Geringer-Sameth contributed to this story. This article has been updated several times since publication.