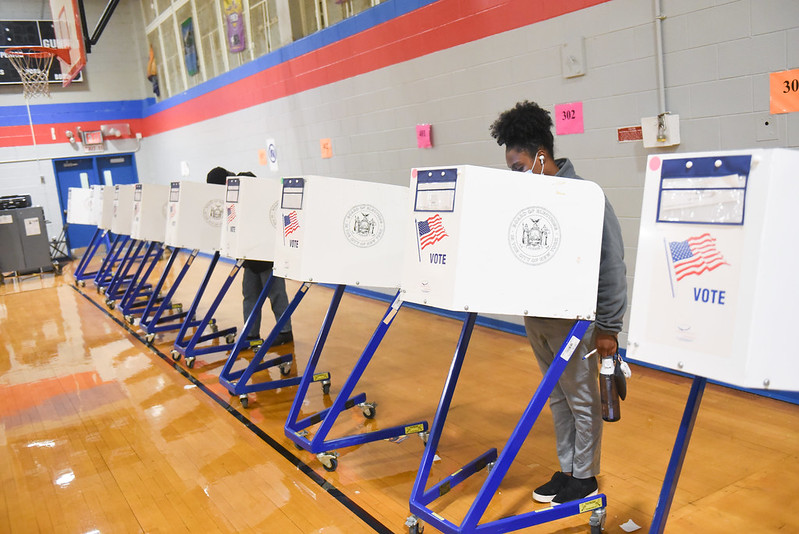 Voters voting (photo: Michael Appleton/Mayoral Photography Office)
---
With the New York City general election results certified Tuesday, Democratic Mayor-elect Eric Adams' tally finished at 754,000 votes, leaving him with close to 66% of the vote-share compared to Republican Curtis Sliwa's 27%, or 312,000 total votes.
In total, the New York City Board of Elections counted the ballots of about 1,150,000 New Yorkers, bringing the turnout rate to 20.5% of the 5.6 million registered voters across the five boroughs. That included 85,000 absentee voters and 7,000 affidavit ballots. Several other candidates on the ballot as well as write-in choices accounted for the rest of the votes beyond those for Adams and Sliwa, about 83,000 in total.
The turnout percentage is the lowest it has been in at least the past three decades.
In terms of vote-share, Adams, the Brooklyn Borough President, fared roughly as well as Mayor Bill de Blasio did in his 2017 reelection win against Republican Nicole Malliotakis. Overall voter turnout that year was 23%. But Adams' vote-share was about six-and-a-half points lower than de Blasio's 2013 showing of 72%, in his first bid for mayor, then an open seat, against Republican Joe Lhota.
The highest turnout was on Staten Island, where 31% of registered voters voted, distantly followed by Manhattan with 22% and Brooklyn with 21%. Queens and the Bronx each had turnout rates below the citywide rate, with 20% and just 15%, respectively.
Adams was the victor in all but Staten Island, where Sliwa got 65% of the vote to his 28%. He did best in Manhattan and the Bronx where he got 78% and 74%, respectively. He received 69% of the vote in Brooklyn and 59% of the Queens vote, below his citywide rate.
About a third of the absentee ballots came from Manhattan, where about one in ten votes counted were mailed in.
Of the nearly 1.1 million in-person voters, about 170,000 cast ballots during the early voting period, according to unofficial city data reported at the end of that eight-day period. More than half came from Manhattan and Brooklyn combined.
Overall, Adams received 441,000 more votes than Sliwa, a margin of victory on par with de Blasio's in 2017 but far lower than his 530,000 margin in 2013.
Adams' campaign has spent $18.1 million in 2021 across the primary and general elections, according to the latest filings with the Campaign Finance Board, more than half of which came via the city's public matching fund program. That number, which is likely to grow when the final filings are reported in January, is more than the $13.6 million de Blasio spent in 2013 and $10.2 million he spent in 2017. Adams was also supported by millions in independent expenditures, mostly during the primary campaign, which he narrowly won over a dozen competitors. Sliwa, who did not qualify for public funds until the final stretch of the campaign, spent about $6 million.
In the comptroller's race, City Council Member Brad Lander, a Brooklyn Democrat, beat Republican Daby Carreras with 66% of the vote, roughly the same number of votes Adams received in the mayor's race. Public Advocate Jumaane Williams, another Brooklyn Democrat, was reelected to his first full term over Devi Nampiaparampil, the Republican nominee, with 65% of the vote.