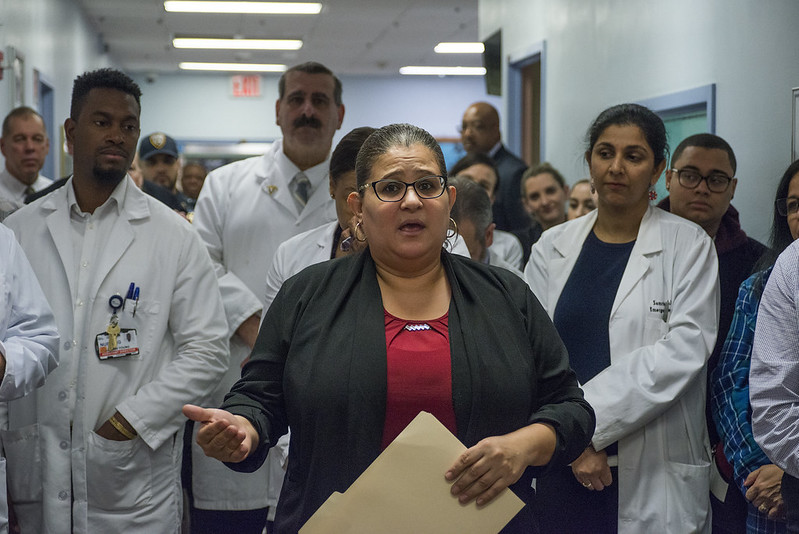 Council Member Diana Ayala (photo: Jeff Reed/City Council)
---
The New York City Council Speaker should be someone who deeply understands people's struggles and will take a social services focus to the powerful leadership position, argues City Council Member Diana Ayala.
During a recent appearance on the Max Politics podcast from Gotham Gazette, Ayala discussed her experience representing the 8th Council District, which includes East Harlem and the South Bronx, the city's approach to mental health care, the effort to close Rikers Island, her bid to become the next Speaker of the City Council, and more.
"I've suffered from homelessness, food insecurity, I know what it's like to be on the verge of eviction, I come with a different perspective, right, on the issues that matter the most to my constituency," said Ayala. "That level of experience is important because people like myself, I consider myself a very social services-driven member, understand the nuances in government because those have been our lived experiences. We didn't read about it, we didn't hear about it, we don't just sympathize, we understand that very intimately because it's been our experiences."
Following this year's city elections, the race to become the next City Council Speaker is in full swing, with Ayala among seven candidates, all Democrats, vying to be named by their colleagues as the legislative leader. The 51 members of the Council, only a handful of whom are Republicans, will vote on the new Speaker come January, but it is likely that someone will lock up the requisite 26 votes before the new year, as has been tradition. Along with Council members themselves, there are many other powerful figures involved in selecting the Council Speaker, including labor unions, members of Congress, other elected officials like Mayor-elect Eric Adams, and more.
The City Council Speaker is essentially the second most powerful elected official in city government, with significant sway over the legislative agenda and calendar, important committee assignments that impact both legislation and oversight, a major role in negotiating the city's massive budget with the mayor, control of certain pots of funding, the bully pulpit to impact public policy in many ways, and more.
"The fact that we have no Latino representation in citywide positions is important to me," said Ayala, who was born in Puerto Rico and represents a district with large Latino communities, about what makes her stand out as a candidate for City Council Speaker. "Secondly, there are no women in citywide positions, that's important to me. But most importantly is the fact that we lack leadership that is kind of in-tune with the issues that impact communities of color in the way that I am."
[Listen: Max Politics Podcast: City Council Member Diana Ayala on Mental Health Oversight, Running for Speaker, and More]
On the podcast, hosted by Gotham Gazette editor Ben Max, Ayala discussed her experience as the former chair of the Council's Committee on Mental Health, Disabilities and Addictions. Explaining that she has three close family members who suffer from bipolar disorder, including her brother who she said has been incarcerated a number of times, Ayala said she was vocal about the "deficiencies" the government has when trying to address mental health.
Ayala said the de Blasio administration's Thrive NYC mental health program had issues but also has not necessarily gotten the credit it deserves amid a great deal of criticism. "I really want to say that the First Lady deserves a lot more credit than she gets," Ayala said of Chirlane McCray, the mayor's wife who spearheaded the launch of Thrive NYC. "I think that most people were not talking about mental health in the way that we've been talking about mental health."
While saying that the program heralded a "very necessary first step" in addressing mental health issues, Ayala also acknowledged its flaws and said she wants to see more resources available to New Yorkers suffering with severe mental illnesses, including those in or leaving incarceration. Better services can help keep people with the most serious mental illnesses from landing in jail in the first place, she pointed out.
"We have to start building those relationships prior to discharge because oftentimes they don't make it to those appointments," said Ayala, drawing on the experience of her brother. "They are required and expected to fill out their own applications to make that one appointment, to show up, and many of them, quite frankly, just don't have the mental capacity to do that. To me, that's the equivalent of asking a child to follow through with the necessary steps to get access to care. I think that, unfortunately, they do require a little bit more handholding and our system is just not really prepared to do that."
Ayala also discussed her efforts supporting the closure of the Rikers Island jail complex and building of four new jails, including one in her district, in the South Bronx. Since the plan was announced, with Ayala's support, there has been some criticism about the planned jail in Mott Haven. Ayala said that while she did not advocate for the new jail to be placed in her district per se, she is supportive of it given the importance she sees in the closure of Rikers Island, the use of a city-owned site, and the relative proximity to loved ones and the courthouse for those Bronxites who are ultimately jailed there.
"I get it, right, this is a very difficult pill to swallow, but I think that there's a bigger picture here and I think that this has the potential to do a lot of good in terms of reducing recidivism and keeping families connected and ensuring that people have equal access to health care, mental health care, you name it," said Ayala. "I mean, there are so many benefits to it. So if they find a better location, I am also supportive of that, but it has to go somewhere." Given the status of the borough-based jail project, which was approved by the City Council two years ago and is moving along in the design and construction process, it is unlikely that the Bronx site will be changed.
Asked about how the East Harlem rezoning has panned out, Ayala said she thinks it has been going well so far, several years after it was passed under her predecessor, then-Council Speaker Melissa Mark-Viverito, for whom Ayala worked in several roles before being elected to replace Mark-Viverito when she was term-limited out of office.
"I think that when people hear the word 'rezoning,' they automatically assume displacement. And I think that in this case, we were very purposeful in terms of the locations that were being upzoned," said Ayala, noting displacements had fallen since the rezoning began. "I think that for us, the rezoning hasn't been a negative."
In the podcast's final segment, Ayala discussed her relationship with Mayor-elect Eric Adams and how she is pitching herself to colleagues in trying to become the next Speaker of the City Council.
Acknowledging that she has support in her Speaker bid from Mark-Viverito, the former Speaker, and U.S. Rep. Adriano Espaillat, Ayala said that among the next class of Council members, as of the November 24 podcast recording, "we have a block of about seven or eight members today that are hard commitments, and then, you know, several others who have expressed an interest in supporting as well that are kind of trying to figure out how to work through some of their own internal politics."
She declined to name any of those seven or eight "hard commitments" beyond Council Member-elect Althea Stevens, who had already told City & State of her support for Ayala.
"I envision myself as a leader that is going to be working very closely with the new members," Ayala said. "Really, really excited about the new class of incoming members. We have a lot of really great new talent, a lot of wonderful new ideas, just really great energy....I have been very careful not to create my own platform or agenda. Because I think that it would be irresponsible to do that without really having more robust conversations with the incoming members about what their priorities are as well."
As for Mayor-elect Adams, who also grew up in New York City under challenging circumstances, and working with him if she is leading the Council as Speaker, Ayala said, in part:
"I think that, for the members, it's important that we maintain a level where we are the check and balance for the admin and that means that needs to be protected at all times. But we all look forward to a working relationship with the new administration, and I'm excited about what that means. I think that the Mayor-elect and I have a lot of things in common, in terms of our own personal stories and our upbringings. I am very excited to see what that translates into in terms of his policy work. But obviously we're here to work. We're here to get things done and we will do that as kindly as possible and as professional as possible. But, there shouldn't be any misunderstanding that when we need to push back as a body we will be pushing back."
[Listen to the full podcast episode with Council Member Diana Ayala here]
[Find Max Politics episodes with each of the seven City Council Speaker candidates here]