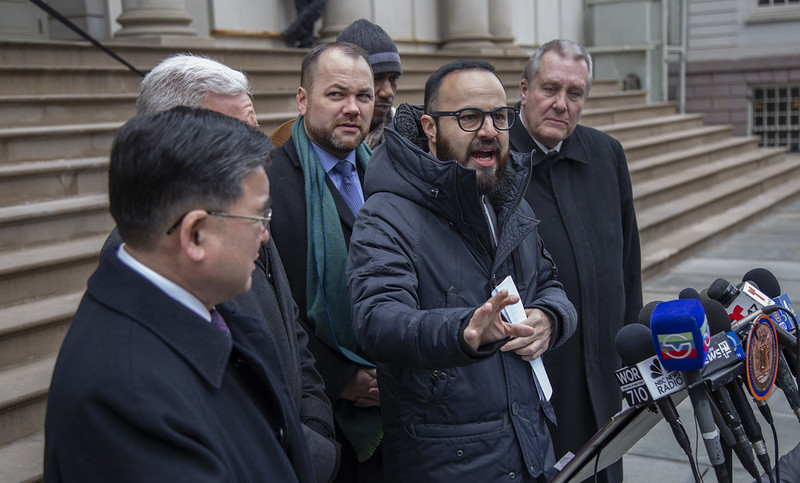 Council Member Francisco Moya (photo: John McCarten/City Council)
---
New York City needs to revamp its approach to development, argues City Council Member Francisco Moya, and have the next City Council Speaker be an experienced official who can help usher in that new way of doing business while also crafting a budget that reflects the diverse needs of the city's many districts..
Appearing on a recent episode of the Max Politics podcast from Gotham Gazette, Moya discussed his experience representing District 21 in Queens covering Elmhurst, Jackson Heights, and Corona, his work chairing the Council's zoning subcommittee, which involves debates around land use decisions and development projects, and his aim of becoming the next Speaker of the City Council.
"We are a city in crisis...and what I bring to the table is my experience, over a decade working at the State Legislature and here at the City Council," Moya told host Ben Max of Gotham Gazette, discussing what he believes makes him stand out as a Speaker candidate. "I'm somebody that has really been able to fight for a city budget, and this is what I would continue to do as Speaker, fight for a city budget that reflects our priorities."
The first portion of the discussion, one in a series of interviews with the seven candidates to be the next Council Speaker, Moya criticized the de Blasio's administration's neighborhood rezoning and affordable housing programs, including what he sees as a "very flawed MIH [Mandatory Inclusionary Housing] program that does not do enough to protect lower-income New Yorkers.
"I think the MIH program should have been the floor and not the ceiling for how developers come into our communities," Moya said (apparently not recognizing that the city can and does often subsidize additional affordability beyond the baseline requirements of MIH for a rezoned plot of land or neighborhood). "We have to look at legislation that I've put through about displacement and these neighborhoods that are being gentrified."
Moya argued that the city's current zoning and land use reform processes need to be "revamped" to be more receptive to voices in communities that are being redeveloped and that greater investments be made into supportive and affordable housing for residents who need it the most.
Acknowledging that "not all development is bad," Moya said that a balance must be struck between city-wide interests and interests of local communities. Pointing to the controversial expansion of the New York Blood Center on the Upper East Side, Moya said that he backed the rezoning effort and rejected local Council Member Ben Kallos' objection as its benefits for the city outweighed the impacts on the neighborhood.
The expansion had to first pass through Moya's committee before going to the land use committee and then the full Council. It was the only instance in more than a decade where the City Council bucked "member deference" to overrule a local Council member on a land use decision.
"The local Council members are often in the best position to make decisions about new projects that are impacting their community," said Moya. "But we have to look at the projects that benefit the city's economic, cultural, and housing goals. If we're seeing projects like that come through, that's where we have to take a closer look."
He said that on "spot rezonings" for single properties, typically housing development, that he would always continue to support member deference, but that on bigger projects, it must be a full Council decision.
Asked about his pitch to colleagues as to why he should be the next Speaker — in a vote that will be taken when the new Council class is seated in January but a decision that could be made any time before then if one of the candidates secures enough support (26 votes in the 51-seat Council) — Moya pointed to his experience.
With seven candidates, all Democrats, vying to be selected by their fellow City Council Members to be the next Speaker, essentially the second most powerful elected official in city government, Moya argued that his relationships with organized labor and experience drawing together coalitions, passing inclusive budgets, and more will help him win the position.
"I'm a firm believer that as Speaker, you have to take the hits for your members," said Moya. "But we also have to provide them with the proper support system to help them get through this, and we have to run for re-election again in two years [due to redistricting], so I think it's really important that we have a very strong budget so that they can really bring back the programs and initiative that they care about to their district."
Moya is among three candidates who, if chosen as Speaker, would be the only Latino with city-wide responsibilities given that the three popularly-elected citywide posts will, starting in January, be held by Mayor Eric Adams, whom Moya is close with and is reportedly supporting his Speaker bid, Public Advocate Jumaane Williams, and Comptroller Brad Lander.
"We are making up now almost 30% of the electorate here in the City of New York," Moya said about the Latino population. "I think it's important that the leadership across the state and the city be reflective of the people that live here in New York, and I am really looking forward to being able to represent my Latino community as the next Speaker of the City Council, and I think that we really have a real case to be made that a Latino or Latina should be the next Speaker."
[Listen to the full conversation: Max Politics Podcast: City Council Member Francisco Moya on Zoning Battles, Running for Speaker, and More]
[LISTEN: The 7 Candidates for City Council Speaker on Their Government Work and Pitch to Colleagues]
***
Have an op-ed idea or submission for Gotham Gazette? Email This email address is being protected from spambots. You need JavaScript enabled to view it.