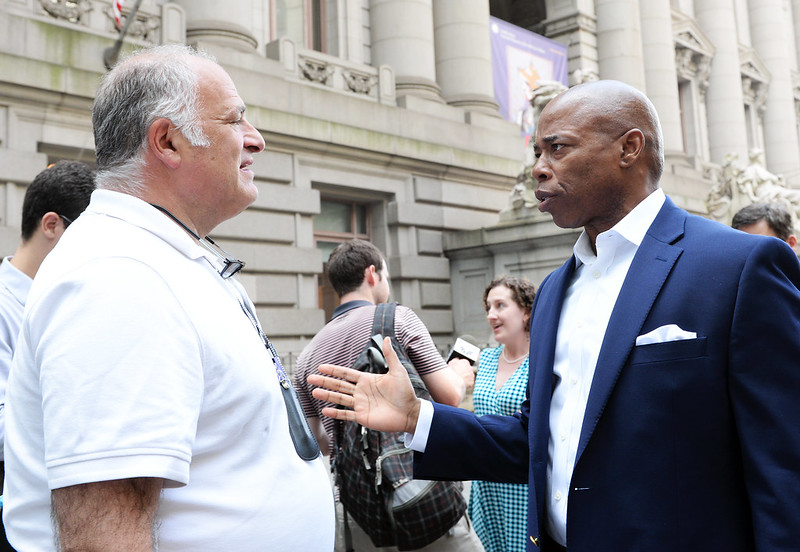 Eric Adams after a press conference (photo: Eric Adams)
---
In the last two months of the mayoral election, now Mayor-elect Eric Adams refunded more than $1 million to 653 donors, only a few of whom had already contributed the maximum amount to his campaign while others had donated nothing previously.
Between September 28 and November 25, the period covering two campaign finance disclosure filings, donors attempted to give Adams' campaign more than $1.3 million. But Adams only retained about $298,000. The recent $1 million in refunds accounts for about half of the nearly $2.2 million that Adams' campaign refunded in total since the campaign began raising funds in 2018.
In past elections, a single donor could give mayoral candidates as much as $5,100, a contribution limit even higher than what was permitted for congressional and presidential candidates. At the same time, the city's voluntary public matching funds program provided a 6-to-1 match for the first $175 of every qualifying contribution from a city resident.
Campaign finance reformers argued that the high contribution limit encouraged candidates to focus their fundraising on wealthier donors, giving them outsize influence in elections over everyday New Yorkers. In 2018, a Charter Revision Commission created by Mayor Bill de Blasio proposed a ballot question, which was approved in the general election that year, establishing new rules for the 2021 city election cycle. Though the previous rules would remain in place through 2021 and be eliminated for future election cycles, candidates could now opt into a new system that came with a $2,000 individual donation limit for citywide candidates and would match the first $250 of a qualifying contribution at a rate of 8-to-1.
The City Council then expanded the program further by increasing the amount of public funds that could be paid out to candidates, but also made certain pieces retroactive, forcing candidates like Adams into more refunds in order to participate in the new system.
Adams, like almost every mayoral candidate, participated in the new program and adhered to its limits including by returning a large sum of money via contributions that came early in the cycle at the higher limit. So when donors who had already given the maximum sought to donate again after he won the primary, their money was returned.
Surprisingly, many others who tried to donate for the first time also saw their money reimbursed by the Adams campaign, despite the fact that Adams had rebuked progressive calls to deny donations from real estate and other interests and said he welcomed funding from any and all supporters.
In all, of the more than $1 million that was refunded by the Adams campaign from September 28-November 25, $910,000 came from 455 donors who tried to give a maximum donation of $2,000. The campaign appears to have stopped its flurry of fundraising in September and, at some point in that period, switched off its fundraising portal. Evan Thies, a spokesperson for the campaign, said in an email that out of the refunds made in that two-month period, "the bulk was to return excess funds by refunding any max contribution made 9/1 or later." He did not explain why the campaign began refunding all maximum donations, though by that time it was apparent that Adams was both the heavy favorite in the general election and had raised a solid sum to fund his final campaign operations.
There is no set limit to how much money a campaign can raise, though mayoral candidates participating in the public funds program were limited to spending about $7.3 million in each of the primary and general election stages. The primary spending limit was increased after Wall Street executive Ray McGuire, who did not participate in the matching program, raised more than half of the spending limit for participating candidates. But, at the end of the election, the campaign must face a post-election audit by the Campaign Finance Board, and can use remaining campaign funds for compliance purposes and other expenses. Once those obligations are satisfied, the campaign must repay any leftover public campaign funds to the city, according to the CFB.
Overall, as of the most recent filing, Adams raised more $9 million in private funds for his campaign, received another $10.1 million in public funds and spent about $18.1 million. He had just over $1 million in cash on hand as of November 25. One more filing is due from the campaign on January 18 that will likely detail many last expenses.
By all appearances, the general election was a foregone conclusion from the time the primaries were decided in June, and Adams had hit the limit for receiving public matching funds in the general. His fundraising far surpassed his Republican opponent, Guardian Angels founder Curtis Sliwa, who only raised $1.6 million in private contributions, got $4.2 million in public funds and spent more than $6 million, leaving him with a negative balance of about $203,000 as of the most recent filing.
[READ: Eric Adams' $18 Million-Plus Campaign]
There were some notable names among those who donated the maximum to Adams between late September and late November but had their money returned to them by the campaign. They included David and Susan Rockefeller; Susanne Durst, wife of real estate mogul Douglas Durst; Alexandra Cohen, wife of hedge fund billionaire and Mets Owner Steve Cohen; Richard Edelman, CEO of PR giant Edelman; former Bloomberg deputy mayor Howard Wolfson; and more.