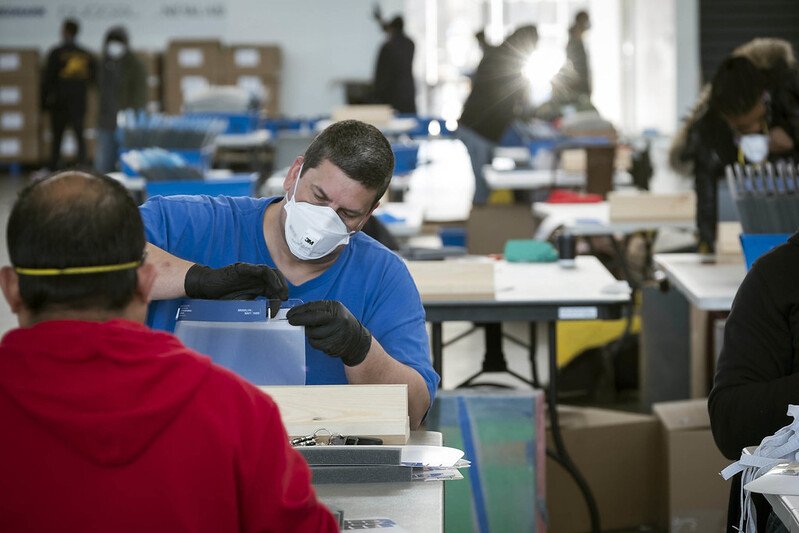 New Yorkers at work (photo: Ed Reed/Mayor's Office)
---
Mayor Eric Adams has repeatedly cited inefficiencies of city government for failing New Yorkers and has vowed that he will end silos that prevent city agencies from working together for better governance. His predecessor, Mayor Bill de Blasio, attempted some of that with five pilot programs aimed at addressing poverty-related issues. Those pilot programs are nearing the end of their timeline and, according to the official coordinating the efforts, have made "significant progress" despite the challenges posed by the COVID-19 pandemic. Now, they could help inform Adams' approach writ large.
"We continue to be dysfunctional in every other agency, we operate our city in silos, and due to that, we are inefficient...Just pouring money into our city is not going to solve the problem," Adams said at a candidate forum when he was running for mayor last year. It was his oft-stated criticism that city agencies are bogged down in red tape and often perform duplicative tasks that increase costs while hampering the efficient delivery of services. Last month, just two weeks before taking over at City Hall, he again reiterated that sentiment. "We have to stop operating in silos and come together and operate as a team," he said in a PIX11 interview.
The de Blasio administration took a few steps in that direction through The Mayor's Office of Economic Opportunity (or NYC Opportunity), an office that uses data and research innovations to try to reduce poverty in the city. In July 2019, the office launched five initiatives to mitigate "service silos" across city agencies, help New Yorkers, and offer lessons for inter-agency collaboration.
The programs were aimed at increasing school attendance for children in shelters, increasing family access to early childhood services, improving domestic violence shelters, improving street homelessness tracking, and expanding college and career prep services for people leaving city jails and state prisons.
The five programs, with a total budget of $6 million, were meant to last till the end of the current fiscal year, June 30. "Projects will continue at least through the end of the fiscal year, and several are being considered for funding continuations into the following fiscal year," said David Berman, director of programs and evaluation at NYC Opportunity, in an email.
The first initiative was a collaboration between the Department of Education and Department of Homeless Services, which developed a new data sharing system that gave shelter providers real-time access to student attendance and academic performance that was already available to schools. It is meant to reduce chronic school absences (missing 10% of school days or more each year). The data system is being piloted in 25 shelters, and will be expanded to 200 shelters and also to students in foster care, according to Berman.
The two agencies also trained hundreds of frontline staff at both agencies in a new joint approach that recognizes the points of intersection on the road from homelessness to permanent housing. More than 500 additional staffers will receive the training this spring.
To improve access to early childhood services for families, the Administration for Children's Services and the Department of Health and Mental Hygiene (DOHMH) developed a new website, NYC Telehealth Tips, to provide guidance to providers and families transitioning to remote prevention and therapeutic services. With more than 200 hours of research, the agencies designed tools that help families navigate therapeutic and prevention services.
According to Berman, seven prototypes are being tested that can "enhance referral, intake, and feedback processes" and those programs will finish in the spring. The scope of the project was also expanded during the city's covid response.
DOHMH and the Human Resources Administration (HRA) partnered to improve the design of 10 domestic violence shelters in the city to make them more "human centered" with trauma-informed care in the lived environment. Three of those shelters have been completed, which will affect roughly 275 residents, NYC Opportunity estimated. The second phase of design has been launched and construction will be completed by the end of the 2022 fiscal year. The third phase is scheduled to be finished in fiscal year 2023, with its timeline extended because of procurement delays and increased building costs.
Berman pointed out that the pandemic led to significant implementation struggles as staff were reassigned to the pandemic response and programs went remote. Contracting delays also affected the launch of some of the programs.
Among those affected was the initiative to improve how street homelessness is tracked. But the Department of Homeless Services nonetheless has launched the program, integrating data from its StreetSmart system, which is used by homeless outreach workers, with data in the CARES Collaborative Homeless Management Information System, a nonprofit system to more accurately count the number of homeless people on city streets.
The college and career prep initiative for those leaving incarceration was "delayed significantly" because of contracting issues at CUNY, Berman said, and it had to be fully virtual at launch because of the pandemic. There are now 80 students enrolled in the program, which includes tutoring services, and 40 more have expressed interest as referrals have increased.
Berman said that NYC Opportunity is going to reevaluate the headway it has made across the five initiatives. "NYCO would like to conduct an evaluation of the project after each project has completed (in the next 1-2 years), after the Covid emergency situation has died down enough for the projects to be implemented in a more steady-state manner," he said.