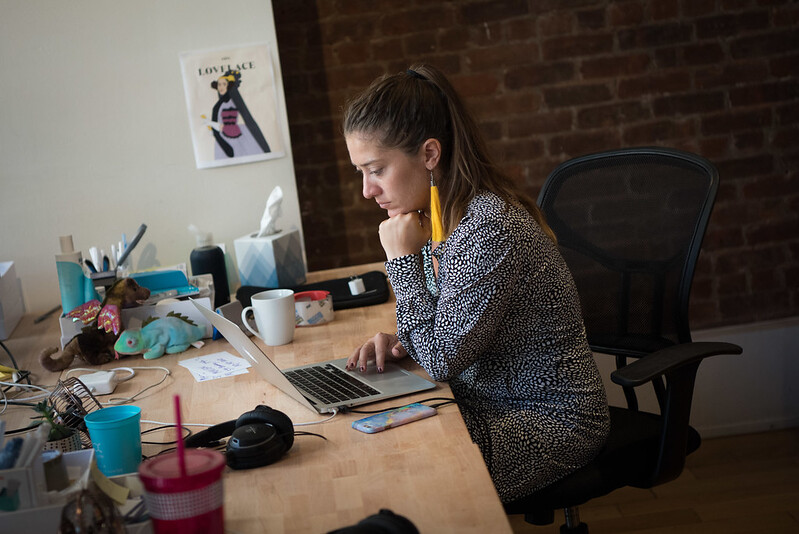 Online access is key (photo: Michael Appleton/Mayor's Office)
---
With New York City still in the clutches of the COVID-19 pandemic and the ongoing shift to a more digital world, the city's Human Resources Administration is continuing its efforts to expand online access to services for low-income New Yorkers.
The shift is meant to improve delivery of services and, more importantly, provide people with flexibility and convenience in accessing benefits, "which means not taking time from work or family," said Steven Banks, former commissioner of the Department of Social Services-Human Resources Administration (DSS-HRA), when the latest iteration of the online portal was launched by the de Blasio administration in 2017.
DSS-HRA administers critical benefits for millions of New Yorkers, including the Supplemental Nutrition Assistance Program (SNAP), colloquially known as food stamps, direct cash assistance, emergency grants for rental or utility needs, and other benefits. The agency provides benefits to more than 3 million people every year.
For years prior to the pandemic, HRA labored to modernize and make access to services and benefits easier. Building on the Bloomberg-era ACCESS NYC portal, which was meant to help people more easily determine their eligibility for benefits, the de Blasio administration began in 2015 to develop an online portal with greater functionality. The new portal would allow people to submit documents online related to their benefits cases, thereby preventing the bottlenecks, wasted time, and accessibility challenges of having to visit an HRA location in person.
As Banks noted in a December interview on the Max Politics podcast from Gotham Gazette, the city has had to follow strict state and federal regulations around the disbursement of benefits.
"But what we could do is to say, let's not make it so miserable to get help…One of the fundamentals was, don't make people have to wait in offices," he told host Ben Max. "You and I do our banking online, you rarely go to a teller, I rarely do, too. So why couldn't our clients have the same opportunity? Not a requirement, but an opportunity to do business online, therefore providing an opportunity to people who needed more help who wanted to come into an office, it wouldn't be overcrowded, the staff would be able to focus on more complicated cases."
The portal would also allow HRA clients to view appointments online and receive text and email notifications. In 2016, HRA first began to pilot an online application platform for cash assistance, which would allow the benefit to be recertified remotely.
In 2017, the city launched the new online portal, rebranded as ACCESS HRA, largely focused on food assistance benefits. At the time, the city lacked permission from the state to institute a similar citywide online application for cash assistance – state regulations required that individuals appear in person at HRA centers.
But when the covid pandemic struck, the agency had already laid the groundwork for that system and finally received a waiver from the state to expand the online application to cash assistance on an emergency basis. According to HRA officials, within days the agency had incorporated cash assistance and rent-arrears payments into the mobile platform.
Now, nearly all benefit programs are available online and through mobile applications, including among them the Fair Fares program that provides half-price MetroCards to low-income New Yorkers.
According to HRA officials, the agency is working on a significant expansion of its online systems. It is developing a mobile application for child support referrals and applications, and making accessible through ACCESS HRA both Home Energy Assistance Program benefits and an online application for Medicaid.
"If you can't provide an experience that's similar or better to other domains like shopping, banking, otherwise, then [benefits applicants] think that you've designed a system that's less trustworthy and a little less dignified for folks who are coming to us at some of their hardest moments," said Lauren Aaronson, deputy commissioner for business process innovation and design at DSS-HRA, in an interview last month.
According to data provided by HRA, as of October 2021, ACCESS HRA received more than 6.5 million monthly logins, with about 63,000 new accounts created each month. In a major shift from just a few years ago, new benefit applications are submitted almost entirely online.
As of December 14, about 95% of new SNAP applications were submitted online, as were about 87% of all cash assistance applications and nearly all applications for Fair Fares.
HRA's continuing reforms to its system come at a time when applications for food and cash assistance have spiked amid the pandemic, after declining for years. In February 2020, there were 327,013 cash assistance recipients, a number that rose to a high of 390,441 in August that year before there was a decrease. In November 2021, the latest figures available, there were 376,685 cash assistance recipients. Similarly, there were 1.48 million SNAP recipients in February 2020, increasing to 1.7 million by September before beginning to trend downwards as the city's employment picture improved again after the massive job losses of the early pandemic months. In November 2021, there were 1.67 million SNAP recipients.
HRA's work could also form the basis for Mayor Eric Adams' pledge to create a centralized "MyCity" digital portal for all city services and benefits. Adams has promised a data-driven "real-time governance" model to improve efficiency in city agencies and to make it easier for New Yorkers to access city government.
"Eric believes that many of the problems created by the City's dysfunctional agencies can be addressed through better use of data and technology," Evan Thies, a spokesperson for Adams' campaign, told Gotham Gazette in October, when Adams was all but assured to win the general election. "One of Eric's top priorities during transition would be to vet possible solutions to improving the systems we rely on for the efficient delivery of City services so that he can immediately begin providing a better quality of life to New Yorkers who depend on their government every day."
[Read: Eric Adams Vows to Overhaul How City Government Works; Experts Point to Several Essentials to Following Through]
The MyCity portal would serve a much broader audience than ACCESS HRA, which is almost solely for low-income New Yorkers requiring assistance and is not, for instance, useful for a business owner seeking a license renewal, a lobbyist filing a required report, or a multitude of other reasons that New Yorkers need to interact with city government and could benefit from a streamlined, online process.
One crucial innovation, said HRA's Aaronson, would be to create a digital locker or wallet that can store people's identifying information "allowing clients to own their own data rather than us trying to share it amongst ourselves," and then allow them to use that for any service provided by the city. A previous attempt to pilot such a central data locker ran into bureaucratic obstacles and failed to launch, according to outside expert Hana Shank, director of strategy for Public Interest Technology at New America, a nonprofit think tank, who worked on that project.
"It's super easy to say that everything in one place makes so much sense but I think the devil's in the details there and good design should allow us to make these happen without having one single application for everything," she said.
[Listen: Max Politics Podcast: Steven Banks on the De Blasio Administration's Social Services Reforms]