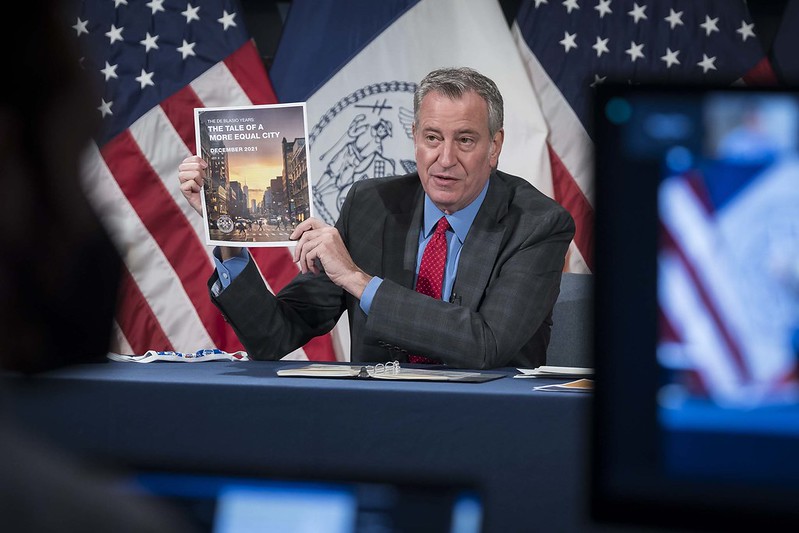 Mayor Bill de Blasio, Dec. 2021 (photo: Ed Reed/Mayoral Photography Office)
---
In the final six weeks of Mayor Bill de Blasio's eight-year tenure, the administration made a flurry of announcements. The mayor gave out half a dozen keys to the city and tens of millions of dollars. His administration published reports touting progress over the term-limited Democrat's tenure, announced new programs, pilots, or proposals head-scratchingly late, offered some findings to help set the stage for the future, made budget allocations, and more.
The stretch seemed more a rush to submit overdue assignments before the end of the semester than a valedictory tour, but it was a mix of many topics and themes indicative of de Blasio's years as mayor. Below, find many (but not all) of the announcements made by the de Blasio administration in its final weeks, some of which set the stage for decisions that Mayor Eric Adams will have to make.
Right to Counsel
On November 17, 2021 the de Blasio administration released its annual "Right to Counsel Progress Report" for the 2021 fiscal year, announcing the rates of improved access to publicly-funded attorneys for tenants facing eviction and that the "first-in-nation right-to-counsel program expanded citywide ahead of schedule."
The program, originated in 2017, has expanded geographically and to more income levels, providing legal services to tenants whose household income is at or below 200% of the federal poverty line and are facing eviction in New York City Housing Court.
Per the announcement, "in 2020, 100 percent of tenants with calendared eviction cases had access to legal services, and 71 percent of tenants who appeared in Housing Court had full representation by attorneys – nearly double the pre-pandemic rate of 38 percent, and an exponential increase over the 1 percent of tenants who had lawyers in 2013. To date since 2014, the City has provided legal services to more than half-a-million New Yorkers, including approximately 100,000 New Yorkers who utilized this program during the COVID-19 pandemic period in FY21."
Baby Bonds
On November 18, de Blasio appeared at the Brooklyn Gardens Elementary School in East New York to mark the first Community Scholarship donation to the city's new "Baby Bonds" program. The program, first launched in September 2021, is an expansion of the "NYC Kids RISE Save for College Program'' established to provide college savings accounts for all New York City children, with every kindergartener getting a $100 bond to kick off long-term savings.
Jay Street Busway
On November 19, de Blasio and transportation commissioner Hank Gutman announced that the Jay Street Busway would become a permanent fixture of Downtown Brooklyn. First piloted in the summer of 2020 as part of the mayor's Better Buses Restart plan, the busway aims to improve bus service for commuters by limiting other vehicle traffic on the stretch.
The Jay Street busway serves 47,000 riders on seven different MTA bus routes and increased bus speeds by 47 percent in its first year of operation, according to data from the DOT.
Climate Resiliency
On November 22, de Blasio announced the launch of a new pilot program for dozens of construction projects across the city using NYC Climate Resiliency Design Guidelines developed by the Mayor's Office of Climate Resiliency (MOCR). The goal of the program will be to "ensure new City infrastructure and public facilities are prepared for the worsening impacts of climate change, including intense rainfall, coastal storm surge, chronic high tide flooding, and extreme heat," according to a press release from the administration.
Brooklyn Museum
Also on November 22, de Blasio announced a $50 million investment to modernize the Brooklyn Museum's landmark building. The investment will renovate 40,000 square feet of gallery space, ​​improve the museum's infrastructure, provide additional space for after-school programs, create additional gallery space covering the history of Brooklyn, and improve the building's energy-efficiency.
Gowanus Rezoning
On November 23, de Blasio hailed the City Council's passage of the long-awaited Gowanus Neighborhood Plan, which would change the Brooklyn neighborhood's zoning codes for the first time in 60 years to add a lot of housing and make other community improvements. The project marks the largest neighborhood rezoning effort by the de Blasio administration, and the first in a whiter, wealthier area of the city after rezonings in East New York, East Harlem, and parts of the Bronx, Staten Island, and elsewhere.
Aspects include clean-up of the Gowanus Canal, job creation, construction of new schools, parks, and community resources. The plan estimates the creation of 8,500 new homes, including 3,000 permanently affordable units under the city's Mandatory Inclusionary Housing program.
Overdose Prevention
On November 30, de Blasio announced the opening of the first publicly-supported Overdose Prevention Center (OPC) in New York City, said to be the first service of its kind in the country. The two initial OPCs will serve as supervised consumption sites for drug users where they can access medical treatment, and social services with the goal of reducing overdoses and improving public health.
The opening of the two centers, both in Upper Manhattan and run by non-profit service-providers that the city contracts with, comes after 2020 set the record for the most drug overdose deaths in a single year in New York City since reporting started in 2000. The city's Department of Health estimates that the new program could save up to 130 lives a year.
Final Budget Adjustment
Also on November 30, de Blasio released New York City's November Financial Plan Update for the current fiscal year, FY22, which updated the city's budget for the current and upcoming fiscal years, including a clearer outline of pandemic recovery spending, largely boosted by federal aid, and set the fiscal foundation for Mayor Adams' tenure.
The now $102.8 billion budget for the fiscal year that ends June 30, 2022 focuses on continuing to fight the COVID-19 pandemic, investing in economic recovery efforts, and addresses climate change threats to the city, according to the mayor's office.
The updated budget also reflected FEMA reimbursable costs, federal COVID-19 relief, and emergency stimulus funding. "As this administration comes to an end, we've substantially lowered budget gaps and increased reserves, leaving the next administration with a strong foundation to continue New York City's recovery," de Blasio said in the announcement.
Streets Master Plan
On December 1, de Blasio, DOT Commissioner Gutman, and City Council Speaker Corey Johnson announced the release of the first New York City Streets Plan, as mandated by Council legislation spearheaded by Johnson.
The plan outlines traffic infrastructure initiatives that will be carried out over the next five years, including more bike and bus lanes and pedestrian spaces, built in accordance with the city's Vision Zero safety initiative to eliminate traffic deaths. The 96-page plan identifies priority areas in need of redesign and "with a focus on equity, the DOT will ensure the Streets Plan benefits all New Yorkers fairly, bringing disadvantaged communities to the forefront of its planning process," according to a press release from the de Blasio administration.
Key benchmarks the DOT plans to achieve with the plan by 2027 include establishing 250 miles of protected bike lanes, 150 Miles of physically- or camera-protected bus lanes, and creating and maintaining 1 million square feet of pedestrian space.
Covid Vaccine Requirements
On December 6, de Blasio made headlines across the country when he announced significant expansions to vaccine mandates in the city, coming with just a few weeks left in his tenure and mostly set to go into effect just days before he was to leave office.
The expansions required proof of vaccination for workers and customers at indoor dining, fitness, entertainment, and performance venues across the city, and expansion of that rule to those 5 years of age and older. Private-sector workers of all kinds would also be required to have been vaccinated to work in-person in the city across.
Poverty and Equality Metrics
On December 13, de Blasio and the Mayor's Office for Economic Opportunity published the annual New York City Government Poverty Measure Report stating that poverty rates and near poverty rates reached historic lows in 2019. The 70-page report, which does not account for the pandemic years and their massive disruptions, states that 521,000 fewer New Yorkers face poverty or near-poverty compared to 2013, the year before de Blasio took office, and that the citywide poverty rate fell to 17.9% in 2019 from 19.6% in 2015, a drop that the report describes as "statistically significant."
In addition to the release of this report, the de Blasio administration also released "The Tale of a More Equal City", a 13-page report that describes the ways the de Blasio administration worked to address wealth inequality in the city. ​​"These reports reveal that progressive policies from the $15 minimum wage to Paid Sick Leave to Universal Pre-K are actually working to redistribute wealth, cut poverty and uplift low-income New Yorkers across our city," de Blasio said in the press release.
Storm Preparedness
Also on December 13, the de Blasio administration released an updated version of its "The New Normal: Combatting Storm-Related Extreme Weather in New York City" report. The 22-page document, spurred by the devastation of Hurricane Ida and the city's limited preparedness for such major climate events despite many years of warnings, outlines efforts by the city government to combat extreme weather events.
It was the second monthly update of the report, which covered what the city is doing to help New Yorkers recover from Hurricane Ida, infrastructure improvements, communication enhancements, long-term planning updates, and ways to protect residents in basement units from flooding events.
Rezoning Soho/Noho
On December 15, de Blasio celebrated the passage of the SoHo/NoHo Neighborhood Plan by the City Council. The plan serves as the first changes to the neighborhood's zoning codes in 50 years and focuses on creating more affordable housing, supporting historical districts, funding arts and culture facilities and organizations, and reducing regulatory measures for the neighborhood's businesses and residents, according to the mayor's office.
The plan allows for the creation of more than 3,500 new homes, of which around 900 must be permanently affordable via the city's Mandatory Inclusionary Housing (MIH) program.
Along with Gowanus, the Soho/Noho rezoning formed the de Blasio administration's last-ditch moves to craft such neighborhood plans and utilize the MIH program as intended in higher income, whiter areas of the city.


Freight Plans
Also on December 15, the mayor, the Department of Transportation, and the New York City Economic Development Corporation (EDC) jointly released the plan "Delivering Green: A vision for a sustainable freight network serving New York City."
The 21-page document articulates how the city will work to restructure freight systems and curb use of diesel trucks. With a $38 million price tag, the plan includes new funding to make shipping and receiving in the city more sustainable. A major part of the plan is the Blue Highway pilot program where boats and marine facilities around the city will play a greater role in moving freight with the goal of reducing traffic congestion and air pollution produced from traditional truck freight in the city. The plan also calls for "micro-distribution spaces" around the city, zero-emission truck fleets, and greater use of trains over delivery trucks.
Money for Prospect Park
On December 16, de Blasio announced that $40 million was being allocated to restore the Vale in Prospect Park, one of de Blasio's favorite places in the city and the site of his wedding.
The Vale, a 26-acre section in the Brooklyn park's northeast corner, includes the historic Children's Pool and the park's former Rose Garden, which will both be the focus of restoration. The funding marks the largest single investment in the history of Prospect Park Alliance, the non-profit that oversees the park in collaboration with the city.
Zoning for Health
Also on December 16, de Blasio celebrated approval by the City Council of two zoning initiatives to improve health equity across the city. The measures include an update to the Food Retail Expansion to Support Health Program (FRESH) that provides a zoning incentive for more grocery stores in lower-income neighborhoods and an update to the Health and Fitness Text Amendment that will lower regulatory hurdles faced by gyms, spas, and massage therapists. The updates seek to advance health equity across the city by making high-quality foods and health services more readily available.
Police Labor Agreement
On December 17, de Blasio and the Sergeant's Benevolent Association announced a tentative contract agreement that will allow for around 4,700 NYPD Sergeants to receive wage increases.
The wage increases will follow the pattern of those negotiated with the Uniformed Officers Coalition since 2018 and constitute wage growth of 7.95% over three years. The agreements also included an increase in city's investment into the NYPD's legal representation fund and recognition of the NYPD's right to equip Sergeants with body-worn cameras.
Keys to the City
On December 18, de Blasiopresented keys to New York City to George Gresham and Charles Rangel, two prominent Black leaders. George Gresham is a national labor leader, activist, and the President of 1199SEIU United Healthcare Workers East union. Charles Rangel is a former congressman, civil rights activist, the first African-American chair of the House Ways and Means Committee, and is a founding member of the Congressional Black Caucus.
These were two of more than half a dozen keys to the city that de Blasio awarded in his final weeks as mayor, with others going to Spike Lee, Patti Smith, Senator Chuck Schumer, Hazel Dukes, Clive Davis, Laurie Tisch, Steve Buscemi, and Gloria Steinem.
Protecting Delivery Works
On December 21, de Blasio announced actions to improve safety and working conditions for delivery workers ahead of legal workplace protections that go into effect in 2022. With the pandemic highlighting deeply problematic practices in the field of app-based delivery services, calls to advance conditions for the city's more than 65,000 delivery workers came throughout 2021 by organizations such as the Worker's Justice Project and the Los Deliveristas Unidos collective.
These efforts led to sweeping legislation passed by the City Council to give delivery works far more rights and protections, which were set to go into effect in 2022.
De Blasio promised additional safety resources at bridge crossings into Manhattan, expansion of DOT's traffic safety education, and helmet giveaways for delivery workers, and a bike etching program to recover stolen e-bikes. The city also launched a new initiative to insure delivery workers through NYC Care, a city health care program.
Divesting from Fossil Fuel Holdings
On December 22, de Blasio,Comptroller Scott Stringer, and trustees of the New York City Employees' Retirement System and the New York City Board of Education Retirement System announced a $3 billion divestment from fossil fuels in New York City's pension funds had been completed.
A multi-year effort, the move is part of the city's climate agenda.
Banning Gas
Also on December 22 and in the city's climate agenda, de Blasio signed a local law banning fossil fuel combustion heating in new buildings, supporting the construction of all-electric buildings. The bill aims to phase out fossil fuel usage in buildings by imposing emissions limits beginning in 2023. With the bill in place, all newly-constructed buildings will be fully electric by 2027.
Governors Island Climate Center
Also on December 22 and in the climate space, the city announced the finalists in competition to establish a Center for Climate Solutions on Governors Island. Together with The Trust for Governors Island, a non-profit overseeing public operations on Governors Island, the Mayor's Office selected teams from the City University of New York and the New School; Massachusetts Institute of Technology; Northeastern University; and Stony Brook University as finalists after 12 teams submitted proposals. The ultimate winner(s) will create the programming and designs for the Climate Solutions Center with the goals of conducting research into combating climate change and supporting the growth of green jobs in New York City. Winners of the next phase of the competition will be announced in 2022.
Mental Health Office
Also on December 22, de Blasio signed legislation establishing the Mayor's Office of Community Mental Health as a permanent fixture of city government. First created in May of 2021, this office works to address substance abuse issues in the city, promote access to treatment for New Yorkers with mental health needs, and establish equity in access to treatment.
The office grew out of the de Blasio administration's controversial ThriveNYC program, which was led by First Lady Chirlane McCray and struggled over the course of years to show its impact in improving mental health services and outcomes in the city, how it was helping the most seriously mentally ill people, and more.
Affordable Housing
Also on December 22, de Blasio, along with Deputy Mayor Vicki Been, and city housing agencies announced that during his tenure as mayor, 200,000 affordable homes were built or preserved, the most in one administration in city history. The Mayor's Office celebrated that the administration met its housing goals established in 2014's Housing New York plan on budget and two years early.
Clean Energy
And also on December 22, de Blasio and the Department of Citywide Administrative Services announced investments and initiatives to lower carbon emissions and support clean energy.
Three developments were the focus of the announcement: investments supporting a greener electrical grid, more electric transport, and a reduction in emissions from city government buildings and operations. With these and other actions, the Mayor's Office hopes to reduce climate emissions from city government by nearly 70% by 2030 from 2006 levels and achieve carbon neutrality by 2050 to support limiting global warming to 1.5 degrees Celsius.
Fire Labor Agreement
On December 23, de Blasio and the Uniformed Firefighters Association announced a tentative contract agreement resulting in wage increases for around 8,500 FDNY employees. The terms of this "pattern-conforming" agreement covers 2017-2020 and will result in a 7.95% wage increase over three years. The deal comes with a net-cost of $400 million and would cover 91% of the unionized FDNY workforce.
Judicial Appointments
Also on December 23, de Blasio announced the appointment of 12 judges to a variety of courts around New York City. The mayor appointed one judge to Family Court, four judges to Criminal Court, and seven judges to Civil Court.
Parking Placard Pilot
Also on December 23, de Blasio announced a longtime-coming digital parking placard reader pilot program will soon be coming to North Brooklyn to ensure that city-issued parking permits are used appropriately by public servants. The NYPD's Traffic Enforcement Agents will be equipped with handheld electronic devices to validate parking permits, cracking down on those who use the permits for personal use.
Funding for Old Stone House
And also on December 23, de Blasio, City Council Member Brad Lander, parks department officials, and others announced that $10.9 million of the recently-approved Gowanus Neighborhood Plan will go towards restoring and enhancing, particularly for accessibility, the Old Stone House in Washington Park in Brooklyn.
Design Build Progress
On December 27, de Blasio's office released the "Design-Build Program 2021: Progress Report to the New York State Legislature," which outlines the ways in which 2019's New York City Public Works Investment Act has worked to speed up the construction of capital projects by using the design-build process that streamlines infrastructure projects.
Funding for Bushwick Inlet Park
Also on December 27, de Blasio, local officials, and parks leaders announced a new $75 million investment in the CitiStorage parcel of Bushwick Inlet Park in North Brooklyn. The investment will support the demolition of the former CitiStorage warehouse to expand the park.
School Safety
On December 28, with just a few days left in his eight-year tenure, de Blasio met with incoming Mayor Eric Adams, Schools Chancellor Meisha Porter, and Incoming Schools Chancellor David Banks to announce new efforts toward safe school reopenings after winter break. The group encouraged students and faculty to be tested for COVID-19 before returning to school on January 3, promised more in-school surveillance testing, and announced new shortened isolation times for infected asymptomatic teachers and students, with a focus on ensuring schools stay open, with continued health and safety protocols.
Cure Violence
Also on December 28, de Blasio announced that the U.S. Department of the Treasury will issue a $20.5 million grant to support the city's Crisis Management System Cure Violence programming. The Cure Violence program works to "break the cycles of gun violence, specifically among young people," according to a press release on the development.
Racial Justice Ballot Proposals
Also on December 28, de Blasio celebrated the three ballot proposals issued by the New York City Racial Justice Commission, which de Blasio established in March 2021, to address structural racism in the city.
On the 2022 general election ballot, ​​New York City voters can say "yes" or "no" on each of the three proposed amendments to the New York City Charter: Adding a Statement of Values to Guide Government; Establishing a Racial Equity Office, Plan, and Commission; and requesting "true cost of living" measure to track the actual cost in New York City of meeting essential needs.
New Ferry Stop
Also December 28, de Blasio and the EDC announced the launch of NYC Ferry service to Throgs Neck in the Bronx. With a new landing at Ferry Point Park, the Soundview ferry route will be extended to shorten commutes for Bronx residents, reducing the travel time to lower Manhattan to an hour.
Moving the Jails Plan Ahead
On December 29, de Blasio and the New York City Department of Design and Construction announced that six teams will develop design and building proposals for the four borough-based jails that will replace the Rikers Island jails complex, which is set to close in 2027.
Lower Manhattan Resiliency
Also on December 29, de Blasio, the EDC, and the Mayor's Office of Climate Resiliency released the Financial District and Seaport Climate Resilience Master Plan, with flood defense infrastructure planning to protect the city from rising sea level and extreme weather events. The plan calls for a series of floodwalls, resilient ferry terminals, and new public open spaces.
City Cleanup
Also on December 29, de Blasio announced that more than 1 million bags of trash were removed from the city by the City Cleanup Corps since the program was launched in April 2021. The press release from the Mayor's Office also stated that the CCC has swept 70,000 block faces, planted over 10,000 plants, and painted over graffiti in 630 properties.
Property Tax Reform Proposals
On December 29, the New York City Advisory Commission on Property Tax Reform, created by de Blasio and City Council Speaker Corey Johnson, released its final report, "The Road to Reform: A Blueprint for Modernizing and Simplifying New York City's Property Tax System," with recommendations to create a new tax class for small residential property owners, targeted relief for resident owners, and instituting a tax abatement for those who are tax-burdened with incomes below $90,550, among many other ideas put forth for consideration by officials at the city and state levels.
Police Labor Agreement
On the second to last day of his tenure as mayor, de Blasio announced on December 30 that 5,000 NYPD employees could see wage increases after a tentative contract agreement was reached with the Detectives' Endowment Association.
Ben Max contributed to this story.