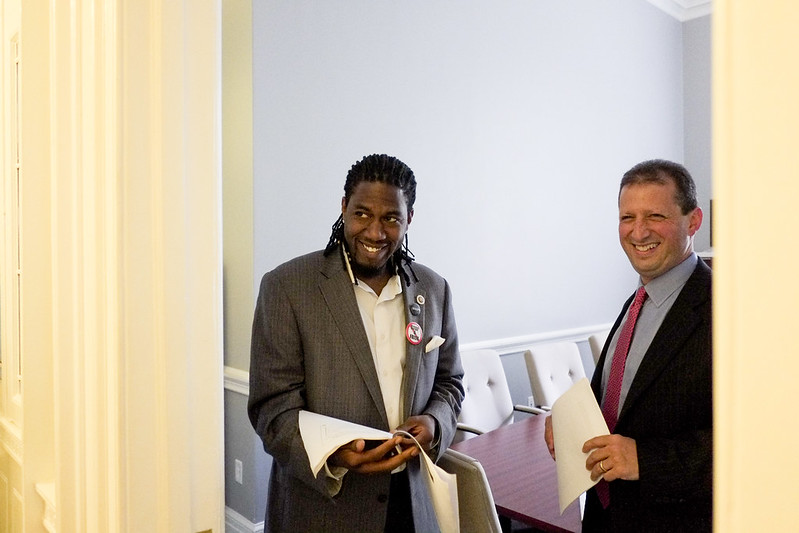 Jumaane Williams & Brad Lander as members of the City Council (photo: William Alatriste/City Council)
---
All three of New York City's citywide elected officials – Mayor Eric Adams, Public Advocate Jumaane Williams, and Comptroller Brad Lander – are Democrats from Brooklyn. But their respective victories in last year's elections signified different things to their supporters and political analysts. Those who backed Adams saw his win as a rejection of left progressive politics that they believed had gone too far in the city, while Williams and Lander supporters celebrated what they saw as triumphs of progressive politics at the citywide level.

Those complicated dynamics are now playing out in the balance of power in the city. While the three officials are aligned in spirit and cause, and have repeatedly emphasized their collaborative relationships, the public advocate and comptroller have begun to gently present a united progressive front to the more moderate mayor on several issues.
Williams and Lander have been pushing, questioning, or contradicting Adams on issues including lifting covid vaccination requirements, administration appointments, policing policies, and climate action. But both the public advocate and comptroller have taken pains to compliment Adams and lead with common ground, often the shared vision on outcomes, if not strategies to get there.
There are natural tensions between the mayor and his fellow citywide electeds. Both the public advocate and the comptroller are crucial parts of the city's system of checks and balances and have duties that bring them inevitably in conflict with the mayoral administration — something Adams has acknowledged and even encouraged as he vows a more accountable and effective city government. It's within Williams' purview to speak out on behalf of the public when the city is failing New Yorkers, and Lander's job involves auditing city agencies then upbraiding their failures while recommending changes. 

Overall, Adams is a moderate with a nuanced set of policy plans who has ingratiated himself with the city's business elite and powerful real estate industry while Williams and Lander are avowed progressives who have spent years criticizing corporate power and outright rejected real estate donors in recent runs for office. But even on housing and development, there may be more alignment than broad stroke characterizations allow.
On the hot button issues of policing and public safety, there has been both alignment and opposition. Adams has an all-of-the-above approach, with a blend of more expansive and assertive policing as well as police reforms for justice and accountability; he has rejected calls to 'defund the police' but also outlined planned investments in what he calls "upstream" crime-prevention measures to improve socioeconomic conditions for those most at risk.
Williams and Lander want all of those socioeconomic investments and more, and have been outspoken about wanting to divest significant sums from the police department budget to fund programs to alleviate root causes of crime. While both acknowledge a role for police, they tend to focus more on housing, health care, and economic opportunity.
Adams, Williams, and Lander have shown unity on several recent occasions. In October, after each of the three had won their respective Democratic primaries, they held a joint get out the vote rally just ahead of the start of early voting in the general election. At that rally, Adams urged Williams and Lander to hold him accountable if he should become mayor. "I'm asking Jumaane Williams as the public advocate to find every policy that we fail on and hold our feet to the fire if we are the mayor," Adams said.
"I sat down with Brad Lander and had breakfast, and I said, 'Audit the hell out of my agencies. Audit them, look at them, find the problems,' because I know we are dysfunctional," he added. "I know we are blocking progress. I know we are failing and betraying New Yorkers. I know we can deliver services better."
In November, after Kyle Rittenhouse was acquitted of murder, the three spoke collectively in favor of stronger gun laws. And they planned to hold a joint January inauguration event in Brooklyn before it was canceled because of the Omicron surge.

Adams and Lander have also made several joint announcements where their roles converge. They worked together with the city's pension funds to divest from Russian assets in the wake of Russia's invasion of Ukraine. The announced reforms to city contracting based on a joint task force they assembled even before taking office (first announced in a joint op-ed) and a $1 billion bond issue to fund city infrastructure. 

Williams has been a presence at several of the mayor's announcements and news conferences early on. He appeared at City Hall when Adams announced an expansion of the city's Summer Youth Employment Program. They both spoke at a community response event hosted by SAVE East Harlem in January. That month Williams also stood behind Adams after two officers were shot and killed in Harlem.

But on several occasions over the last few months, as Adams began laying out plans, making appointments, and taking positions on key issues, the gulf between him and Williams and Lander has begun to grow. The two have been opposed to, if not outright critical of, several of the mayor's policies and appointments, and they have at times coordinated their responses to Adams' choices.
The expected type of coordination the two longtime allies have shown was relatively rare during the de Blasio administration, when Comptroller Scott Stringer and Public Advocates Letitia James then Williams mostly operated individually.
Last week, Williams and Lander appeared with climate activists at a rally in Midtown Manhattan to call on the mayor to put his full weight behind the city's "Green New Deal" law that aims to curb emissions from the city's largest buildings. Activists have pointed out that Adams has repeatedly questioned the penalties imposed by the law, an echo of concerns from the powerful real estate industry.
Earlier last week, as Adams considered easing covid restrictions in the city, Lander and Williams sent him a joint public letter in which they advocated for continued precautions against the spread of the virus and plans for any potential future outbreaks.
"As the case numbers, hospitalizations and deaths associated with Omicron drop, we agree it makes sense for the City to move forward with easing COVID-19 restrictions," they wrote. "However, as you yourself have said, those efforts must be grounded in public health data, with systems in place to detect future variants and surges early, to respond to them rapidly, to increase vaccination rates, and to protect our most vulnerable communities."
In late February, Adams faced considerable criticism when he appointed three pastors with a history of anti-gay and anti-abortion views to his administration. The appointments quickly invited a joint rebuke from the public advocate and the comptroller. "We are deeply concerned about the message that the mayor is sending by appointing leaders who have histories of disparaging the rights, and even the humanity, of LGBTQ New Yorkers and of working to criminalize abortion,' they said in joint statement. (Williams has in the past faced criticism around his stances on some of these same topics, and has professed something of his own progressive evolution.)
It's not just Adams that Williams and Lander have trained their eyes on. In January, Williams and Lander appeared together outside the New York Public Library with housing and tenant advocates in a protest calling on Governor Kathy Hochul, a moderate and Adams ally, to support the "good cause" eviction bill gaining momentum in Albany.
Williams, with Lander's support, is running against Hochul and other candidates in this year's Democratic primary for Governor. Williams and Lander have long supported each other's electoral bids, with each endorsing the other for office, as in 2021, when Williams backed Lander for comptroller and Lander endorsed Williams' reelection as public advocate. Lander backed Williams' 2018 bid for Lieutenant Governor against Hochul.
The two officials are darlings of the progressive left, illustrated by the fact that both were the number one choice of the Working Families Party in their respective primary races last year. In contrast, in the Democratic primary for mayor in which Adams emerged victorious, the WFP supported former counsel to the mayor Maya Wiley as its top pick (after ranking her third behind Stringer and Dianne Morales, dropping one then the other after their campaigns faced scandals). The WFP did not endorse Adams in the general election.
Williams joined the WFP and other progressives, including Rep. Alexandria Ocasio-Cortez, who got behind Wiley toward the end stretch of the mayoral primary last spring, expressing deep concerns about how Adams and other more centrist candidates were talking about policing. Lander stayed out of the mayoral primary altogether, pointing to the comptroller's important role as a check on whomever the mayor is. Williams indicated he had planned to do the same, but that he opted to back Wiley based on the rhetoric in the race.
"Under the City Charter, the job of the Comptroller is to work together with the Mayor on a core critical set of tasks to help the city run effectively, and also to be an independent elected official who holds the mayor accountable," Lander said in a phone interview. "And that's what I'm committed to do."
"Obviously Jumaane and I are proudly progressive elected officials and have been for a long time and have stood together on a lot of issues that are about trying to confront the inequities in the city, stand up against inequality and systemic racism, push hard for climate justice, and policies that genuinely work for all New Yorkers," he added.
"The mayor, the public advocate, and the comptroller have been friends and colleagues for years and have a strong working relationship," said Fabien Levy, an Adams spokesperson, in an email. "Both Public Advocate Williams and Comptroller Lander have joined Mayor Adams for major policy announcements at City Hall and at other events across New York City, and we look forward to their continued partnership as we work to make New York City a better place to live every day."
Williams and Lander have been close political allies for nearly a decade, previously serving together in the City Council. As Council members, they most notably spearheaded the Community Safety Act of 2013, which banned discriminatory profiling by the NYPD to put an end to abuses of stop-and-frisk policing. The act, passed over a veto by then-Mayor Michael Bloomberg, also established the city's office of NYPD inspector general, and catapulted both Council members further into the progressive spotlight.
Now they find themselves facing a mayor who was a former NYPD captain and touts the importance of stop-and-frisk as a policing tool, but says his police department can and will use it without the rampant abuses that disproportionately harmed Black and Latino New Yorkers, mostly young men. Adams has also touted his record as a police reformer from within the department, joining efforts to end the abuses of the stop-and-frisk era, protesting police killings of unarmed civilians, and more — a history that both Williams and Lander have given him credit for.
In an appearance on the Max Politics podcast in July last year, Williams stressed that he has had a good working relationship with Adams, particularly on tackling gun violence in Brooklyn, even as he expressed some concern for Adams' tough-on-crime campaign rhetoric.
"My hope is that the Eric Adams who shows up is the one that I've worked with on all these issues, and the one who was talking about the holistic approach, and not the one that I heard some things said that I'm hoping were said in the moment of a campaign and now as we get ready to govern, will go back to the things that I've worked with him on for a number of years," Williams said.
Camille Rivera, a progressive political consultant as a partner at New Deal Strategies, said under former Mayor Bill de Blasio, Williams and Stringer were not as closely in lockstep. "This however is the most I have seen there being real coordination," Rivera said in a text message. "I think both of them understand that there are real distinct ideological differences between these two and Adams and because of that they have now become a real check for the Mayor."

"The things they're criticizing the mayor on are substantive, as much as Eric Adams has wanted the red carpet rolled out for him when some of the things he's doing are deeply unpopular and frankly just bad for people," said Jonathan Westin, executive director of New York Communities for Change (and Rivera's husband), a progressive advocacy group that backed both Williams and Lander and opposed Adams in the 2021 election.

Westin said both Williams and Lander "have solidly been on the side of progressive working people and will mount a pretty big challenge to this incoming administration, which might want to try and railroad folks, especially progressives. They've been outright hostile towards progressives."

Indeed, soon after winning the June primary last year, Adams again signaled his displeasure with the progressive left, reclaiming the term "progressive" for himself, as he had repeatedly attempted to do during the primary.

"I have made it clear over and over again: I am the original progressive voice in this city," Adams said, at a joint news conference with then-Governor Andrew Cuomo, a fellow moderate Democrat who has battled with his party's left, and who was under investigation at the time for multiple scandals that led to his resignation weeks later.
"We've allowed the term 'being progressive' to be hijacked by those who do not have a track record of putting in place real progressive changes," Adams added, sounding much like Cuomo. "I am not going to surrender my progressive credentials."
Soon after, he broadened his criticism. "I'm no longer running against candidates. I'm running against a movement," he reportedly said at a fundraiser hosted by Republican City Council Member Eric Ulrich, who Adams would go on to appoint as a special advisor in his administration. "All across the country, the DSA socialists are mobilizing to stop Eric Adams," he said, referring to the Democratic Socialists of America, whose New York City branch did not endorse in the mayoral race but whose members were critical of Adams and appeared to be in favor of other candidates like Wiley or Morales in the primary and socialist Cathy Rojas in the general election.
Though he is often quick to rebuke critics, Adams has not yet hit back at Williams or Lander, perhaps indicative of how carefully they have gone about criticizing or disagreeing with the new mayor.
There is undoubtedly much on Adams' agenda that Williams and Lander will support, the new mayor had many policy proposals that could easily be called progressive, from a significant expansion of child care to improving health food options in low-income neighborhoods to upzoning wealthier areas for more affordable housing. Both Williams and Lander have applauded Adams for announcing additional investments in summer youth employment and the Fair Fares program of discounted Metrocards for low-income New Yorkers.
But they've also both expressed concerns on several matters, including Adams' approach to his first budget plan, where he outlined cuts to several departments but not the NYPD.
"I do want to see more evidence-based investment in supportive housing and mental health outreach…given the public safety challenges," Lander said last month on the Max Politics podcast, among other questions about Adams' spending priorities.
"I think the key differences revolve around the corporate sphere's influence in government where Eric Adams has pretty openly embraced the real estate industry, corporations, and really given them a seat at the table many times ahead of regular people," said Westin. "Jumaane and Brad…have really opposed taking real estate money, taking corporate money, allowing these corporations to influence where they stand on policy."
Hank Sheinkopf, a veteran Democratic consultant, said the differences between Adams on one hand and Williams and Lander on the other have been minor so far. "It's going to be more pronounced once Williams gets off the road from his ridiculous governor's race and Lander gets himself much more oriented," he said. "At some point, ambition will take over and competition. Both of them have one goal, to be the next mayor and to make Adams' life miserable when they can."

What's less predictable is the breakthrough moment when the situation will become much more adversarial, Sheinkopf said. "The cut line will probably be on law enforcement related issues for Williams and who knows what it'll be on for Lander, but he'll find his moment."
Politicians, he insisted, may be friendly but aren't friends. "This is like boa constrictors who try to eat mice. They're all friends until the thing goes down its throat," he said. "Politicians have no friends. They are all in competition with each other for both credit claiming and for the ability to raise money."