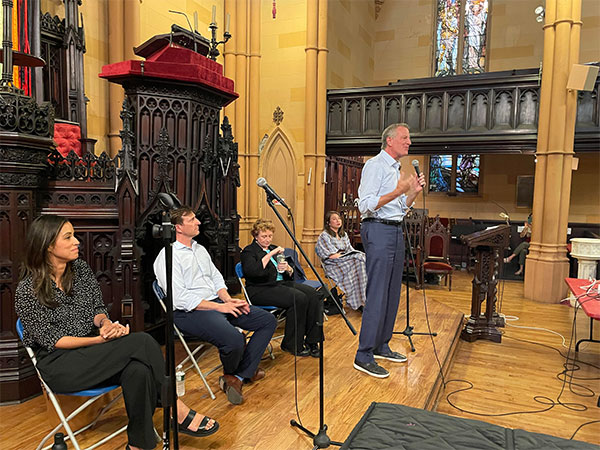 5 of the NY-10 candidates at Monday's forum (photo: Ben Max)
---
Nine Democratic candidates running in the crowded race to represent New York's new 10th congressional district appeared before several Brooklyn politics clubs on Monday evening, answering questions about pressing issues in the district, their policy platforms, and more.
The forum — which was moderated by Gotham Gazette editor Ben Max and hosted by the Lambda Independent Democrats of Brooklyn, the New Kings Democrats, the Brooklyn Young Democrats, South Central Brooklyn United For Progress, and Equality NY — was split into two panels of candidates, who gave introductory remarks, answered various questions crafted by the host groups (some targeted to individual candidates), and closing statements.
The first panel included Rep. Mondaire Jones (who currently represents a Hudson Valley district but recently moved to Brooklyn to run in NY-10), former small business owner Brian Robinson, former certified teacher Jimmy Jiang Li, and Quanda Francis, who has been a data analyst at the NYPD. The second panel included former Mayor Bill de Blasio, Assemblymembers Yuh-Line Niou and Jo Anne Simon, City Council Member Carlina Rivera, and former Assistant U.S. Attorney Dan Goldman. [The full video of the forum is embedded at the end of this written recap.]
"New York-10 is one of the most important and looked at races through all of New York State, if not the whole country, and it is so exciting that so much of that race is happening right here in Brooklyn," said Hunter Rabinowitz, the president of Brooklyn Young Democrats, introducing the forum, which was held at a downtown Brooklyn church and broadcasted over Zoom.
The new 10th district spans a set of diverse neighborhoods in Lower Manhattan and parts of Brooklyn, including the East and West Villages, Soho and Noho, the Lower East Side, Chinatown, Battery Park City, the Financial District, portions of Downtown Brooklyn, Gowanus, Park Slope, Red Hook, Sunset Park, Borough Park, and more. Given various contours of redistricting, the race presents a rarity in which no incumbent is running. (Rep. Jerry Nadler, who represents the current 10th district, is instead running for the new 12th district against Rep. Carolyn Maloney and Suraj Patel after his West Side base was drawn into the new 12th.)
The congressional and state senate primaries will conclude on August 23, with early voting preceding that and absentee balloting as well. The winner of the Democratic primaries in NY-10 and many other New York City districts are all but certain to win the general election given the heavy Democratic tilt of most parts of the city.
Although almost all candidates running to represent the 10th district were invited to the forum, former Rep. Elizabeth Holtzman was most notably not in attendance. Another candidate, attorney Maud Maron, was not invited by the political clubs, who said in a public statement that she "uses her platform on social media to instigate a moral panic around gender identity, intentionally citing falsehoods and scientific inaccuracies to justify bigotry against the transgender community" and that they "will not provide a platform for Maron or her bigotry." Maron responded by saying the decision shows that "the ideological party purge continues, to the detriment of the Democratic Party and our voters."
First Panel
To kick off the forum, candidates were asked to deliver opening statements about themselves and their platform. 
Li, the co-founder of the New York City Asian-American Democratic Club and Asian American Community Empowerment, referred to himself as an "everyday New Yorker" and community advocate who has lived in the 10th district for most of his life. He said the district has been overdeveloped and residents no longer feel safe on the street or subway, and if elected to office, his main focus will be addressing affordable housing, immigration, infrastructure, and employment.
"As a community leader for more than 10 years, I've worked closely with our community leaders and allies to work on issues — Asian hate, DACA, housing, education, and other important issues," Li said.
Robinson began his remarks by saying that the United States is at a breaking point due to political polarization and that the state of the country has made him uncomfortable in raising his four-year-old daughter. He said his main concerns are public safety, green space, small business empowerment, and federal oversight to the homelessness crisis.
"My fear is that at some point, we're going to wish that we came to the table in good faith to try to reach some mutual ground because at some point, it will get much worse," Robinson said. "Really bringing civility back to Washington, D.C., is something that's very important to me."
Jones, who currently represents Westchester and Rockland Counties in the 17th congressional district, spoke about growing up with a single mother in Section 8 housing and living on food stamps. Before he became one of the first two openly gay Black members of Congress in 2020 (along with New York Rep. Ritchie Torres) he said very few people would have predicted his candidacy. He called himself a "progressive champion" since being elected, lauding his key role in advocating for Build Back Better, a Green New Deal, the American Rescue Plan, the Infrastructure Investment and Jobs Act, gun control, and more.
"Those of you who know my story know that unlike most of the people we're used to seeing in our politics, I don't come from money or from a political family," Jones said. "When I ran for Congress in 2020, I ran because for me, policy is personal."
Francis said she thinks of herself as a "daughter of New York" since she was born and grew up in the 10th district and now raises her son and daughter in the area. She mentioned how she slipped through the cracks when she became pregnant and homeless at 17 years old, and her entry into politics started after she was denied a promotion due to her race and gender while working for the New York City Police Department.
"I've had an opportunity to travel the state and speak to amazing people that understand what's at stake here," Francis said, referencing her unsuccessful recent campaigns for other offices. "We cannot afford to send another politician to Washington that are going to ignore the needs of the people."
Candidates were then asked to name three bills they would sponsor or introduce if they were elected to Congress.
Jones pointed to his work in Congress, including co-sponsoring and fighting for the Judiciary Act of 2021 to add four seats to the Supreme Court; Medicare for All for single-payer health care; and the Green New Deal for an energy transition, climate resiliency, green jobs, and environmental justice.
When asked by Max to offer one new idea he is looking to or has been working on, Jones said he has circulated a "dear colleague letter," working with fellow New York Rep. Alexandria Ocasio-Cortez, to pursue legislation that would amend statutes and limit the jurisdiction of the Supreme Court. 
"A lot of folks don't know that most cases that the court decides is because Congress has specifically legislated jurisdiction to it," Jones said. "The Constitution is largely silent on most of the matters that appear before the Supreme Court."
Robinson said that he would advocate for federal oversight and regulation of homeless shelters, ensure community input is heard before climate resiliency projects are implemented, and lower federal taxes for small businesses.
Francis said she would want to introduce artificial intelligence and machine learning into the K-12 curriculum to identify student learning styles, ensure that tax dollars are being spent efficiently and effectively, combat employment discrimination and work on workforce development, which she said will help reduce crime, increase homeownership, and have other positive results.
Li said he would support the Build Back Better Act, invest in new city infrastructure for coastal protection, fight to provide a pathway for all immigrants to become citizens, and partner with unions and the private sector to build more affordable housing.
Asked about building more housing in the 10th district, Jones said that the main obstacle to creating new, deeply affordable housing is a lack of financial investment, noting how the issue is personal to him as someone who grew up in Section 8 housing. He lauded his work in passing Build Back Better in the House and the Homes for All Act, which aims to provide funding for the construction of new housing units and new affordable housing units. 
"We are facing a crisis of underinvestment when it comes to housing in Lower Manhattan and Brooklyn," Jones said. "It is a travesty, it is a moral stain on this country and on the city frankly, that we have not adequately invested. Meanwhile, we're increasing the NYPD budget and cutting money for our public schools," he added, with an apparent criticism of the new city budget, passed by Mayor Eric Adams and the City Council, meaning an implicit rebuke of Council Member Rivera, who is emerging as one of the frontrunners in the race given a series of prominent endorsements.
When asked about ensuring affordable housing for LGBTQ individuals, Jones said it is important for the federal government to allocate funds using an equity lens to support the LGBTQ community, wherein young members experience homelessness at two-times the rate compared to heterosexual individuals.
Jones made a point to say he is in favor of the Haven Green Project, a planned 123-unit rental complex for formerly homeless LGBTQ seniors set to be built in Little Italy (within NY-10), and said he will always be an advocate for building affordable housing for the LGBTQ community. Jones said the project, which is opposed by Assemblymember Niou, should move ahead.
Francis said homelessness can end for 20,000 New York City residents by investing $1 billion in companies that have utilized technology to build small homes in two weeks or less for $50,000 each. She said it is not enough to only call for funding to the New York City Housing Authority (NYCHA).
"New York-10 is a very diverse district, but what we do see in terms of the marginalized communities in this area are that their voices are not being heard and they're living in deplorable conditions, and it has been that way for a long time," Francis said. "We need progress." 
Li said it is important to look at how other countries have addressed the housing crisis, providing the example of Singapore, which has allowed low-income families to buy government-funded projects as a way to combat housing shortages and homelessness. He said the federal government should provide more funding to repair NYCHA buildings, and there is a need to revisit housing programs of the past, including Mitchell Lama and "sweat equity" programs of the 1970s. 
Robinson said that if more housing is built, prices will drop, that funding for NYCHA needs to be allocated properly, and that community boards should be empowered to negotiate with developers.
When asked what two areas should be prioritized for downtown Brooklyn neighborhoods, Francis said gun violence and education are top concerns and called for more investment in communities.
Li said it is important to focus on immigration reform and coastal protection, noting the effects of Hurricane Sandy on the area.
Robinson pointed to public safety and the need to curb crime in the district, as well as addressing the mental health and homelessness crises assertively and with compassion. "New York City doesn't take public safety seriously enough, and families are moving out," he said.
Jones said he is concerned about infrastructure, pointing to the need to repair or reimagine the crumbling Brooklyn Queens Expressway (BQE). He brought up the seemingly defunct Brooklyn Queens Connector (BQX) streetcar proposal that had been pushed by then-Mayor de Blasio but abandoned over funding questions and a lack of support. Jones said that if it moves ahead it needs to be equitable and accessible. Asked by Max if he was under the impression the BQX is still on the table, Jones said there are people who have approached him about it.
Jones also called for new and affordable housing in the district, lauding his co-sponsoring of the massive Build Back Better plan that has stalled in the Senate. Asked by Max about passing it, Jones said it is important to press the White House to continue negotiations, as he has, and that there are discussions again happening, particularly with holdout Senator Joe Manchin, beginning with $555 billion in climate action.
"It looks like we may get some version of Build Back Better before November," he said (referencing the notable timing of the fall elections where Democratic control of both houses of Congress is on the line). "I'm not losing hope."
Asked about preserving historic buildings and ensuring housing affordability in places like Park Slope, Jones said that it is false that it is impossible to preserve historic buildings, protect green space, and build affordable housing. He noted that new units need to be built and that affordable housing should be available throughout the district to ensure existing housing is not financially out of reach.
During closing statements, Robinson again highlighted the importance of finding common ground between both major political parties and ending deep polarization, saying that "the far left, the far right continue to tug on the fabric that makes America, America'' and that they will "wish we came back to the table with better intentions." And he said if elected, he would focus on public safety, gun control, and the mental health and homelessness crises.
Jones took issue with Robinson's comment, arguing how there is no moral equivalency between progressives and "MAGA Republicans" and pointing to how former President Donald Trump and many in the Republican Party are seeking to undermine democracy and pass voter suppression bills.
Asked to, in his closing, address questions about his ties to the district given that he just moved there to run in this race, Jones said he has been proud to have worked and has "already been fighting for communities that comprise this beautifully diverse district" when it comes to funding public housing and infrastructure, ending gun violence, enacting a humane immigration policy, protecting fundamental rights and tackling the climate crisis. And he pledged to continue to be a "progressive champion," which he said the district deserves, and that he "will never stop fighting for the people of this district."
"The question before us is what will our member of Congress from this district do to defeat fascism in this country," Jones said, "and I would submit to you that no one in the entire United States House of Representatives has done more legislatively or in terms of thought leadership to deal with that question."
Second Panel
To start the second panel of Rivera, Goldman, Simon, de Blasio, and Niou, candidates highlighted their backgrounds and why they are best fit to represent the district in Congress.
Rivera spoke about her "very humble" roots growing up in the district in Section 8 housing to a single mother, getting support from the city's supplemental food programs and other services, accessing reproductive health care at a neighborhood clinic and working as a waitress. Now the City Council Member for the 2nd district, which covers parts of Lower Manhattan on the East Side, Rivera said she has been an effective legislator, passing 22 pieces of legislation and bringing a billion dollars to her community while helping make gains on reproductive rights, climate resiliency, affordable housing, and other issues.
"I'm running for Congress because I know the issues affecting our community, and I am ready to fight and deliver to bring national resources to our local problems," Rivera said. "I want to make sure that everyone who comes here feels like their elected official is building a future that they can see themselves in."
Goldman, who was lead counsel for the U.S. House of Representatives in the first impeachment of then-President Donald Trump, emphasized that democracy is under attack and former President Donald Trump and the Republican Party have been rolling back voting rights and preparing to steal the 2024 election, yet too many Democrats are not as alarmed as they should be. He said that he and his wife have lived in Lower Manhattan for more than 15 years and are raising their five children in the district, where he has seen that residents have been struggling.
"The same old playbook that has been going on in Washington for decades now is no longer working," Goldman said. "The Republicans are not good faith actors, they're bad faith actors, and so we need to come up with creative new fresh approaches to this." He said he had done just that in proving the case against Trump in the House impeachment process.
Simon, who has represented the overlapping 52nd Assembly District since 2015, spoke about having been a disability civil rights attorney for most of her career, appearing before the U.S. Senate to testify in support of amending the Americans with Disabilities Act, and being a teacher for deaf children. Simon emphasized that representing marginalized communities has been the focus of her life, and as an Assembly member, she has worked on campaign finance reform, gender justice, climate justice, criminal justice reform, and gun violence, noting how she passed the first "red flag" law in New York in 2019, which the Legislature and governor recently toughened.
"I come from community, I was a community leader, a neighborhood association president, I worked with communities throughout the 10th congressional district, specifically most of Western Brooklyn, uniting communities and [doing] environmental justice work in communities that had never spoken to each other before," she said.
De Blasio, who pointed to his advocacy as an NYU student in fighting to stop the expansion of nuclear power and U.S. intervention in Central America, said it is essential for Democrats to organize better and fight harder. He said it is urgent for the district to choose a candidate who will organize for fundamental change and be a progressive leader, stressing that the "Biden administration is not doing all they could do right now with their executive powers" when "time is running out."
"Throughout my life, I've felt urgency about being involved, but never more than now, because we're seeing women's rights stolen before our very eyes," de Blasio said. "We're seeing the environment, the climate destroyed. We're seeing such fundamental attacks on everything we believe in that we have to respond with urgency and intensity."
Niou, who has represented the overlapping 65th Assembly district in Manhattan since 2016, also underscored a need to make change, and to do so, it is important for the district to choose a candidate who has political courage. She said she is someone who has made change and wants to continue to represent her neighbors in Congress.
"There are lots of people who are in power right now who don't want us to know that we can access government, and so that's why it's so important for us to fight," Niou said. "We have changed the way that Albany looks and works because of me, and I hope that we will continue to do that with each other."
When also asked to name three bills they would sponsor or introduce if elected to Congress, Simon said she will look to support the For the People Act and the John R. Lewis Voting Rights Advancement Act of 2021, pass the Women's Health Protection Act to protect access to abortion care throughout the country and work on climate issues, including moving toward electrification. Simon highlighted the work she has done in the New York Legislature on those same issues.
De Blasio said he would support the Green New Deal, Medicare for All including healthcare guarantees for undocumented people, and Build Back Better including lowering prescription drug costs.
The two-term mayor who left office at the end of last year noted how he worked to create a guaranteed healthcare program through public hospitals and clinics under the NYC Care initiative, as well as providing his signature achievement of universal pre-kindergarten.
"We need members of Congress who are going to demand that those actions take place, that we legislate, but when the legislative process fails us, we get the executive branch to go much farther than it has gone up to now," de Blasio said.
Niou said she would also support the Green New Deal and ensure public schools are climate friendly, referencing New York Rep. Jamaal Bowman's Green New Deal for Public Schools Act, seek to fully fund public housing, and support the People's Response Act, which would fund local, state and community-based organizations to find alternative approaches to public safety. If elected, she said she would look to introduce a bill with additional regulations for predatory-lending practices, mentioning financial technology apps, as well as legislation to eliminate certain asset limits for a handful of public benefits.
Rivera also expressed her support for Medicare for All and the Green New Deal, saying she will prioritize economically-friendly jobs on the Brooklyn waterfront. She said she supports the Equality Act and Women's Health Protection Act, pointing to her work in passing the nation's first public abortion access fund, which she said will be replicated across the country given the Supreme Court's overturning of Roe.
Rivera noted that there was likely little difference among the candidates on stage around most legislation, but that the differences were in who would bring the best perspective and approach to the job.
"We have to set an urban agenda for resiliency and for transportation equity unlike anything you have ever seen," Rivera said. "The money is there. You need someone to go and fight and negotiate a budget that is going to deliver equitably across the city and I will fight for every dollar here in NY-10."
Goldman said he has helped draft the Protecting Our Democracy Act, a package of legislation that addresses presidential abuses of power, which has passed in the House. Like Simon, he expressed his support for H.R.1 to nationalize voting laws, eliminate voter suppression, and prevent states from overturning election results. 
He said he would also sponsor the Women's Health Protection Act and said it is important to codify bills to allow women to have the right to choose, including providing an abortion fund for travel. He added that he would work to enact more gun control legislation and legislation related to holding gun manufacturers and dealers accountable for how they advertise and market to younger people. 
When asked for an existing federal program they would seek to bolster funding for in order to get more funds into the congressional district, de Blasio, Rivera, and Niou said they would seek $40 billion in funding for NYCHA. Goldman said he would increase funding for mental health services, which Simon echoed and said she would seek more funding for the Individuals with Disabilities Education Act.
On supporting federal policies to create affordable housing in the congressional district, home to some of the wealthiest neighborhoods in the state, Niou said fully funding public housing is the most efficient way to ensure there is enough affordable housing, arguing that NYCHA is the only truly affordable housing in the city. "NYCHA used to be a place where people wanted to live, and it should be that again," Niou said of its state of disrepair.
Rivera agreed that funding public housing is important, but added that federal funding should be linked to building enough supply to meet housing demands and the importance of looking at zoning across the city and the country. A proponent of the recently-passed Soho rezoning, Rivera added that there needs to be investments in supportive housing and mixed-income housing, citing Haven Green, a somewhat controversial project in the Manhattan portion of the district that is set to see the development of affordable housing for LGBTQ+ seniors but is being opposed by some community members and by Niou.
Goldman also said that NYCHA needs to be funded, but it is not enough to fund current public housing. He said there needs to be incentives for private developers to create more and better affordable housing. He said if public land or subsidies are being provided, developers should be required to build affordable housing in a significant portion of their development and have it be prioritized for local residents. 
"We can incentivize them to build more and better housing that will go to the communities, along with community services, public space, education, transit, daycare," Goldman said. "There can be a really high quality private-public partnership."
Simon pointed to how the 52nd Assembly district she represents has lost a lot of affordable housing, likely a reference to units leaving rent-stabilization before the state passed new rent regulations in 2019. She said that Area Median Income needs to be fixed to apply to Brooklyn and ensure that there is sufficient capital available to not-for-profit developers to build cheaper and more deeply affordable units. Simon also said it is important to look back at Mitchell Lama, which she called the "best overall affordable housing program" in New York State.
Like Simon, de Blasio said that the state needs to help create more affordable and public housing, and not just from the federal level. The former mayor said investing $40 billion for NYCHA is one of the best options to improve public housing, but mentioned how Section 8 housing is not talked about enough and needs to be restructured to provide more vouchers. "The federal government has gotten a pass on not funding public housing, even though they created it and pledged to be permanent supporters of it," de Blasio said. 
Niou was specifically asked why she opposed Haven Green and said that she did not want to see green space (the development will replace part of a public garden) pitted against affordable housing and that she thought there was another suitable site for the development.
"The original plans for Haven Green were not that kind of affordable," Niou said of the final plan, which is for 100% affordable units. She also brought up the Rivington House scandal of the de Blasio years. 
Simon and de Blasio were then asked about the deterioration of the Brooklyn Queens Expressway (BQE) and why they did not do more over their years in power to access available state and federal funding and move on plans to address the crumbling infrastructure.
De Blasio said he was pleased with the plan put in place last year, and expressed concern about the administration of Mayor Eric Adams possibly slowing down its implementation. He added that the long-term solution is to use smaller and preferably electric vehicles to carry freight, as well as tap into railways and waterways for innovative solutions.
"This is where I, as a Congress member, would fight in Washington but also in Albany and City Hall to totally reconfigure how we move goods in this city," de Blasio said. "If we want to reduce pollution, protect the climate, reduce congestion, we've got to get off the highways that we're using now the way we use them."
When asked by Max why the plan he's now touting took until his eighth year in office, de Blasio said the first BQE rehabilitation plan he released was a mistake and after hearing input from the community he agreed to scrap it and start again.
Simon, who said she has been living in the Gowanus corridor for 20 years, said it is important to electrify, use waterway transportation and smaller trucks, and said she did help pass legislation to have automatic electronic monitoring of the BQE and fining of overweight trucks to help reduce heavy traffic on the expressway. She said former Governor Andrew Cuomo took funds for the BQE and invested in the Tappan Zee Bridge replacement (named the Governor Mario M. Cuomo Bridge), resulting in more delay in addressing the expressway. 
"The real issue is we've been fighting for this," Simon said. "I've been to see the governor, I've been to see every DOT commissioner, I've been to see everybody, but we really needed a new governor." She said Governor Kathy Hochul is definitely listening and ready to be more collaborative.
Goldman was asked about specific local issues he has engaged in and fought for. He said he has spent 10 years as a prosecutor in the Southern District of New York, which prohibited him from engaging in political activities.
Since returning from Washington, D.C. after his work on the first Trump impeachment, Goldman said he has become more familiar with the issues impacting his Manhattan community and others in the district. He noted how he has become most involved in the 9/11 World Trade Center Health Program and called for its full funding, as well as the push to make development at 5 World Trade Center into 100% affordable housing that does not need to be fully subsidized by the government — he said the developers should be subsidizing affordability given all they have made over time from subsidies and bonding and tax breaks.
Rivera was then asked why she chose to vote in favor of the new $101 billion city budget given it allowed the mayor to cut school funding while increasing police department funding, especially after rejecting the budget passed in June 2020 because it did not divest enough from the NYPD.
Rivera said there are several fundamental flaws in the Fair Student Funding formula and called the link between student enrollment and school funding unfair. She said she prioritizes the schools in her current district to be fully funded every year, including through use of her discretionary dollars.
"What we're trying to do in the City Council is ensure that we are holding the mayor accountable, and that he can rectify those cuts and ensure that we are working with our schools to get them the support that they need," Rivera said. "I also believe that more federal funding for our school system is important."
When pressed by Max about why she voted to support the budget after voting against it in 2020, Rivera said the Council fought to keep several important areas in the current budget, including no new correction officers despite Mayor Adams' push for more, and she said there was no equity with the cuts across the agencies in the budget approved two years ago amid the worst of the pandemic fiscal crisis, an apparent slight toward de Blasio, who was mayor at the time and crafted those agency cuts (most of which were later restored). 
The candidates were then asked if there are any policy areas where they set themselves apart from the competition, a follow-up to Rivera's prior comment that there likely wasn't much. The candidates mostly took their time in answering to talk about their distinctive perspectives and approaches.
Rivera lauded her involvement in the East Side Coastal Resiliency Project, in which she said the community came together to ensure that families are protected from future storm surges despite some vocal opposition and a lack of good communication from the mayoral administration (another slight toward de Blasio). She also said her work around reproductive justice, affordable housing, and climate justice is unmatched by the field.
Goldman said he is different from other candidates in his approach, noting how he is the only one who has been down in the U.S. Capitol and been effective in standing up to then-President Trump.
"It is one thing to go to Albany and to work with Democratic colleagues and the Democratic governor to pass legislation. It is an entirely different animal to deal with Republicans in Washington, D.C.," said Goldman, though he did not acknowledge that few Republicans supported the first Trump impeachment and that it was thrown out in the Republican-led U.S. Senate.
Simon said she and her perspective come from the community as an accessible legislator in knowing and talking to the residents she represents. She said that as a civil rights attorney she has continued to fight for people with disabilities, the LGBTQ community, and other underrepresented groups who need federal protections.
De Blasio said he differentiates from other candidates from his work in public schools and creating New York City's universal pre-K system, citing education as a major concern among parents. He said he was shocked that the new city budget cut funding from public schools after children and schools made it through the pandemic in need of additional support and that he would work to see the cuts restored.
Niou also talked about her approach, saying her identity as someone who is disabled, queer, and Asian gives her a different lens when representing constituents. She also said her political courage sets her apart, arguing she has always stood up when it came to tough budgets, special powers for the governor, predatory practices, sexual harrassment, and corruption.
"This has been the honor of my life to be able to serve my constituents for the last six years as the Assembly member, and I think that it has been really, really difficult to always take the courageous stance, and I will continue to be of political courage as needed in Congress, just like I was in Albany," said Niou, who has repeatedly voted against budget bills in Albany arguing that agreements between the Legislature and governor did not go far enough to tax the wealthy and provide services for New Yorkers in need. "We have to continue to fight for the political courage that we want to see. People talked about the governor — well, you're welcome," she said with a laugh about her role in ousting former Governor Cuomo amid sexual harassment and other scandals.
On the "Brooklyn Can't Wait" campaign, whose slate of district leader candidates were backed by several of the groups sponsoring the forum as well as Niou, the other candidates were asked about their support or lack thereof for the reform-minded candidates seeking to change the composition of the Brooklyn Democratic Party.
Simon said she was there at the initial launch of the campaign and has been engaged in reforming the Brooklyn Democratic Party for many years, and noted that she had tweeted about the slate.
De Blasio said he was not involved in Brooklyn Can't Wait, but appreciates its efforts and believes there will be change in Brooklyn. When asked by Max about Rodneyse Bichotte Hermelyn, the leader of the Brooklyn Democratic Party who he has been close with and who expressed support for his candidacy in the NY-10 race, de Blasio said he is not pleased with the party.
"Obviously, there was a lot of division," de Blasio said. "There was a lack of transparency and democracy. So I think what has happened here is going to open up the possibilities of bigger change."
 Rivera said she has been heavily involved in supporting past insurgent candidates, like the No IDC NY campaign in 2018, including now-State Senators Jessica Ramos and Alessandra Biaggi. She said she will be there to support the progressive and insurgent candidates in the future, noting that when she endorses she goes all-in for the candidates, and indicating that she was not approached for her support for the Brooklyn Can't Wait slate.
Goldman said he has not been involved, but he is heartened to see the number of people, especially young individuals, who have gotten involved in the political process, calling it necessary to preserve democracy.
The candidates were asked about helping residents of Gowanus against climate change and ensuring that pollution in the area is remediated, especially as the neighborhood is set to see more development under the rezoning passed last year under de Blasio.
The former mayor said it is important for the next Congress member to push the federal government, including the Environmental Protection Agency (EPA), to perform when it comes to addressing climate change and pollution. He added that it is essential to pass sweeping climate measures to help those in Gowanus and elsewhere, and that the biggest solution would be to pass the Green New Deal to address the core of the problem. "If we don't cut off the climate crisis with really intensive changes quickly, then all of the remediation is not going to be able to keep up," he said.
Simon, who represents the Gowanus Canal Superfund site, echoed de Blasio's concerns in saying that the Green New Deal needs to be passed. She said it is crucial to talk to community members on the ground to understand the problems they are facing on a daily basis.
Goldman said the superfund site needs to expand beyond the boundaries of the canal, which he said are also polluted. He also believes pressure needs to be put on the EPA to spearhead a proper cleanup and ensure that toxicity does not seep into new buildings.
Rivera said there needs to be inter-agency communication, and lauded the efforts of Rep. Nydia Velázquez who created the superfund site and noted for the second time at the event that the Brooklyn Congress member has endorsed Rivera's campaign. She stressed the importance of communicating with stakeholders and recognizing that communities are suffering, emphasizing how there needs to be an equitable approach to how the city looks at resilient and social infrastructure.
"We need to ensure that we're holding folks accountable, agencies accountable, and that we're leading a productive and comprehensive discussion that is rooted in facts and that is rooted in steps forward, and a timeline that's always, always community-led," Rivera said.
Niou said she used to work at the EPA, and she said that many forget that it is not only environmentalism, but environmental justice and environmental segregation that must be addressed. She added that the community of Gowanus, many residents of which are being displaced, needs to be heard.
"Even the very basic things, like the idling trucks and the pollution that people are breathing in every single day, that's part of the environmental segregation that people are experiencing every single day down there," Niou said. "On the federal level, we can make certain changes to make sure that we are stopping this environmental segregation."