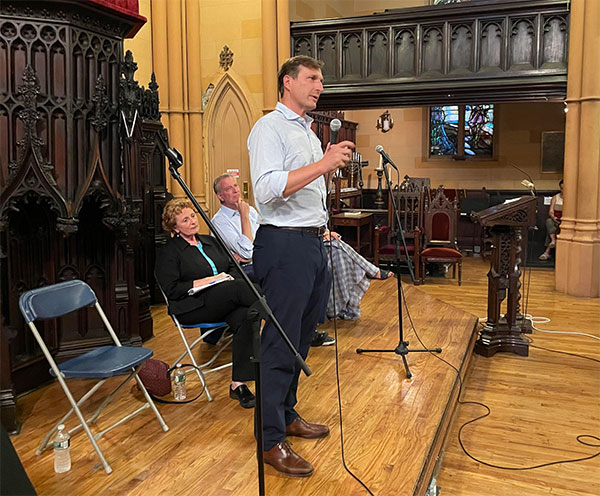 Dan Goldman at a candidate forum (photo: Ben Max)
---
Dan Goldman, the lead counsel for the first impeachment trial of then-President Donald Trump and former Assistant U.S. Attorney in the Southern District of New York, is among the Democratic candidates running to represent the new 10th congressional district, which includes parts of Lower Manhattan and Brooklyn.
Goldman is focusing his campaign on his resume and, he says, the fight for democracy and fair elections amid Republican assaults on both, including the January 6, 2021 insurrection at the U.S. Capitol and other efforts to overturn the 2020 presidential election.
"I want to get down to Washington to be the bulwark against Trump and the Republican Party, which are not only undermining our democracy, but undermining our fundamental rights," Goldman said during a recent appearance on Gotham Gazette's Max Politics podcast. "We need new and fresh voices with creative ideas for how to tackle long-standing problems, where the same old playbook has not worked."
Goldman is part of a crowded field of roughly a dozen candidates vying to represent the new 10th congressional district, including City Council Member Carlina Rivera, Assembly Members Yuh-Line Niou and Jo Anne Simone, Rep. Mondaire Jones (who currently represents the 17th district in the Hudson Valley but recently moved to Brooklyn to run in the 10th), former Rep. Elizabeth Holtzman, and others. Former Mayor Bill de Blasio dropped out of the race on July 19.
Primary day for all congressional districts is August 23, with early voting from August 13-21 and absentee balloting as well.
The new 10th district — a product of the recent chaotic and controversial 2022 redistricting process — stretches a diverse swath of Manhattan, including the East and West Villages, Soho and Noho, the Lower East Side, Chinatown, Battery Park City, the Financial District, and of Brooklyn, including parts of Downtown Brooklyn, Gowanus, Park Slope, Red Hook, Sunset Park, Borough Park and more. The rare open congressional seat with no incumbent running, especially in this high-profile and high-voter turnout area of the nation's biggest city, has attracted the large and distinguished field of candidates. (Rep. Jerry Nadler, who represents the current 10th district, is running against Rep. Carolyn Maloney and others in the new 12th district, leaving the seat unchallenged by an incumbent.)
If Democrats remain in the majority of the U.S. House of Representatives following the midterm elections, Goldman told Gotham Gazette editor Ben Max, the podcast host, that he wants to hold public hearings on election disinformation and misinformation that Republicans are using as a basis to spread lies, pass unfair voting laws, and sow distrust in American democracy. He said there has been data showing voter fraud is not a real issue with regard to election results, but only happens individually and sporadically.
To reach voters who believe that the 2020 presidential election was stolen from Trump, Goldman said the Democrats need to adopt better messaging strategies. He pointed to Democratic state legislators and paid advertising in Republican-heavy states as useful sources in spreading correct information about voting and elections. 
"We have to go to the people themselves, we have to reach them," Goldman said. "We're in a very unusual and unprecedented time, where we're not arguing about the same facts and which way to use those facts to improve the lives of Americans. We're arguing about the facts."
When asked about the criticism toward the Department of Justice about inaction regarding the January 6, 2021 insurrection and outcomes of several Supreme Court rulings, Goldman said his message to the public is "to be patient, which is very hard to do." As a former prosecutor, Goldman — who handled cases involving gangs, gun trafficking, mafia bosses, Russian-organized crime, insider trading, and major corporate fraud while a prosecutor at the Southern District of New York — said the process of building a major case is often complex.
Goldman noted that the evidence in the January 6 special committee hearings has been powerful and a decision to charge Trump and others involved will most likely be made in 2023.
"It's an incredibly important and awesome responsibility to indict someone, to charge them with committing a crime, where the ultimate punishment could be that they go to jail," Goldman said. "That is not a laughing matter, and that is not something that anybody should take lightly."
Goldman also said he hopes to tackle other national issues that have been stalled by Republicans and some Democrats, such as gun control. He called for investigations into gun manufacturers and dealers, who he said have control over Republicans in Congress, to see the effects of their marketing in relation to mass shootings. 
"Are they putting profits over people's lives?" Goldman said. "This is the kind of creative thinking that we need in Congress because we can't continue to operate as if the Republicans are good faith actors, when they're not. They act in bad faith these days, so we have to figure out alternative ways to put pressure on them to bring them to the table."
While expanding on his call for new approaches in Congress, Goldman said Democratic leadership is not the problem, a departure from some Democrats who criticize President Joe Biden, Senate Majority Leader Charles Schumer of New York, and House Speaker Nancy Pelosi, and believe the party needs to be more creative and aggressive, as Goldman has called for.
Goldman was highly complimentary of Pelosi, with whom he worked during the first Trump impeachment, calling her "brilliant" and "one of the very few most impressive people that I have ever worked with." He said he believes the challenges facing Democrats are instead an issue of having such a diverse coalition. He also took issue with some Democrats who he said have taken an ideological approach that is not based on pragmatism or realism in some cases, such as progressives like Rep. Jones, his opponent in the race, who have indicated that the House passed the Build Back Better agenda and it's now up to the Senate to get it done.
Goldman said reality is that the House, Senate, and president need to be in an agreement to pass legislation, and Democratic Party infighting in Congress has been counterproductive.
If elected to office, Goldman said he will work to develop a longer-term strategy for Democrats, which he says has been missing and Republicans have slowly and successfully done in the judiciary branch up to the Supreme Court over the last decades.
Although Goldman does not have local elected office experience like most other candidates in the race, he said he is not new to the issues and pointed to living in the district for more than 15 years and his work as a prosecutor helping to protect communities and the country. He said that while as a federal prosecutor he was barred from taking part in political activity, since his work on the Trump impeachment he has been speaking extensively with neighbors and community members about local issues.
"What is important for those in the district to understand is I served as a lawyer, I am a lawyer, and my only client as a lawyer has been the United States of America," Goldman said. "Now, I want to represent the constituents of this district as a United States Congressperson."
In 2021, Goldman had also briefly thrown his hat in the ring for elected office when running for New York Attorney General, but decided to pull out from the race, like all others who declared on the Democratic side, once Attorney General Letitia James decided to leave her bid for governor and run for reelection.
Goldman said the reasons he ran for Attorney General are consistent with why he is now running for Congress. He cited a string of Supreme Court decisions in recent weeks, including the overturning of federal abortion rights and New York's concealed carry gun regulations, and as well as limits on the climate regulations the EPA is authorized to issue, as a rollback of fundamental rights and existential threats to democracy.
"I want to get back on the front lines to fight for the people of New York, to fight for Democrats around the country, to fight for patriots and Americans who believe in democracy and believe in individual rights and freedoms," Goldman said. "That's what this country is all about. That's what has given so many of us such incredible opportunities, and I feel compelled to fight for that until I cannot fight any longer."
During the final speed round of questions, Goldman said the city's Rikers Island jail complex should have greater oversight by the federal government, but most importantly, needs to be shut down (which it is slated for by 2027). He did not take a definitive stance on the posed question of whether the Rikers jails should be entered into federal receivership.
When asked about funding for New York City Housing Authority (NYCHA) and if there's a strategy he favors for bringing revenue to the city's public housing for much-needed repairs that is not simply tens of billions of federal dollars in grants, Goldman said he would work hard to raise federal funding and create more and better housing. Again without specifics on the question at hand, he then pivoted to his belief that the soon-to-be-built 5 World Trade Center tower should be 100% affordable housing and available first to survivors of 9/11 and those who endured effects of the cleanup of the site. Goldman said the developers of the World Trade Center area have received enough in compensation and tax breaks to be able to offset the costs of making the new tower fully affordable.
More broadly, Goldman said he would seek to collaborate with real estate developers to ensure they are incentivized to continue building, while also requiring them to give back to the community through improving parks, schools, daycares, medical facilities, mass transit, and affordable housing.
To tackle gun violence on the federal level, Goldman said it is possible to have justice and fairness in the criminal justice system by diverting first-time non-violent offenders into educational or vocational training to reduce the number of incarcerated individuals. He said that more funding needs to be directed to mental health services to allow for professionals to focus on domestic violence and homelessness problems instead of the NYPD. "We ought to try to have the NYPD focus on what they are good at, which is fighting crime, and part of that is fighting gun crime," he said.
Goldman said he would reimplement the Trigger-Lock Program, which he said he was a part of while working at the Southern District of New York, for many gun possession cases to be more easily prosecuted at the federal level rather than the state level. He also said he would work to update gun trafficking laws, prosecute owners of ghost guns, strengthen penalties for gun registration failures, and stop the iron pipeline of gun trafficking from the south to the northeast.
Since launching his campaign, Goldman has received endorsements from Assemblymember Robert Carroll, a progressive who represents a chunk of the new NY-10 in Brooklyn and considered a run for the seat himself. Goldman touted Carroll's endorsement during the podcast.
He has also been backed by Jackie Rowe-Adams, the co-founder of the anti-gun violence grassroots organization Harlem Mothers S.A.V.E., and The Steady
State, a group of national security experts concerned about authoritarianism.
"What we need right now is somebody with the skills and experience to take on those fights, to preserve, defend our democracy, and then someone who else can be really creative and thoughtful in moving forward on the local issues that matter so much to the constituents," Goldman said. "That's something that I've done all my life, and I would be very excited to do as a member of Congress."

[LISTEN to the full conversation: Max Politics Podcast: Dan Goldman on Running for Congress in the New NY-10]