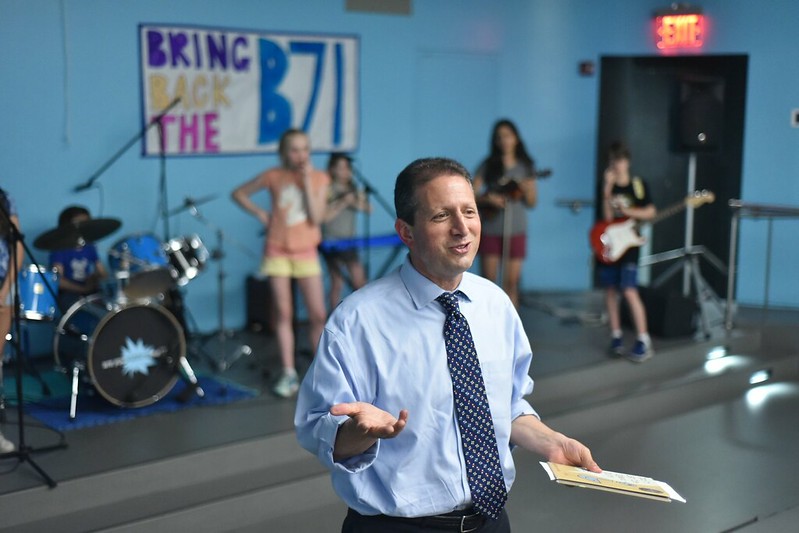 Comptroller Brad Lander (photo: John McCarten/City Council)
---
According to New York City Comptroller Brad Lander, the city's chief financial officer, "it's a very mixed-signals moment" for the city's economy.
On one hand, Lander said during a recent appearance on Gotham Gazette's Max Politics podcast, the city economy is seeing increased job and business growth; while on the other hand, nationwide inflation is among the challenges now and into the future.
Now roughly seven months in his new citywide post, the Brooklyn Democrat is charged with leading an office that monitors the city's economic and fiscal conditions, acts as a watchdog over city government, audits city agencies, is a fiduciary to the five public pension funds and their roughly $250 billion in assets, and more.
During the podcast discussion Lander outlined the city's relatively solid fiscal picture, with a new $101 billion city budget effective July 1 that included strong deposits in savings, but questions around the significant Wall Street slump thus far this year. He also spoke about how those stock market trends do and don't impact the city's public pension funds and how his office's bureau of asset management does and doesn't adjust to market fluctuation.
Lander and Max also discussed controversy over the new city budget, namely hundreds of millions of dollars in school funding cuts being made by the administration of Mayor Eric Adams and what Lander says should be done to reverse those cuts. They touched on Lander's outlook on the city's fiscal and economic health; the push the comptroller is working to organize for comprehensive property tax reform; upcoming audits his office will be releasing; and more.
Prior to becoming comptroller after winning last year's election, Lander served in the New York City Council for three four-year terms, representing District 39 in Brooklyn. He succeeded Bill de Blasio in that position and has now been replaced by City Council Member Shahana Hanif, who Co-Chairs the Council's Progressive Caucus, which Lander co-founded.
On the city's economy, notable positives according to Lander are declining unemployment rates and the growth of new businesses. "We are back above 95% of the jobs that we had in the city prior to the pandemic. Unemployment is down at 5.7%, which is below where it was at the beginning of the pandemic [when it exceeded 20%], and down from 10.2% a year ago," said Lander.
Brooklyn is leading the charge in business growth in New York City, Lander noted, overtaking Manhattan for the first time in terms of the borough where new businesses are opening. And of the new establishments created recently, Lander highlighted, 2,285 do not fit pre-existing classifications from the Bureau of Labor Statistics. "Hopefully we're going to see an era of new business generation, of creativity in technology, in health care, in a range of fields," Lander said.
Tax revenues to the city also surprisingly exceeded projections as the fiscal year came to a close at the end of June, Lander noted, giving the city $600 million more in tax collections than projected in the adopted budget, which was finalized only weeks prior.
But there are "dark clouds on the horizon," Lander said, including the results of this year's Wall Street slump and thus income tax collections. That and other worrisome trends and signs make it even more important, the comptroller said, that the city has strong reserves. "I don't foresee tax revenues continuing to be strong at anything like those [higher recent] levels in the year to come," Lander said.
He touted additions to the city's new "rainy day fund" (otherwise known as the Revenue Stabilization Fund). Lander had called on Mayor Adams and the City Council to expand the fund to $2.5 billion. The adopted budget put $2.2 billion in the fund, which Lander said was not quite what he wanted to see but very close nonetheless. Those savings are part of a larger picture of roughly $8 billion the city has set aside in different types of funds in case of emergency.
Along with the impacts of inflation and significant climb in food, gas, and other prices, the prospect of a looming recession is especially worrisome, Lander said. The city is highly-reliant on income and capital gains tax collection, which largely rely on Wall Street's prowess.
Meanwhile, Lander sought to assure public sector retirees, saying, "Your pensions are solid, our systems are well-funded."
But, Lander noted, the worse the market does, the more must come out of the city's annual operating budget to make up for pension return shortfalls. "Yes," he said, there's a chance the additional revenue from the end of fiscal year 2022 will need to be used in fiscal year 2023 toward pension returns. But he explained there are key strategies in place to carefully manage the pension portfolios in order to limit that exposure and to approach investment decisions on five-year cycles, as opposed to reacting to short-term market trends.
The city's finances are also significantly dependent upon property taxes, and there have long been calls for the city and state to work together on comprehensive property tax reform, which could also help, to some extent, address the city's affordable housing crisis.
Lander was one of many voices opposed to renewing the 421-a property tax break for developers and state leaders did let it expire earlier this year. The comptroller and others believe that some kind of tax break for building affordable housing may be needed, but that it should be part of the larger property tax reform effort.
"The system has protected homeowners in Park Slope from paying our fair share of property taxes, and that has to change," he said of himself and his neighbors. "We need a system that taxes people fairly."
Since "there are winners and losers" in any reform, it is going to continue to take work to grow the coalition and get a plan over the finish line, he said. Lander has said this should be done by the end of this year — there are widely-applauded recommendations from a commission assembled by then-Mayor de Blasio and then-City Council Speaker Corey Johnson that could form the basis for the next phase of negotiations — but most likely this would have to be on the state and city policy agenda for 2023.
More immediately, Lander has been focused on the new city budget and school funding cuts made by the Adams administration. Soon after budget negotiations were settled between the City Council and Mayor Adams in mid-June, backlash emerged from school leaders, parents, advocates, and City Council members who started to see what the Department of Education had planned for school-based cuts that were the result of lower student enrollment.
Lander has been among those pushing back against the cuts, and his office has done further financial analysis. The comptroller has presented new data and a proposal for backfilling the reductions for the coming school year while also saying it is important to set the stage for what potential enrollment-focused cuts may need to be made for the following school year.
"You're excessing teachers, or eliminating your art or music program, or maybe you hired a second guidance counselor to help people during the pandemic," Lander decried. "And I've talked to principals who've had to eliminate all those things."
Instead, Lander has called on Mayor Adams and City Council to use more of the billions left in  federal covid relief for schools, a total of $7 billion of which has come to New York City.
While Mayor Adams is using some of the remaining roughly $4 billion in federal school covid aid to soften the blow of the cuts, Lander and others say he should use more of it to avoid the hundreds of millions of dollars in school cuts altogether, at least for this coming school year.
Lander's office estimated that the Department of Education has just rolled over $640 million in unspent funding, which he said could easily be used to cover the planned cuts (a parent-led lawsuit has stopped those cuts from going ahead, at least for now).
There is some concern, however, that Lander's proposed approach is a temporary band-aid, Max noted, holding off tough decisions for just another year. Lander acknowledged these concerns, but said that in this instance, it is a wise use of the federal funding to keep schools whole as the city is working to both help students recover from the pandemic's tumultuous years and entice more (re)enrollment in the school system.
As decided by the prior de Blasio administration, some of the one-time federal funding is being used to expand permanent programs like 3-K, adding to the looming fiscal questions as federal relief funding runs out over the next few years. Keeping in mind the longevity and continuity of school programs will be an important part of the "longer-term conversation," which Lander said he's ready to have.
"I'm confident we have the time to make wise fiscal choices without hitting our schools this fall," Lander said.
As for his office's role as the city's auditor-in-chief, Lander recently released an audit of the NYC Ferry system and its questionable financial practices under Mayor de Blasio. Lander's office found that the city's Economic Development Corporation (EDC), which de Blasio assigned to run the program, underreported the cost of ferry system operations by $224 million, from 2017-2021. The audit also raised additional questions about the very high per-ride subsidies the city has covered to run the ferry at just $2.75 per ride.
The audit was received well by Mayor Adams, who quickly announced new changes to NYC Ferry, including both a program to help low-income New Yorkers afford to ride while also raising the base fare.
"The whole purpose of the audits is to help governments change," said Lander, whose office has completed 22 audits since he became comptroller, most of them finalized from the prior administration given that audits typically take at least six months to complete.
Asked about upcoming audits or audits he's put in motion since he took office, Lander pointed to NYCHA public housing and the Department of Correction. He also highlighted the launch of his office's new Audit Recommendations Tracker, which helps track the comptroller's offices recommendations for change to city agencies and whether those suggestions are being implemented.
Meanwhile, Lander has also been involved in climate-related policies, one of his major focus areas when running for comptroller last year. Lander has been working with the city's Chief Climate Officer and Department of Environmental Protection Commissioner Rohit Aggarwala, the Mayor's Office of Climate and Environmental Justice, and others on programming for "a much more expansive solar array."
Lander likened the vision, which is still in the planning phase, to cell phone towers, using city capital to install solar panels on both public and private buildings. Lander said the proposals are "promising" in light of major environmental setbacks from the federal government, including restrictions on the EPA's power. "New York City and other municipalities have to step up, and this is one way we can," he said.
Max also asked Lander about recent Daily News reporting related to Lander's office's role vetting city contracts entered into by the mayoral administration and the role of Lander's wife, Meg Barnett, who leads an advocacy group for nonprofits, many of which rely on government contracts. Lander said that his wife's organization does not pursue city contracts itself or lobby his office, and that he reached out to the city's Conflicts of Interest Board to be sure there wasn't an issue. "Trust in government is really important and I take it super seriously," Lander said, reporting that the board confirmed there was no conflict law violation.
The comptroller said his office registers contracts, it does not delegate them. "We don't do anything discretionary," Lander said of the contracts entered into by city agencies and sent to his office, "we just make sure the process was followed appropriately."
[LISTEN to the full conversation: Max Politics Podcast: Comptroller Brad Lander on City Finances, School Budget Cuts, & More]