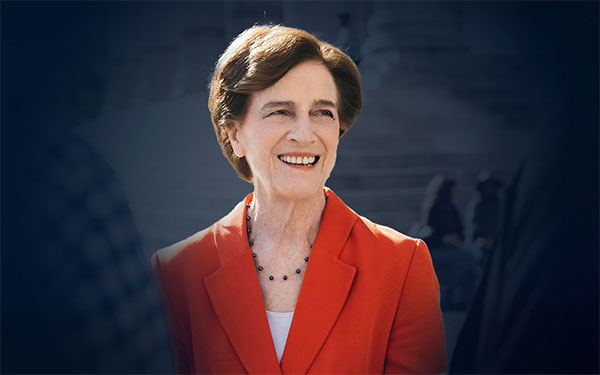 Elizabeth Holtzman (photo: Liz Holtzman for Congress)
---
Former Rep. Elizabeth Holtzman, the first and only woman ever elected Brooklyn District Attorney and New York City Comptroller, has ended her decades-long hiatus from political campaigns to run for Congress in the crowded field for the new 10th district.
"I said to myself, 'I'm not a sidelines person — this country is in danger," Holtzman said about why she joined the race during a recent appearance on the Max Politics podcast from Gotham Gazette. "And I have the background, the skills, the know-how, the guts to take these dangers on and try to defeat them." 
Holtzman, who was at 31 the youngest woman ever elected to Congress at the time when she first won in 1972, is campaigning alongside roughly a dozen candidates to represent a diverse set of neighborhoods in Lower Manhattan and Brooklyn.
The new 10th district, which has no incumbent running, includes the East and West Villages, Soho and Noho, the Lower East Side, Chinatown, Battery Park City, the Financial District, parts of Downtown Brooklyn, Gowanus, Park Slope, Red Hook, Sunset Park, Borough Park, and more.
It is among the congressional and state senate primaries that will conclude on August 23, with early voting preceding from August 13-21, as well as absentee balloting.
Holtzman represented parts of Brooklyn in Congress from 1973-1981, then won her race to become Brooklyn District Attorney, followed by Comptroller. She narrowly lost her 1992 bid to become New York's first female U.S. Senator.
When asked by Gotham Gazette editor Ben Max about why she decided to run for Congress, Holtzman, who said she lives in the geographic center of the new 10th district, said the conservative majority of the Supreme Court is "trying to take our rights away," former President Donald Trump is likely to run another campaign based on "fraud and deceit," and "MAGA" Republicans are threatening the economy, climate, and more
Holtzman emphasized that she differentiates herself from the other contenders in having the background and courage to take them on.
Holtzman cited her experience as a member of Congress in the '70s, in which she helped pass a plethora of legislation and was one of the first members on the House Judiciary Committee to call for the impeachment of then-President Richard Nixon during the Watergate scandal.
"If we were in normal times, I wouldn't be running for Congress now, I'd be on some kind of vacation," Holtzman said. "But the fact of the matter is, I don't want to look at myself in the mirror as we go downhill towards authoritarianism and worse, and say to myself 'I did nothing about it.'"
Asked if there are lessons that the country learned during the Nixon era that have been forgotten today, Holtzman said that both Nixon and Trump were "out of control," but noted that the U.S. Department of Justice through a special prosecutor investigated Nixon while there has been no such investigation of Trump beyond the Mueller report and now the special committee on the insurrection of January 6, 2021.
Holtzman said she is frustrated by the lack of action based on the evidence.
"The smoking gun tape came from a grand jury subpoena," Holtzman said in reference to the indictment of Nixon. "Where are those subpoenas today? [U.S. Attorney General] Merrick Garland has to wake up."
Speaking further about how she differentiates herself from her opponents, Holtzman said experience in Congress is not the same as her opponents who are in the City Council and State Legislature, an apparent reference to Rivera, Niou, and Simon. She added that Jones, without stating his name, is in his first term in Congress and does not represent the city, while she has a record of legislative accomplishments during her eight-year congressional career.
She cited a lawsuit to stop bombing in Cambodia, legislation to end Nixon's State Secrets Protection Act, and successful efforts to uncover and oust Nazi war criminals in the United States.
If elected back to Congress, Holtzman said one of her top priorities would be to combat gun violence. She said she would support bans on assault weapons, large magazines, and excess handguns, noting how one of her first areas of focus as city comptroller was to hold gun manufacturers liable. Holtzman also said that she would call on state and federal governments, which she said buys billions of dollars in munitions, to pressure gun manufacturers to end the sale of assault weapons and illegal guns by halting their business.
"You just need someone who has that smart idea and says, 'Let's do something about this,'" Holtzman said. "And so let's use our power, the leverage of all these purchases, to get gun manufacturers to change their behavior."
Holzman added that another top priority would be affordable housing, and she pointed to helping finance tens of thousands of units using the city's pension funds while serving as comptroller, and noted she hopes to secure funding to repair the existing housing stock and build additional affordable housing. 
Holtzman also said she would work on issues related to the climate, mentioning rising sea levels and being a frequent kayaker. She said that she would try to make the president take action, as well as advocate for legislation to reduce subsidies for fossil fuel companies and investigate whether they are paying the federal government a fair share of royalties.
When asked about her view of national Democratic leadership and the Senate filibuster, Holtzman said Senate Majority Leader Charles Schumer of New York, who was elected as her congressional successor in 1980, has been "trying to do a good job" in the Senate, and emphasized how he cannot end the filibuster or do much else without having the votes. She also said that House Speaker Nancy Pelosi is "a very effective, very savvy person" and lauded her leadership in helping pass the Affordable Care Act under then-President Barack Obama.
Holtzman also called President Joe Biden a "very decent" and "caring" person and noted how they both were elected to Congress at the same time. While she said Biden had saved the country from facism by defeating Donald Trump during the 2020 presidential election, she emphasized that he could have acted quicker on some issues since being elected, mentioning that the U.S. Supreme Court majority draft opinion overturning Roe v. Wade was leaked well prior to the decision coming down, giving him time to prepare more executive action than he appeared ready with.
"The president's got a lot on his mind," Holtzman said. "He's got a war going on in Ukraine. He's got China breathing down his neck, and Taiwan, and he's got [Senator] Joe Manchin saying first he's going to help on some bills and then changing his mind. I mean, it's been tough."
Asked about Biden and Schumer not at the time being able to get Manchin to a deal on major climate legislation, Holtzman said, "It's very easy to sit on the outside and poke holes in what people are doing, but you don't know all the offers that have been made —he's a very slippery person," Holtzman said of Manchin. "It seems to me, some people might even say, he's trying to get publicity every time he turns the president down."
She said she was sure that Biden and Schumer were working on getting to a deal, and they were indeed, with a package soon announced on the Inflation Reduction Act, which incorporated big pieces of Biden's much larger Build Back Better agenda.
Holtzman emphasized that the real problem in Congress is that Democratic voters did not deliver on electing lower ranking officials during the previous presidential election. "It's one thing to attack Biden, but if you really want to do something about it, elect more Democrats to office, make contributions," she said, in something of a departure from some Democrats who criticize current leadership for not doing enough with what they have.
On her path to victory in the crowded field, Holtzman said "given the expected lower turnout in this district," she "might be able to win just with the people who voted for me in the past." While the district has several very high-voter turnout areas, the August primary, with many residents out of town, could see quite low participation.
Holtzman said she has been surprised and energized by the response of voters on the street, mentioning how "sometimes people even scream" when they meet her and lauding her endorsement from feminist icon Gloria Steinem. But Holzman said she needs to ensure that all residents in the district actually know that she is running. 
She added that she needs to expand her base and make sure people know her record, pointing to having been the only district attorney in the country who called on the Supreme Court to ban racial discrimination in jury selection, as well as her efforts to deport Nazi war criminals from the United States, and fight the plan to build nine new municipal incinerators, which eventually led to the closure of all polluting incerators in the city.
"If people want someone who knows how to get things done, is prepared to stand up to no matter who, and is prepared to take on bad guys — that's me," she said.
Asked about potentially blocking the ascension of someone from the next generation of Democratic progressives, Holtzman pushed back, asking "Why should they block me?" and saying that her opponents are blocking each other by running against one another. She emphasized that she is "bringing something different from all of them" in the race and that voters should have a choice, adding how the country is coming closer to facism and needs a leader who has experience.
"As soon as people see that I've got the energy and the guts, the intellectual ability and the physical ability to do this job, then they're not going to judge me on the basis of how many years pass by chronologically, how tall I am, how much I weigh, the color of my eyes," said Holtzman, who is 81. "No, they're going to try to assess, am I someone who's going to fight for them? When the chips are down, am I going to fight for them? And is anyone going to buy me off or stop me from doing that? And am I going to fight for them, not just stand up and fight for them, but fight in a way that's going to produce results?"
Since Holtzman left elected office at the end of 1989, after losing her comptroller reelection bid amid a scandal, she said she has been practicing law and working on various commissions. She was appointed by then-President Bill Clinton to serve on a panel overseeing classified documents about Nazi war criminals, and she was asked more recently to serve on two panels about sexual assault in the military and other matters. Holtzman also mentioned that she served on the transition committees for New York Attorney General Letita James and former Brooklyn District Attorney Kenneth Thompson.
On local issues in the new 10th district, Holtzman said she will prioritize the cleanup of the Gowanus Canal, which is one of the most polluted areas in the country. She said she would meet with the community, environmentalists, and local activists to ensure the cleanup is thorough and environmentally friendly.
During the final speed round of questions, Holtzman said it is long overdue for the federal government to take over the Rikers Island jail complex, but said the new mayor and the New York City Department of Correction are trying to act in good faith. 
"It's an emergency situation when people are dying unnecessarily, so I don't know what the city government is doing about it," Holtzman said. "Maybe they ought to be taking some more action with the City Council and state government — where were they in all of this?"
On funding for much-needed New York City Housing Authority (NYCHA) repairs and upgrades and if there's a strategy she favors to generate revenue for public housing that is not simply tens of billions of federal dollars in grants, Holtzman said it is important to examine how the current funding is being spent, especially when it comes to building maintenance. She said public housing used to be a "gem" not only in the city, but across the country, and the units have been neglected for too long. She did not offer support for any of the several strategies underway or proposed, or any other.
When asked about former Mayor Bill de Blasio's unsuccessful congressional bid for the district, Holtzman declined to comment on his candidacy and said she wants to focus on the issues that need to be addressed in the neighborhoods. But she did reference the East Side Coastal Resiliency project passed by de Blasio and supported by Rivera. An initiative funded by the city and federal governments to reduce flood risk and improve resiliency along parts of the east side of Manhattan that includes major upheaval for East River Park, Holtzman indicated a lack of full familiarity but asked why so many trees had to be cut down.
Asked if she was under the impression the project could have been done without moving many trees, Holtzman said she is unsure, but if she was in Congress, she would deeply review the project if it involved cutting down 500 trees. "I'd look at it not once and twice, I'd look at it 100 times before I went ahead with something like that," she said.
[LISTEN to the full conversation: Max Politics Podcast: Elizabeth Holtzman on Running for Congress in the New NY-10]