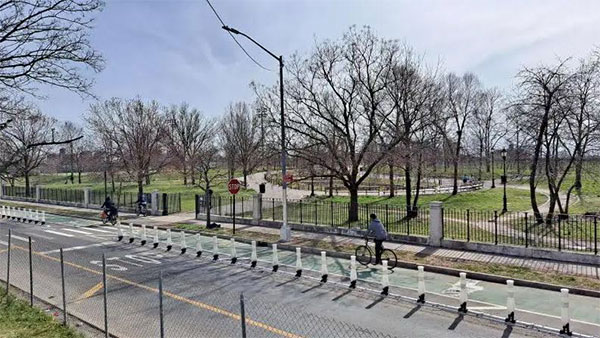 NYC Greenway
---
New York City's greenways are getting another lift. Greenways, paths for pedestrians and non-motorized vehicles exclusively, are viewed by supporters as boons for safe, environmentally-friendly alternatives to traditional transportation and opportunities for quality-of-life-boosting recreation.
Advocates stress that building these pathways, ideally in an expansive and connected network, has several benefits. Those include reducing car use and pressure on mass transit, offering venues for outdoor exercise, and creating green spaces that line the thoroughfares and prevent flooding and even mitigate excess temperatures caused by heat-absorbing concrete.
Yet advocates point out that the greenway system in New York City is severely underbuilt and what does exist is in disrepair or spread inequitably throughout the city along class and race lines.
But the new mayor, Eric Adams, who as Brooklyn Borough President worked to update Brooklyn's Waterfront Greenway, has made this infrastructure a priority in his first term. And now, new federal money to support planning for greenway expansion is headed to the city.
Last week, the U.S. Department of Transportation awarded the New York City Department of Transportation $7.25 million for expanding greenways as part of a slew of nationwide grants from its Rebuilding American Infrastructure with Sustainability and Equity (RAISE) program, part of the massive Bipartisan Infrastructure Law passed earlier this year by President Joe Biden and Congress.
Senate Majority Leader Chuck Schumer of New York shared the news in a tweet two days before USDOT made it official.
"Big News for NYC: We secured $7.25 million in funding from @USDOT to expand New York City's majestic greenway system!," Schumer wrote. "I love riding my bike down the waterfront, and I am excited to bring greenways to communities that deserve them all across NYC."
The funding will help plan the expansion of greenways across the city. The goal of the mayor, city Department of Transportation, and some members of the City Council is to build out a safely navigable network across every borough, connecting hundreds of miles of trail.
The federal grant comes on the heels of a $47.6 million investment from the city funding improvements identified through the Destination Greenways study. The project is a collaboration between the New York City Department of Parks and Recreation and Department of Transportation and plans to fill gaps in greenway routes in central Queens and Brooklyn, while connecting the trails to the city's larger park system.
In total, six projects will create new segments in Flushing Meadows Corona Park, Kissena Corridor Park, and Kissena Park. In Brooklyn, paths will be built in Leif Ericson Park and the existing greenway in part of Shore Road Park will see badly needed repairs. 
Adams joined Schumer in celebrating the grant. "All New Yorkers deserve access to our beautiful greenways and we're making that happen with millions in federal funding," the mayor said on Twitter, praising "strong work" from the city's transportation and parks departments as well as the economic development corporation. He also thanked Schumer for advancing the greenways work and efforts "to make our city greener and more bike friendly."
In 1993, the Dinkins administration outlined a 350-mile greenways plan for the city, and from the 10,000-foot-view of Google Maps, a smattering of greenways currently connects some neighborhoods, parks, and boroughs. But on the ground, the system is in places a patchwork of structurally unsound and incomplete paths, far short of the Dinkins era vision, and highlighted by a few crown jewels. According to the Adams administration, there are now just over 150 miles of greenway across the give boroughs. For years, people in and out of city government have signaled that the network is in need of repair, and outright neglects underserved communities.
Gaining public access to land is one problem facing the vision of a more cohesive greenway system. "There are some sticky situations, like difficult property rights, easements, issues like that that are difficult and challenging to solve," said Brian Hedden, Advocacy and Greenways Coordinator for Brooklyn Greenways Initiative, in an interview with Gotham Gazette.
To build greenways, the city can acquire land through easements, a public access agreement that allows the city to build pathways through privately owned property. The federal RAISE grant, which DOT applied for in April, will help plan the use of potential easements and other strategies for greenway expansion.
Since the Dinkins administration, support has not been met by action. "The politically easy thing to do over the past 30 years is to simply then not try to solve them," Hedden explained of the challenges.
Hedden and other activists point out that the areas missing greenway infrastructure coincide with low-income neighborhoods and communities of color. The Bronx riverfront along the Harlem River and the Hutchinson River waterfront are areas with inadequate pathways despite support by local activists like the Harlem River Working Group. "Those areas are not exactly lacking for people that are advocating for waterfront access," Hedden said. "People have definitely been organizing and asking for that for a while."
In some of these cases, privately-owned industrial property, even public infrastructure like highways and railroads, exist right up to the prized waterfront.
One such example is the west Bronx waterfront along the Harlem River. Any potential greenway there would need to pass through "a real hodgepodge of jurisdiction and ownership," according to Jon Orcutt, Director of Advocacy for Bike New York, in an interview with Gotham Gazette. Greenways are a particular focus for Orcutt, a former Bloomberg administration transportation official. In the west Bronx, the Hudson line of the Metro North and the Oak Point Rail Lines, and other private property run alongside the riverfront, at points extending over the river itself, creating a right-of-way headache that has stalled progress, Orcutt explained.
On the other side of the Bronx is the Hutchinson River waterfront that runs alongside Pelham Bay, New York's largest park. While the Hutchinson River has a greenway network, it needs plenty of TLC according to Orcutt. In many places it is interrupted by highways and highway ramps. The greenway may require bridges or underpasses to improve navigability and safety. It's also disconnected from other existing greenways. And in already problematic spots, according to Orcutt, another five years of use and weathering without repairs will take its toll: "it's going to be terrible," he predicted.
The federal RAISE grant also coincides with a greenways-related legislative push in the City Council. Carlina Rivera, a Democratic Council member representing Manhattan's District 2, introduced a bill in April that would mandate the creation of a greenway master plan for the first time since the Dinkins administration 30 years ago.
The bill, Intro. 291, introduced in the Committee on Transportation and Infrastructure with co-sponsorship of its chair, Council Member Selvena Brooks-Powers, calls for the city to identify thoroughfares that can be developed into greenways. It would also require a map of currently available, proposed, or under-construction greenways to be updated by a cohort of city departments. And it would require an annual report on the state of maintenance, sections of greenway that are a priority for upgrades, plus cost and timelines for such projects. Government entities overseeing each project would be shared as well.
Council Member Rivera emphasized that robust transparency will be vital in ensuring historically underserved communities are part of the process. "Intro 291 ensures the funding process will be transparent, so as the vision and planning stages come to fruition, we will be owed detailed explanations of the funding allocation — and as a City Council, part of our job is to oversee that and hold all involved to account in that process," in a statement to Gotham Gazette.
The bill quickly accumulated 30 sponsors in the 51-seat Council.
Intro. 291, Destination Greenways, the Adams administration funding, and the federal grant excite advocates about the future of climate resiliency and recreation. "When you look at health disparities in the Bronx and other parts of the city that don't have access to the greenways it could make a huge difference for folks to have a safe place to recreate, to get to places where they participate in other sports and recreational spaces," said Chauncy Young, Coordinator for Harlem River Working Group.
The South Bronx is a case in point of the consequences of lacking green infrastructure. Last year, when Hurricane Ida caused an underground creek called Tibbetts Brook to flood the Major Deegan Expressway, greenway advocates were the first to say the damage could've been avoided by their calls to add greenway and bring the creek to ground level, a process called "daylighting."
In tandem with heat-mitigating greenery, paths for biking, walking, and running made from porous material would help absorb water runoff caused by extreme weather events and climate change.
New York once pioneered greenway infrastructure. In 1868, the city of Brooklyn purchased land from Prospect Park to the Coney Island Boardwalk to build Ocean Parkway, designed by Central Park and Prospect Park architect Frederick Law Olmstead. In 1894 the pedestrian path was retrofitted for bicycle use just as cycling was becoming a popular form of transportation in the city. It is considered America's oldest bike path.
Today, that five mile greenway is considered in poor condition.
While the RAISE funds will not go directly into laying paths or planting trees, it will be vital for planning the city's greenway efforts. The investment, for advocates like Young, is long overdue. When the city began developing its greenway network in 1993, the Harlem River waterfront was in fact part of the design. Yet thirty years later, the inaccessible industrial waterfront is not only an obstacle for greenway infrastructure but a reminder that communities in Harlem and the Bronx have long been forgotten when the city invests in recreation.
"Every New Yorker deserves access to open space, transportation options, and parks — and greenways are the key to making all that a reality," Mayor Adams said in May when announcing the $47.6 million for greenway expansion. "This investment of more than $47 million will connect communities that have historically been underserved by our existing system to bike paths and New York's 520 miles of shoreline, building a greener and more connected city for all."