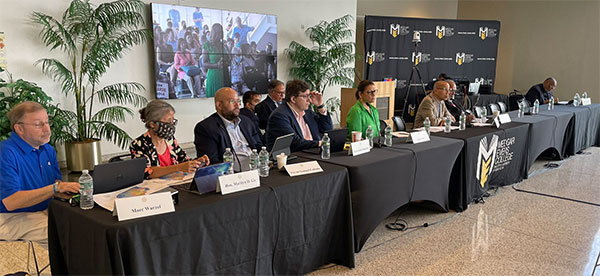 Commissioners hold a public hearing of the NYC Districting Commission (photo: @DistrictingNYC)
---
This month, the commission tasked with redrawing the 51 New York City Council districts is set to unveil a second and potentially final map following a process that has unfolded behind closed doors to a significant degree.
The New York City Districting Commission has been working since March on the new map, which must be redrawn each decade after the U.S. Census to account for population shifts. Those lines must be finalized by the end of this year and will be in place for the 2023 elections, where all 51 City Council seats will be on the ballot. They will have implications for how communities are divided and represented in the Council and, by extension, decisions around government funding, land use, and legislation.
Officials told Gotham Gazette the Districting Commission is expected to submit its next map to the City Council on September 22. The Council can accept the submission and finalize the map, or reject it and trigger another round of public hearings, after which the commission must unilaterally draw final lines.
"The ideal is to have something that the City Council will be happy with when we submit it," said Dennis Walcott, who chairs the Districting Commission, in a recent podcast interview with Gotham Gazette. "But the reality is, we are prepared to make adjustments based on the feedback we get."
The commission is composed of 15 members, seven of whom were appointed by Democratic Mayor Eric Adams, including the chair, five by City Council Speaker Adrienne Adams, a Democrat, and three by Council Member Joe Borelli, the Republican minority leader.
The city gained 630,000 residents between the 2010 and 2020 census counts and no district went unchanged in the preliminary map published by the commission in July. Those initial lines, which include several major shifts from the current Council map, have received a fair amount of criticism from residents, advocacy groups, and City Council members — some of whom would be pitted against each other or saw their bases shift.
The commission, its staff and consultants must now consider the public input it has gathered while adhering to strict guidelines established in the U.S. Constitution, the federal Voting Rights Act, state law, and the City Charter.
While the commission has received testimony from over 8,000 residents, the decisions about where to place district boundaries have been made out of public view, and with no public explanation of the decisions that went into the preliminary map. Leading up to the creation of those lines, commissioners and staff often met in subcommittees small enough to avoid the state's open-meetings requirements.
Good-government groups have called on the commission to hold some deliberations in public or explain the reasoning behind its decisions, ideally before making final ones.
"A record number of New Yorkers have made their voices heard during this year's Council redistricting process and they deserve to see how their comments are being synthesized and debated by the Commission," said Dan Kaminsky, a policy analyst with the good-government group Citizens Union, which put out a report with recommendations for the commission in February. "Holding mapping deliberations in public clarifies mapmakers' intentions, prompts healthy dialogue between commissioners, and reduces the potential power of outside influence on the process."
The commissioners' initial choices have seen public pushback on several fronts. New Yorkers and organizations that represent them have raised alarms about the way the preliminary map grouped or split their communities in more than a dozen parts of the city.
Some of the biggest points of contention are the contours of a so-called "Asian opportunity district" in southern Brooklyn; the inclusion of part of the Upper East Side and Roosevelt Island in a largely-Queens district; the breaking up of Hell's Kitchen and Harlem and parts of Southeast Queens; the specifics of the South Bronx-East Harlem crossover district; and how Canarsie, Woodside, Long Island City, and Astoria are dealt with, to name a few.
Part of the consternation stems from a major anchoring decision by the commission to keep Staten Island's three Council districts entirely on the island. The result was that the smallest borough, by population, also has the three smallest Council districts in the preliminary map. In the zero-sum game of New York City redistricting, with its fixed number of districts and requirements around population deviation, that means districts in other parts of the city had to take on more residents, sometimes stretching across borough lines in the process.
The preliminary maps appear to favor the Council's five-member Republican minority, whose stronghold on Staten Island would likely be weakened if the districts incorporated part of blue-leaning Brooklyn or Manhattan. There is speculation that the Districting Commission's seven mayoral appointees and three from Council Minority Leader Borelli aligned, according to Politico reporting, to ensure the districts were not expanded off-island. The preliminary maps passed 11 to 2, with one abstention and one absence; the two in opposition were appointees of Speaker Adams.
"We're taking a look at the lines as far as, say, specific neighborhoods that people say we cut off, or we didn't include properly," Walcott said. 
"Nothing's off the table. Everything is on the table. It's a preliminary draft," he said about whether Staten Island districts would remain on-island in the next map. Walcott would not discuss deliberations around particular lines.
When asked if the commissioners would hold open meetings to give the public insight into their debate, Walcott said that was under consideration but made no promises.
"I mean, yeah, I hear what folks are saying, but same time, I've got to make sure we do it the right way," he said.
"While we wouldn't say anything privately that we wouldn't say publicly, I think the process is so dynamic…the implications are so tremendous that we have to be very conscious," Walcott said of the "comfort level" of commissioners and staff to deliberate freely in public.
"So I and we are really still thinking about how we go about that process," he added.
Walcott said the commission held an open meeting with a voting rights consultant to discuss how she carried out a racial bloc voting analysis, a survey of voting patterns to determine whether the voice of groups protected under the Voting Rights Act would be diminished by certain line choices. That analysis has not been released. According to Eddie Borges, the commission communications director, that study is still in progress and a final report from the consultant will be completed and made available when the body submits the next map to the Council later this month.
Borges couldn't say whether the commission would hold any open meetings ahead of the September 22 vote. "We're working on that now. When we're done with the maps we're required to produce a report on what changes were made and why on each district. As you can imagine it's a massive writing project which we'll all be working on," he wrote in an email.
Council Speaker Adams and a number of new and returning members have criticized the preliminary map, indicating a likely rejection if the next map does not show substantial changes.
"There are important foundational principles that need to be prioritized in this process, yet the first set of preliminary maps appear to violate these and do not ensure the adequate representation of certain groups of New Yorkers," Adams said in a statement in August.
"Maintaining three districts that remain entirely in Staten Island is inconsistent with population changes, creates a malapportionment issue that undermines the 'one person-one vote' principle, and forces irrational changes to districts in other boroughs," she said, blaming the decision for the fracturing of communities of color in Brooklyn and Queens.
Adams called attention to lines dividing Latino residents in Sunset Park and Red Hook, Filipino and Tibetan residents in western Queens, and Black and South Asian communities in Southeast Queens.
The potential majority-Asian American district in southern Brooklyn has stirred a backlash from Council Members Justin Brannan and Alexis Aviles, who would likely have to compete against each other in the 2023 election under the preliminary lines, as well as from some Latino and Asian residents and advocates.
"It is perplexing that the creation of an AAPI-majority seat in southern Brooklyn would lead to the dissolution and division of Red Hook, Sunset Park – in addition to Dyker Heights – and it is certainly not necessary," said Brannan, who currently represents District 43, and Aviles, who represents District 38, in a joint statement when the preliminary map was released.
"The proposed lines eliminate a district that currently has a large plurality of people of color, which has benefitted from strong representation by Latino elected officials, and instead make it a strong plurality white district by connecting it to Bay Ridge and removing Red Hook," said Asher Ross, a senior strategist at New York Immigration Coalition Action, in testimony before the commission this summer.
"The same is true of district 26 in Queens, where a plurality Asian district is changed to having a large white plurality," Ross told the commission.
In a statement to Gotham Gazette, Ross called on the commission to reexamine its decision to maintain the borders of Staten Island. "The Commission must be judicious in balancing the population sizes of each district to ensure fair representation across the city," he said.
Borelli, the Republican minority leader representing the 51st district, has been adamant about the Staten Island boundaries. "We have nothing in common with any other part of the city, and given our small population, we already have a hard enough time getting attention from City Hall," he said in an interview with Politico New York earlier this year.
"I will use whatever influence I have to make sure Staten Island doesn't lose an ounce of power at City Hall," Borelli told Politico.
At the Districting Commission's first public meeting in March, Walcott told the public the commission would develop a code of ethics that would outline how to deal with conflicts of interest. The commissioners all serve voluntarily and many hold other jobs with business before the city.
Walcott is the CEO of Queens Public Library; other members include Lisa Sorin, president of the New Bronx Chamber of Commerce; Maf Misbah Uddin, the treasurer of District Council 37, the largest municipal workers union; Kevin Sullivan, leader of Catholic Charities, a major nonprofit with city and state contracts; Marc Wurzel, the general counsel of Grand Central Partnership, which manages a business improvement district in midtown; and Joshua Schneps, a local media magnate, among others.
According to Borges, the commission spokesperson, the code of ethics was never developed. Instead, the commissioners received a training from the city's Conflicts of Interest Board at a meeting in May, he said. According to the meeting minutes, 14 of the 15 commissioners were present.
[LISTEN: Max Politics Podcast: Commission Chair Dennis Walcott on New York City Council Redistricting]