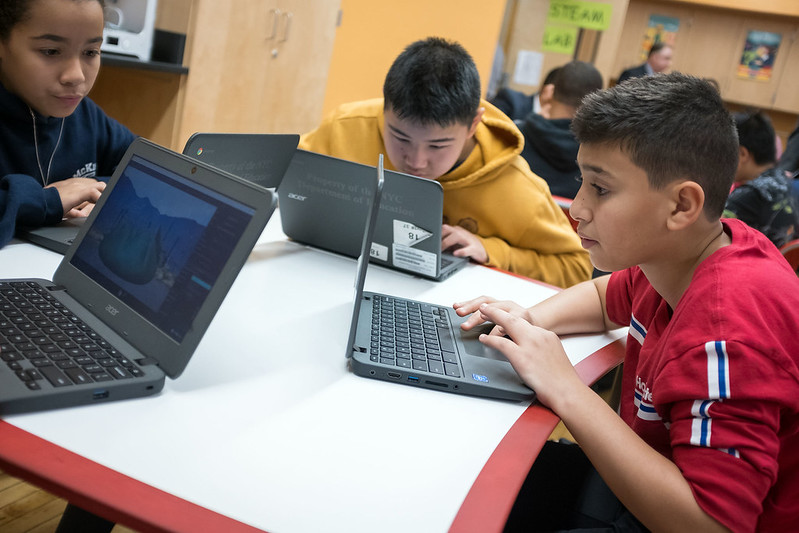 Students getting connected (photo: Ed Reed/Mayoral Photography Office)
---
The City Council's Committee on Technology held a hearing Monday to examine disparities in internet broadband access across the city and to discuss legislation that would ameliorate that digital divide. The hearing took place just hours after Mayor Adams announced the new "Big Apple Connect" program to provide free internet and cable TV services to thousands of NYCHA residents to better connect low-income public housing residents. 
Despite living in the richest city in the richest country in the world, almost 15% of New Yorkers have no access to broadband internet of any kind at home and about 24.2% do not have a desktop or laptop computer in their household, according to data from the 2019 American Community Survey by the U.S. Census. That gap in access and connectivity proved to be an even more pressing issue at the height of the COVID-19 pandemic, when much of work, schooling, and access to city services was carried out online. 
New York City launched an Internet Master Plan, released by then-Mayor Bill de Blasio in 2020, which is meant to bridge the digital divide by building out broadband infrastructure and using various mechanisms to provide free and affordable internet access across the city. De Blasio allocated $157 million in capital funds towards the plan but it has progressed slowly, and was stalled by Mayor Eric Adams' administration this year when the new mayor came into office. 
At Monday's hearing, City Council members questioned Adams administration officials on the progress they are making and whether the Internet Master Plan is reaching those most in need in the city.
"The COVID-19 pandemic and our ongoing recovery from its impacts have made it abundantly clear what was already deeply understood by so many: the internet is a crucial pillar of modern society, and access to the internet is no longer a luxury - it is vital to be able to participate and succeed in our society," said City Council Member Jennifer Gutiérrez, a Brooklyn Democrat and chair of the Council's technology committee, in her opening remarks. 
"The idea was to outline and create a plan for affordability, accessibility to internet access, and really prioritize marginalized and low-income households that we obviously realized, during the pandemic, were not connected and had a really difficult time being connected," Gutiérrez said in a phone interview prior to the hearing. "We want to make sure that the internet master plan is reflecting solutions for those communities in our city." 
Gutiérrez said the hearing was an opportunity to hear from New York City Chief Technology Officer Matthew Fraser and from internet service providers about their efforts to achieve the goals of the Master Plan. "The longer we wait, obviously the longer that we continue to jeopardize families and communities that are suffering because they just don't have access," she said. 
The Council member said the city "can't afford to fall asleep at the wheel" as both the federal and state governments have approved massive funding for broadband infrastructure that the city could avail itself of.  
Fraser did not attend the hearing but officials from the Mayor's Office of Technology and Innovation (OTI) testified before the committee, updating the Council members on the Internet Master Plan and efforts to expand internet connectivity to those New Yorkers who need it most, including low-income NYCHA residents and public school students. 
Brett Sikoff, executive director of franchise administration for OTI, said the administration is reconsidering the Internet Master Plan, expressing concerns about "duplication of efforts" as broadband and fiber infrastructure has been increasingly built in the city. "Because of the considerable investment proposed under the Internet Master Plan, we thought it was prudent to take a really hard look at it to make sure that it's been surgically applied," he said.  
Besides oversight of the city plan and efforts the Adams administration is advancing to bridge the digital divide, also on the committee agenda was consideration of four bills, including one sponsored by Gutiérrez that would require the city to purchase and distribute mobile hotspot devices to all New York City public school students.
When public schools went remote because of the pandemic, the de Blasio administration provided hundreds of thousands of tablet computers with data plans to ensure that students who lacked internet access could learn remotely. But even as it operated at a historic scale, the rollout of the program had hiccups and underscored the lack of connectivity and technology in many low-income families' homes.
Even as schools have reopened and students are back in class, remote learning may still continue in some form. Mayor Adams and Schools Chancellor David Banks have announced the continuation of the pandemic era policy that there would be no more snow days in the school year and instead students would study remotely if schools buildings are closed due to snow.
"There is a concern that we have somehow kind of disconnected from the families that need access, that need the hotspots because so many of the kids have returned to school," Gutiérrez said. 
"It was not perfect during the pandemic and we want to make sure that we get it as close to perfect as possible," she added. 
Gutiérrez acknowledged that her bill could cost a significant amount, though she did not specify how much. "It is more than necessary that we talk about funding for our schools. I think we just don't have the capacity to not invest where we know it makes sense," she said.
Council Member Julie Won, a Queens Democrat, sponsors two of the other bills heard Monday. One would create a program for city agencies to provide wireless internet access to the public while the second would require the city to create and distribute written materials on affordable internet programs to all school students at the start of the school year. 
The second bill, Won said in an interview, is crucial since there are several programs at the state and federal level that subsidize internet access but many New Yorkers remain unaware of them. "Even today, when I go to my NYCHA (developments), I have to tell them about programs that are available for them because they're still paying out of pocket even though they qualify," she said in a phone interview. 
Won also pointed out that some of those subsidy programs require people to register online. "Isn't it ironic? You're trying to register people who need free Wi-Fi to register online for Wi-Fi," she said. 
Won also intends to interrogate internet service providers about their efforts to build connectivity in underserved Black and brown neighborhoods, which have historically lacked access. 
The final bill on the agenda, introduced by Council Member Robert Holden, a Queens Democrat, would require the city to create a website with information on franchise agreements with companies that provide cable television services.
Note: This article has been updated.