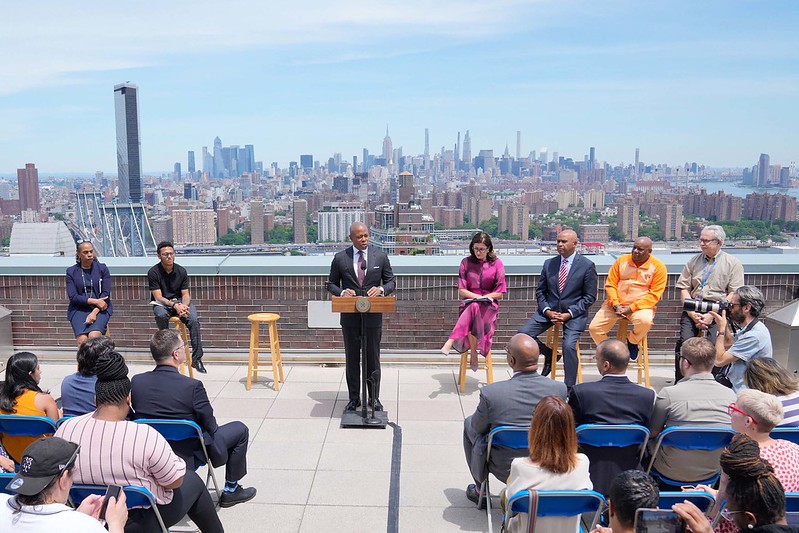 Mayor Adams releases his housing plan (photo: Ed Reed/Mayor's Office)
---
New York City is soon to be awash in new housing construction with the City Council approval in recent months of over 12,000 new units and a mayoral administration promising to bring thousands more through major development projects and changes to city zoning rules.
The development is essential to meet the city's demand for housing, particularly affordable housing, where the vacancy rate for the lowest income apartments is less than 1% while tens of thousands of individuals sleep in shelters or on the streets each night. The approved and announced development alone is not enough to meet that need, but it has largely been hailed as a promising start for a new administration and City Council.
Both Mayor Eric Adams and Speaker Adrienne Adams (no relation), two top Democrats, have touted their pro-housing leanings. The mayor came into office on a campaign promise of taking on the housing shortage, in part through a 'yes-in-my-backyard' thrust over anti-development politics that have upended some major housing proposals in recent years and scuttled development overall. The speaker has also called addressing the city's housing crisis one of her top priorities. And the two leaders have a like-minded ally in Albany, where Governor Kathy Hochul, fresh off a campaign to win the state's top office, is promising a "bold and audacious" housing agenda in January.
In total, the City Council approved 42 rezonings between January and November, allowing for the creation of 12,245 housing units, of which 7,811 units, or almost 64%, are below market rate, according to a list provided by the speaker's office. (That total only includes housing where Council approval is needed for changes to zoning rules, and does not account for as-of-right private development.)
"We need hundreds of thousands more apartments with a focus on affordable units," Speaker Adams said at a press conference ahead of a November 22 rezoning vote.
"The lack of affordable permanent housing is the underlying driver of our city's current level of homelessness, which rivals the Great Depression with over 60,000 New Yorkers left unhoused," she said, referring to the number of people sleeping in Department of Homeless Services shelters.
"This is the type of bold action that our city needs to address this crisis and I'm proud that we're stepping up to meet the moment," she said, referring to the dozens of rezonings to date.
The list includes large developments in low- and middle-income neighborhoods in Brooklyn and Queens, as well as smaller projects, some in more affluent areas of the Bronx and Manhattan. Those are only the areas that have been rezoned to allow greater housing density or residences in what has been commercial and manufacturing space. As-of-right development and conversions, which do not require zoning changes, are ongoing, often facilitated by financing programs through the city Department of Housing Preservation and Development.
Mayor Adams has proposed a number of other major projects, some of which have gotten Council approval as part of the lengthy Universal Land Use Review Process (ULURP). Others are in more nascent stages, like a plan to develop commercial and residential hubs along a strip of new train stations in the Bronx, or a proposal to build a soccer stadium in Queens along with 2,500 units of affordable housing.
To help that construction and make small-scale as-of-right housing creation easier, Adams has also announced plans to propose zoning text amendments that would apply citywide – changes he says would help make New York a "City of Yes."
"We have a severe housing shortage at the root of our affordable housing crisis, and the only way to solve it is to build more housing — especially affordable housing," Mayor Adams said in a November 17 statement after three major rezonings were advanced through City Council committees. "That's what this administration is doing — building historic levels of affordable housing — and I am proud of what we have accomplished, working hand-in-hand with our colleagues in the City Council."
Here are some of the city's biggest approved or announced development projects and policies:
Approved or Moving Through the City Council
Innovation QNS
The New York City Council approved the $2 billion, 12-building mixed-use development project known as Innovation QNS in southern Astoria last month, after intense negotiations and the approval of local Council Member Julie Won.
The plan allows developers to construct 3,190 residential units on a five-block area in Western Queens with 1,436 units slated for affordability caps. That amounts to 45% of units designated affordable, including 658 deeply affordable units reserved for formerly homeless residents and very-low-income families (with an annual income of $36,030 for a family of three). The plan includes 142 supportive housing units and 157 units reserved for holders of CityFHEPS rental vouchers.
The rezoning deal comes with a community benefits agreement with the developers to commit $2 million for legal services for nearby tenants facing displacement and harassment, as well as discounted rents and space for small businesses. And it would create a community advisory board and entail a study "on the potential use of geothermal energy."
Won's approval came after a contentious debate amid the potential that the rest of the City Council, with support from Mayor Eric Adams, Queens Borough President Donovan Richards, and a number of prominent labor unions, could potentially overrule her to pass the rezoning. 
"As a community, we have set a new standard for building affordable housing on private land, and I commend and thank each community member and elected official for remaining steadfast," Won said in a November 21 statement announcing final contours of the deal along with her support.
Innovative Urban Village
The same day as the Innovation QNS approval, the City Council also voted to advance a project called Innovative Urban Village, a 100% affordable mixed-use housing development in East New York, that would create 1,975 new residential units. The project includes 200 units of senior housing, and 100 units reserved for sale to moderate-income households. Of the rental units, 750 will be reserved for low-income residents and 1,100 will be set aside for very low-income households.
The development would also include a number of community services, including round the clock daycare, a grocery store, performing arts venue, workforce training center and cyber cafe, open public space, and shuttles to subway stations.
"A lot of my projects are not city-owned land. It's privately-owned and city-owned, but when we stay together as a Council, you are the power," said Council Member Charles Barron, who represents the district and helped negotiate the deal, before the floor vote to approve it. (Barron also admonished the mayor, Council speaker, and Borough President Richards for failing to stand behind Won in her push for deeper affordability in Innovations QNS.)
Barron's East New York-based district also saw the approval of a 499-unit, fully-affordable rezoning along Livonia Avenue, and another 751-unit, 100% affordable plan at Gateway Drive a month before.
Celebrating Two Big Deals
Together the two major projects -- Innovation QNS and Innovation Urban Village -- will add more than 5,000 units to the city's housing stock, of which two-thirds are considered affordable. They account for more than 40% of the new units created through rezonings approved by the City Council this year.
"These approved projects are the types of major steps we need to take to address the housing crisis," Speaker Adams said on the Council floor. "They push aggressive affordable housing development forward by demanding more of the administration and private developers by working with this Council to advance affordable housing at deep levels."
"Today marks a new day for affordable housing in New York City," Mayor Adams said in the November 17 statement, after the two projects passed. "On the heels of yesterday's announcement of plans for 2,500 affordable homes in Willets Point, the City Council's actions today move the ball forward on thousands more. In the last two days alone, we have taken major steps towards delivering nearly 8,200 new homes for New Yorkers, more than three-quarters of which will be affordable.
Hallett's North
In September, the City Council voted to upzone a block in Hallets Point, along the East River in Queens, to allow for mixed-use construction with greater housing density. The plan is projected to create 1,340 housing units, including 335 units that would be permanently affordable under the city's Mandatory Inclusionary Housing policy, which requires certain affordable set-asides in new building on upzoned plots. The rezoning also includes 21,500 square feet of community space, 1,800 square feet of commercial space, 525 parking spaces, 525 bicycle spaces, and an acre of open space along the waterfront.
Approval for the rezoning came after a push by local Council Member Tiffany Cabán and others to secure more deeply affordable units as part of the project. It was hailed by many as a win for affordable housing development after Astoria Owners LLC, the developer, agreed to a deeper level of affordability than was required by law.
"The best we can hope for without rezoning is a 'last mile' facility where some massive corporation like Amazon would pay our neighbors garbage wages for non-stop, back-breaking work that would clog our neighborhood streets with dangerous, pollution-heavy delivery vehicles," Cabán tweeted before voting in favor of the project. In that comment and others, Cabán framed rezoning privately-owned land for housing as a question of choosing the best option among those available to the property holder, which can include a range from doing nothing to as-of-right changes to rezoning under negotiated conditions.
Bruckner Boulevard
In October, the Council approved the rezoning of several blocks along Bruckner Boulevard in a middle-class, suburban neighborhood in the eastern part of the Bronx, after local Council Member Marjorie Velázquez negotiated the project and ultimately reached details she said she could support. It was the first project during Mayor Adams' administration aimed at adding housing density and affordable housing to a more affluent, predominantly-white, lowrise neighborhood. The mayor was vocal in his support for getting to "yes," putting public pressure on Velázquez and the Council to come to an agreement with the developers.
Moses Gates, an urban planner at Regional Plan Association, a nonprofit thinktank and advocacy group, said the rezoning set an "important paradigm" early on in the Adams administration. It "showed a dedication to making sure that those neighborhoods that haven't done their part in the past, that have traditionally been downzoned and exclusionary, also do their part," Gates told Gotham Gazette. "If the Bruckner Boulevard rezoning had not gone through, I think it would have seriously damaged the efforts of the administration to advance a lot of its other projects."
The rezoning would allow for the construction of four new buildings containing 349 housing units, including 168 affordable units. Of those, 98 will be permanently affordable under Mandatory Inclusionary Housing (MIH). A total of 99 (including some of the MIH units) will be income-restricted units reserved for seniors, and 25 more will be reserved for military veterans. The buildings will include a senior center, youth center, and veterans' services, along with a grocery store and other retail, and 309 parking spaces.
Hell's Kitchen Rezonings
The Council approved a 111-unit rezoning in Hell's Kitchen in August and a 157-unit rezoning a few blocks to the south in October. Both sites will be designated 100% affordable. The first site to be approved, dubbed The Lirio, will include open space and new offices for the MTA. The second site, Rialto, will set aside 23 units for formerly homeless individuals and will also include public open space.
Resilient Edgemere Community Plan
In July, with a nod from local Council Member Selvena Brooks-Powers, the body approved the rezoning of 166 acres on the Rockaways waterfront in the Edgemere section of Queens, part of a coastal resiliency project introduced by then-Mayor Bill de Blasio. As part of the rezoning, which includes infrastructure upgrades, coastal protection, and home elevation, the city approved the construction of 530 affordable housing units, part of up to 1,200 units that may be built overall.
Harlem's Stalled One45 Proposal
Not every rezoning proposal has been successful. Among others, a contentious rezoning proposal to build a two-tower complex with housing, offices, and the potential for a civil rights museum in the heart of Harlem reached an impasse earlier this year after the plan advanced from the City Planning Commission to the Council as part of the city's land use review process.
City Council Member Kristin Richardson Jordan signaled her opposition to the plan, known as One45, which, when it passed the City Planning Commission in April, included the creation of 866 apartment units, 220 of them affordable.
The defeat of the proposal, and the absence of new housing, appears to have helped propel more political support for other deals that did get reached.
"In the midst of New York City's housing crisis, every new home matters," said Department of City Planning spokesperson Joe Marvilli in an email. "From individual projects to neighborhood plans to our City of Yes initiative, we're working to find opportunities to create new homes and income-restricted homes throughout the city, and create a more equitable future for all New Yorkers."
Adams' 'City of Yes' Zoning Text Amendments
Mayor Adams in June announced a plan to change the city's zoning rules to streamline development and land conversions to facilitate economic growth, housing development, and new climate infrastructure. The plan is a central component of his "City of Yes" agenda to spur overall development and growth, in part by transforming and revitalizing neighborhoods and commercial corridors throughout the city.
The city is carrying out a public engagement process to develop the language of three zoning text amendments that would remove hurdles to repurposing commercial space, increasing housing density, and creating more clean energy storage and retrofits.
While the exact details remain unsettled, the residential amendment – dubbed Zoning for Housing Opportunity – would make it easier to create housing and affordable housing outside of major development projects and complex rezonings, Adams said.
"All throughout New York, there are places we could be developing and building — they're suited for people to live," Adams said in June when he announced the proposal. "But city zoning laws put artificial limits on the number of studio apartments per building" or small-homeowners' ability to "alter and update their property."
The amendment will include increasing the floor area ratio of affordable and supportive housing to allow for more as-of-right development, similar to existing rules for senior affordable housing. It would also make it easier to convert commercial space into residences and for households to turn apartment space into new rental units without what are often prohibitive parking space requirements.
"That's how you really get to scale with those small buildings that aren't going to be able to go through the time expense for the rezoning process," Gates said. "So I think we're on a really good track there."
Adams also announced the Building and Land Use Approval Streamlining Task Force, or BLAST, which he said will bring representatives from city agencies to streamline the review process of private land use applications. There has been little public discussion of the task force outside of the June 1 announcement, but its recommendations are expected any day now.
"As we face an ongoing housing and homelessness crisis, we need bold strategies to increase the capacity for new housing supply citywide," said the mayor's chief housing officer, Jessica Katz, in a statement after Adams first announced the City of Yes zoning framework. "The citywide text amendment will create new housing opportunities in every neighborhood, saving time and resources to house our neighbors faster."
City Planning Commissioner Dan Garodnick said in a statement, "we are committed to making our land use process work faster and better as we deliver results. With these changes, we're setting the stage for a more adaptable New York City that moves with the times."
One major question on which Mayor Adams and his team have been relatively quiet is whether and to what degree the administration will pursue broader neighborhood-wide rezonings aimed at adding housing density and other improvements. Adams, Garodnick, and others have indicated they will be part of the administration's strategy, but they were not included in Adams' housing plan when it was released in June. Along with the Metro-North projects, the administration is moving ahead plans for a rezoning along a stretch of Atlantic Avenue in Brooklyn. On the campaign trail last year, Adams promised to pursue upzonings in wealthier communities to ensure more affordable housing in resource-rich areas, but he has yet to propose any. He has said this year that he wants to pursue plans with robust community input.
Other Major Housing Announcements
Bronx Metro-North
According to the Mayor's Office, the zoning text amendments will help advance development along a corridor of new Metro-North stations the MTA is building in the Bronx. The plan is part of an effort to expand transit-oriented development, which Adams has been calling for since early in his administration, including in the economic recovery blueprint he released in March.
The Bronx Metro-North developments, plans for which are still being crafted, are slated to be the first of several projects aimed at burgeoning job hubs in each borough, part of Adams' agenda. The plans will include new affordable homes, job creation, and workforce development, and investments in infrastructure led by the Department of City Planning.
"The Bronx Metro-North zonings are showing just kind of a smart way of developing around rail stations that are getting more service," Gates said, calling it "real bread and butter urban development policy."
Willets Point, Queens
In November, Adams announced one of the largest development projects of his early administration, a proposal to construct a new Major League Soccer stadium in Willets Point, Queens, along with 2,500 new rent-restricted apartments and a 650-seat public school.
According to the mayor's office, it would be the largest fully-affordable new construction project in the last 40 years. The seven planned residential buildings would include 220 apartments reserved for low-income seniors.
The plan would dedicate 40,000 square feet in Willets Point, already home to the Mets' Citi Field, to the soccer stadium, with ground floor retail and a 250-room hotel. The administration estimates the project will create 14,200 temporary construction jobs and another 1,550 permanent jobs, and generate $6.1 billion in economic impact over the next 30 years.
The plan to begin work in 2023 in order to open the stadium by 2027 will first have to go through the City Council's land use process where it will be subject to lengthy negotiation. But it so far has the support of local City Council Member Francisco Moya, who was part of the initial negotiations and announcement.
Housing Policy in Albany
How state leaders address housing, set to be a major issue in the upcoming budget and legislative session, will have a major impact on the city's ability to build more.
Governor Kathy Hochul, a Democrat who just won her first term in the governor's mansion, has called it a top priority and many of the policies debated in Albany will impact New York City, including whether the state replaces the defunct 421-a tax break for developers. Both Adams and Hochul have said they want to see a replacement to help spur development in the city.
The governor offered a series of housing proposals earlier this year that did not pass, and she's now pledged to go "bold and audacious" on housing in her January State of the State agenda.
Hochul has outlined a five-year, $25 billion plan to create and preserve 100,000 units of affordable housing, including 10,000 supportive housing units. She secured funding toward that goal in the state budget earlier this year. She is now looking to build on that beginning in 2023.
[READ: As Hochul Promises 'Bold' Agenda, Many Housing Policies on the Table for 2023 in Albany]