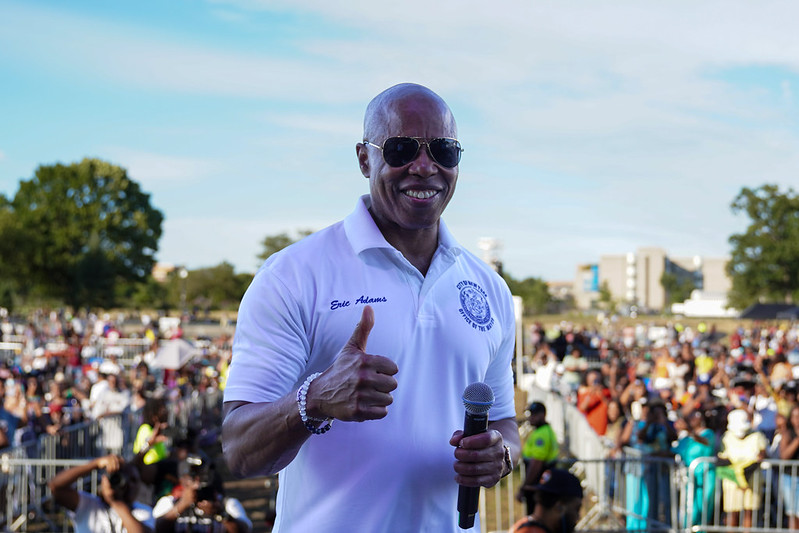 Mayor Adams (photo: Benny Polatseck/Mayoral Photography Office)
---
Mayor Eric Adams raised $428,000 over the last six months for his reelection in 2025, according to campaign finance disclosures filed with the New York City Campaign Finance Board on Tuesday. Adams now has just over $1 million in campaign cash on hand, but already expects more than $920,000 in public matching funds when the board begins to allocate them in December 2024 for the 2025 election cycle.
When Adams, a Democrat, ran for mayor in 2021, he proved to be a prolific fundraiser, bringing in more than $9 million in private contributions for his campaign. That fundraising helped him receive $10.1 million in public matching funds from the city's voluntary campaign finance program, which matches qualifying small-dollar donations at an 8-to-1 ratio to disincentivize the influence of wealthy donors in elections. In all, Adams spent about $18.1 million to get elected. But wealthy donors helped him nonetheless, through maximum donations of $2,100 to his campaign as well as $8.2 million in outside expenditures to support it. 
[Read: Eric Adams' $18 Million-Plus Campaign]
In the latest filing, covering the fundraising period from July 12, 2022 through January 13, 2023, Adams' campaign raised $428,000 and spent nearly $133,000.
The mayor's campaign pulled in 386 contributions at an average of $1,110 each. That included 88 max contributions of $2,100, the limit for citywide candidates that participate in the public funds program (nonparticipants can raise as much as $3,700 from a single donor). According to the filing, about $42,700 would qualify for matching funds – for citywide candidates, the program matches the first $250 of each qualifying contribution from city residents – meaning an expected $341,000 in public matching funds.
Adams raised about $213,000 from contributors within the city and slightly more from people who don't live in the city, just over $215,000. In his first year, the mayor has regularly solicited political donations outside the city, traveling to Beverly Hills, Chicago, and the Hamptons to boost his campaign coffers and kicking off a fundraising spree that is unusually early for first-term mayors.
If Adams faces a primary in 2025, he already has a strong leg up on any potential challengers. The spending limit for the mayoral primary election is just over $7.9 million, and candidates can spend another $7.9 million on the general election. No other major candidates have filed to run for mayor in 2025 at this time.
He is also nearly halfway to meeting the dual threshold for public funds, which requires a candidate to raise a minimum of $250,000 in qualifying contributions from at least 1,000 donors. So far, Adams' campaign has 1,060 donors and claims more than $126,000 in contributions that are matchable. A mayoral candidate can receive up to $7 million in public funds for each of the primary and general elections.
Overall, Adams has raised nearly $1.3 million in private donations for his reelection campaign since January 2022, and spent $217,000.
Also on Tuesday, the Campaign Finance Board was expected to vote on violations and penalties for Adams' Transition and Inauguration Entity (TIE), including for accepting prohibited donations, failing to properly wind down the TIE's activities, and failing to respond to requests for information and documentation. The vote was, however, delayed to the CFB's next meeting.