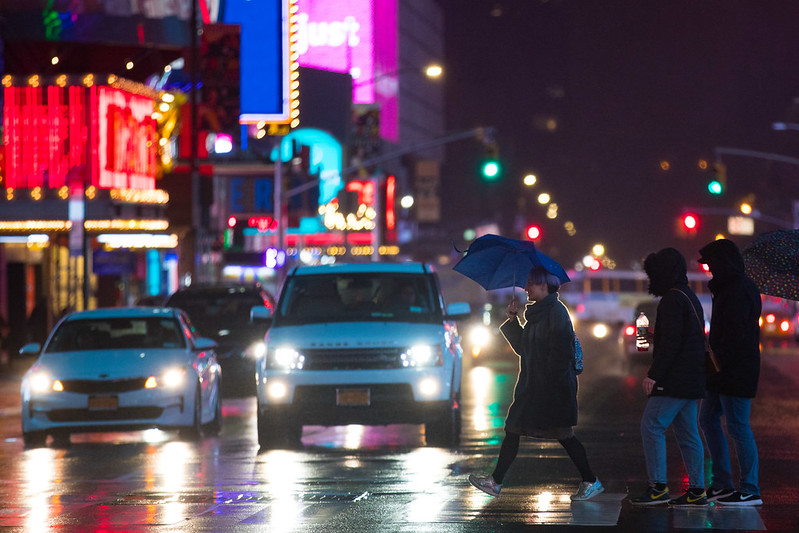 Midtown streets (photo: Benjamin Kanter/Mayoral Photo Office)
---
As the MTA and partners prepare to implement congestion pricing in New York City to raise needed funds for transit infrastructure and reduce traffic, a former New York City transportation commissioner proposes that the state and city should primarily target for-hire vehicles that he assesses as the true culprits behind Midtown's congestion woes.
In a recent study, Lucius Riccio, adjunct professor of statistics, analytics, and operations at NYU's Stern School of Business, found that 36.3% of 2,000 vehicles he recorded in randomly selected Midtown locations were for-hire vehicles run by app-based companies like Uber and Lyft; another 32.7% were personal cars and 14.2% were yellow or green cabs. If only cars are taken into account, for-hire vehicles accounted for 43.6%, personal cars 39.3%, and cabs 17.1%.
Riccio, a former MTA board member and DOT commissioner under Mayor David Dinkins, said his findings illustrate that for-hire vehicles are the real driver of traffic congestion in Midtown, and other parts of Manhattan too. The MTA is attempting to tackle the larger issue with congestion pricing, which was approved by the state in 2019 and is set to be implemented on a delayed timeline sometime later this year or next.
The program will impose tolls of between $9 and $23 for vehicles entering Manhattan's Central Business District, below 61st Street. Different types of vehicles, including for-hire vehicles, will likely be subject to different fees, which are being determined by the Traffic Mobility Review Board.
The number of for-hire vehicles skyrocketed in New York City in the last ten years, crossing 100,000 in 2018, which prompted the New York City Council and then-Mayor Bill de Blasio to impose a one-year cap on new for-hire vehicle licenses. That cap has since been extended multiple times, including in March 2022 under Mayor Eric Adams. In August, however, the NYC Taxi and Limousine Commission ruled that it would issue 1,000 new for-hire-vehicle licenses, limited to electric vehicles.
"This invasion seriously affected the established yellow taxi system, the city's first true congestion pricing program and probably the best regulated taxi system in the world," Riccio said in a phone interview.
As Riccio set out to examine the effect of for-hire vehicles on congestion, he recorded 90 short videos at random spots in Midtown during October and November, which he posted to his YouTube channel. Struck by the volume and percentage of for-hire vehicles making up Midtown traffic, he concluded that the city and state need to do more to discourage the proliferation of for-hire vehicles on city streets, including by raising the costs of operating them. As he noted in his study, there are about three times as many for-hire vehicles in the city as traditional cabs, and while cab drivers spent millions on taxi medallions (before the industry crashed and sent many drivers deep into debt), for-hire vehicle operators only pay about $275 for an annual vehicle license fee.
"The city missed a huge opportunity to charge the for-hire vehicles what they charged the yellows," said Riccio, noting that the city could have charged FHVs high "entry" fees and raised close to $100 billion in revenue over time if each had been close to the price of a taxi medallion. Though he concedes that at a higher price point, the city would hardly sell 100,000 for-hire vehicle licenses.
"These people have gotten away without paying and they're killing the business of people who have paid," he added. "if everybody else paid what the yellows had paid, the MTA would have all the money it needs."
Instead, he recommends a reset and new permit fee bidding system under which the city can bid out 100,000 one-year permits for for-hire vehicles in the first year, setting a price of about $5,000 each, and raising $500 million in the process, "enough to build a mile and a half of new subway tunnel each year." In the second year, the city could bid 80,000 permits and raise the price to $6,500, raising another half-billion dollars, and so on until the number of for-hire vehicle permits reaches parity with the 13,587 taxi medallions in the city.
Not only would the plan raise revenue – to boost the coffers of the MTA and improve mass transit service, and therefore ridership – it would also directly reduce traffic in Manhattan by cutting down the number of authorized for-hire vehicles.
Additionally, with congestion pricing set to move forward, Riccio proposes a Community District-based residential parking permit program, which would protect neighborhoods around the planned congestion zone from having to absorb commuters searching for parking. The notion is something that has been floated by others like DOT Commissioner Ydanis Rodriguez, when he was a City Council member, and Manhattan Borough President Mark Levine, though there has been no apparent movement to make it happen.
Riccio also argues that yellow and green cab operators should be immune from new congestion charges – since they have already paid into the system for their medallions – while the fees for cab licenses should either be reduced or dedicated to a fund for drivers. (Both taxi drivers and app-based for-hire vehicles currently pay a smaller congestion surcharge for rides south of 96th Street, which went into effect in 2019 and raises about $400 million annually for the MTA).
The MTA's developing congestion pricing scheme, also called the Central Business District Tolling program, continues to be controversial. Supporters have said it is necessary to curb traffic, raise funds for mass transit improvements, and also to limit harmful greenhouse gas emissions and reduce the reliance on car culture in the city. But opponents have said it will impose undue costs on drivers – who could pay as much as $23 to enter the congestion zone – and push vehicles to other neighborhoods already choked with traffic.
The New York City Department of Transportation and the MTA, a state-run authority, had little to say about Riccio's proposals.
"The City continues its efforts to address the subject through congestion pricing and by providing alternative modes of transportation," said Scott Gastel, a DOT spokesperson, in an email.
The MTA's Traffic Mobility Review Board, meanwhile, is in charge of creating the rates and regulations of the congestion pricing program, which is awaiting approval by the federal government.
"The effects that Central Business District Tolling would have on for-hire vehicles have been modeled under the environmental assessment. Toll rates and any discounts, exemptions or credits would be recommended by the Traffic Mobility Review Board," said Aaron Donovan, an MTA spokesperson, in a statement that did not directly address Riccio's findings.
"Lyft is committed to helping reduce traffic and congestion in NYC. It's why we are supportive of comprehensive congestion pricing, and in fact, 40% of our commute hour rides on the platform are on Citi Bike," said CJ Macklin, a Lyft spokesperson in an email. "The study's findings do not match the MTA's and TLC's own analysis, which found that for-hire vehicle trips are still below pre-pandemic levels and cannot be attributed to the city's recent increase in congestion."
The TLC analysis referenced by Macklin showed that for-hire vehicle trips have recovered to about 83.2% of the pre-pandemic level. And while for-hire vehicle registrations crossed 120,000 in 2019, the MTA's congestion pricing environmental assessment report from August 2022 showed that the number of for-hire vehicles making trips fell to about 70,000 by April 2022.
Riccio does note that his study is not comprehensive – he did not undertake a true random sampling but rather recorded streets "while going to and from the subway during the course of the day on the way to and from work." He also noted that he did not study weekday traffic on bridges and tunnels entering Manhattan, and evening and weekend traffic.