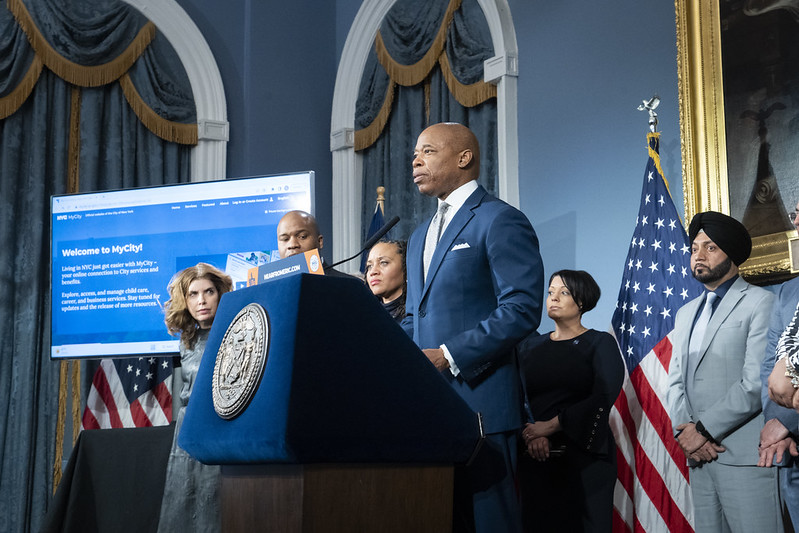 Mayor Adams unveils the MyCity portal (photo: Caroline Willis/Mayoral Photo Office)
---
Mayor Eric Adams began to fulfill one of his major campaign promises in March as he launched the "MyCity" online portal that promises to help New Yorkers more easily apply for public benefits and access city services. The platform — which Adams calls "a legacy project" — is in its infancy, currently only providing access to childcare applications, but is meant to grow into a one-stop-shop for many if not all interactions with city government.
But civic technologists say that the administration's approach to building MyCity repeats the mistakes of the past by farming out the work to contractors, in what was a reversal of its initial intent to develop the portal in-house and do it cheaper and more efficiently.
Adams has repeatedly sung the praises of technology as a tool to make government work better for the people, in part built on his experiences with the NYPD's CompStat system during his two decades in the police department. In his first month in office as mayor, Adams consolidated the city's various technology agencies under the banner of the new Office of Technology and Innovation (OTI), led by new Chief Technology Officer Matthew Fraser, and charged it with creating MyCity.
"For the first time, families who need help paying for child care can apply in one place, with one application," the mayor said in a statement as he launched the portal in March, pledging additional services would be added in the future. "We are using the power of technology to reduce the bureaucracy and red tape in our government, to help New Yorkers get the services their taxes pay for, and to 'Get Stuff Done' for the working people of this city."
But the rollout of MyCity didn't happen on the timeline his administration had first predicted or through the process it initially envisioned. Initially, OTI had declared that it was building the portal in-house, earning praise from civic technology experts. It was meant to launch by late 2022, but was delayed for months.
Adams admitted in a year-end interview with the New York Times that technology had been one of the areas where he faced a steep learning curve in his first year, delaying the launch of MyCity. "We could rush it out now, but I really want to kick the tires," he said at the time. At the unveiling, Adams said the delay was worth it in order to get the most user-friendly product possible, calling it "a foundation of how this city is going to function."
Ultimately, while the administration said that about 100 city employees worked on MyCity, a substantial amount of its development has been contracted out to 14 different technology firms in 31 separate contracts so far worth more than $3.4 million.
According to OTI, the city owns the intellectual property created under those contracts. Civic technologists, however, say that the open-source technology infrastructure for MyCity already existed in Access NYC, an online portal managed by the Mayor's Office of Economic Opportunity where people can already determine their eligibility for public benefits, which is meant to be a key feature built into MyCity.
And they say the administration lost an opportunity to build out a Digital Service Organization (DSO) that could create internal tech solutions using open-source software rather than purchasing outside software, allowing for more efficient and cost-effective iterations of this tool and development of others.
"While it's exciting to see the centralization of services and at least the incorporation of a modern technology stack, it is disappointing that the city's internal teams are not resourced to support this ongoing work," said Noel Hidalgo, executive director of BetaNYC, a civic technology group, who advised Adams' transition team on the MyCity portal. "I was expecting to be disappointed. I am disappointed, but I have hopes that something's going to change. I just don't know when that change is going to happen."
OTI has pushed back against the broad criticism of its reliance on outside vendors.
"It's easy to play Monday morning quarterback from a distance when you're not accountable to more than 8 million New Yorkers. With MyCity, this administration is rebuilding city services from the ground up to help working families effortlessly apply online for child care subsidies and to provide the foundation for New Yorkers to access future city services and benefits," said OTI spokesperson Ray Legendre, in a statement to Gotham Gazette. "To ultimately deliver a better product for New Yorkers, the City supplemented its internal talent and expertise with external experts, including more than 10 M/WBEs, who provided invaluable support on key components of the project such as translation services, user testing, and design."
Legendre noted that the work done by one of the main contractors, Innovative Business Concepts, Inc., included strategy, project road-mapping, and portal design, which will all continue to benefit the portal's functions in the long-term.
The portal's infrastructure also includes a document retention hub for future applications, a dashboard to track application status, user-friendly authentication, a mechanism that allows virtual signatures from multiple legal guardians, translation into 11 of the most commonly spoken languages in New York City, the capability to upload documents from a mobile device, and cybersecurity measures to protect people's data.
Legendre also said that MyCity could possibly be rolled out on other platforms in the future, such as a mobile application.
Currently, MyCity does include other options besides the childcare application, with categories labeled "Business," "Jobs," and "Benefits." But those merely link to other city agency websites – the last one connects to Access NYC.
"It's not just a website. This is about the fundamentals of how government services are built in the 21st century," Hidalgo said. But, he added, "there doesn't seem to be anything revolutionary about it. Even the technology, there's nothing grand about it. It's the same software that the city has been using since the pandemic because it's a better webform software than what the city had been using prior to that."
Besides HRA's online tool, civic tech experts also point to other digital tools developed by the city in the recent past, in particular Planning Labs at the Department of City Planning, which could have been used as the model approach.
"For the Adams administration to not be able to recognize where good things were happening and where the opportunity to continue good work is when it comes to information technology  reform is really disappointing," said Devin Balkind, a civic technologist. Balkind and others have called for the city to create a DSO, similar to models adopted by other cities like Boston or the 18F division of the federal government. "If [the Adams administration] were observant, they would have seen the opportunity to do things much faster, better and cheaper than they're doing it now," said Balkind.
Even former Mayor Bill de Blasio "paid lip service" to the DSO model by announcing an NYC Digital Service just one month before his tenure ended, Balkind pointed out.
"Adams campaigned on it and I hope he figures out what everyone else seems to have figured out, which is that there's a model for government IT reform that works and is valid and he should use it," Balkind added.
A spokesperson for City Council Member Jennifer Gutiérrez, who chairs the Council's technology committee, declined to comment but said that the Council member is considering an oversight hearing on the administration's approach to technology contracts, including the development of MyCity.
Comptroller Brad Lander's office did not respond to requests for comment. The comptroller is responsible for monitoring and reviewing city contracts.
A former city technology manager who wished to remain unnamed said that the use of outside contractors isn't inherently the wrong choice and not necessarily more expensive. But he questioned the reason behind the choice for MyCity. "Why wasn't the internal team meeting the goals? Why is the NYC Digital Service not a thing anymore? What happened to that?," he asked.
He did have some words of advice for the administration. "Full ownership [of the software] and capacity for maintaining the project has to stay in house. Otherwise, you're setting yourself up for failure because…you can't have forward continuity when there's nobody around that actually knows how the thing works."
According to Legendre, the website's technical support and maintenance are carried out by both internal staff and external contractors. And he said that the administration is indeed expanding its technology team. "We're aggressively building internal capacity and will also continue to tap a wide range of external expertise to deliver solutions as quickly as possible," he said by email.
A digital service model within city government is the right way to go, said the former city technology manager. "There's this perception that government employees can't build modern tools. They can," he said. "You just need to hire modern tool builders."
Note - this article has been updated to note that the city's benefits eligibility screening tool is called Access NYC and is run by the Mayor's Office of Economic Opportunity. Access HRA is a separate tool managed by the Human Resources Administration.