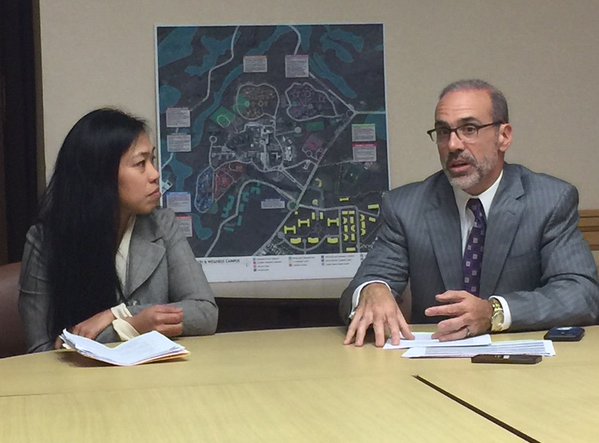 SIBP Oddo, right, & Maria Torres-Springer of the de Blasio admin (photo from Oddo's Twitter)
---
Staten Island has the highest rate of homeownership of any city borough, residents largely use cars to get around, since mass transit options are severely lacking, and despite being the city's third largest borough in terms of square miles, Staten Island is home to just under 500,000 out of more than 8 million New Yorkers. There are a unique set of concerns on Staten Island, to say the least of the often strained relationship between the borough and City Hall.
Staten Island Borough President James Oddo and the borough's other elected representatives often feel as though they have to scratch and claw to get their constituents due attention and resources. While Mayor Bill de Blasio has been paying more attention to Staten Island than some may have expected considering it was the only borough he lost in his 2013 election, there is still a sense among many Islanders that the administration does not pay enough mind to their concerns.
In sending out an end-of-year message and in a subsequent interview, Oddo indicated the special circumstances of his borough, described an ongoing battle with "the bureaucracy," and outlined the needs of Staten Islanders, progress made in 2015, and what to expect in 2016.
"For far too much of the last two years my staff and I have engaged in a full-fledged steel cage match with the bureaucracy, attempting to get City government to bring long planned projects to fruition," Oddo said in an end-of-year message. "We have fought so that Borough Hall's new visions and initiatives might take root, and wrestled with city agencies to work in conjunction with us to efficiently and effectively resolve the daily quality of life issues facing Staten Islanders."
That "steel cage match" does not involve the mayor, Oddo explained in an interview with Gotham Gazette, but rather "middle managers or bureaucrats - folks that hold onto the status quo like grim death…deputy commissioner-level folks who have been in those city agencies" long before Mayor de Blasio or Oddo were elected to their current positions (the two were City Council colleagues at one point).
"I'm very pleased with the level of communication I have with the mayor himself, and with the deputy mayors. I think the frustration I've felt in the last two years is referring to individual agencies," Oddo clarified, adding that he finds it "curious that there have been many instances over the last two years where it's been borough hall and the mayor's office versus their own agencies."
Oddo has been particularly consumed with Sandy recovery, health and wellness, transit options, and road repaving.
To the borough president and his constituents, Staten Island's lack of mass transit options and related severe traffic congestion are pressing issues that have a big impact on residents' day-to-day lives, adding hours to their daily commutes. Yet that sense of urgency is not shared by some officials within city agencies, Oddo says, and as a result, issues go unresolved for long periods of time.
"I get the sense that for some long-standing agency officials, whether the project is completed in fiscal year '19 or fiscal year '29, it really doesn't matter to them," Oddo said.
The biggest issue to tackle in 2016, Oddo explained, is getting the city to help figure out a way to improve the commute on Staten Island. Staten Islanders spend more time and money on their commutes than the average New Yorker: Staten Island to Manhattan via express bus costs commuters about $57 each week, and while ferry service (the only other mass transit option that connects Staten Island to Manhattan) is free, the boat ride takes almost half an hour, and getting to the ferry can take between ten minutes and an hour-and-a-half for those relying on mass transit.
There is only one train on Staten Island, and that train runs exclusively along the east side of the borough, leaving a majority of those who need to use mass transit to get around Staten Island stuck waiting for the notoriously unreliable buses.
The initial draft report of the MTA's comprehensive study of all existing bus routes on Staten Island (some of which were designed 40 or 50 years ago) should be received in 2016, Oddo said, and while "no one has any delusions that the MTA is going to come in with this unending source of capital money, we believe we can restructure these routes and find a great deal of efficiency. I really expect some improvements. That'll be big in 2016."
Oddo said that he hopes to "improve to some degree the commutes that are worsening by the day. It's literally robbing hours of your life - it's two to four hours on top of your workday."
Though 2015 has seen progress toward improving Staten Island's current mass transit options, with movement on the MTA study and Mayor de Blasio investing nearly $5 million a year to ensure the ferry runs every half-hour 24-hours a day, progress toward providing Staten Islanders with more transit options has been less than ideal.
"I'm not so happy with the progress that has not been made with the fast ferry," Oddo said, referring to a new ferry program he's advocated for. "We still have lots of work to do to make it a reality."
Ideally, a fast ferry service would run from transit-starved areas of the borough which are far from the island's existing north shore ferry location to areas with docks for ferries in Manhattan or Brooklyn.
Mayor de Blasio did put forward a fast ferry plan last year, and funding from the city has been set, but the plan adds just one fast ferry location to the island, in Stapleton - a mere six minute drive away from the existing ferry terminal in Saint George.
In 2015, Oddo got a fast ferry service to conduct test runs from more remote locations on Staten Island, like Prince's Bay, to lower Manhattan and midtown in an effort to prove the service would be a viable option for such locations.
The ferry from Prince's Bay (which is at least a 45-minute bus/train ride away from the Staten Island ferry terminal) to lower Manhattan took 47 minutes during Oddo's test runs.
Though the Stapleton fast ferry is arguably not what Staten Islanders looking to save time on their commutes need, given the city's plans for economic development in the Bay Street Corridor/Stapleton area, the fast ferry could be helpful in the future, Oddo told the Staten Island Advance last year.
"There's more to be done, and we're going to keep working on expanding options," Mayor de Blasio said when asked about the lack of mass transit options on Staten Island during a Jan. 4 press conference to promote the city's new commuter benefits law.
While improving the commute for Staten Island residents is something Oddo says still "needs the city's help in advancing," the borough president says he is "happy with some of the progress that we've made with our health and wellness program, the tech hub [that will be created on Staten Island's North Shore], and the "Too Good for Drugs" program that the mayor came out to announce."
Oddo said out of all the initiatives that progressed in 2015, he is most proud of "Too Good for Drugs," as Staten Island's "epidemic in terms of opioid abuse" is a matter of "life and death."
The educational anti-drug program for students, which started last year in fifth-grade classrooms in five Staten Island schools, "came out of Borough Hall, we're very proud of it, and the feedback has been fantastic," Oddo said.
"The folks at City Hall believe in it and it's one of several fronts that we need" to reduce substance abuse and drug overdose deaths, he added. Oddo said treatment programs are also needed, but preventing substance abuse by teaching "the notion of making smart decisions at as early as an age as possible" is seen as an important first step by Oddo.
Expanding "Too Good for Drugs" is one of the items on Oddo's agenda for 2016, with the program set to expand to 47 schools after receiving $70,000 in the city budget.
Mayor de Blasio and his administration have made an effort to show City Hall remembers the "forgotten borough." The mayor made several trips to Staten Island in 2015: he vowed to complete all repairs and construction still needed for Staten Island residents whose homes were ruined by Hurricane Sandy by 2016; he broke ground on Staten Island's first Family Justice Center for domestic violence prevention and response; and announced his administration's comprehensive effort to reduce opioid misuse and overdose deaths, among others.
"There will be a lot of town halls in 2016, including Staten Island," de Blasio said during the Jan. 4 press conference when asked about doing a Q&A session on the island.
Besides continuing to fight that "steel cage match with the bureaucracy" to make the commute better for Staten Islanders and repaving the borough's roads, 2016 will also "bring a new economic development campaign to entice businesses who are being priced out of other boroughs to think of Staten Island instead of New Jersey," according to Oddo's year-end message.
Oddo did not get into specifics in terms of his thinking about the ongoing development of the New York Wheel or the accompanying Empire Outlets expected to be constructed near the ferry terminal within the next few years as he spoke about different aspects of economic development, and had a clear focus on quality of life issues.
Other initiatives, he said, include "a new program to match Staten Island high school students with mentors in their areas of interest, and out-of-the-box ideas to help tackle North Shore traffic issues."
***
by Meg O'Connor, Gotham Gazette
@GothamGazette, @MegOConnor13