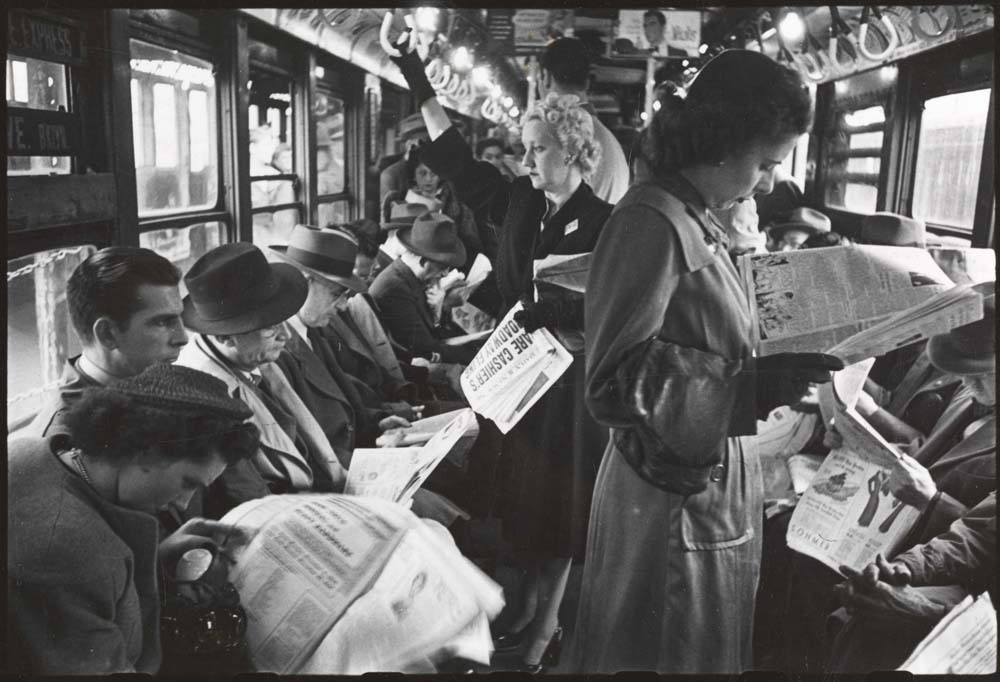 photo: Stanley Kubrick via Museum of the City of New York
---
Gotham Gazette's Week in Review, Friday February 12
PHOTOS OF THE WEEK: Mayor de Blasio participates in the HOPE Count of homeless people living on the street, via Michael Appleton/Mayor's Office; Council Speaker Melissa Mark-Viverito delivers her State of the City speech, via William Alatriste.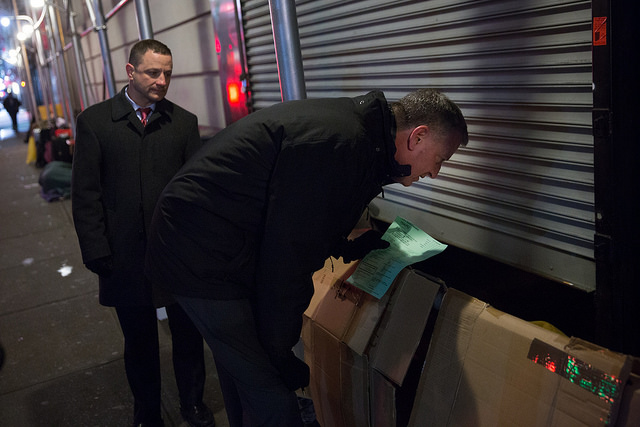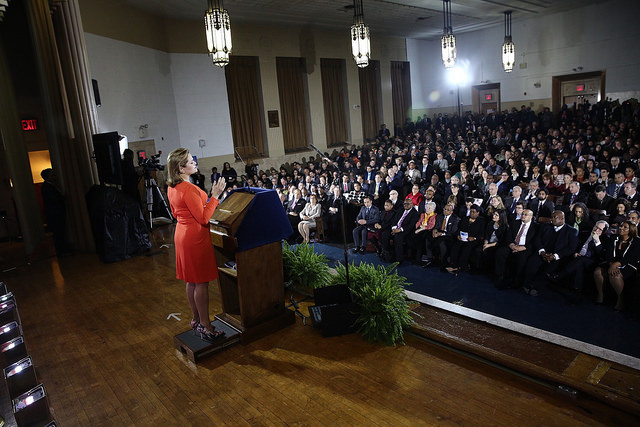 TOP FIVE STORIES OF THE WEEK:
1. Housing Hearings: The City Council held two lengthy hearings this week examining critical components of Mayor de Blasio's housing plan, Mandatory Inclusionary Housing and Zoning for Quality and Affordability, which aim to adjust the city's zoning codes and were approved by the City Planning Commission. At the hearings, Council members grilled de Blasio administration officials and expressed support for the goals of the plan, but made it clear they want to see more affordable units reserved for lower-income residents, and increased protections for workers who will build the new housing. [Read: At Hearings, City Council to Examine Mayor's Zoning Proposals]
2. "More Justice": City Council Speaker Melissa Mark-Viverito gave her second annual State of the City address on Thursday, titled "More Justice," outlining a vast agenda centered on criminal justice reform, increasing civic engagement, empowering voters, and protecting immigrant communities, among others. Many proposals, including clearing old summons warrants and improving rehabilitation and reentry services, aim to minimize the number of people who end up in the city's jail, in the hope that once the number of inmates on Rikers decreases, a plan for closing the notorious jail complex could be enacted. [Read: In State of the City, Mark-Viverito Outlines Civic Engagement, Voter Empowerment Plans & Mark-Viverito 'Doubles Down' on Criminal Justice Reform in State of the City]
3. Budget Analysis: Comptroller Scott Stringer released his analysis of Mayor de Blasio's preliminary fiscal year 2017 budget on Wednesday, pointing out several areas of concern in an overall positive financial outlook for the city. Stringer said savings the Mayor has allocated are insufficient to prepare for an economic downturn and wants the city to implement a PEG requiring city agencies to identify a certain percentage of potential savings. [Read: Comptroller Raises Several Flags in Budget Analysis]
4. Renewed Homelessness Scrutiny: Following the fatal stabbing of a woman and two of her infant daughters Wednesday at a Ramada Inn on Staten Island, which was being used as a temporary homeless shelter, Mayor de Blasio announced plans to provide hotels used as temporary shelters with increased security. The incident comes less than two weeks after a mentally ill man slit another resident's throat at a homeless shelter in Harlem, which also prompted promises of increased security at shelters. The State quickly responded to the Staten Island incident, instructing the City to increase security, which the City said it had already done.
5. Tax Plan: Assembly Democrats renewed support for their recently-unveiled plan to extend and expand a millionaire's tax just one day after Governor Cuomo dismissed the plan, saying there was no "reason or appetite to take up taxes this year." Republican Senate Majority Leader John Flanagan reiterated his opposition to higher taxes on millionaires and said changes to the cap this year are unlikely, though Assembly Speaker Carl Heastie has maintained his support for the plan. [Read: Heastie Takes to Twitter to Respond to Cuomo on Tax Plan]
THIS WEEK'S NUMBERS:
THE GLORY AND THE GOAT:
It was a good week for LGBT New Yorkers, advocates and allies, as Governor Cuomo announced a series of regulations Saturday that will prohibit health care insurers from covering "conversion therapy" in New York and stop mental health facilities from using the method on minors.
It was a bad week for the NYPD, with officers facing two trials this week for the deaths of unarmed black men in two separate incidents, and a joint investigation by ProPublica and the Daily News into the NYPD's use of the nuisance abatement law alleging the NYPD often uses the law to force people out of their homes. On Thursday, officer Peter Liang was found guilty of manslaughter in the 2014 shooting death of Akai Gurley, and on Wednesday, a federal grand jury began hearing evidence in the case of Eric Garner, who died after a Staten Island police officer put Garner in a chokehold.
And, it was a bad week for Success Academy Charter Schools, after a video published by the New York Times shows a Success Academy teacher belittling a student for failing to answer a question correctly. The accompanying Times story shares similar stories from current and former employees, prompting renewed scrutiny for the charter school network.
THE FLASH:
Around this time 100 years ago, on February 11, 1916, Emma Goldman was arrested in New York City just before giving a lecture on family planning, which was considered illegal under the 1873 Comstock Act that banned "obscene" literature, including information about contraception.
GOTHAM GAZETTE HIGHLIGHTS OF THE WEEK
Comptroller Raises Several Flags in Budget Analysis, by Ben Max
Everyone's Talking About Paid Family Leave, Only Compromise Will Yield a Deal, by David Howard King
In State of the City, Mark-Viverito Outlines Civic Engagement, Voter Empowerment Plans, by Samar Khurshid
Mark-Viverito 'Doubles Down' on Criminal Justice Reform in State of the City, by Meg O'Connor
Assembly Reform Group Nears Release of 49-Recommendation Report, by David Howard King
Heastie Takes to Twitter to Respond to Cuomo on Tax Plan, by David Howard King
In Albany, Bharara Challenges Lawmakers to Act, Not Enable, by David Howard King
Bharara Visits Capital He Upended, by David Howard King
After New Hampshire: Debates & Voting Dates Until New York, by Ben Max
Next Steps the State Must Make to Create and Maintain Affordable Housing, by Nicole Bramstedt (opinion)
Real Affordable Housing for Our Communities, by Susana Salas (opinion)
Time for NYCHA to Stop Wasting Our Money, by Brian Sampson (opinion)
Get the Facts Straight on NYCHA Attacks, by Michael Kelly (opinion)
The 10 Concerns Council Members Had About Mayor's Inclusionary Housing Proposal, by Jarrett Murphy (City Limits)
MORE FOR THE WEEKEND:
Gotham Gazette's executive editor Ben Max and City Limit's executive editor Jarrett Murphy discuss key takeaways after two days of marathon City Council hearings on Mayor de Blasio's citywide zoning proposals.
In a rare visit to Albany on Monday, U.S. Attorney Preet Bharara spoke to the need for honest politicians and others in state government to call out corruption when they see it in an interview with WAMC co-sponsored by Citizens Union and other good government groups.
Mayor de Blasio spoke with Errol Louis on NY1 and defended the new Police Department training course, "implicit bias" training, designed to combat officers' prejudices, and also defended MIH and ZQA.
City Council Speaker Melissa Mark-Viverito appeared on NY1 to discuss her State of the City address.
Errol Louis discussed the 40th anniversary of City Limits magazine with Jarrett Murphy, executive editor and publisher of City Limits, and two contributors, Brooke Williams and Tom Robbins on NY1.
***
NOTE TO READERS: we hope you enjoy this new Gotham Gazette weekly feature - please share it if you do; on Twitter, use our handle @GothamGazette.
If you have feedback on this feature for us, you can email editor Ben Max: This email address is being protected from spambots. You need JavaScript enabled to view it.
Watch Sunday evening for our latest Week Ahead in New York Politics, which gives you a preview of key issues and events to be aware of for the week about to start. In the meantime, catch up on the latest original reporting from Gotham Gazette here. And have a great weekend!
***
by Meg O'Connor and Ben Max