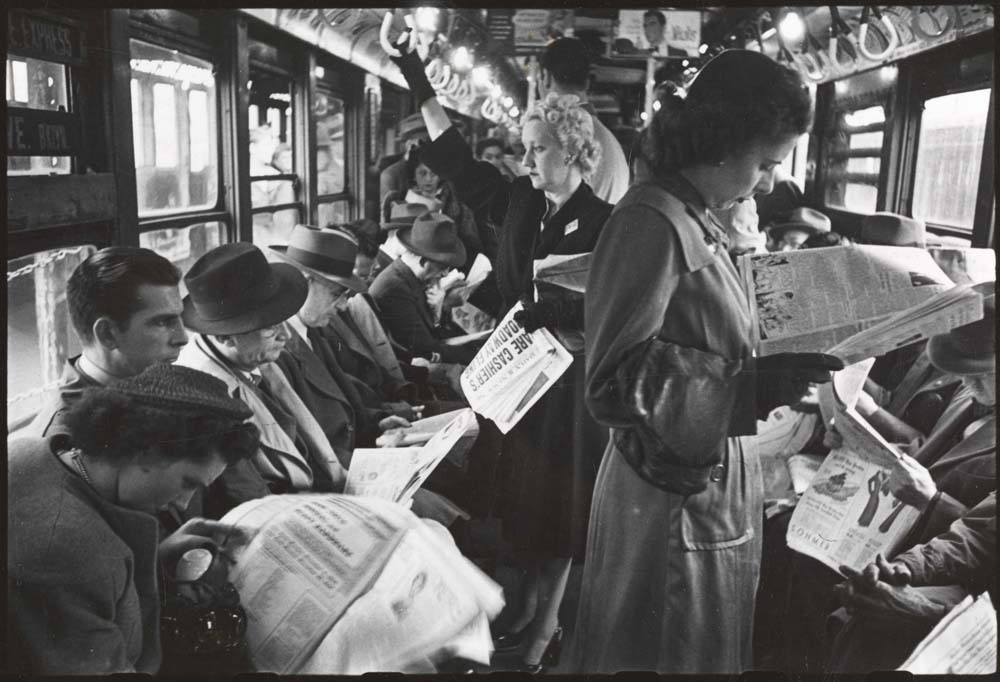 photo: Stanley Kubrick via Museum of the City of New York
---
Gotham Gazette's Week in Review, Friday February 19
PHOTO OF THE WEEK: Mayor de Blasio celebrates the launch of the LinkNYC wifi hubs, via The Mayor's Office; Governor Cuomo rallies to promote paid family leave, via The Governor's Office.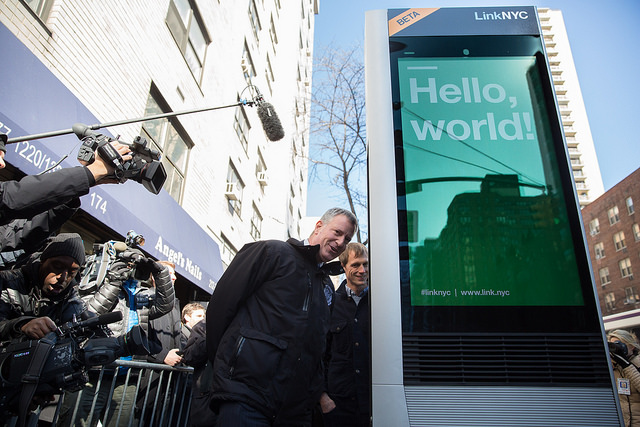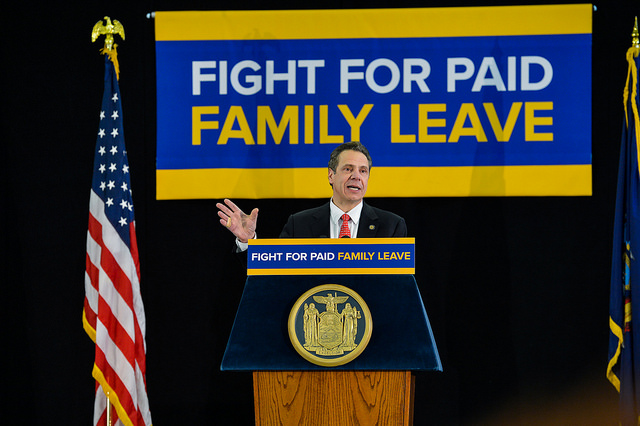 TOP FIVE STORIES OF THE WEEK:
1. Closing Rikers: City Council Speaker Melissa Mark-Viverito called for a commission to study the potential of closing Rikers Island jails during her State of the City address last week, sparking discussions on what to do about the city's notorious complex. Mayor de Blasio said closing Rikers is a "noble concept," but unrealistic, while his wife, First Lady Chirlane McCray, called closing Rikers a "great idea." Mark-Viverito has continued the discussion this week, explaining that the criminal justice reforms aim to reduce the number of New Yorkers who end up in Rikers, diminishing the population in the jail. [Read: Mark-Viverito 'Doubles Down' on Criminal Justice Reform in State of the City]
2. Mayor Signs Raises, Reforms: Mayor de Blasio signed a package of legislation into law today that raises the salaries of the city's elected officials by at least 12 percent and reforms the job descriptions of City Council members, even though the raises for Council members were $10,185 higher than what he initially approved. While the Council has been praised for several good government reforms included in the bills, the lack of public input, rushed timeline, and size of the pay increase has sparked criticism. [Read: De Blasio to Sign Higher Raises for Council Than He Previously Approved]
3. Stop-and-Frisk: A report released Tuesday by a court-appointed federal monitor found that NYPD officers are still unclear about changes to stop-and-frisk rules, leading many to continue to stopping New Yorkers on the streets without providing a just cause. Stop-and-frisks have decreased from 685,000 in 2011 to 24,000 in 2015, yet according to the report, officers failed to explain the grounds on which they stopped someone to question them in more than a fourth of all stops.
4. Vacant Lots: An audit released by city Comptroller Scott Stringer criticized the city for not using vacant lots to create more affordable housing after finding that more than 1,000 city-owned lots have been sitting vacant for over 30 years. The audit faults the Department of Housing Preservation and Development for routinely failing to properly turn over land to developers. City officials have called Stringer's report "false and misleading," saying many of the properties lack basic infrastructure and that many others are in line for development.
5. Shelter Squalor: An audit released by state Comptroller Tom DiNapoli slammed the Cuomo administration for a severe lack of oversight of homeless shelters, saying the state's failure led to squalid living conditions, including rodent infestations, fire hazards, and mold. Auditors noted that 22 of the 47 most serious issues had previously been pointed out in annual inspections, but had never been corrected. Governor Cuomo has since conceded "the state was not aggressive enough for a period of time."
THIS WEEK'S NUMBERS:
THE GLORY AND THE GOAT:
It was a good week for First Lady of New York City Chirlane McCray, who made several media appearances this week to discuss the city's mental health roadmap, which McCray spearheads, and was extensively and favorably profiled in The New York Times Magazine and in Jezebel.
And, it was a good week for the city's 64 elected officials, all of whom received at least a 12 percent increase to their salaries today.
It was a bad week for Governor Cuomo after state Comptroller Tom DiNapoli released an audit that criticized the Cuomo administration for failing to provide enough oversight of homeless shelters.
THE FLASH:
Around this time 65 years ago, on February 16, 1951, the City Council passed a bill barring racial discrimination in housing projects, according to NY1.
Around this time 63 years ago, on February 17, 1953, a New York federal court delayed the executions of Cold War spies Julius and Ethel Rosenberg to allow time for a final appeal to the U.S. Supreme Court. Their appeal failed, and the two were executed in New York months later, according to NY1.
GOTHAM GAZETTE HIGHLIGHTS OF THE WEEK:
In Departure from Predecessors, De Blasio Administration Overhauls City Welfare System, by Samar Khurshid
De Blasio to Sign Higher Raises for Council Than He Previously Approved, by Meg O'Connor
To Influence Rezoning, East Harlem Stakeholders Preempt City Plan With Own, by Maggie Calmes
Eyeing 100 Schools, Will Success Academy Expand to Staten Island? by Samar Khurshid
'New York Values' in Historical Perspective, by Bruce W. Dearstyne (opinion)
'Making A Murderer' Flaws All Around Us, by Christopher Beall (opinion)
Rebuilding NYCHA: A Fresh Look, by Nicholas D. Bloom (opinion)
Goodbye to 'First Generation' NYCHA, by Nicholas D. Bloom and Matthew G. Lasner (opinion)
Looks Matter, Especially in Public Housing, by Nicholas D. Bloom and Matthias Altwicker (opinion)
MORE FOR THE WEEKEND:
Gotham Gazette editor Ben Max and DNAinfo reporter Danielle Tcholakian discussed Mayor de Blasio's affordable housing plan on BRIC TV.
Council members Donovan Richards and David Greenfield spoke with NY1's Grace Rauh about Mayor de Blasio's city-wide rezoning plan.
Daily News reporter Greg Smith joined NY Slant's Alexis Grenell and Nick Powell to discuss all sides of the affordable housing debate, and whether the de Blasio administration has assuaged concerns about gentrification.
City Council Speaker Melissa Mark-Viverito appeared on WNYC's Brian Lehrer Show to discuss the criminal justice reforms proposed in her State of the City address and potentially closing Rikers Island.
Mayor de Blasio spoke with WNYC's Brian Lehrer about the proposed federal cuts to counter-terrorism funding for New York City, the pay hikes for elected officials, the debate between Apple and the FBI, and more.
***
NOTE TO READERS: we hope you enjoy this new Gotham Gazette weekly feature - please share it if you do; on Twitter, use our handle @GothamGazette.
If you have feedback on this feature for us, you can email editor Ben Max: This email address is being protected from spambots. You need JavaScript enabled to view it.
Watch Sunday evening for our latest Week Ahead in New York Politics, which gives you a preview of key issues and events to be aware of for the week about to start. In the meantime, catch up on the latest original reporting from Gotham Gazette here. And have a great weekend!
***
by Meg O'Connor and Ben Max