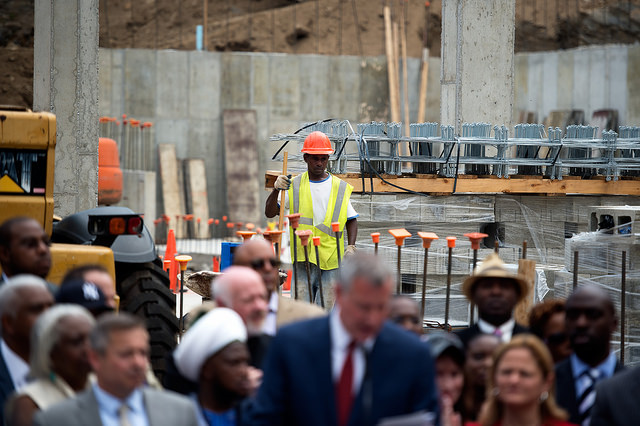 (photo: Demetrius Freeman/Mayoral Photography Office)
---
See interactive map below
Mayor de Blasio's housing plan is moving forward on a few levels. There are the citywide zoning proposals (Mandatory Inclusionary Housing and Zoning for Quality and Affordability) being considered by the City Council in February and March. If passed, these will change the zoning rules for the entire city, including a first-time requirement that whenever a developer receives an upzoning for a plot of land to build housing, a set percentage of affordable units will be required as part of the project. The Council is considering its tweaks to the plan before its late-March vote.
Then, there are the individual site projects that the Department of Housing Preservation and Development (HPD) always has underway. These projects are the often-overlooked smaller efforts to build and preserve afforable housing, often through significant subsidies to landlords and nonprofit builders.
In between are the neighborhood level plans, which the mayor has pitched as a way to comprehensively improve 15 areas of the city through rezoning for more density and new infrastructure and amenities. These neighborhood rezoning plans are detailed, often block-by-block programs to create housing and improve communities. They include plans for new housing development, but also schools, parks, and other community features. With these and the citywide changes, some fear gentrification and a lack of affordability, though the administration says that is not what will occur.
Only eight of the 15 neighborhood areas are currently known, and in only one of those eight (East New York) has the city actually put forward a formal rezoning plan. But interesting ideas and conflicting proposals are emerging every week from the administration, community boards, local organizations, borough presidents and others. The City Council Speaker, Melissa Mark-Viverito, helped spearhead a planning process in East Harlem where an extensive community prorgram yielded a detailed plan that is the blueprint community stakeholders want the city to follow when it develops the East Harlem rezoning plan.
Other communities to be rezoned include part of Flushing, Queens, the Bay Street Corridor on Staten Island, part of Jerome Ave. in the Bronx, and others.
Below, we show the neighborhoods targeted for rezoning, with links to information from the city and any relevant coverage from Gotham Gazette and City Limits.
Click on the purple pins to learn more about each plan. If you feel we're missing anything, please let us know: This email address is being protected from spambots. You need JavaScript enabled to view it.