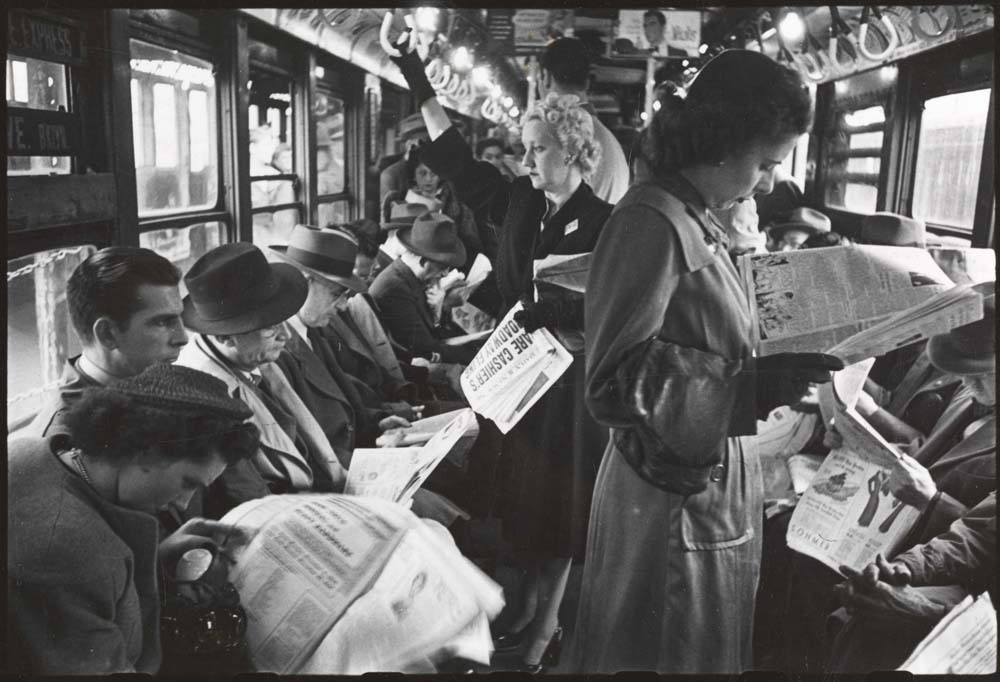 photo: Stanley Kubrick via Museum of the City of New York
---
Gotham Gazette's Week in Review, Friday February 26, 2015.
PHOTO OF THE WEEK: Mayor de Blasio & NYPD officials unveil CompStat 2.0, via Demetrius Freeman/Mayoral Photography Office; Gov. Cuomo and his minimum wage bus, via Kevin P. Coughlin/Office of the Governor.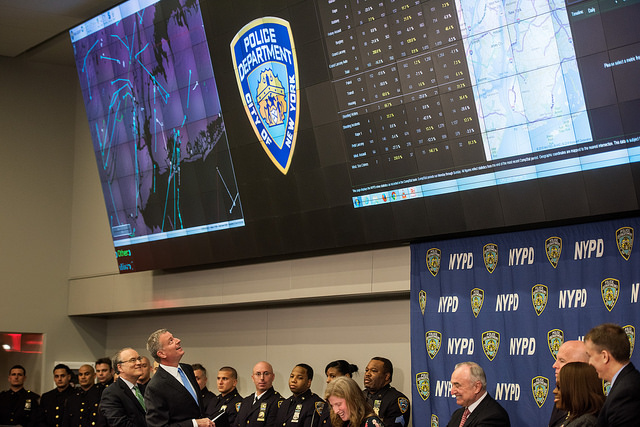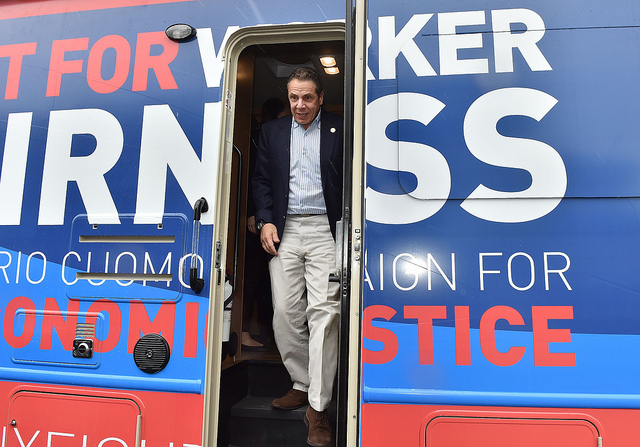 TOP FIVE STORIES OF THE WEEK:
1. Private Sector Retirement: On Thursday, Mayor de Blasio, joined by Public Advocate Letitia James, Comptroller Scott Stringer, City Council Speaker Melissa Mark-Viverito, and others, held a press conference in City Hall to advocate for a city-run retirement savings program for private sector workers. The 'Security for All New Yorkers' plan aims to allow some 1.4 million private sector workers who do not have a retirement savings plan through their employer to have contributions automatically deducted from their paycheck. However, federal regulations must change for the retirement plan to move forward. [Read: Private Sector Retirement Security Plans Become Next Progressive Cause]
2. Special Election: Rafael Salamanca, Jr., a district manager at Bronx Community Board 2, is the newest member of the City Council after winning a special election in District 17 in the Bronx on Tuesday. Salamanca's win against the five other candidates didn't come as much of a surprise, as he had the backing of the Bronx Democratic County Committee, Bronx Borough President Ruben Diaz Jr., and unions. Salamanca will replace Maria del Carmen Arroyo, who resigned last December. [Read: Voters to Fill Vacant Bronx Council Seat in Special Election]
3. Rezoning East New York: On Wednesday, the City Planning Commission approved Mayor de Blasio's rezoning plan for the East New York section of Brooklyn, despite vocal opposition from community members. The proposal now heads to the City Council, and Council members who represent the area have expressed concern about the plan's affordability levels for their constituents. East New York will be the first of 15 neighborhoods to be rezoned as part of de Blasio's affordable housing plan. [Read: Richards Puts Communities of Color at Forefront of Housing Debate]
4. CompStat 2.0: On Tuesday, Mayor de Blasio, Police Commissioner Bill Bratton, and Deputy Commissioner of Information and Technology Jessica Tish unveiled CompStat 2.0, an interactive online crime data system that tracks the date and location to the nearest intersection of major crimes like shootings, murders, and rapes.
5. Homelessness Dispute: The feud between the city and state over the city's homelessness problems escalated this week after HRA Commissioner Steven Banks sent a letter to a state official blasting the Cuomo administration for leaking a false report of a gang rape in a city homeless shelter to a tabloid in what Banks described as a "political media hit" that undermined the city's efforts to help homeless individuals. Banks called on the state to address its own shortcomings to improve the homelessness crisis.
THIS WEEK'S NUMBERS:

THE GLORY AND THE GOAT:
It was a good week for Mayor de Blasio, whose approval rating is up 14 points from September according to a NY1/Baruch College poll, which found 58 percent of New York City residents approve of the job the mayor is doing.
It was a bad week for Brooklyn City Council Member David Greenfield, who saw his leadership role questioned amid disagreements within the Council.
THE FLASH:
Around this time 51 years ago, on February 21, 1965, Malcolm X was shot and killed by Nation of Islam followers at the Audubon Ballroom in Washington Heights.
Around this time last year, on February 24, 2015, former Assembly speaker Sheldon Silver pleaded not guilty to the federal corruption charges against him during his arraignment. Silver was found guilty on all seven counts against him in November, 2015.
Around this time 19 years ago, on February 23, 1997, a gunman opened fire on the observation deck of the Empire State Building, killing one person and wounding six others before turning the gun on himself.
Around this time two years ago, on February 26, 2014, the City Council passed a bill expanding paid sick leave.
GOTHAM GAZETTE HIGHLIGHTS OF THE WEEK:
Richards Puts Communities of Color at Forefront of Housing Debate, by Ben Max
Caucus Members Cheerful But Cautious as Cuomo Embraces Their Agenda, by David Howard King
Private Sector Retirement Security Plans Become Next Progressive Cause, David Howard King
Application Season Underscores Community Board Reform Efforts, Ryan Brady
Voters to Fill Vacant Bronx Council Seat in Special Election, Samar Khurshid
Special Election Shows Need for Democratization, by Serin Choi (opinion)
Protecting Freelancers: Policy Innovation at Work, by Jesse Strauss (opinion)
No Surprise Uber Drivers Are Protesting, by David Beier (opinion)
Shut Down the Criminal Court, by Steven Zeidman (opinion)
Peter Liang's Conviction Shouldn't Be Dividing the Asian American Community, by Justin Chan (opinion)
Safe and Healthy Housing for All New Yorkers, by Dulce María Rivera (opinion)
MORE FOR THE WEEKEND:
Gotham Gazette's city government reporter Samar Khurshid and Alex Armlovich, policy analyst from the Manhattan Institute talk about welfare reform under Mayor de Blasio with City Limits executive editor Jarrett Murphy on BRIC TV.
Neil Barsky, founder and chairman of the Marshall Project, and Donna Lieberman, executive director of the New York Civil Liberties Union joined NY Slant's Gerson Borrero and Nick Powell to discuss feasibility, motives, and politics around the movement to close Rikers Island, and efforts to reform the notorious jail complex.
After the City Planning Commission approved a comprehensive plan to rezone East New York as part of an effort to create more affordable housing, Planning Commission Chair Carl Weisbrod sat down with NY1's Errol Louis to discuss the plan.
Catch up on the latest discussion of housing policy and politics in New York with Gotham Gazette's Ben Max and City Limits' Jarrett Murphy.
Following the dismal turnout in Tuesday's special election in the Bronx, former Bronx state Assemblymember Michael Benjamin wrote in NY Slant about the dire need for more efforts to increase voter engagement and participation.
***
NOTE TO READERS: we hope you enjoy this new Gotham Gazette weekly feature - please share it if you do; on Twitter, use our handle @GothamGazette.
If you have feedback on this feature for us, you can email editor Ben Max: This email address is being protected from spambots. You need JavaScript enabled to view it.
Watch Sunday evening for our latest Week Ahead in New York Politics, which gives you a preview of key issues and events to be aware of for the week about to start. In the meantime, catch up on the latest original reporting from Gotham Gazette here. And have a great weekend!
***
by Meg O'Connor and Ben Max