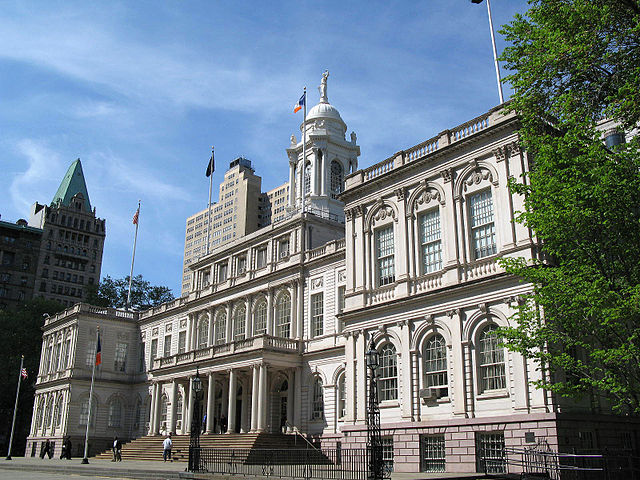 New York City Hall
---
What to watch for this week in New York politics:
Mayor Bill de Blasio has reason to smile as this week begins. Through negotiations with the City Council and outside critics, de Blasio appears to have gotten just about everyone on board with his citywide zoning changes and they are all-but-certain to be passed through the City Council over the next two weeks - first through committee this week, then the full Council on March 22. The City Planning Commission has to sign off on the tweaks in between. And there are tweaks, but the plans - Mandatory Inclusionary Housing (MIH) and Zoning for Quality and Affordability (ZQA) - will pass in forms close to what the city originally proposed. The two zoning amendments are major pieces of de Blasio's housing plan, which aims for 200,000 units of affordable housing to be built or preserved over ten years.
De Blasio spent part of Sunday speaking at South Bronx and Harlem churches to sell his housing plans. The most significant concerns about the mayor's zoning proposals have come from communities of color worried that the affordability levels of MIH are not deep enough. It appears that some of the tweaks being made to the plan will address these concerns. The de Blasio administration also continues to point to other elements of its housing plan aimed at creating affordable housing for the city's lowest income earners.
The mayor will celebrate movement on his housing plans this week and he'll also hold a town hall on the subject in Brooklyn Monday night, hosted by City Council Member Mathieu Eugene. De Blasio will also travel to Washington, D.C. on Tuesday, responding to proposed federal cuts to anti-terrorism efforts - see below for details. And on Wednesday, de Blasio will speak at the New York City premiere of a new film promoting gun control - details also below.
City Council Speaker Melissa Mark-Viverito also spent part of Sunday at two churches, both in Brooklyn, where she discussed her criminal justice reform efforts.
[Read: City Council Bail Fund Moves Through State Process]
Meanwhile, budget business continues this week, with the fiscal year 2017 state budget due by the end of the month. The Assembly and Senate are moving toward passage of their one-house budgets, which will lead to intensified negotiations among Gov. Cuomo and the two majority leaders - Assembly Speaker Carl Heastie, a Democrat, and Senate President John Flanagan, a Republican. There are a variety of discrepancies around funding levels and policy priorities. It's unclear if anything will be done in the budget on government ethics reform. Not a necessity to passing a spending plan and with significant pushback from Republicans to what Cuomo and Heastie have proposed, ethics could easily be bumped to further negotiations in the legislative session to follow the budget.
City Council preliminary budget hearings on the mayor's $82 billion plan also continue this week. Catch up on our coverage of budget hearings thus far:
-At First City Council Budget Hearing, Concerns About City Savings and State Cuts
-Government Investigator Explains 43% Budget Bump
-Underfunded Conflicts of Interest Board Struggles to Meet Mandates
Before Gov. Cuomo gets back to budget business in Albany this week, on Sunday Cuomo made his first visit to Hoosick Falls since the town's water contamination crisis broke. Cuomo insisted that the state was not slow to act, pointed the finger at federal regulators and the media, and assured all that the state response is on the right track.
And this week: "Comptroller Stringer will be in Israel along with a delegation of Latino leaders from New York City for a trip organized in partnership with the Jewish Community Relations Council of New York. He will arrive in Israel on Sunday evening and will depart on Thursday evening, arriving back in New York City on Friday, March 18."
As always, there's a great deal happening all over the city, with many events to be aware of - read our day-by-day rundown below.
***Do you have events or topics for us to include in an upcoming Week Ahead in New York Politics?
E-mail Gotham Gazette editor Ben Max: This email address is being protected from spambots. You need JavaScript enabled to view it.***
The run of the week in detail:
Monday
Both houses of the New York State Legislature are in session on Monday in Albany.
At 7:15 a.m. Monday, Mayor de Blasio will appear on CNN to discuss the presidential race. At 1:30 p.m. Monday, de Blasio will be in upper Manhattan to "host a press conference to discuss the preservation of affordable housing." At 4 p.m. de Blasio will hold a bill-signing ceremony at City Hall. At 7 p.m., de Blasio and City Council Member Mathieu Eugene "will host a town hall meeting with Brooklyn residents to discuss affordable housing" at P.S. 6.
At the City Council on Monday: At 10 a.m., the Committee on Governmental Operations will hold its preliminary budget hearing.
At 10 a.m. Monday at Newtown High School in Queens, "New York City Council Member Julissa Ferreras-Copeland, Department of Education, Congresswoman Grace Meng and Education Chair Daniel Dromm announce groundbreaking pilot program that will position New York City at the forefront of a national dialogue on access to feminine hygiene products by providing free pads and tampons in select Queens and Bronx public schools restrooms, supporting better educational outcomes and bringing dignity to girls." Feminine hygiene product dispensers will be placed in 25 public middle schools and high schools.
[Read more: City Council Members Move to Improve Tampon Access]
At noon on Monday in Albany, "as budget bills advance in both the Senate and Assembly during Sunshine Week, good government and reform groups react to proposed ethics legislation." Participating groups include Brennan Center, Citizens Union, Common Cause NY, League of Women Voters of NYS, NY Public Interest Research Group, and Reinvent Albany.
[Read: Heastie Outlines Assembly Ethics Reform Plan]
At 5:30 p.m. Monday, The New York City Economic Development Corporation (EDC) will deliver a presentation to the Queens Borough Board, chaired by Borough President Melinda Katz, on two of its new economic growth initiatives: NYC Industrial Developer Fund and Futureworks NYC Growth Initiative. The initiatives aim to provide project financing for industrial real estate development projects in New York City and support the growth of promising companies by providing six early stage companies with $30,000 each over a two-year period, respectively.
On Monday evening in Brooklyn, City Council Members Laurie Cumbo and Jumaane Williams will host their annual "Shirley Chisolm Women of Distinction Celebration." Public Advocate Letitia James will deliver keynote remarks.
Tuesday
Both houses of the New York State Legislature are in session on Tuesday in Albany.
On Tuesday in Washington, D.C., U.S. Rep. Dan Donovan, who represents Staten Island and part of Brooklyn, will chair a hearing on President Barack Obama's proposed cuts to anti-terrorism funding. Mayor Bill de Blasio, who has strongly criticized the cuts, is expected to testify.
At noon Tuesday, Greater New York City for Change and allies will rally in Albany to raise the minimum wage to $15.

At the City Council on Tuesday:
At 9:30 a.m., the Subcommittee on Zoning and Franchises will meet to discuss granting special permits in regard to the enlargement of an existing property in Sheepshead Bay, Brooklyn. The committee will also discuss amendments "concerning the use, bulk, and parking regulations in Brooklyn."
At 9:30 a.m., the Committee on General Welfare will meet for its preliminary budget hearing.
At 1 p.m., the Subcommittee on Planning, Dispositions and Concessions will meet to discuss previous amendments to property tax laws and a current urban development project in Manhattan.
At 1 p.m., the Committee on Juvenile Justice the Committee on Women's Issues will meet for their joint preliminary budget hearing.
At 6 p.m. Tuesday, New York City Council Speaker Melissa Mark-Viverito and Council Member Daniel Dromm will host a Celebration of Irish Heritage and Culture in Council Chambers at City Hall.
Wednesday
Both houses of the New York State Legislature are in session on Wednesday in Albany.
At 8 a.m. Wednesday, New York Law School will host a breakfast panel covering the future of New York City real estate. The panel will feature experts from Blackstone, Cushman and Wakefield, Related Companies, and Downtown Alliance, and will be moderated by Gerald Korngold, New York Law School Professor and The Center for Real Estate Studies Program Chair.

At 9 a.m. Wednesday, City Council Member Ydanis Rodriguez, who chairs the Council transportation committee, will lead the launch of "Car Free NYC" at New York University's Kimmel Center, which will lead to a "car-free" Earth Day in April.
At 11 a.m. Wednesday, the South Bronx Leadership Forum will hold a discussion with Vicki Been, Commissioner of New York City Department of Housing Preservation and Development.
At the City Council on Wednesday:
At 10 a.m., the Committees on Small Business and Economic Development will meet for a joint preliminary budget hearing.
At 10 a.m., the Committee on Education will meet for a preliminary budget hearing.
At 1:30 p.m., the Committee on Sanitation and Solid Waste Management will meet for a preliminary budget hearing.
At 6 p.m. Wednesday, The Police Reform Organizing Project (PROP) will host a public forum addressing how police reforms "preserve the racist status quo."

At 6 p.m. Wednesday, Carmen Fariña, New York City Schools Chancellor, "will discuss the changing state of public education" with Pace University President Stephen J. Friedman at the University's Lower Manhattan campus.
At 6:30 p.m. Wednesday, "Matthew Gordon Lasner and Nicholas Dagen Bloom, the co-authors of Affordable Housing in New York: The People, Places, and Policies that Transformed a City host a free, public panel discussion on the future of a livable New York City for the other 99%."

At 6:30 p.m. Wednesday, "Making a Killing: Guns, Greed, and the NRA," from Brave New Films, will premiere in New York City. Mayor Bill de Blasio will deliver introductory remarks before the premiere.
Thursday
Both houses of the New York State Legislature are in session on Thursday in Albany.
At 1 p.m. Thursday, The Rockefeller Institute of Government will host "Facing the Global Immigration and Refugee Crisis" in Albany. The forum will reflect on past conflict and violence that has led to mass immigration and feature Maher Nasser, director of the Outreach Division for the United Nations' Department of Public Information; Jill Peckenpaugh, director of the U.S. Committee for Refugees and Immigrants; and Sana Mustafa, Bard College Student and Syrian Refugee.

At the City Council on Thursday:
At 11 a.m., the Committee on Land Use will meet on results of subcommittee meetings held recently and conduct other general business.
At noon, the Committees on Land Use and Technology will meet for a joint preliminary budget hearing.
Friday
Friday is the second annual Student Voter Registration Day in New York City, which aims to get newly eligible voters registered in time to vote in April's New York State presidential primary.
At 8:15 a.m. Friday, Chair and CEO of the New York City Housing Authority (NYCHA) Shola Olatoye will be speaking at a CityLaw Breakfast at New York Law School.

At noon Friday, state Senator Jesse Hamilton, colleagues, and partners will hold a press conference at the Howard Houses Community Center in Brownsville, Brooklyn to announce the "first technology and wellness center at a public housing site in the United States." The "CAMPUS" will serve as a resource center for technology, health, and career development. Hamilton will be joined by Brooklyn Borough President Eric Adams, Assembly Members Latrice Walk and Nick Perry, and other officials, residents, partners, and organizations.
At the City Council on Friday:
At 10 a.m., the Committee on Youth Services will meet for a preliminary budget hearing.
At 1 p.m., the Committee on Health will meet for a preliminary budget hearing.
***
Have events or topics for us to include in an upcoming Week Ahead in New York Politics? E-mail Gotham Gazette executive editor Ben Max any time: This email address is being protected from spambots. You need JavaScript enabled to view it. (please use "For Week Ahead" as email subject).
***
by Leanna Carroll and Ben Max
@GothamGazette