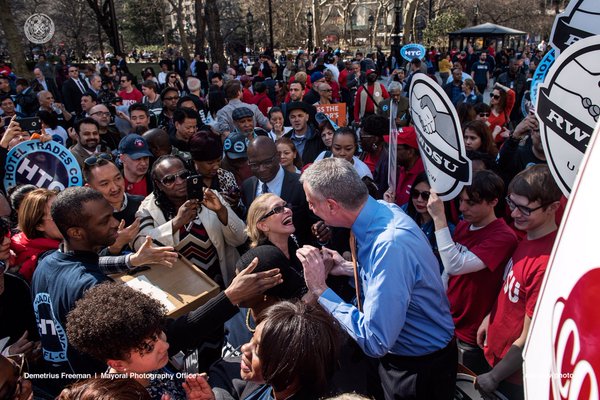 De Blasio rallies for his housing plans (photo: Demetrius Freeman, Mayor's Office)
---
After months of public discussion and weeks of private negotiation, the City Council is on the verge of passing, with tweaks, two sweeping changes to the city's land use rules that are key to Mayor Bill de Blasio's housing plan.
Sources familiar with negotiations say that some details are still being worked through, but that the major tenets of the controversial changes to city zoning text are all but set. A deal may be announced as early as Monday afternoon.
With several alterations to the original proposals by the de Blasio administration, the Council is likely to vote Mandatory Inclusionary Housing (MIH) and Zoning for Quality and Affordability (ZQA) through committee this week. Then, the City Planning Commission will be asked to sign off on the changes to the plans that it passed earlier this year, stamping them as "within scope" and sending them back to the Council for a full vote on March 22.
Council votes in the zoning subcommittee and land use committee are likely to take place on Wednesday, though they could be moved if deemed necessary. But, indications are that discussions between de Blasio administration and City Council representatives are close to finalized. In news that signaled the end of what has at times been a contentious process, the de Blasio administration announced on Sunday that the coalition making the most noise in opposition to the structure of the plans had come around in support given new developments.
Most importantly, de Blasio will see his Mandatory Inclusionary Housing program enacted; the plan requires that real estate developers who receive an upzoning on a plot of land in order to build more housing than otherwise allowed will have to include a set percentage of units under specific rent thresholds. Negotiating parties are making slight but important changes to the structure of affordability levels within MIH, including set-asides for lower income earners than the plan had previously included.
With a series of recent endorsements and now the backing of Real Affordability for All (RAFA), a collection of community groups and construction unions, along with prior support from a variety of advocacy groups and other unions, de Blasio is set for a big-tent win. The City Council Speaker, Melissa Mark-Viverito, and Council members will also tout the new land use policies as major progress for the city, especially those in danger of being priced out of an increasingly expensive New York. Council negotiations with the de Blasio administration have centered on affordability levels, with the Council apparently able to move the needle in slight, but significant ways.
The two zoning changes are part of the administration's larger housing plan, which aims to build or preserve 200,000 units of affordable housing over ten years. Forty-thousand were secured during de Blasio's first two years in office.
"We're on the verge of implementing the strongest, most progressive requirement for affordable housing of any city in the country," said de Blasio spokesperson Wiley Norvell in a Sunday statement announcing the backing of RAFA. "We welcome this support, and look forward to working with communities across the city to identify even more tools to reach New Yorkers with quality jobs and affordable housing."
The backing from RAFA, which is spearheaded by New York Communities for Change, an organization at one point led by a longtime friend of de Blasio, Jon Kest, who passed away in 2012, comes after concessions by the administration. Not only has RAFA seen encouraging movement on affordability levels within MIH, but the administration also promised to conduct a study of tools it can use to deepen affordability and ensure "job standards in new housing." The coalition, especially its labor component, has been calling for both local hiring and construction safety precautions to be included in the plans.
The affordability levels within MIH have been the source of perhaps the most debate as the zoning amendments have gone through the public review process. Along with Mark-Viverito and Council staff, Council Member Donovan Richards, chair of the Council's zoning subcommittee, has been key in the negotiations. Council Member Jumaane Williams, chair of the housing committee, has been said to be the loudest voice pushing for deeper levels of affordability. It appears that in the final MIH structure, shifts will have been made to ensure some apartments for lower income earners and broader economic diversity within new developments.
Income levels are based on Area Median Income, currently $77,688 for a family of three. AMI is a federal measure that for New York City also includes data from surrounding suburban counties. Average incomes in the city are significantly lower, especially in neighborhoods the de Blasio administration is targeting for added housing density and community improvements. "Affordable" means that a family would not be spending more than 30 percent of its income on rent.
Throughout the public review process, fears of gentrification have been at the forefront. De Blasio, his representatives, and his allies argue that without a new program from the city, gentrification will continue largely unabated as it has in many communities over the past two decades. Some advocates and politicians have been calling for a mandatory inclusionary housing program for many years. As de Blasio moved forward with his plan, the big question became the exact numbers.
As proposed, the administration included three options for builders creating new housing on land rezoned under MIH:
> 25 percent of new units affordable to tenants making an average of 60 percent AMI
> 30 percent of units affordable to tenants making an average of 80 percent AMI
> 30 percent of units affordable to tenants making an average of 120 percent AMI - this third option would not come with added city subsidies; would not be available in most of Manhattan in an effort to create more economic diversity; and is often known as "the workforce" option, meaning that it is targeted more at middle-class households.
Negotiations appear to be yielding a couple of changes to that structure. One change is that instead of simply requiring rents for the affordable units to average 60 or 80 or 120 percent of AMI, there would be clear set-asides for some percentage of units to be affordable for those earning down to 30 percent of AMI. Another change would add a fourth option that gets at deeper affordability, possibly accompanied by a smaller percentage of affordable units, again in an effort to make some new apartments available to tenants with lower incomes. Two sources close to negotiations confirmed the outline of these changes to Gotham Gazette.
City Council members indicated they were looking for these types of tweaks during a February hearing on MIH, as did Council Member Donovan Richards, chair of the zoning subcommittee and one of the Council's lead negotiators on the subject, in an interview with Gotham Gazette. Details of the changes as part of negotiations were first reported by Politico New York earlier this month.
Mark-Viverito, the Council speaker, has, like many of her members, been a supporter of the plans from the start, but also interested in making changes, especially to affordability thresholds. Council Member Williams said he knows Mark-Viverito and Council Member Richards have been negotiating those numbers.
"The speaker and Donovan Richards are in there trying to push what many of us are asking for," Williams said in an interview on Friday. "All of New York has to see itself in this plan. If it doesn't, we haven't achieved what we need to achieve."
Williams referenced the push for a fourth option under MIH and the carving out of a certain percentage of units for those making the most modest incomes. "We want to make sure that there aren't parts of this city that are built with no deeply affordable units," he said. "There shouldn't be a project where some of the units aren't of the deepest affordability - 30 percent or below of AMI must be considered."
Meanwhile, it is still unclear if there will be modifications around other key points of contention, such as the building of affordable units "off site," as in at a different location than new market-rate units. Council members have expressed interest in disincentivizing the practice within the MIH language, perhaps by including language requiring more affordable units if they are built away from the market-rate units.
As for ZQA, which deals with a wide variety of more specific zoning rules, the parties appear to be coming to compromises around modifications to parking requirements that come with senior affordable housing and the distances in so-called transit zones. Details of the ZQA deal are said to be among those still being discussed as City Council members often have neighborhood-level concerns, especially around building heights, parking, senior housing, and retail space.
Much of the discussion around ZQA has related to the ways in which it will help create more affordable housing for seniors. AARP and other advocacy groups have backed the plan, with AARP-NY dedicating significant resources in support, rallying with the mayor, and lobbying Council members.
A spokesperson for Council Member Richards told Gotham Gazette that negotiations have yielded a deal on the minimum size of new affordable housing units for seniors, one point of contention in early negotiations. The de Blasio plan had put the minimum at 275 square feet, which Richards and others called too small, pushing for 400. The sides have agreed on 325 square feet.
The sides are said to be negotiating specific numbers around the number of parking spots that must accompany new senior housing and which areas of the city would still require special permits to build nursing homes, among other finer points. Politico New York has reported on already-decided changes to ZQA.
When a deal on MIH and ZQA is finalized, de Blasio and City Council members are likely to celebrate, these types of changes to city zoning rules do not happen often, and the mandate for affordable housing in any upzoned development is indeed a major win.
How prior critics of the plans, including many local community boards who voted against their initial construction, will react is unclear. While some have seen and will continue to see merit in the plans, fears of new real estate development, added density, and rising rents are very real and unlikely to abate. The de Blasio administration is also moving forward with a series of neighborhood rezonings, starting with East New York, Brooklyn, but soon moving to communities in each borough.
De Blasio is staking his legacy largely on his attempts to make the city more affordable and his housing policies will be a key piece of his 2017 reelection bid.
In endorsing the mayor's plans, the New York Times editorial board recently captured the moment, writing, "This grand plan is a hugely important gamble that the city can build its way to greater housing equality, that it can ignite growth, improve neighborhoods, tame gentrification and protect tenants, all at once. That New York can still be a mixed-income city."

Passing MIH and ZQA doesn't provide the result to that gamble, it pushes more chips on the table.