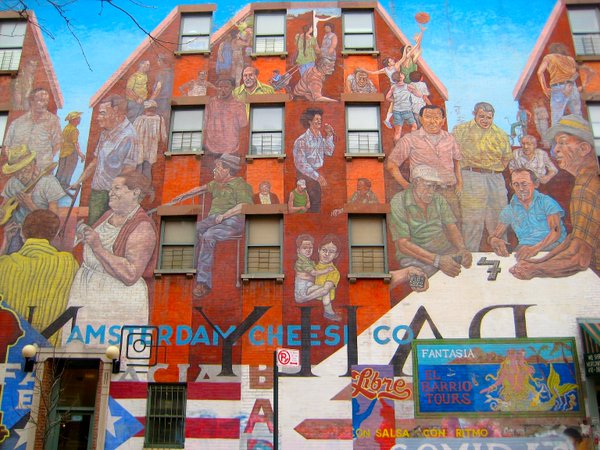 Hank Prussing's mural, The Spirit of East Harlem (via @ManhattanCB11)
---
Pearl Barkley moved to East Harlem in the 1950s, when she was six years old. Her family lived in the Jefferson Houses on 115th Street, where she lives today and works as an organizer with Community Voices Heard, an economic justice advocacy non-profit.
"Many people remember the fires, the abandoned boarded up buildings, and the people who left," Barkley said in an interview. Essential services began disappearing from the neighborhood in the 1970s, she said, due in large part to city and federal policies that encouraged "benign neglect" of poor neighborhoods of color.
"They left the neighborhood to fend for itself," Barkley said. "And the community was strong, but it suffered."
"Now, East Harlem is a hot property," Barkley said. "We have to bring the focus back to the people who were originally here and went through all of this. We have to make sure that the people who were here can stay here." While she doesn't necessarily take issue with newcomers to the neighborhood, Barkley emphasizes that preserving homes for long-term residents of the neighborhood should take precedent over new developments.
Newcomers have been moving into East Harlem for some time, drawn by its upper-Manhattan perch, lower rents, and access to public transit. But now, El Barrio - like a variety of other low-income areas populated predominantly by people of color - is becoming increasingly desirable to developers hoping to accommodate waves of middle-class renters.
In February, The New York Times named East Harlem one of New York's Next Hot Neighborhoods, noting that 21 development sites had recently "traded hands," and pointing to its lower-than-average real estate prices, good transit options, and historic architecture.
"If you want to stay in Manhattan," the author wrote, "East Harlem may be your best bet."
To long-term residents who want to stay in their neighborhoods, this kind of attention from the real estate market is synonymous with anxieties about inequity, marginalization, and displacement. And rightly so, as rents have skyrocketed across the city, incomes have stagnated, and the affordable housing crisis tops the list of policy issues facing New York City.
Now, as Mayor Bill de Blasio's administration prepares to rezone 15 neighborhoods, including East Harlem, as part of a plan to build and preserve 200,000 units of affordable housing in New York City, residents are bracing for further shifts that some believe will drastically change the landscape of their neighborhood, push long-term residents out of their homes as new residents move in, and threaten local businesses. In a word, gentrification: the force that has been sweeping through New York City neighborhoods and striking fear in places set for new investment.
Even as policies like Mandatory Inclusionary Housing, which requires set percentages of rent-controlled units in new developments, move toward enactment in an administration-run rezoning process, some East Harlem stakeholders are making proactive attempts at steering their community's future. Led by the Speaker of the City Council, Melissa Mark-Viverito, whose home district includes East Harlem, a broad coalition of residents and groups created a comprehensive plan to shape the rezoning of the neighborhood.
Members of that coalition and other groups have organized to protect against displacement while also championing changes that will improve their community.
It remains to be seen how successful residents will be in achieving control over the way their neighborhood changes -- and who will be left to enjoy the fruits of that labor. But one thing is certain: East Harlem - a low-income community populated primarily by people of color, imbued with deep-rooted history and culture, situated in an area ripe for speculation by developers, struggling amid an affordable housing crisis -- is at a tipping point.
Community character
The neighborhood of just over 123,000 residents hugs the northeast corner of Central Park along Fifth Avenue, runs South until 96th Street, and spreads east toward the Harlem and East Rivers, where large portions of the East Harlem Esplanade are crumbling into the water.
East Harlem is one of the largest predominantly Latino neighborhoods in New York City, the result of waves of Puerto Rican and Latin American immigration to the area after World War I, followed by more South and Central American arrivals throughout the 20th century. In spite of demographic changes over the last decade, East Harlem is still mostly populated by people of color and an immigrant neighborhood, with Hispanic and black residents comprising 81 percent of the population, and about a quarter of residents foreign-born, according to U.S. Census Bureau estimates for 2013.
The dominant culture is reflected everywhere: Spanish is spoken on every corner, storefronts advertise Latin American food, music, and good, and large-scale, colorful murals pervade the neighborhood with images of Latin American activists and artists.
It is no coincidence that this is where Mark-Viverito, born and raised in Puerto Rico, settled after coming to the United States in 1987 to attend Columbia University. After college, Mark-Viverito participated in a mentorship program for young Latinos, coordinated New York-based efforts to drive the U.S. Navy from the Puerto Rican island of Vieques, co-founded women's economic justice group Mujeres del Barrio, and served on Community Board 11. Mark-Viverito was elected to the City Council in 2005, and re-elected twice before becoming the first Puerto Rican and Latina to win the Speaker's office when her colleagues selected her in 2014.
The Speaker is now at the helm of a City Council reckoning with an affordable housing crisis and scars and fears of gentrification across several neighborhoods; charged with the task of building and preserving affordable housing and improving neighborhoods while protecting communities' cultures and livelihoods at a pivotal time. It is a struggle filled with economic and social tensions exemplified in East Harlem.
"It's an ongoing battle," the speaker (pictured, left) told La Respuesta in a 2014 interview. "Longtime residents in our communities that are finding themselves with limited options to stay, and feel they have no other place to go and are being displaced, is obviously alarming. We have a responsibility to do as much as we can to try to figure out how to stem that tide, but we're also faced with limitations."
East Harlem's history as a stronghold of people of color and immigrants follows the arc of many other urban communities throughout the U.S. The neighborhood first felt the impact of urban renewal initiatives in 1938, when NYCHA began razing low-rise tenements and relocating residents to make way for "towers-in-the-park" housing developments also seen in larger examples at Stuyvesant Town and Co-op City. The city cleared more land containing factories, stores, and community centers in the 1960s, but failed to attract investors to the area. The result was an abundance of overgrown lots and a fragmented urban landscape that set the scene for the increase in poverty, violence, and arson that plagued the neighborhood during the '60s and '70s.
These policies, Pearl Barkley said, along with growing wealth disparity and disenfranchisement of low-income people of color, pushed East Harlem - its residents, infrastructure, and local economy - into the political periphery, and dramatically exacerbated socioeconomic problems that plagued the neighborhood throughout the second half of the 20th century.
Housing East Harlemites
Today, a lack of affordable market-rate housing all but defines the residential landscape of East Harlem, where the majority of residents rely on public housing, rental assistance, or rent stabilization to afford their homes. A 2011 report from Columbia University calls East Harlem one of the "last holdouts of undeveloped Manhattan," citing its waterfront and public transit options as contributors to the neighborhood's growing vulnerability to displacement. These factors, combined with the voracity of the real estate market and a concentration of low-income residents, have cranked up pressure on the housing stock in El Barrio, driving rents - and fears of displacement - ever higher.
Enter Mayor Bill de Blasio's plan to encourage more residential development all over the city, with affordable housing mandates, and to rezone East Harlem to add density and neighborhood improvements. De Blasio and supporters of his approach, including Council Speaker Mark-Viverito, believe that without this type of government intervention, the forces of the market will run wild over East Harlem as they have in Central Harlem, several Brooklyn neighborhoods, and elsewhere over the past two decades. With any increase in development, though, comes heightened fear as well as very real change.
Not enough housing, not enough income
With only 8 percent of privately-owned units owner-occupied, East Harlem is a community of renters. And, over half of rental households are considered rent-burdened, paying more than 30 percent of total household income on gross rent, or severely rent-burdened, paying more than 50 percent of income on rent, and are particularly susceptible to the throes of the real estate market.
The city's Department of Housing Preservation and Development (HPD) and the Census Bureau reported in 2014 that 55 percent of rental units in East Harlem were either rent-stabilized or government-assisted, and another 28 percent are NYCHA units, leaving less than a quarter of the renter-occupied housing stock unregulated.
While there is still a considerable concentration of regulated and subsidized units in East Harlem, this cache is shrinking as units age out of rent regulation and landlords evict or coerce tenants into vacating stabilized apartments in order to raise rents.
The loss is considerable, with 2,500 rent-stabilized or subsidized units disappearing from East Harlem between 2007 and 2014, and a projected 4,200 more gone by 2030, according to Community Board 11's 2016 Statement of Needs.
The mayor hopes to curb the loss of such regulated rental units through his Housing New York Plan, which seeks to preserve 120,000 existing affordable units throughout the five boroughs. To this end, the administration has doubled HPD's funding and begun initiatives around landlord harassment, deregulation, and targeted investment in vulnerable communities, among others. The administration is more aggressively targeting opportunities to work with landlords to offer benefits in exchange for extending rent regulations.
De Blasio said at a press conference in January that the administration is ahead of schedule, having preserved nearly 14,000 units in projects like Stuyvesant Town, Riverton Houses, and smaller buildings, and that the overall program was on track to build or preserve 200,000 units by 2024.
While critics of the plan assert that not enough affordable units are targeted at very low-income New Yorkers, de Blasio said that 75 percent of the 40,000-plus units built or preserved over the first two years of the timeline have been for extremely low income, very low income, and low income residents.
Concentrated public housing
The New York City Housing Authority (NYCHA) plays a vital role in maintaining a large portion of East Harlem's affordable housing stock, with 30% of residents living in NYCHA-owned properties. This is the second-highest concentration of public housing in the city - a result of urban renewal initiatives begun in 1941, when one of NYCHA's earliest housing developments, the East River Houses, went up on 102nd Street. Another wave of renewal, led by Robert Moses and funded by the 1949 Federal Housing Act, razed existing structures and constructed the Thomas Jefferson Houses in 1959. Today, there are 24 public housing developments in the neighborhood.
Over the last two decades, federal and state budget cuts have weakened NYCHA, leaving the agency with a $74 million deficit in 2015, and facing capital needs of about $17 billion over the next five years, according to the city. This shortfall has resulted in crumbling buildings, breakdowns in communication between tenants and the agency, increased violence in housing developments, and myriad other problems.
Mayor de Blasio launched last summer the NextGeneration NYCHA initiative as part of a "ten-year plan aimed at preserving public housing for the future generations," according to the city's website. The administration describes NextGen as a long-term strategy to change the way NYCHA properties are funded, operated, and designed, and to revamp the way the agency engages with residents - all in an attempt to prevent the housing authority from being turned over to the United States Department of Housing and Urban Development - an acquisition that could result in the sale of housing sites.
The most controversial aspect of NextGen NYCHA is a plan in which underutilized land within NYCHA developments will either be leased for housing development, with buildings half market-rate and half affordable. Opponents say that the plan too-closely resembles former Mayor Bloomberg's attempt at infill on NYCHA land, which de Blasio vehemently opposed, and a step on the path to privatizing what is now public housing.
NYCHA CEO and Chair Shola Olatoye told City Limits in May 2015 that building affordable housing on NYCHA land is a way to reconnect public developments to surrounding neighborhoods.
"Residents want improved playgrounds, basketball courts, things we do not receive funding for. One way I can deliver on that is to maximize revenue from development," she said. "If people want their development to improve, they have to be flexible about what kinds of changes they're willing to accept."
De Blasio said at the program's launch that it would result in the construction of 10,000 new affordable units on NYCHA land. If the plan succeeds, it will eliminate NYCHA's crippling operating deficit. The city's argument is that this strategy will add affordable housing, new revenue, and community improvements.
The first NextGen project in East Harlem led to the opening last fall of the East Harlem Center for Living and Learning, which occupies a parking lot once owned by NYCHA. The project includes an eleven-story residential building containing 100% subsidized units. The New York Times reported in January that the development serves a "mix of working and disabled tenants, many from the neighborhood." The building connects to the new Dream Charter School, which serves almost 500 students.
While the Times reported "overwhelmingly positive reactions" to the Center, it remains to be seen whether similar "infill" initiatives will be welcomed by other NYCHA residents wary of privatization and gentrification - or if the program will even produce enough revenue to bolster the floundering agency. Olatoye told the City Council on Monday that while its financial situation is improving, NYCHA is still tens of millions of dollars in the red, but is hoping that programs like NextGen will ease the burden.
"With NextGen, we can reduce NYCHA's deficit by a total of more than $1 billion over the next five years," Olatoye told the Council.
Space to use
The East Harlem housing shortage is exacerbated by vacancy of both city- and privately-owned properties, according to Comptroller Scott Stringer and area organizations.
Stringer and HPD Commissioner Vicki Been traded barbs in February over a comptroller report indicating that, as of September of 2015, HPD owned 1,131 uninhabited lots throughout Manhattan, and chiding the city agency for what Stringer called a lax pace of transference for properties that should be developed into affordable housing. Stringer held a press conference for the report's release outside of an HPD-owned vacant property on East 123 Street, one of over 50 vacant properties the comptroller's office found in East Harlem.
"This vacant lot has been owned by the city since the seventies, collecting garbage, attracting rats, and hurting the proud community of El Barrio," Stringer said at the press conference. "We're in an affordability crisis the likes of which we've never seen – yet our most valuable resource, vacant space, is readily available all across this city."
Stringer was joined at the conference by members of Picture the Homeless, an advocacy organization based on East 126 Street that has long campaigned for turning vacant lots into affordable housing sites.
The organization released its own report in 2012, for which teams of homeless and formerly homeless PTH members and other volunteers scoured Manhattan neighborhoods in search of vacant buildings and lots. They identified 143 empty lots and buildings in East Harlem, and highlighted a block of East 116th Street between Lexington and Park as an example of the problem: nearly half the buildings were empty or boarded up. About 95 percent of all vacant properties surveyed were privately owned.
Commissioner Been's rebuttal, which was included in Stringer's report, emphatically denied the comptroller's findings.
"Your assertion that HPD allows vacant City-owned properties to languish in the face of the affordable housing crisis is simply wrong," Been wrote.
Been went on to clarify that residential development is only feasible on about 670 of the 1,100 properties; the rest are unsuitable due to location in dangerous areas like flood zones, or lack adequate access to public transportation or sewage infrastructure. Of those 670 viable sites, Been wrote, "roughly 400 have been earmarked for developer designation within the next two years."
The remaining sites will either be developed for residential uses within the duration of de Blasio's 10-year housing plan or turned over to the Department of Parks and Recreation for use as community gardens.
An acute homelessness problem
For those who have managed to hold on to housing, the rent - as in the rest of New York City - is going up. East Harlem's median gross rent increased by 53 percent between 2000 and 2013, according to the American Community Survey (ACS) 5-Year Estimates for 2013.
The data combine to paint a bleak picture for low-income residents of El Barrio. As of 2013, over a quarter of East Harlem households were considered in "severe need" by HPD, based on the number of people who are rent burdened, entering homeless shelters, or living in overcrowded apartments.
This grim combination appears to hit East Harlem residents particularly hard, resulting in the worst case scenario for a number of households. According to data from the Association for Neighborhood and Housing Development (ANHD), 306 families entering shelters in 2014 listed East Harlem as their last address - the highest rate of entry to family shelters from any neighborhood in Manhattan.
Jazmin Berges, 32, has been living in Marcus Garvey Park for the past three years. Berges was born and raised in the Bronx, but moved to East Harlem with a partner. When that relationship ended, she was unable to find housing that she could afford.
"Rent is going sky-high in the neighborhood," Berges told Gotham Gazette. "The community is being restructured, small businesses are closing, and people who lose their jobs can't afford their rents."
Berges, who works with Picture the Homeless, believes that rent regulation doesn't go far enough, and emphasized that a community land trust - a not-for-profit entity that acquires and holds property to preserve accessible housing - is the only way to keep permanent affordable housing in East Harlem. "Even low-income housing isn't low-income housing," Berges said.
New land use rules come to East Harlem
It is unsurprising that East Harlem was included on the list of 15 neighborhoods to be rezoned under Mayor de Blasio's affordable housing plan. The plan targets lower-density and low-income areas where demand is or is soon expected to be strong enough to support new development. Over several years, beginning this year with East New York, in Brooklyn, the administration plans to rezone the 15 neighborhoods to allow for more density and neighborhood improvement through more green space, school seats, and transportation infrastructure. The big centerpiece, of course, is housing.
Essentially, the city's plans mandate that any area rezoned to allow greater housing density - neighborhood or individual plot of land - will require significant numbers of affordable units as part of market-rate development.
The New York City Council overwhelmingly voted in favor of the two major components of the plan that the neighborhood rezonings rely on - Mandatory Inclusionary Housing (MIH) and Zoning for Quality and Affordability (ZQA) - on March 22. The passage was a considerable victory for the administration after months of pushback and protest from community boards and advocacy groups, and negotiations with the City Council to modify the plan to include more affordability and a few other tweaks.
According to the plan, which was changed to include more units affordable to lower-income households, MIH requires that developers who build residential units in rezoned areas set aside 20-30% of new units as permanently affordable for households making 40-80% of the Area Median Income, or AMI. Under MIH, there are a variety of options that will be chosen by City Council members, developers, and the mayoral administration. ZQA, which stirred less broad controversy than MIH, focused on changing parking requirements and height limits to encourage more senior affordable housing, improve retail space design, and streetscape planning.
Mayor de Blasio said in a statement after the vote, "New York City is now one step closer to being a city where everyone can work and live," and thanked Speaker Mark-Viverito for her efforts in passing the "landmark legislation."
City Planning Commissioner Carl Weisbrod said at a hearing on MIH in February that the program "will bring new affordable housing to neighborhoods where it otherwise wouldn't be built, and act as a cushion against potential gentrification of communities caused by broad demographic trends we are seeing in so many neighborhoods, simultaneously freeing up city funds to provide even more deeply affordable housing at lower rents where economic need is great."
Some opponents of MIH see a flaw in that what the plan defines as "affordable" does not include the lowest-income residents in what are now largely low-income neighborhoods.
Affordability levels are determined by the area median income of the five boroughs, plus Putnam, Westchester, and Rockland Counties, which comes out to about $77,700 for a three-person household. The AMI for East Harlem is $33,595, or less than half (43%) of the figure that serves as a baseline for affordability calculations.
MIH mandates that a percentage of affordable units built in rezoned neighborhoods must be affordable to households of certain earnings - for example, one option sets aside 20% of units for those earning an average of 40% of AMI, or about $31,00 for a family of three. This is the lowest income band option in MIH, and one that the Council insisted on adding to the de Blasio administration's initial proposal. Households in East Harlem's poorest zip code, 10035, earn an AMI of just $24,000, which critics say puts new affordable units out of reach.
The mayor, the speaker, and HPD Commissioner Vicki Been have stated often that a combination of HPD subsidies and other housing programs will address the gap of affordability for the lowest-income New Yorkers. This is where the neighborhood rezonings also factor in. Mark-Viverito has said repeatedly that she plans to get to 50-50 market rate-affordable for new development in her district.
Community Board 11, which represents East Harlem joined 43 other community boards across the city in voting against de Blasio's proposal on November 23 of last year.
"But in the end," the mayor said at a press conference in November, "the community boards aren't the final decision makers."
READ ON - PAGE 2 of 2 - How East Harlemites are attempting to shape the future of their neighborhood and more