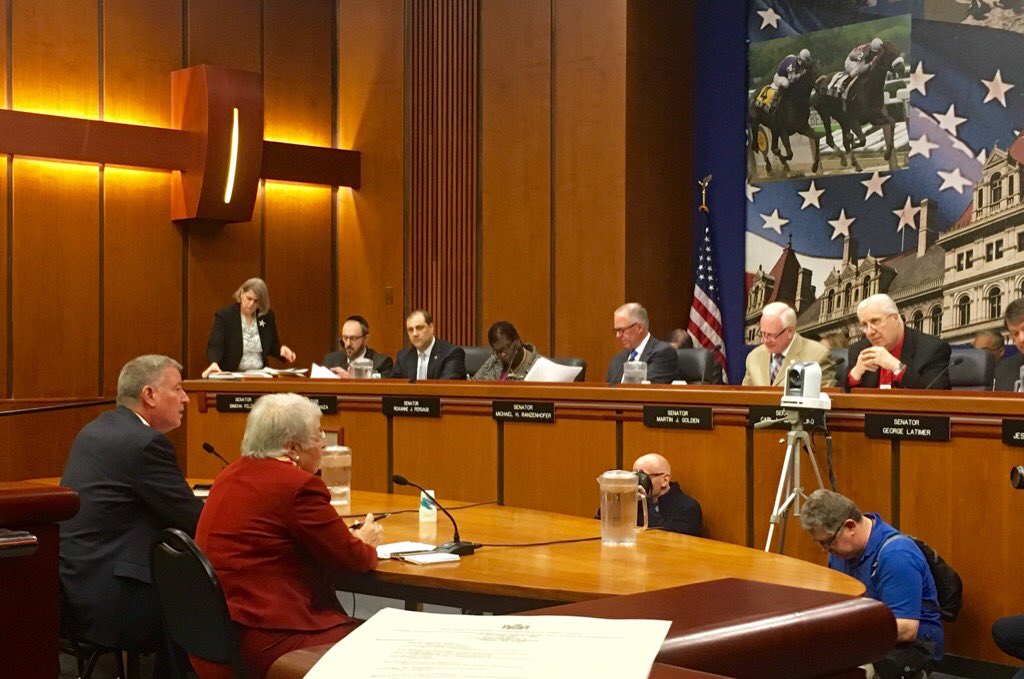 De Blasio testifies in Albany (photo via @KellyCummings)
---
Mayor Bill de Blasio received a generally friendly welcome from Senate Republicans throughout several hours of testimony in Albany on Wednesday during a hearing on mayoral control of city schools. De Blasio was peppered with questions regarding issues such as special education, charter school co-locations, mental health services, and school space, but the issue of mayoral control as a governance structure was addressed head on only in limited doses.
For his part, de Blasio touted gains in graduation rates and test scores, he spoke of the growth of universal pre-kindergarten and community schools and explained new goals around literacy rates and computer science courses. He even pointed to the number of weak teachers let go during his administration. The mayor was flanked by his schools chancellor, Carmen Farina, who often added specifics to bolster the mayor's argument or answer questions from legislators.
The hearing could have come at a better time for the mayor - Senate Republicans have recently seized on news of investigations facing de Blasio around his involvement in 2014 efforts to win the chamber for Democrats. De Blasio has been plagued by a series of investigations by federal, state, and city authorities into his fundraising practices.
Sen. Terrence Murphy was the only Senate Republican to bring up the matter during the hearing. "Why I should vote for mayoral control with all the allegations that are going on in your office?" Murphy asked de Blasio.
De Blasio asked Murphy to consider facts such as a 70 percent graduation rate and other successes, adding, "We don't literally know of any other alternative." De Blasio addressed the allegations saying, "In a democracy, we don't judge by allegations, we judge by facts." Murphy countered that "trust" was still an issue.
De Blasio has served as an electoral boogeyman for Senate Republicans across the state for the last two years, but tensions have heightened in the wake of the investigations and the results of a special election on Long Island where Democrats won the seat that was long held by former Senate Majority Leader Dean Skelos. Bad feelings, largely emanating from de Blasio's involvement in the 2014 election cycle, resulted in a one-year extension of mayoral control last year. De Blasio cried foul pointing out his predecessor, Mayor Michael Bloomberg, was granted a seven-year extension.
This year, Republican Senate Majority Leader John Flanagan insisted mayoral control not be addressed as part of the state budget, an agreement on which was reached March 31, and invited de Blasio to testify at two public hearings. The second will be May 19 in New York City.
The Democratic-controlled Assembly has advocated a seven-year extension, while Gov. Andrew Cuomo has proposed three. At the end of his opening testimony, during which he highlighted his long support for mayoral control of city schools and the bipartisan nature of overall support, de Blasio asked for a seven-year extension.
Wednesday's hearing was more dominated by specific concerns from Democrats about schools in their districts than any hostility from Senate Republicans. Education committee chair Sen. Carl Marcellino led the hearing with little fanfare, asking substantive questions and attempting to keep things focused and moving.
In his preparation for renewal this year de Blasio has referenced his predecessors and support from business groups in an attempt to paint the issue as non-partisan. It was a note he repeatedly hit during Wednesday's hearing.
"We are in lockstep on mayoral control," de Blasio said referring to Mayors Rudy Giuliani and Michael Bloomberg. "It's a system that is superior to what we had before and there is no third way."
Marcellino, a Long Island Republican like Flanagan, who was his predecessor as education chair, began the hearing by bluntly asking de Blasio about his previous stance on mayoral control. "There was point in time you didn't think highly of mayoral control, why did you change your mind?"
De Blasio quickly countered that his voting record demonstrates his support of the system, but said that he had been concerned in the past about parental involvement.
With that out of the way de Blasio delivered prepared testimony where he touted a familiar list of achievements including the city reaching 70 percent graduation rates for first time in its history; the enrollment of 68,000 students in pre-K, and a commitment to new goals and standards. De Blasio repeatedly thanked legislators for their support, specifically pointing to their approval of funding for pre-K.
There were a few moments of drama.
Sen. Simcha Felder of Brooklyn, who is elected as a Democrat but caucuses with Republicans, complained of being ignored by the administration and demanded de Blasio promise to ease the process by which parents of students with special needs are ensured of an appropriate learning environment for their children by the beginning of the next school year. De Blasio commiserated with Felder on the importance of the issue, but declined to make such a broad promise. He did, however, commit to providing Felder with a letter describing what progress the city does intend to make. Felder appeared satisfied by the end of the exchange.
A number of Democrats including Sen. Velmanette Montgomery, a Brooklyn Democrat, appeared to urge de Blasio to distance himself from Bloomberg's legacy on mayoral control but de Blasio declined, saying that he felt there had been "undeniable" progress made under Bloomberg, though he did note he thought recent improvements had been made to parental involvement.
De Blasio spoke carefully on the subject of charter schools, even while being offered several chances to criticize them by Senator Bill Perkins, a Manhattan Democrat who asked a series of charter-related questions. The mayor repeated his recent public opinions on charters by saying that they must enroll a student body representative of their surrounding areas and retain challenging students while also saying that the administration is working well with many charter schools.
Marcellino reminded Perkins that it was a hearing on mayoral control, not charter schools and Perkins explained that charters are a key piece of education policy, having noted that under Mayor Bloomberg charters began to proliferate in his district.
Gov. Cuomo and Senate Republicans have been very supportive of charter schools in the past, while de Blasio has often battled with the most high-profile charter network, Success Academy.
The individuals testifying immediately following de Blasio and Farina were tied to charter schools in various ways. They complained of the mayor's treatment of the schools and expressed support for limiting the renewal of mayoral control. They noted that charter schools are subject to renewal after lengths of terms varying from five, two, or even one year. Testimony was by invitation only. A number of Democratic Senators said they had heard from parent groups that had requested to testify but were denied.
In one of the only direct questions regarding the city's school governance system, Sen. Liz Krueger, a Manhattan Democrat, asked de Blasio what it would mean to have mayoral control renewed on a one-year basis.
"It creates instability," said de Blasio, who added that it impacts larger initiatives to improve schools over a span of years. "It is a disservice to our children if we don't even know what our governance will be in a year. It doesn't allow us to achieve what we need to achieve."
De Blasio and Farina both returned to a theme over their three hours of testimony that they haven't been presented with an actual alternative to mayoral control. "To what end," de Blasio asked of frequent debates over the system. "If there was an alternative on the table that is better I would debate it any day."
Krueger suggested that perhaps the Legislature shouldn't meddle in city school issues given that a lot of the issues discussed during the hearings including co-location and school space required hyper-local knowledge. "There are certain roles for the state Legislature that are important, there are others that we have to leave alone," said Krueger.
De Blasio appeared to distance himself from that assertion. "We should be in regular dialogue," he said. "There should be a partnership. We honor that fact and we want to be in regular communication about how we do things together."
The mayor took a firm, but collaborative and deferential tone for most of the hearing, appearing to understand his audience and its power. He also surely knows, though, that Gov. Cuomo will have a lot of influence over the fate of mayoral control when the governor and legislative leaders negotiate any policy between now and the end of the session in June.