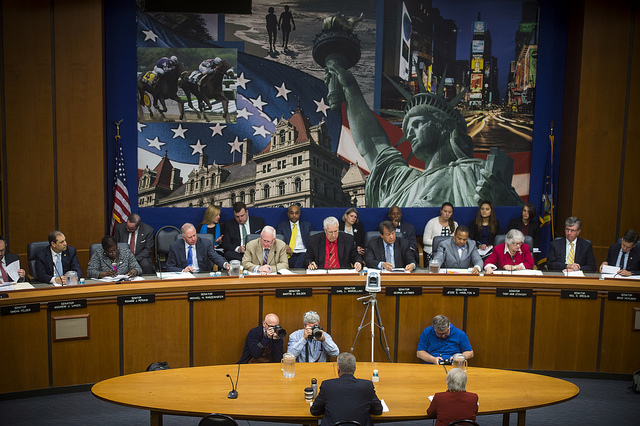 De Blasio testifying in Albany (photo: Demetrius Freeman/Mayor's Office)
---
It was supposed to be the grilling to end all grillings: Mayor Bill de Blasio seated at a small table, staring up at glowering Republican state Senators carrying major grudges for his work to oust them from power in the 2014 elections, all carrying the fate of his ability to enact education policy in the palm of their hands. That wasn't what took place.
The May 4 hearing in Albany on mayoral control of city schools featured four hours of meandering questioning, polite responses, and a generally cordial atmosphere. There was no major comeuppance despite one seemingly scripted attempt by Republican Sen. Terrence Murphy to chide de Blasio for the investigations he currently faces. Murphy's staff quickly blasted out a press release about how he had challenged the mayor.
It was surprising to many who had witnessed the hearing when, the day after, Republican Senate Majority Leader John Flanagan issued a statement blasting the mayor's testimony and calling his competence into question. "Too often, the mayor showed a disturbing lack of personal knowledge about the city schools. In addition, he has left too many unanswered questions and failed to provide specifics on many of the issues raised by my colleagues on both sides of the aisle," Flanagan said in a statement. "Until that occurs, I will not entrust this mayor with the awesome responsibility of operating the New York City school system."
Flanagan's statement on the hearing convinced many Democrats and education advocates that the two May hearings on mayoral control are politically motivated. The de Blasio administration - represented by schools Chancellor Carmen Fariña, but not the mayor - is scheduled to testify again during a hearing in Manhattan on Thursday. Flanagan released a statement Wednesday morning criticizing the mayor for the decision not to testify: "I am extremely disappointed the Mayor doesn't believe this hearing is significant enough to attend," he said. "With the future of mayoral control at stake, Mayor de Blasio has left too many unanswered questions about his stewardship of the New York City school system."
The mayor was granted just a one-year extension of mayoral control last year. His predecessor, Michael Bloomberg, was the first to be given mayoral control by the state - which provided an original term of seven years in 2002, followed by a six year extension that was due to expire last year.
Testimony for both of this month's hearings has been "by invitation only" and according to a number of parents, education groups, and Senate Democrats several parents have been told they will not be allowed to testify and instead can submit written testimony. Senate Republicans released a list of those who will testify on Thursday - like the first hearing, it is heavy on charter school supporters and others in the education reform community.
On Tuesday, the Assembly passed a three-year extension of mayoral control. The Democratic Assembly Majority had previously supported a seven-year extension. De Blasio issued a statement thanking the Assembly.
"Along with a bipartisan coalition of New Yorkers, we refuse to subject more than one million schoolchildren to the dysfunction and chaos of the old system," de Blasio's statement reads. "We once again urge swift approval by the entire legislature of this proven governance structure."
The three-year extension is seen by many as a concession to Senate Republicans. Some Democrats privately worry that Senate Republicans will push for another single-year extension - something Gov. Andrew Cuomo, locked in an ongoing feud with de Blasio, would likely support, as he did last year.
"I was very surprised to hear Senator Flanagan's assessment of the mayor's testimony mainly because he didn't attend the hearing," said Sen. Brad Hoylman, a Democrat from Manhattan, who questioned the mayor at the hearing. "I thought the mayor was on point, answered directly, and seemed to have command of the issues. I was gratified following the hearing that some of my Republicans colleagues agreed."
Hoylman said Flanagan's statement, "made it pretty obvious this has little to do with the well-being of 1.1 million public school kids and has become a proverbial political football."
Sen. Liz Krueger, also a Manhattan Democrat, expressed a similar take on Flanagan's statement. Saying it "did not seem to reflect my observations at the hearing, nor my discussions with senators in attendance. I think there was general agreement between Democrats and Republicans that the mayor and his team did an excellent job answering questions. And they all supported mayoral control."
De Blasio was flanked in Albany by city Schools Chancellor Carmen Farina, who will be at the center of attention on Thursday, as well as aides.
Republican Sen. Carl Marcellino, the education committee chair who oversaw the hearings in a steady fashion, did not return requests for comment; neither did Flanagan's office.
Hoylman said he has yet to decide whether he will attend the next hearing, saying he has concerns they are a "kangaroo court."
Krueger expressed her concerns about the process by which people were invited to testify. She and Hoylman said they had heard from parents and parent groups who were told they could not testify in person and were asked to submit testimony.
"I hope that the people who testify at round two of the hearing represent parents, teachers, principals and local elected officials," said Krueger. "They were not heard in Albany at Round 1." After de Blasio and Farina, many of the speakers at the first hearing were tied to charter schools, which are largely supported by Senate Republicans. De Blasio has been the target of protests and campaigns by charter groups because he has not been a supporter of charter schools and sought to limit their growth.
Shino Tanikawa, president of Community Education Council District 2, said she has made multiple attempts to testify as a parent at the upcoming hearing, contacting Marcellino's office as well as a number of other legislators. She said the last communication was from Marcellino's office telling her she could submit written testimony. She's given up on testifying in person.
Tanikawa said she has been put off by the entire process. "The Albany hearing was very skewed because you had quite a few people in support of charter schools," said Tanikawa. "I don't think there were any parents at the hearing. This next one seems pretty opaque, all we know is there is a hearing. We don't know who is testifying or how long it's going to last." (One of the charter school supporters who testified in Albany is a parent who also helps lead a pro-charter group.)
Tanikawa wondered why the hearing isn't held in the fashion of the City Council where testimony is open to the public and those who sign up to testify do so under a specified time limit.
Leonie Haimson, executive director of Class Size Matters, will be testifying at Thursday's hearing, but she is also disheartened by the process. "I'm very concerned that this has turned into a political football," Haimson told Gotham Gazette of mayoral control of schools. "Many parents were against mayoral control under Bloomberg and they still are against it now under Bill de Blasio. This is about a system, but the Legislature seems to change their minds depending on who's in office. They don't care that it leads to irrational policy and unwise spending."
Haimson was not impressed with the level of questioning at the first hearing, saying it was tangential and without much substance. "I don't think Albany has much to say about New York City's schools. They should stay out of it. It would be better if it were up to the [City] Council, people who serve closer to the people. There is no reason this decision should be made upstate."
On Wednesday afternoon, de Blasio will lead a press conference at City Hall with business leaders who support an extension of mayoral control.
Sen. Hoylman said that although he is appreciative that the Senate is actually holding a hearing on an important legislative issue he is concerned these hearings are being used as political leverage.
"I think it is the height of hypocrisy that they authorized the previous mayor twice because of an increase in test scores and graduation rates and that's exactly seen under Mayor de Blasio's tenure. This is clearly an application of a double standard and I wouldn't be so upset if I wasn't a city resident with a five-year-old in public school myself. The fact that we have non-New York city legislators without kids deciding who is overseeing this system makes no sense. Hearing from parents in the system is crucial to understanding its efficacy."
Note: this story has been updated with news that de Blasio will not be testifying at Thursday's hearing and with comment from Sen. Flanagan.