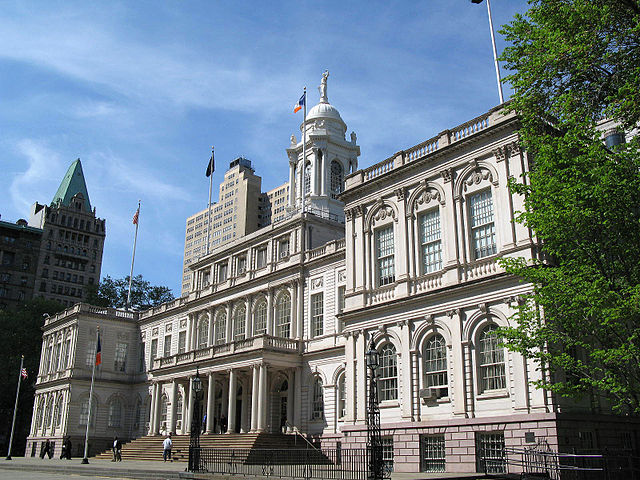 New York City Hall
---
What to watch for this week in New York politics:
This week will continue to see dissection of the end of the state government legislative session, which wrapped in the very late hours Friday night, or Saturday morning, with a flurry of activity and major deals on a variety of issues. Session was extended a day-plus and, as is usually the case, lawmakers voted through bills that they, like the larger public, had not properly reviewed. There was a fairly minor set of "ethics" changes agreed to by Gov. Andrew Cuomo and legislative leaders; this year's large set of divergent proposals known as the "big ugly" that included another one-year extension of mayoral control of New York City schools; and several other decisions, including the last-minute passage of legislation to legalize and regulate daily fantasy sports. [Read our full initial report on the end of session here.]
In a five-point ethics package, deals were reached to further regulate independent expenditure committees and political nonprofit advocacy groups; to require more disclosure from political consultants; and to begin the four-stage process of eliminating pensions for officeholders convicted of corruption. Other than the pension forfeiture move, the package is not aimed at preventing the kind of corruption that has led to dozens of state legislators removed from office over the last decade. Most of the ethics and campaign finance proposals Gov. Andrew Cuomo outlined in his January State of the State address were not accomplished, including the especially high-profile issues of public campaign financing; closing the LLC loophole; and limiting legislators' outside income. [Read more.]
Meanwhile, in New York City, Mayor Bill de Blasio and his administration will surely be asked to react in more depth to the end of session in Albany - de Blasio put out a statement on Saturday that thanked Assembly Speaker Carl Heastie for his partnership, touted the renewal of mayoral control as proof it is the right system (though said one-year extensions are no way to do it), and expressed disappointment in the limited funding allocated toward affordable and supportive housing, among other points.
While the state Legislature is now off for the rest of the year - most legislators will tend to district business and run for re-election this fall - the City Council continues its post-budget business this week with several hearings, including voting through legislation to make feminine hygiene products more available at schools, shelters, and prisons. Details of the Council's week below.
It's also crunch time in this year's New York congressional races. We are about one week from the June 28 primary election day for all of New York's seats in the House of Representatives where there are primaries. In New York City, all eyes are on the race to replace Rep. Charles Rangel. There's another debate among the candidates in the 13th Congressional District on Monday evening - see details below.
Neither Mayor de Blasio nor Gov. Cuomo has a public event scheduled for Monday, but as always, there are many events to be aware of this week -- see our day-by-day rundown below.
***Do you have events or topics for us to include in an upcoming Week Ahead in New York Politics?
e-mail Gotham Gazette editor Ben Max: This email address is being protected from spambots. You need JavaScript enabled to view it.***
The run of the week in detail:
Monday
At the City Council on Monday:
At 10 a.m., the Committee on Small Business will meet to discuss a bill that would help curtail harassment of small business owners and other non-residential tenants and provide a course of action for victims of this type of harassment.
At 11 a.m., the Committee on Housing and Buildings will meet to revisit a bill that would require single-occupant toilet rooms to be usable by persons of any gender.
At 1 p.m., the Committee on Women's Issues will meet to discuss three bills that would require feminine hygiene products to be provided in public schools, prisons and shelters.
At 1:30 p.m., the Committee on Sanitation and Solid Waste Management will meet to propose a bill that would extend the effective date of Local Law 63, which imposes a minimum fee of five cents for plastic or paper bags at retail and grocery stores.
Starting at 2 p.m. Monday, the Rent Guidelines Board will hold a meeting to discuss proposed rent guidelines for October 1st, 2016 through September 30th, 2017. The public may submit their comments on the new rules through the RGB website, email, or by registering to speak at any meeting (there is also one Tuesday this week before the RGB votes on Monday June 27).
Monday at 4 p.m. at PS 71 in Queens, schools Chancellor Carmen Fariña "will attend the opening of a play space for students with disabilities."
On Monday at 5 p.m. in Dyker Heights, Brooklyn: "On the eve of the introduction of their aggravated illegal conversion bill, Councilman Vincent Gentile (D-Brooklyn) and Brooklyn Borough President Eric Adams will hold a press conference...nearby an alleged aggravated illegal conversion site. This legislation, LS 4115, co-sponsored by Chair of the Committee on Housing and Buildings, Council Member Jumaane Williams (D-Brooklyn) as well as Council Member Barry Grodenchik (D-Queens), would establish the immediately hazardous DOB violation of Aggravated Illegal Conversions — defined as three or more illegal dwelling units being created within one structure."
At 7 p.m. Monday, candidates for New York's 13th Congressional District will debate at Hostos Community College as they vie to replace retiring Rep. Charles Rangel. The debate will be televised live on NY1 and moderated by Errol Louis, with a panel of other questioners, and co-sponsored by City & State NY and Latino Leadership Institute. Participating candidates include seven Democrats - the primary vote is June 28.
Tuesday
Tuesday is the last day to postmark an absentee ballot application to vote in the June 28 Federal Primary Election (one week away!). Offices up for election on the ballot include members of the U.S. Senate and House of Representatives. Information on absentee voting is available on the Board of Elections website.
On Tuesday at 10 a.m. outside City Hall, City Council Member Julissa Ferreras-Copeland, Council Speaker Melissa Mark-Viverito, Assembly Member Linda Rosenthal, the Council's Women's Caucus, leading elected officials, women's issues advocates and students will rally in celebration of the fact that the City Council will "pass a package of legislation that will make New York City the first city in the nation to proactively guarantee access to menstrual hygiene products. The package of three menstrual equity bills will make pads and tampons free and readily available to tens of thousands of New Yorkers at public schools, homeless shelters and Department of Correction jails."
At the City Council on Tuesday:
At 10 a.m., the Committee on Cultural Affairs, Libraries and International Intergroup Relations will meet to discuss a Resolution to "establish October 9th annually as Haitian Day in recognition of the historic contributions of Haitians to the United States of America".
At 10:30 a.m., the Committee on Rules, Privileges and Elections will continue a June 15 recessed meeting considering the appointment of Rosanna Vargas to the city Board of Elections and two new members to the Civil Service Commission.
At 11 a.m., the Committee on Finance will meet.
At 1:30 p.m., the City Council will hold a Stated Meeting. It is expected to be prefaced by the Speaker's pre-stated press conference.
At a mid-day event on Tuesday, The Manhattan Institute will host a book forum for MI Fellow Heather Mac Donald, whose new book, "The War on Cops," is being released.
On Tuesday at 1 p.m. at City Hall, "New Yorkers Against Gun Violence will be releasing its 2016 rankings for members of the NY State Assembly and Senate. The rankings are based on the legislators' votes on gun bills since January, 2013, including the NY SAFE Act, efforts to repeal the SAFE Act, and Nicholas's Law." Public Advocate Letitia James and City Council Member Jumaane Williams will participate.
At 5 p.m., the Rent Guidelines Board will hold another meeting to continue discussion on proposed rent guidelines. A final vote on the guidelines will take place on June 27 at the RGB's last meeting of the year.
Wednesday
At 9 a.m., the NYC Food Policy Center will host "Hunts Point Terminal: The Inner Workings of NYC's Food Supplier." Speakers will include Myra Gordon, Executive Admin Director of Hunts Point Produce Market, and moderator Dr. Charles Platkin, professor at Hunter College and leading public health advocate.
At the City Council on Wednesday:
At 10 a.m., the Committee on Housing and Buildings will meet to discuss multiple bills that would conform the city energy code to match updated state standards.
At 1 p.m., the Committee on Civil Service and Labor will meet.
Also at 1 p.m., the Committee on Aging will meet to discuss several resolutions amending the Senior Citizen Rent Increase Exemption (SCRIE) program as well as a bill that would transfer administration of the program solely to the Department of Finance.
At 6 p.m. Wednesday, the Panel for Education Policy will meet at M.S. 131. On the agenda are the "approval of proposals for significant changes in school utilization," mainly the opening and co-location of two new charter schools, and approval of this year's annual estimated budget allocation to support DOE operations.
Thursday
At the City Council on Thursday:
At 10 a.m., the Committee on Public Housing will meet on several bills that would expand employment programs offered to public housing residents and require agencies such as the New York City Housing Authority to publish annual reports on the success of these programs. [Read Gotham Gazette's previous coverage on the bills.]
Also at 10 a.m., the Committee on Transportation will meet.
At 1 p.m., the Committee on Land Use will hold an oversight hearing on privately owned public spaces.
Also at 1 p.m., the Committee on Mental Health, Developmental Disability, Alcoholism, Substance Abuse and Disability Services, jointly with the Committee on Courts and Legal Services, will hold an oversight hearing to examine court accessibility in New York City.
At 2 p.m. Thursday, the Department of Consumer Affairs will host an Open House Training series on the city's Commuter Benefits Law. The training will ensure employers understand their responsibilities under the new Law, which took effect on January 1, 2016.
At 6 p.m., Public Advocate Letitia James will host a screening of "Making a Killing: Guns, Greed and the NRA" at Old First Reformed Church in honor of Gun Violence Awareness Month.
At 6:30 p.m. Thursday in Brooklyn, City Council Member Rafael Espinal, the city Department of Housing Preservation and Development, and partners will host a Community Visioning Workshop. Brooklyn Borough President Eric Adams and other elected officials will attend to hear ideas on the development of affordable housing and neighborhood amenities on the Dinsmore-Chesnut site.
At 7 p.m., Open Society Foundations will present "Talking About Race: Confronting the New Wave of Islamophobia." The forum will explore the rise in anti-immigrant and anti-Muslim sentiment as it coincides with this year's elections. Amardeep Singh, program officer for the Open Society National Security and Human Rights Campaign, will act as moderator.
Friday and the weekend
Mayor de Blasio has registered for the 84th Annual Meeting of the U.S. Conference of Mayors, which begins Friday in Indianapolis. It is not immediately clear which day(s) the mayor will attend. Hillary Clinton will address the conference on Sunday afternoon.
On Saturday at 10 a.m., at the Sugar Hill Children's' Museum, Manhattan Community Board 9 and Manhattan Borough President Gale Brewer will present the first annual Schools and Teaching Artist Expo. The expo is designed to teach artists how to secure employment in the New York City School System. Teaching artists who attend will have the chance to present their programming before a panel of school principals and hiring agents.
On Saturday at 11 a.m., Bronx Community Board 9 and Borough President Ruben Diaz Jr. will host their second annual Health and Wellness Fair. The event will feature free screenings and health information.
***
Have events or topics for us to include in an upcoming Week Ahead in New York Politics? E-mail Gotham Gazette executive editor Ben Max any time: This email address is being protected from spambots. You need JavaScript enabled to view it. (please use "For Week Ahead" as email subject).
***
by Amanda Sherwin and Ben Max
@GothamGazette