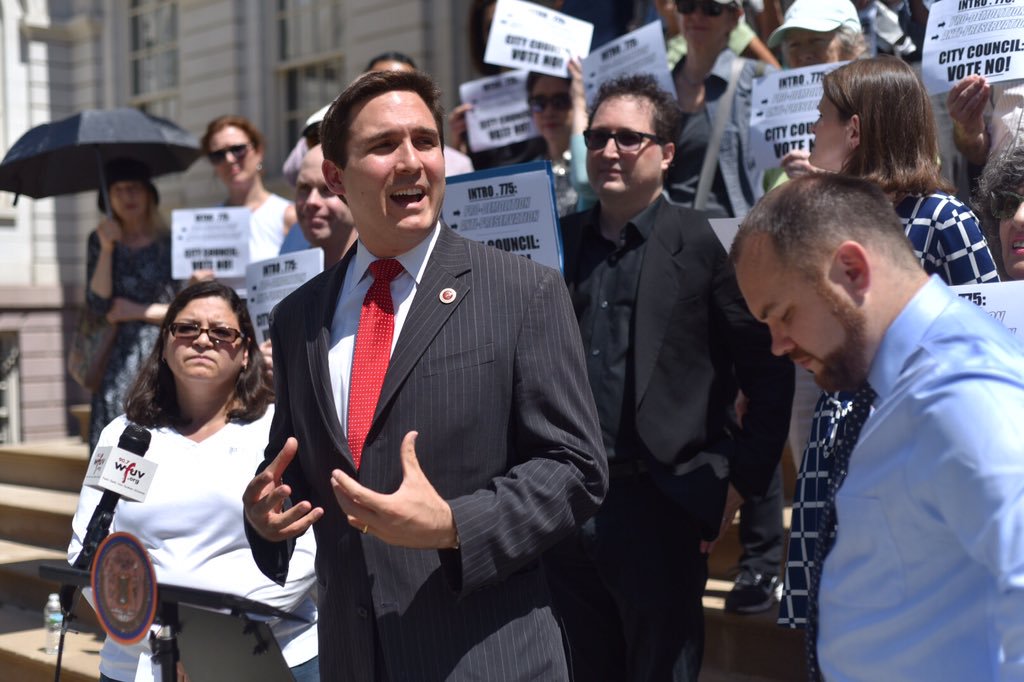 Council Member Ben Kallos (photo: John McCarten for the City Council)
---
At least three City Council members have made requests to the Council's bill drafting unit to formulate legislation that would regulate political participation by and with "social welfare" nonprofit organizations. These are political advocacy, or lobbying, groups, which have been the subject of intense scrutiny in New York City of late due to the Campaign for One New York, a political nonprofit established by allies of Mayor Bill de Blasio.
The bills currently being drafted in the Council would increase disclosure requirements for political nonprofits and reclassify the groups under the jurisdiction of the city's Campaign Finance Board and its rules around donation limits, including by entities with city business.
"Social welfare" or political nonprofits, designated 501(c)(4)s by the Internal Revenue Service, are issue advocacy groups that have been around for decades, but their heavy involvement and influence in electoral politics has been a more recent phenomenon, following the U.S. Supreme Court's 2012 decision in the Citizens United case. In that judgement, the Court recognized unions and corporations as individuals whose political expenditures are a form of free speech protected by the First Amendment. That opened the floodgates to massive independent expenditures in political campaigns and also allowed political nonprofits that advocate, or lobby, on issues to use the unlimited fundraising at their disposal for political means, as long as politics is not their main focus. These groups are tax-exempt and are not required to disclose their donors - thus, their expenditures are often referred to as "dark money."
Separate from promoting or attacking a candidate for office, these groups also lobby government on any number of issues or agendas.
When allies of de Blasio established the Campaign for One New York to push his progressive agenda it did not take long before questions were swirling around the major donations being given to the group by labor unions, real estate developers, and others with city business. The group's fundraising activities, the mayor's involvement, and whether government action was offered or given in exchange for donations to the Campaign for One New York are currently under federal and state investigation. Earlier this year, de Blasio announced that the organization was shutting down - he declared that it had done its job given his administration's successes around pre-kindergarten and affordable housing policy.
A separate probe by the city's Campaign Finance Board concluded in July, where the board found that the nonprofit and the mayor had not acted illegally, but criticized the mayor for exploiting loopholes in the campaign finance law. De Blasio has maintained throughout that he and the group followed the letter of the law, while also willingly disclosing donors and expenditures, which is not currently required.
The mayor's deep connection with the group and its donors, including big moneyed interests with business before the city, have created impressions of a pay-to-play culture at City Hall and led to calls for closer monitoring of such organizations. Certain City Council members are taking up this charge.
Council Members Ben Kallos, Rory Lancman, and Elizabeth Crowley - all Democrats like de Blasio - have each submitted a request that legislation be crafted around regulating 501(c)(4) nonprofits. Kallos' bill drafting request is "on point" with a recent proposal made by Citizens Union, a government reform group. That proposal would require that 501(c)(4) and 501(c)(3) organizations created at the behest of elected officials to promote their own image or agenda be treated like political committees under the city's campaign finance laws. This would entail detailed disclosure of contributions and expenditures, limits on contributions similar to those for political candidates, and oversight by the Campaign Finance Board.
"Anytime you've got elected officials whose political campaigns are limited in the money they can raise affiliated with 501(c)(4)s that engage in quasi-electoral activities that don't have the same limits, that is a place we should be paying attention," Kallos said in a phone interview. Kallos chairs the Council's Committee on Governmental Operations, where the bills would likely be introduced and heard.
Council Member Lancman's request was along similar lines. He has suggested that 501(c)(4)s face contribution restrictions similar to those imposed on political campaigns, which would also limit the amount of money donated by entities that have business before the city. For instance, in a citywide campaign, an individual can currently make a maximum contribution of $4,950 while an individual with business before the city can only give $400. A citywide candidate can also not accept contributions from corporations, partnerships, or Limited Liability Companies. Under Lancman's proposal, these limits would apply to 501(c)(4)s as well. He called his proposal a "direct response to the mayor distorting the political process and undermining the campaign finance law."
"The mayor's transformation of this loophole into a gaping hole in the campaign finance system is probably unique," Lancman said in an interview. "To the extent that any other elected would think of [skirting] the campaign finance law by setting up an issue advocacy organization that is for all intents and purposes an extension of the CFB-limited campaign committee, this would be a deterrence."
The third proposal, Council Member Crowley's, would prohibit candidates who participate in the CFB's public matching funds program from fundraising for 501(c)(4)s established for lobbying purposes. "It's important the city look at multiple approaches to ensure that candidates who participate in the Campaign Finance Board's matching funds program run a fair race," Crowley said in a statement to Gotham Gazette. "This legislation would work to prevent the influence of unregulated money used by an elected official or candidate for office to push their own political agenda and prevent an unfair advantage."
The progress of the Council members' bill requests is currently unclear. Both Kallos and Lancman separately indicated that their proposals may conflict with others and that they were unsure of who would finally introduce legislation. While the Campaign for One New York is closing down and appears to no longer be soliciting or accepting donations, the 2017 city election cycle is about to truly take off.
Asked about the status of the bill requests and if City Council Speaker Melissa Mark-Viverito had comment on the proposals, spokesperson Eric Koch emailed, "We're going through our normal legislative process."
Note: this story has been updated with comment from Council Member Elizabeth Crowley.
Note: Gotham Gazette is an independent publication of Citizens Union Foundation, sister organization of Citizens Union.