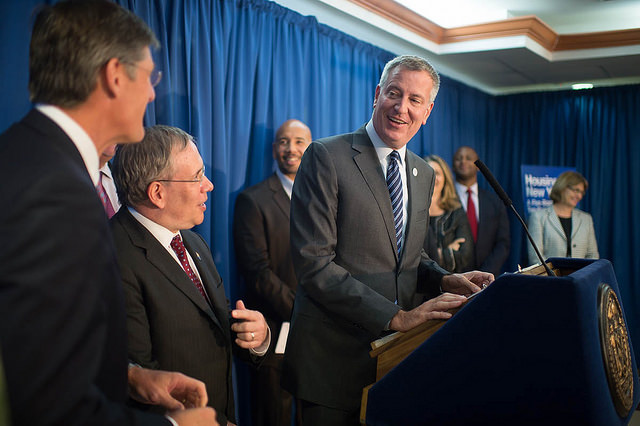 De Blasio & Stringer in 2014 (photo: Rob Bennett/Mayor's Office)
---
There's overlap in those who have bundled campaign donations for Mayor Bill de Blasio and Comptroller Scott Stringer, a review of campaign finance documents shows.
According to records from the New York City Campaign Finance Board, through the most recent filing period for the 2017 city election cycle, six individuals have bundled donations for both de Blasio and Stringer. Bundling involves collecting money from different parties and delivering it together to a campaign.
The six overlapping bundlers for de Blasio and Stringer are employed by six major legal, lobbying, and real estate firms, most of which have city business or clients with city business: Brown & Weinraub PLLC; Brown Harris Stevens; Capalino & Company; Connelly McLaughlin & Woloz; Greenberg Traurig; and Rudin Management Company.
Additionally, there are two other examples of firms -- Abrams Fensterman and MacAndrews & Forbes -- where a set of two employees has one de Blasio bundler and one Stringer bundler.
Bundlers at large firms often gather contributions from colleagues at their firms, typically through fundraising events. High-powered individuals and firms are known to donate to high-powered politicians, so the firm names are not surprising, nor is the fact that the entities involved are helping raise money for both de Blasio and Stringer, despite the rivalry between the two Democrats. Stringer is considering whether to run for re-election as comptroller or to challenge de Blasio.
"There are people who donate to civic causes, to political campaigns, just as a group of people who donate, and you turn to those people," de Blasio said at a recent press conference when he was asked about donors to his now-defunct nonprofit, the Campaign for One New York, which took in hundreds of thousands of dollars from entities with city business. "That has nothing to do with how you make decisions about their interests," de Blasio added.
While the mayor was discussing the Campaign for One New York, not his re-election campaign, his comment does apply to campaign fundraising, where many of the same names come up time and again.
The bundlers and their bundled donations mentioned here are for 2017 campaign accounts, from January 2014 through the filing period ending July 11, 2016. The next Campaign Finance Board filing deadline is January 17 -- these filings, the first of the city election year, will shed additional light on donors and bundlers to de Blasio, Stringer, and many other municipal candidates.
Seven of the ten individuals involved in the aforementioned bundling for de Blasio and Stringer through July also show up in the city's "Doing Business" portal, which tracks entities that have city business or clients with city business. The city's campaign finance law limits donations from those with city business to just $400 per candidate campaign, but their bundling of money from other donors is not limited.
Until de Blasio recently signed a new regulation into law, money bundled by those with city business was eligible for public matching funds through the city's campaign finance system. Those bundled donations are no longer eligible for matching funds, whereby the city matches the first $175 of donations six-to-one, up to a certain threshold. The system is meant to encourage candidates to seek small contributions from entities that don't have city business.
The bundling for both de Blasio and Stringer and doing-business classification applies to David Fensterman and Frank Carone of the law firm Abrams Fensterman: Fensterman bundled $9,900 for de Blasio and Carone bundled $4,900 for Stringer.
Other overlapping bundlers on the doing-business list include James Capalino of government relations firm Capalino & Company, bundled $44,940 for de Blasio and $16,800 for Stringer; David Weinraub of the law firm Brown & Weinraub PLLC bundled $2,100 for de Blasio and $7,000 for Stringer; Michael Woloz of Connelly, Mclaughlin & Woloz PR, bundled $16,650 for de Blasio and $4,950 for Stringer; Edward Wallace of the law firm Greenberg Traurig bundled $13,150 for de Blasio and $12,300 for Stringer; and, William Rudin of the real estate firm Rudin Management, bundled $25,150 for de Blasio and $9,900 for Stringer.
The overlapping bundlers without doing-business classification include William Zeckendorf of the real estate firm Brown Harris Stevens, who bundled $2,800 for de Blasio and $23,400 for Stringer. And in another pairing of bundlers at the same firm, MacAndrews and Forbes, Chris Taylor bundled $29,7000 for de Blasio and Danya Perry bundled $4,750 for Stringer.
Overall, through July 11, 2016 Stringer received the most campaign cash through all bundlers (not just overlapping bundlers): $573,153 to de Blasio's $499,520. Through that filing, de Blasio does have more total contributions: $2,307,523.45 to Stringer's $1,713,866.89. The next filing is expected to be quite large, especially for de Blasio, as campaign season continues to ramp up and the city primaries are just nine months away.
While Stringer is weighing a mayoral run, he's in part wating to see what comes of the two grand juries reportedly considering evidence against de Blasio associates, in part related to fundraising activities, though not for de Blasio's electoral campaigns. While things could easily change, at this point many people are still expecting Stringer to run for re-election as comptroller.
Frank Carone, of Abrams Fensterman, and his colleague, Howard Fensterman, are among the people with that hunch, and it suits them, Carone told Gotham Gazette. Carone bundled $4,900 for Stringer in 2015, and Fensterman bundled $9,900 for de Blasio in late 2015 and early 2016. Reached by phone, Carone was quick to clarify where his and Fensterman's mayoral loyalties lie: "At this point, we're supporting exclusively for mayor, Mayor de Blasio, both Howard and myself. And we'll continue that, and we'll also support Scott for comptroller."
When asked about the tension some bundlers might find themselves in if Stringer runs for mayor, Carone said, "You really have to follow your heart to tell you what's best for the city. Hopefully everyone acts that way. It's just like sports or anything else, it's OK for a bit of competition."
Carone also explained where some of his support for de Blasio stems from, saying that the two have "been active in Brooklyn politics for a very long time…[de Blasio] has been to my family functions and we've socialized outside of politics."
Other bundlers also have personal relationships and friendships with the two candidates -- both de Blasio and Stringer are long-time New York City politicians. Many of the bundlers, no matter how close to de Blasio or Stringer, also have the motivation of their businesses and the importance of having good relationships with powerful figures and those close to them. Requests for comments from other bundlers were either not returned or comment was not provided.
According to Bill Cunningham, the managing director of DKC Public Relations and a former communications director for Mayor Michael Bloomberg, the bundling overlap for Stringer and de Blasio is likely routine fundraising for a city election cycle. Cunningham pointed out that "many people that contribute to mayors also contribute to comptroller. Because those are the two citywide offices that actually have fairly substantive workloads."
The crossover bundlers to de Blasio and Stringer do a variety of kinds of business. For example, both de Blasio and Stringer received bundled donations in 2015 from James Capalino of the government relations firm Capalino & Company, which has represented high-profile clients like Airbnb and Uber. Capalino has become the city's top-earning lobbyist since de Blasio took office -- the two are longtime associates. Connelly Mclaughlin & Woloz provide similar services for major city sectors and trade unions. Abrams Fensterman, Brown & Weinraub, and Greenberg Traurig have all represented either the New York City government or clients who have interests in what the government oversees, like zoning laws and industry regulations.
Rudin Management, which is involved in many transactions and projects, is developing a 675,000 square feet of working space in the Brooklyn Navy Yard along with Boston Properties and WeWork. (WeWork also bundled $68,750 for de Blasio's campaign - but none for Stringer's so far - and de Blasio's campaign has spent $15,900 so far on rented campaign office space from WeWork.)
Kenneth Sherrill, professor emeritus of Political Science at CUNY, said that many big funders like to "hedge their bets" with incumbent candidates. Sherrill did note that Letitia James, the public advocate, has not had quite the same machine rallying behind her campaign -- James has repeatedly indicated she is running for re-election and has been a steady de Blasio ally, unlike Stringer.
James, who is a virtual lock for re-election, has raised $71,800 from bundlers for her campaign through July. Sherrill did point out that the "public advocate has less power than the mayor or the comptroller," and donors may not be as compelled to raise funds for a candidate who doesn't offer quite as much government access.
There are no overlaps between major bundlers for de Blasio and any other candidate who has announced their candidacy for mayor. In fact, no other announced mayoral candidate has received funding through bundlers (again, through July 11).
Both Bronx Borough President Ruben Diaz Jr. and City Council Speaker Melissa Mark-Viverito -- each of whom has a 2017 campaign account but has not declared an office -- have received campaign money through bundlers. Mark-Viverito, a de Blasio ally who is term-limited out of office at the end of 2017, has also reportedly hinted at running if de Blasio does not to seek re-election for whatever reason. Diaz Jr. can run for reelection to his current position, but, like Stringer, has been a vocal de Blasio critic and rumored mayoral candidate. The law and government lobbying firm firm Davidoff, Hutcher, and Citron is the only firm that employs bundlers for all three candidates; law partner Sid Davidoff bundled $18,400 for de Blasio, and attorney Arthur Goldstein bundled $7,100 for Mark-Viverito, and $1,500 for Diaz Jr.
Fundraising numbers reported in January will add to the 2017 picture significantly. It will also give further indication of how much preparation and flexibility certain candidates and potential candidates have.
"Having money in the bank in case you decide to run for something is good," said Cunningham, of DKC. "But [Mark-Viverito] doesn't have to decide to run for mayor. If Stringer decides to run against the mayor in a primary, she can opt to run for Comptroller. If [Letitia] James decides to run for another office, Melissa could run for Public Advocate. Or she could not run for anything. But having money in the bank, even if it's not the same amount that the mayor has, allows you to think through all of those possibilities."