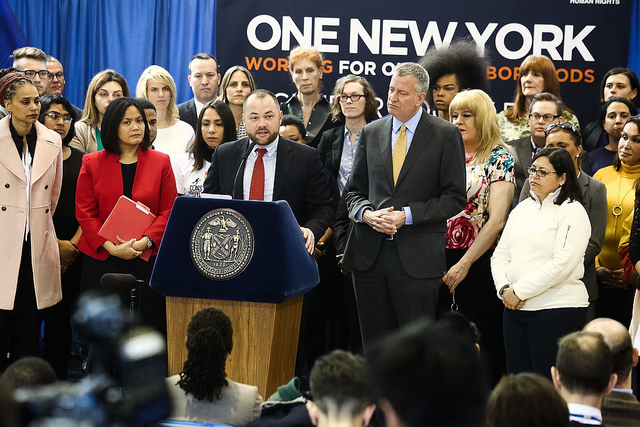 Council Member Corey Johnson (photo: William Alatriste)
---
City Council Member Corey Johnson, a top contender to become the next Speaker of the City Council, will chair a fundraiser for Mayor Bill de Blasio's reelection campaign on Wednesday evening.
Johnson, a Manhattan Democrat, has not publicly endorsed the mayor for reelection. Still, he is listed as one of four chairs for the fundraising event being held at the Ronald Feldman Gallery in Lower Manhattan. The event, dubbed "Cocktails in support of Mayor de Blasio" on a campaign webpage, will be headlined by Hollywood stars Mark Ruffalo and Steve Buscemi. The two actors have lent their celebrity to the mayor's fundraising, soliciting small-dollar donations in email blasts sent out by the campaign.
The other three chairs of the event include prominent trial lawyer Nick Gravante, and Anne Hess and Craig Kaplan, a married couple who have supported Democratic candidates in the past, including U.S. Senator Elizabeth Warren of Massachusetts and New York State Senator Liz Krueger. Wednesday's event comes ahead of a midnight deadline for the campaign to raise any new money ahead of an upcoming filing deadline with the New York City Campaign Finance Board. The CFB will then vet the contributions to provide public matching funds for qualifying donations.
Johnson, who chairs the Council's health committee, represents Council District 3, which includes all or parts of Chelsea, Hell's Kitchen, the West Village and parts of SoHo, the Flatiron district and the Upper West Side. He has been complimentary of de Blasio in public appearances like press conferences and bill-signings, and worked closely with de Blasio, the mayor's team, and the NYPD in the aftermath of a terrorist bombing in Chelsea in September.
While he's participating as a chair of the fundraising event, Johnson declined to comment for this article or offer an explanation of his support for the mayor.
Just last month, seven other City Council Members publicly endorsed de Blasio: Ritchie Torres, Ydanis Rodriguez, Donovan Richards, Margaret Chin, Brad Lander, Stephen Levin, and Helen Rosenthal. Of those seven, Richards, Rosenthal and Rodriguez have hosted fundraising events for the mayor. The seven Council members, all part of the Progressive Caucus, which Johnson is also part of, gave glowing comments about the mayor for a press release from de Blasio's campaign. Torres and Rodriguez then appeared with de Blasio for a campaign event in the Bronx.
"Mayor de Blasio has paved the way for a more fair and inclusive New York City through Universal Pre-K, paid family leave, the largest increase in affordable housing in decades and safer streets across all boroughs," said Council Member Donovan Richards, in his endorsement. "We still have more work to do and that's why I am endorsing him for a second term as Mayor. The City is heading in the right direction, so we need to continue this push to provide more opportunities for working families and the middle class."
Johnson's involvement, with little apparent fanfare, is an expansion of efforts by the mayor's campaign to curry favor among progressive Council members and boost its fundraising. The campaign is also seeking to discourage high-profile Democrats like city Comptroller Scott Stringer from entering the mayoral primary.
Following the seven Council member endorsements last month, Politico New York reported that workers at 32BJ, an influential union allied with the mayor, had reached out to some of the Council members to ask for their support. There was clear enthusiasm, however. "I was asked if I'd be willing to endorse — I didn't even have to wait a heartbeat to answer with a yes," Council Member Levin told Politico New York. "I was actually kind of honored to be asked."
Other Council members brushed off questions about endorsing de Blasio despite the fact that there are two grand juries hearing evidence from investigations into behavior by the mayor and his allies.
Johnson is a likely supporter for the mayor, though his bid to become the next Council Speaker could complicate things. His views largely align with de Blasio's and he has worked closely with the de Blasio administration on a number of health-related efforts, including responses to disease outbreaks and preventative legislation. Johnson is also an effective fundraiser, having secured more than $264,000 for his own reelection campaign through the most recent filing, in July.
On the other hand, City Council members may be looking for their next Speaker to be more of a check on de Blasio after four years with a very close relationship between de Blasio and Melissa Mark-Viverito, the current Speaker who is term-limited out of office at the end of 2017 and was de Blasio's choice to lead the Council.
More Council independence may be a selling point in the Speaker's race, as Johnson competes with other members including Julissa Ferreras-Copeland and Mark Levine. However, many Council members agree with de Blasio on most policy.
The next class of City Council members will vote for a Speaker in January of 2018, after the city elections this fall. More than 40 of the Council's 51 members are incumbents seeking reelection this year.
Complicating any potential endorsement of the mayor are the multiple controversies surrounding de Blasio's administration, which are currently the subject of two separate grand jury deliberations. The uncertainty involved may be giving pause to Johnson and other elected officials, like Public Advocate Letitia James, who recently hedged in her support for the mayor's reelection after having given de Blasio her unequivocal backing in August.
Although the seven Council members who endorsed de Blasio last month did so in spite of the scandals -- praising the mayor for his record on affordable housing, universal pre-kindergarten and policing, among other successes -- the same might not hold true for other members, especially as they face reelection this year and may not want to find themselves associated with a mayor mired in legal and ethical questions.
De Blasio campaign spokesperson Dan Levitan declined to comment for this article.
Council Member Johnson had high praise for the mayor after the Chelsea bombing, telling the New York Times,"I actually think some of his best moments as mayor have been in moments of crisis. He's good at communicating real-time information in a calm and measured manner."