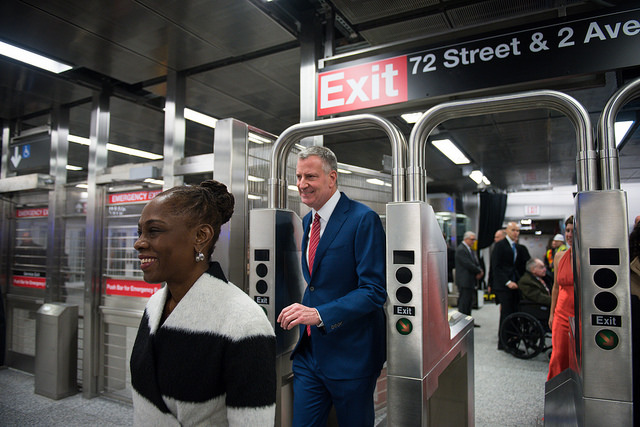 Mayor de Blasio & First Lady McCray in the subway (photo: Edwin J Torres/ Mayor's Office)
---
Mayor Bill de Blasio says he supports the "Fair Fares" campaign to reduce public transit fares for low-income New Yorkers, but insists that the city cannot afford it and that the funding must come from the state.
Both Tuesday during his preliminary budget presentation and Wednesday during an transportation-related press conference de Blasio was asked about the issue of providing subsidized MetroCards.
De Blasio told Gotham Gazette on Wednesday that reduced fares for New Yorkers in need "is a good meaningful proposal." But, he insisted, "We just can't afford it. It's just not something we can get into this city budget. And also I think it's a state responsibility. I think the state can't have it both ways on the MTA. They control the MTA. They have to pay for the MTA. So if people believe this is the kind of thing we should do, the state should pick up that responsibility."
The Metropolitan Transportation Authority, which manages and operates the city's subways, buses and trains, is a state-run body whose board consists of appointees of both the Mayor and the Governor, though the Governor has more sway and appoints the Chair of the MTA. The MTA is funded jointly by the city and state, with the state paying the majority of the bill.
De Blasio and Governor Andrew Cuomo have battled over MTA funding levels. Last year, the two fought bitterly over their respective funding commitments to the MTA's 5-year capital plan, but eventually came to a resolution. MTA Chair Tom Prendergast said Wednesday that enactment of the Fair Fares proposal, or anything similar, should be the responsibility of the city.
On Wednesday, the mayor told Gotham Gazette he has no plans to proactively take up the fight over reduced fares, which is being championed by advocates for poor and low-income New Yorkers as well as a number of elected officials. The mayor will head to Albany on Monday to testify before the state Legislature about the city's budget priorities. Fair Fares isn't on that list.
"It's something I'll certainly address if I'm asked but I would say our agenda in Albany is about the state budget itself and really focusing on that," he said. De Blasio will be explaining to legislators what the city needs state funding for and will respond to key New York City-related elements of Cuomo's recently-released Executive Budget proposal. A state budget is due by April 1.
Meanwhile, de Blasio on Tuesday outlined his own $84.7 billion Preliminary Budget proposal for the city's next fiscal year -- a new city budget, which will be influenced by state and federal funding levels, is due by July 1. The Fair Fares plan calls for about $170 million to provide about 800,000 qualifying New Yorkers with reduced-price MetroCards.
The Fair Fares campaign may become a key touchpoint in de Blasio's negotiations with the City Council. It was launched last year by the Community Service Society, a nonprofit focused on fighting poverty, and the Riders Alliance, a grassroots advocacy organization focused on transit and its New Yorkers in motion. The campaign is supported by an increasing number of elected officials, including Public Advocate Letitia James, Comptroller Scott Stringer, four of five borough presidents, and more than half the City Council. It has support from multiple unions and advocacy groups.
The Citizens Budget Commission, a nonprofit nonpartisan budget watchdog, also supports the idea of discounted fares for low-income commuters. "A discount targeted to the neediest New Yorkers would be a sensible way to help make transportation costs more affordable," wrote Carol Kellerman, CBC president, in a January 23 letter to outgoing MTA chair Tom Prendergast. But CBC does not believe the state should bear the cost. "Funding such a discount should be a City, not an MTA, responsibility. However, as the MTA installs its expected new system beginning in 2018, it should ensure the contractor and the agency have the capacity to implement an income-conditioned fare structure so that if such a policy is adopted by the Mayor and City Council, it can be implemented quickly."
At the Wednesday news conference, the mayor appeared with Council Member Ydanis Rodriguez, chair of the Council's transportation committee, an ardent proponent of the Fair Fares campaign, and a consistent de Blasio ally. The two are at odds, however, over Fair Fares, with Rodriguez hoping that funding for the proposal will make its way into the city budget eventually. "This is important for the city," he said, just after the mayor addressed the issue in response to a question from Gotham Gazette aimed at both officials. "I also understand the mayor has to be very responsible when he puts...this budget for 2018. We will continue this conversation knowing that where the administration stands on that particular issue."
After de Blasio released his preliminary budget Tuesday, Rodriguez's office put out a statement from the Council member praising several of the mayor's planned investments, but also noting that Rodriguez wants to see de Blasio take up both Fair Fares and public investment into Citi Bike expansion, which de Blasio also said he has no plans to do.
Advocates from the Fair Fares campaign aren't satisfied with the mayor's stand, particularly since they see little hope in funding coming from Albany.
"We're really disappointed the mayor didn't include [Fair Fares] in his preliminary budget," said Rebecca Bailin, campaign manager for Riders Alliance, insisting that the city can and should step in to fill the gaps left by the state. The city provides discounted fares already for senior citizens and for those with disabilities. In the past, some students have received this benefit. Bailin said about 800,000 low-income New Yorkers would qualify for half-price MetroCards if the proposal were funded, and estimated that it would cost about 0.2 percent of the city budget, or $169 million.
Moreover, Bailin said it's the kind of proposal that de Blasio's campaign and mayoralty have been based on. "The mayor's whole platform is to address the issue of economic inequality," she said. "If folks can't get on the subway or bus to get to a job interview or take their kids to school without skipping meals or jumping turnstiles, none of the mayor's programs mean anything. This is an easy and simple solution."
CSS estimated in a citywide survey last year that one in four low-income New Yorkers can't afford MetroCards, forcing them to sacrifice basic necessities and restricting their ability to get jobs and affordable housing. These New Yorkers spend about 10 to 12 percent of their annual income on public transit, said Jeff Maclin, CSS public relations director, in an email. "The mayor can bring relief to these riders," he added, "and ensure that our mass transit system is a pathway, not a barrier to economic opportunities."
De Blasio's Wednesday morning remarks came hours before the MTA voted on a new fare structure which doesn't increase base transit fares for individual rides but will lead to costlier weekly and monthly MetroCards. The new fares take effect March 19. At Wednesday's MTA hearing, Chair Prendergast said of Fair Fares, "In the case of the reduced fare for low-income riders, social services are rightly the role of municipalities in caring for their residents. It should not be the MTA's role, nor can the MTA afford to provide what would be a very real benefit for the poor."
According to the MTA, it already provides significant reduced rates for low-income city riders, totaling $625 million annually to subsidize services for many city residents, including eligible elderly New Yorkers, qualifying school children, and others.
The Citizens Budget Commission letter from earlier this week included recommendations for the fare and toll increases that the MTA considered on Wednesday. Kellerman stressed that the MTA should continue to increase fares on a predictable schedule, moving towards funding half of mass transit expenses from fare revenue. She additionally called for increasing revenue from motor vehicle users, so the MTA can eventually fully fund bridge and tunnel expenses and create surplus revenue covering 25 percent of mass transit operating expenses.
During the MTA's meeting, where they voted on the fare increases, board member Veronica Vanterpool stressed the need to make sure that the transit system is both fiscally sound and affordable for its customers. She echoed the sentiment of the Fair Fare campaign, saying, "That is an idea whose time is long overdue."
Note: this story has been updated to include the Citizens Budget Commission's take on Fair Fares and comment from the MTA.