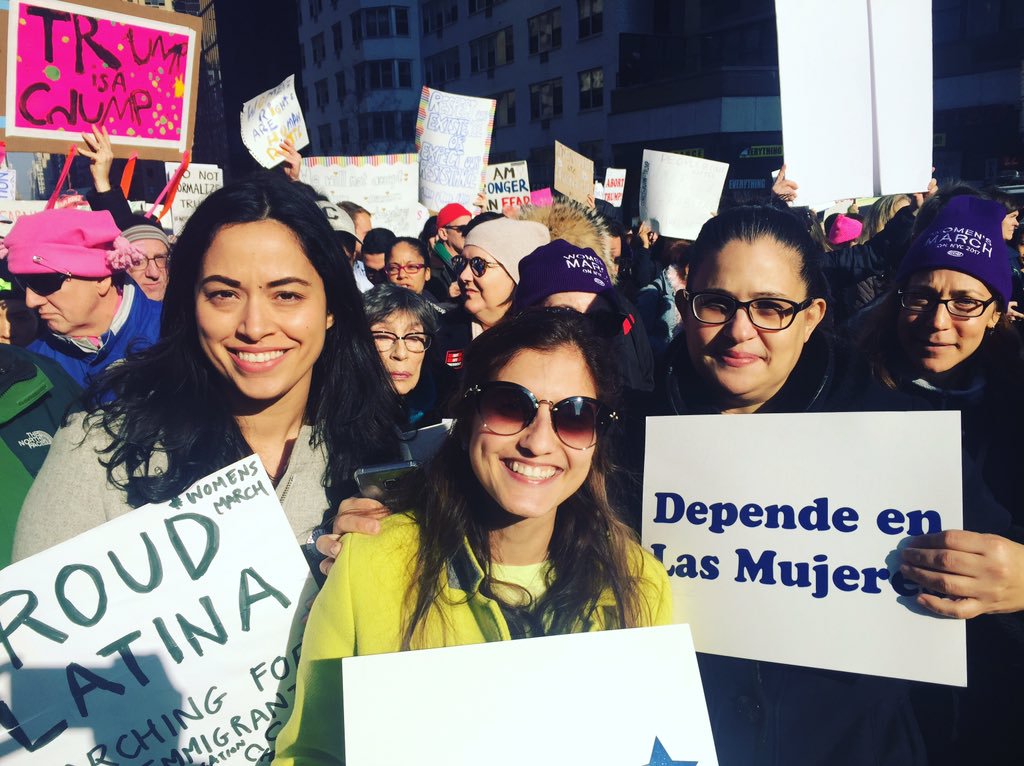 Carlina Rivera, left, & Marjorie Velazquez, center (photo: @CarlinaRivera)
---
In an effort to promote women's representation on the City Council, the political arm of one of New York's largest grassroots immigrant advocacy organizations has endorsed four women of color running for "open" Council seats this year.
Make the Road Action (MRA), the political affiliate of Make the Road New York, a group that represents about 20,000 Latinos in New York City and Long Island, will announce its endorsement on Friday for four progressive City Council candidates - Carlina Rivera, Alicka Ampry-Samuel, Diana Ayala, and Marjorie Velazquez. Each is seeking to fill a seat that is being vacated due to term limits.
"These four powerful women offer the powerful progressive leadership that our communities and our city need," said Maria Cortes, an MRA member, in a statement. "They stand with working-class people of color like me on issue after issue including preserving and building truly affordable housing, reforming the NYPD, protecting immigrant families, standing up for workers' rights, and making sure that all people's voices are heard in our democracy."
There are only 13 women currently on the 51-seat City Council, down from 18 in 2009, and four of them face term-limits this year, including Council Speaker Melissa Mark-Viverito. Council member Inez Dickens recently stepped down after being elected to the state Assembly, and she is being replaced by State Senator Bill Perkins, who just won a special election.
With male candidates overwhelmingly represented in races across the board, there has been a push to ensure the success of women candidates. Mark-Viverito, Council Members Elizabeth Crowley and Margaret Chin, along with good government groups and women's organizations, recently launched the "21 in '21" campaign to encourage women to run for City Council and bring the total number of women members to at least 21 through the 2017 and 2021 city election cycles.
"It is shocking that in the most progressive city in the United States, only one quarter of our City Council members are women," Mark-Viverito said in a statement announcing the initiative. "All New Yorkers suffer when we don't have equal representation in government and I intend to do everything I can to bring true equity to the Council at long last."
MRA has identified this issue and intends to mobilize its members, numbering in the thousands, to back women candidates who have shown support for progressive causes. Friday's announcement is its first wave of endorsements and more are expected to follow in the coming months, leading up to the September primaries when most City Council races are actually decided in Democrat-heavy New York City. (Make The Road New York receives discretionary funding through the City Council and individual Council members, for a variety of community programs and services it performs.)
The group has similarly endorsed progressive candidates in prior elections. In 2013, MRA's sister PAC, Make the Road Political Action, even spent $27,323 for independent mailings supporting Antonio Reynoso for the District 34 Council seat, and opposing Vito Lopez, Reynoso's primary competitor. Reynoso was victorious.
The four candidates now being backed by MRA, in statements accompanying the announcement, noted the importance of MRA's advocacy at a time when immigrant communities face a volatile political climate at the national level.
Carlina Rivera, who is running to replace Council Member Rosie Mendez in Manhattan's District 2, said she was "honored" to receive MRA's endorsement. Citing the "despicable and dangerous" policies of the Trump administration, she said, "Make the Road Action has been a leading force in the city's resistance and through organizing they have built power and self-determination in neighborhoods everywhere. Throughout my career in service, I have strived to achieve these same goals in my own community. The issues we fight for are both important and personal to me." Rivera, who is Mendez's legislative director and was endorsed by the Council member, is currently leading the race in fundraising, ahead of five opponents so far, four of whom have no funds to their name.
"In these times of fear and uncertainty for our immigrant communities, the work of MRA is more important than ever," said Diana Ayala, deputy chief of staff to Mark-Viverito, who is running to replace her boss in District 8, which covers East Harlem and the South Bronx. Mark-Viverito endorsed Ayala last year, writing in a Facebook post, "Diana is a reflection of who I fight for each [and] every day [and] what motivates me to do what I do. There is no better person to represent this district." Ayala currently has three competitors for the seat, but has far surpassed them in fundraising so far.
In District 13 in the Bronx, a crowded field of candidates has declared a run for Council Member James Vacca's seat. Marjorie Velazquez, a Democratic district leader, has Vacca's endorsement but will face an uphill challenge. She is second in fundraising, trailing behind state Assembly Member Mark Gjonaj. Velazquez said she was "proud and humbled" that MRA had endorsed her. "This incredible organization helps give a voice to so many people and provides valuable assistance to New York families in need," she said, in a statement. "Now, more than ever, their services for immigrants, women, senior citizens, tenants and members of the LGBT community have the potential to make real, positive changes in the lives of millions."
The race for Council Member Darlene Mealy's seat in Brooklyn's District 41 has seen little action so far. Alicka Ampry-Samuel is one of six candidates in that race, and none of them have posted much in the way of campaign fundraising. "In our current national climate, local municipalities must now become the stewards of protection for all people of color; no matter their country of origin," Ampry-Samuel said. "I will always fight for New York City to remain a safe haven for the freedoms and rights upon which our country was founded."
Related: Candidates for 2017 City Elections
Related: The Early Money Race in 'Open' City Council Seats