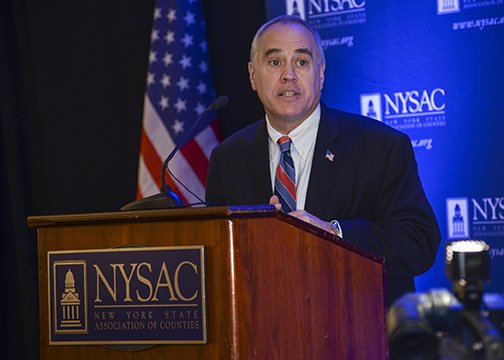 State Comptroller Tom DiNapoli (photo: @NYSComptroller)
---
As City Council hearings on Mayor Bill de Blasio's preliminary budget plan began Thursday morning at City Hall, state Comptroller Thomas DiNapoli released a new report on the city's finances. "External risks threaten NYC budget," the report blares, raising additional red flags to those already in the air courtesy of de Blasio's own budget office, city Comptroller Scott Stringer, and others.
DiNapoli's report, "Review of the Financial Plan of the City of New York," is part of his job as comptroller -- he is the state's chief fiscal officer. Citing potential cuts to both federal and state funding to New York City, as well as slowing economic growth and tax collection, DiNapoli warns of uncertainty, even as de Blasio has outlined another increase to the city budget -- in late January, de Blasio presented an $84.67 billion spending plan.
Still, DiNapoli noted that the city's reserves, savings program, and projected budget surplus for the current fiscal year are all helpful as it readies for potential storms ahead.
"While the city faces significant budget risks, it has record reserves to use if needed and Mayor de Blasio plans to expand the citywide savings program to help cut the size of the projected budget gaps," DiNapoli said. "New York City's economy is strong, but job growth and tax collections are slowing and risks beyond the city's control, including possible changes in federal policy, are creating uncertainty."
The City Council will evaluate de Blasio's spending plan for the next few weeks, then release a preliminary budget response. Soon after, the mayor must release an updated executive budget plan, which will take into account the Council's feedback; negotiations with the Council, service providers, and others; any developments on the federal level, where the Trump administration has threatened to strip billions of dollars in funding to cities like New York; and the adoption of a new state budget, which is due by April 1.
De Blasio and the City Council have until July 1 to agree on a spending plan for the next fiscal year. Once de Blasio releases his executive budget, another round of public hearings will commence as negotiations also continue behind closed doors.
DiNapoli's analysis of the city's financial picture discusses specific questions related to federal action, like potential repeal of the Affordable Care Act and Wall Street regulations, along with whether President Trump and a Republican Congress will attempt to significantly reduce federal funding to New York City -- in the current fiscal year, the city "anticipates the receipt of $8.8 billion in federal funding," DiNapoli's report says, which is about 10 percent of the city's operating budget. About 1.5 million city residents could lose health insurance if the ACA is repealed, DiNapoli writes, mostly due to a possible loss of Medicaid coverage.
Looming threats from Washington, D.C. -- where de Blasio was himself on Thursday for a meeting of the U.S. Conference of Mayors -- was a major theme of the first City Council budget hearing, where the Council Speaker, Melissa Mark-Viverito; Council Finance Chair, Julissa Ferreras-Copeland; and other Council members asked questions of de Blasio budget director Dean Fuleihan. Ferreras-Copeland and others were disappointed with the lack of planning and detail presented by the de Blasio administration on Thursday.
"At a time when economic growth is slowing, uncertainty from Washington is reaching new heights," City Comptroller Stringer said in a statement to Gotham Gazette when asked about DiNapoli's new report. "We have to be prepared for any scenario with this White House, because President Trump is capable of not only shredding American values, but also local budgets." Stringer released his analysis of de Blasio's preliminary budget on February 15.
In her opening statement at Thursday's hearing, Mark-Viverito said, "we can anticipate that the President's proposed budget will likely contain deep spending cuts on important domestic priorities." She said funding and programs that are threatened "could include cuts to Medicaid, SNAP, and education services...[and] a number of federal initiatives that fund City programs may be targeted for elimination." She cited job training and youth employment programs, funding for public housing repairs, and "social service block grants."
As for Governor Andrew Cuomo's executive budget, released in January, DiNapoli notes that it "would adversely impact the city by an estimated $561 million beginning in FY 2018," which starts July 1 of this year. "For example, the budget would increase education aid to New York City by $295 million, $244 million less than the amount anticipated by the city for FY 2018." Cuomo also outlined a variety of funding cuts to the city in a range of areas -- cuts that de Blasio and his allies in Albany, namely the Democrat-led Assembly, will be fighting before a state budget is agreed upon by Cuomo and legislative leaders.
"While the city's economy remains strong, it is showing signs of slowing down," DiNApoli's report says. "Job growth has declined from an average of nearly 125,000 jobs during calendar years 2014 and 2015, to less than 90,000 in 2016. The city assumes job growth will slow further to 55,500 jobs in 2017." It is in this light that de Blasio recently pledged the city would spur the creation of 100,000 new "good-paying jobs" over the next ten years. For de Blasio, that means at least $50,000 annually. The mayor's plan was criticized by some as not being bold enough, but de Blasio has pointed to the city's slowing job growth and the fact that many new jobs have been lower paying.
"Tax collections have also weakened," DiNapoli's report says. "Last year, collections grew by 3.2 percent, less than half the average gain during fiscal years 2011 through 2015. Tax collections are projected to slow further to 2.4 percent in FY 2017."
But, the city does have solid reserves and an ongoing savings program, which de Blasio has vowed will yield even more savings before he presents his executive budget this spring. DiNapoli credits the city with $1 billion in its general reserve, and $250 million to be set aside annually in its Capital Stabilization Reserve, as well as $4 billion in its Retiree Health Benefits Trust.
Asked about DiNapoli's report, Freddi Goldstein, a budget spokesperson for de Blasio, said, "As Comptroller DiNapoli points out, we have been cautious in our budgeting while we prepare for the unknown. We are maintaining historic levels of reserves, have been saving at each phase of the budget and are being strategic and targeted with our investments."