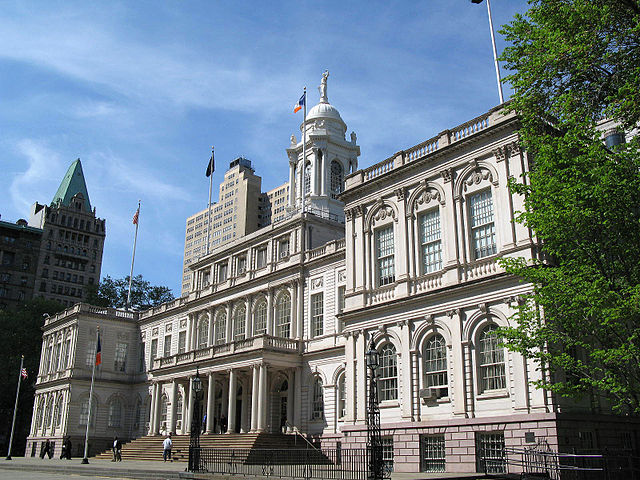 New York City Hall
---
What to watch for this week in New York politics:
As the week begins, Governor Andrew Cuomo is in Israel on an "economic development and unity trip." Cuomo left Saturday and is due back on Monday.
Mayor Bill de Blasio has also been traveling -- the mayor was in Chicago on Friday for a fundraiser, a meeting with Mayor Rahm Emanuel, and a speech at the City Club of Chicago; he then traveled over the weekend holding fundraisers in Florida and California. De Blasio is due back in New York City on Monday and has one public event scheduled: his weekly NY1 appearance.
Meanwhile...It's budget season! The City Council began its weeks-long hearings on Mayor de Blasio's preliminary budget on Thursday with a broad overview hearing on the spending plan. Those hearings continue this week on a Council committee and city agency basis. See below for all the details of this week's hearings. A new city budget isn't due until the July 1 start of the new fiscal year.
Hearings and negotiations continue in Albany this week, where state budget talks are still in their early phases, but a state budget is due by April 1 start of the new state fiscal year. Meanwhile, federal uncertainty around the first budget under President Donald Trump and a new Republican-controlled Congress is hanging over both state and city proceedings.
There's a great deal happening beyond budget hearings, of course. See our day-by-day rundown below.
***Do you have events or topics for us to include in an upcoming Week Ahead in New York Politics?
e-mail Gotham Gazette editor Ben Max: This email address is being protected from spambots. You need JavaScript enabled to view it.***
The run of the week in detail:
Monday
At the City Council on Monday, there will be preliminary budget hearings on:
The Department of Consumer Affairs at 10 a.m.
The Department of Veterans Affairs at 12 p.m.
Department of Youth and Community Development at 1 p.m.
On Monday, City Council Speaker Melissa Mark-Viverito "will be in Columbus, Ohio meeting with OneID Columbus Leaders."
The New York State Legislature will be in session on Monday in Albany.
Also at the New York State Legislature on Monday: The Assembly Standing Committees on Corporations, Authorities, and Commissions; Consumer Affairs and Protection; Energy; and Environmental Conservation will meet jointly at 10 a.m. to "examine the Zero Emissions Credit Program and the subsidizing of nuclear power plants."
At 8:30 a.m. Monday, the New York City Food Policy Center will host "Chefs Working to Improve the Food System," featuring Liz Neumark, founder of the Sylvia Center; Lynn Loflin, chef of the teaching kitchen at Lenox Hill Neighborhood House; and Antoinette "Chef Toni" Willard, East Harlem chef and founder of Chef Toni's Cooking Adventures.
At 6 p.m. Monday, the New York City Bar Association will host "Emergency Preparedness for Families Affected by the Executive Orders on Immigration." Maureen Schad, pro bono counsel at Chadbourne & Parke, will moderate a panel consisting of Lee Wang, Staff Attorney at the Immigration Defense Project; Terry D. Lawson, Director of the Family and Immigration Unit of Legal Services NYC-Bronx; and Ellen Rosenberg, Law Project Director at Women's Prison Association and Family Law Advisor at Incarcerated Mother's Law Project. The panel will discuss parental directives for protection of children subject to the Trump Administration's executive orders on immigration.
At 6:30 p.m. Monday, Comptroller Scott Stringer will attend the Local 372 quarterly membership meeting at DC 37.
Mayor de Blasio will make his weekly Monday evening appearance on NY1's Road to City Hall with anchor Errol Louis, 7 and 10 p.m. hours.
Tuesday
At the City Council on Tuesday, there will be preliminary budget hearings on:
The Mayor's Office of Contracts at 10 a.m.
Legal Aid/Indigent Defense Services/Human Resources Administration at 12 p.m.
The New York State Legislature will be in session on Tuesday in Albany.
At 11 a.m. in the Capitol, "Hundreds of supporters, elected officials, impacted youth and members of the Raise the Age NY campaign #RaisetheAgeNY will hold a press conference on Tuesday, March 7th to call on State legislators to pass legislation raising the age of criminal responsibility in New York during final budget negotiations." IDC Leader Jeff Klein will be among those participating.
On Tuesday at noon Public Advocate Letitia James is "announcing a plan regarding the border wall, specifically to let businesses know that New York City will not support any business that supports the border wall." She'll lead a rally at Foley Square.
At 8 a.m. on Tuesday, Crain's New York Business will hold will hold a breakfast forum featuring Daniel A. Nigro, the Commissioner of the New York City Fire Department. Nigro "will discuss the FDNY's new strategies and technology, the city's historic drop in fire fatalities and the struggle to diversify the nation's largest fire department."
On Tuesday at 11:15 a.m., "Mayor de Blasio and Police Commissioner James O'Neill will visit the JCC of Staten Island to meet with Jewish community leaders and discuss the increase in anti-Semitic incidents in New York City. This meeting is closed press. Immediately following the meeting, the Mayor will deliver brief remarks and take on-topic questions."
At 1:30 p.m. Tuesday, the New York City Board of Elections will hold a Commissioners' Meeting.
At 4 p.m. Tuesday, City Council members led by Council Member Rafael Salamance, advocates, and others including Public Advocate Letitia James will hold a press conference calling for universal air conditioning in schools, outside City Hall.
At 6 p.m. Tuesday, the Manhattan Chamber of Commerce will launch its new event series, "B2B Tech Solutions."
Wednesday
At the City Council on Wednesday, there will be preliminary budget hearings on:
The School Construction Authority and the Department of Education at 10 a.m.
Libraries at 10 a.m.
The Department of Cultural Affairs at 11:30 a.m.
The Department of Small Business Services and Economic Development Corporation at 1:30 p.m.
The New York State Legislature will be in session on Wednesday in Albany.
At 9:30 a.m. Wednesday, City Council Member Mark Levine will host the "Washington Heights Small Business Summit" at Boricua College.
On Wednesday in Austin, Texas, schools Chancellor Carmen Fariña and Department of Education COO Ursulina Ramirez will present at South by Southwest Education, on "The Big Apple's Big Bet: Equity & Excellence 4 All."
"The New York City Council Women's Caucus, the 12-member body, led by Co-Chairs Laurie A. Cumbo and Helen Rosenthal, will join women across the country in observing "A Day Without A Woman" on the steps of City Hall from 12 to 2pm, Wednesday, March 8th. Elected officials, advocates, and everyday New Yorkers are marking the national "A Day Without A Woman" by highlighting the profound economic and societal value of "women's work," whether it is paid or unpaid; and some of the professional fields historically dominated by women."
Wednesday at 6 p.m. is the Bronx Republican Party Chairman's Dinner, featuring remarks by Assemblymember Ron Castorina. "The Republican Mayoral hopefuls (Paul Massey, Mike Faulkner and John Catsimatidis) will also be speaking."
At 6 p.m. Wednesday, the New York Women's Foundation will host a panel discussion centered on the release of "Women InJustice: Gender and the Pathway to Jail in New York City," a report by John Jay College of Criminal Justice Prisoner Reentry Institute. Alison Wilkey, Director of Public Policy at the Prisoner Reentry Institute, will present the findings. The panel includes Judy Kluger, Executive Director of Sanctuary for Families; Jonathan Lippman, chair of the Independent Commission on NYC Criminal Justice and Incarceration Reform; Vivian Nixon, Executive Director of the College and Community Fellowship; and Diana Ortiz, Project Director at the Women's Community Justice Project.
At 6:30 p.m. Wednesday, the Civilian Complaint Review Board will hold a board meeting at the Robert Ross Johnson Family Life Center in Queens.
Thursday
At the City Council on Thursday:
The Subcommittee on Landmarks, Public Siting, and Maritime Uses will meet at 11 a.m.
The Subcommittee on Planning, Dispositions, and Concessions will meet at 1 p.m.
At the City Council on Thursday, there will be preliminary budget hearings on:
Fire/emergency medical service at 10 a.m.
The Department of Probation at 11 a.m.
The Department of Correction at 11:30 a.m.
The Board of Correction at 1 p.m.
The Department of Investigation at 1 p.m.
The Office of Emergency Management at 2 p.m.
At 8 a.m. Thursday, the Center for an Urban Future will host "Preparing NYC's Economy and Workforce for the Next Wave of Automation," discussing policy initiatives and steps "that policymakers, business leaders, and educational leaders in New York should be taking now to prepare for the oncoming wave of automation." Speakers include Nell Abernathy, Lauren Andersen, Rebecca Greenfield, Chris Hughes, Stanley S. Litow, and Serkan Piantino.
At 8 a.m. Thursday, City & State NY will host "On Technology," where New York leaders on technology policy will discuss "tackl[ing] the most important issues affecting the future of digital government." The forum "will bring together over 250 industry professionals from across the state to engage in these important conversations."
At 10 a.m. Thursday, the New York City Campaign Finance Board will hold a public meeting.
At 6 p.m. Thursday, the Department of Parks and Recreation will host author Peter Kageyama for its "Parks Without Borders" discussion series. Kageyama will speak with Department Commissioner Mitchell Silver about how "emotionally connecting with parks and public space can make communities stronger, healthier, and happier."
At 6:30 p.m. Thursday, Timothy Snyder, author of On Tyranny, will host "Countdown to Tyranny: How Trump's Attacks on the Press Could Change the World" at the New York Society for Ethical Culture.
At 7 p.m. Thursday, Manhattan Borough President Gale Brewer, along with the MTA, DOT, and other Manhattan elected officials, will host two public workshops concerning the L train shutdown to gather input from those affected for mitigating the shutdown's effects on small businesses, residents in the 14th St area, and people with disabilities.
At 7 p.m. Thursday, the Citizens Budget Commission will hold its annual dinner. CBC will honor Senator Chuck Schumer with the CBC Medal for High Civic Service; Schumer will deliver the keynote address. CBC will also present the inaugural Felix G. Rohaytn Award to Felix Rohaytn, "the iconic leader during the City's fiscal crisis of the 1970s."
At 8 p.m. Thursday, multiple groups are hosting a GOP mayoral forum at Columbia University, featuring four declared or potential Republican candidates for Mayor of New York: City Council Member Eric Ulrich, Paul Massey, Darren Aquino, and Michel Faulkner.
Friday and the weekend
At 10 a.m. Friday, the Eleanor Roosevelt Legacy Committee will host a workshop in Downtown Brooklyn for politically engaged Democratic women.
On Friday, State Senator Leroy Comrie will hold a "Town Hall Against Hate" at the Jamaica Muslim Center in Queens. The town hall will "focus on the legal regime in NYC to protect minority communities and immigrants from discrimination." The event will feature a panel consisting of the Mayor's Community Affairs Unit, the Mayor's Office of Immigrant Affairs, the New York City Commission on Human Rights, the Queens District Attorney, and the New York Immigration Coalition.
At 2 p.m. Sunday, Neighbors to Save Rivington House will hold "What's Next for Rivington House: Creating New Ideas for Community Care" at University Settlement's Speyer Hall.
At 3 p.m. Sunday, City Council Member Andy King will deliver his 2017 State of the District speech at North Bronx Seventh Day Adventist Church.
***
Have events or topics for us to include in an upcoming Week Ahead in New York Politics? E-mail Gotham Gazette executive editor Ben Max any time: This email address is being protected from spambots. You need JavaScript enabled to view it. (please use "For Week Ahead" as email subject).
***
by Ben Brachfeld and Ben Max
@GothamGazette