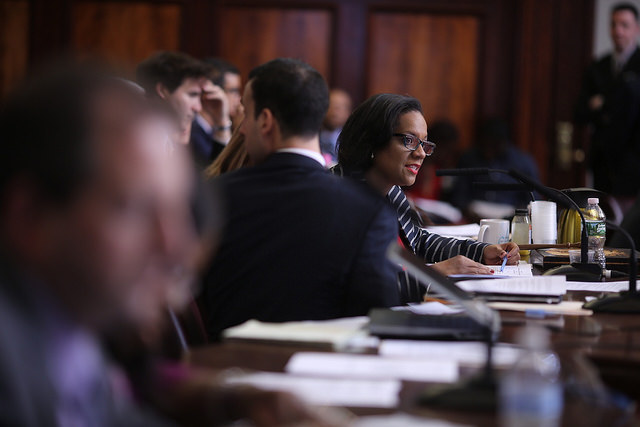 Council Finance Chair Ferreras-Copeland (two photos: William Alatriste/City Council)
---
The City Council held its first hearing on Thursday to examine Mayor Bill de Blasio's $84.7 billion preliminary budget for fiscal year 2018, starting the next phase in a months-long process to determine the city's spending priorities amid broad uncertainty about its fiscal future.
Roughly $7 billion in federal funding to the city is threatened by the proposed policies of the Trump administration and the Republican Congress in Washington D.C., and those threats have cast a pall over the city's budgeting. The de Blasio administration and the City Council find themselves having to decide agency allocations and long-term spending with one hand tied behind their backs, while also facing a local economic slowdown that has diminished tax revenues and slowed job growth.
"It is clear that Republican budget priorities will harm our seniors, our children, our first responders, and those seeking quality public housing, job opportunities and affordable medical care," said City Council Speaker Melissa Mark-Viverito, a Democrat, in her opening remarks at Thursday's hearing. And, as if the federal government were adding salt to the wound, she pointed out that the city is being forced to spend millions in providing security at Trump Tower, with reimbursement uncertain.
Mark-Viverito speculated that the federal budget, in which Trump has promised to prioritize defense spending over discretionary programs, could include cuts to Medicaid, education funding, and to the Supplemental Nutrition Assistance Program (SNAP, or food stamps), among other programs that serve the city's most vulnerable. Trump's executive order that calls for cutting federal funding to so-called sanctuary cities could, if enforced, hit New York hard, as could a potential repeal of the Affordable Care Act, which both Trump and Republicans in Congress have promised.
The de Blasio administration has taken stock of the situation -- coupled with some proposed cuts in state funding outlined by Gov. Andrew Cuomo in his own January budget proposal -- and has been "cautious" in its budgeting, said Dean Fuleihan, director of the Office of Management and Budget, in his testimony on Thursday.
Appearing before the Council during his annual budget testimony, Fuleihan sought to assure Council members that the administration is prepared for any blowback from federal cuts and is also actively working to prevent those cuts. "We continue to budget strategically, and we remain focused on critical areas including public safety, education and social services," he said.
Over the course of three hours, Fuleihan took questions from Council members on the city's savings, reserves, capital appropriations, and on specific policies and programs. Many inquiries related in some way to the fear of federal policies and what budget cuts might mean for the city. But Fuleihan's testimony seemed light on details, particularly with regards to the mayor's homelessness plan announced the day before. He explained to the Council that the administration had few cost estimates for the new approach to homelessness -- which focuses on creating new shelters while shutting down the use of cluster sites and hotels -- because much of the plan is predicated on the "reallocation of existing resources" and will require, as with each budget cycle, adjustments and enhancements.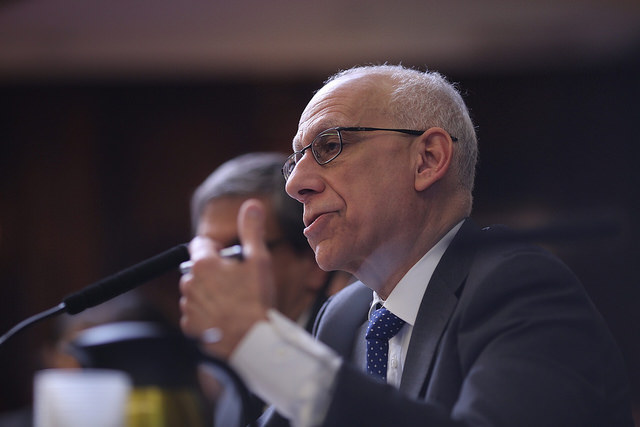 On numerous occasions, when asked for specifics of city programs, Fuleihan (pictured) gave little clarity but promised to follow up, saying, "I'll be happy to work with you on that."
Council Member Julissa Ferreras-Copeland, a key figure in budget negotiations as chair of the Council's finance committee, was disappointed in what she heard. "The uncertainty of Trump and what that'll mean for New York City is something that I think is very real and very valid," she told reporters after Fuleihan's testimony. "So I would've expected more commitments and more clarity on certain things, especially on the homeless proposal, but now we will have to wait and continue to push, and I'm going to hold his feet to the fire."
In her own opening, Ferreras-Copeland pressed the administration to create more savings through agency efficiencies, rather than through spending re-estimates, funding shifts and one-time reductions. She had apprehensions about the administration's ability to handle the crisis looming on the horizon, particularly after hearing Fuleihan's testimony. "We get the most details in this process from the commissioners," she told reporters. "But what we will probably hear from commissioners is, 'I don't know. Ask OMB.' That's the process that unfortunately we will have to face and push back, and push back hard on."
Fuleihan didn't agree with Ferreras-Copeland's assessment, telling reporters outside the Council chambers that he was "surprised" by the reaction. "In terms of preparing for the future, when the mayor made the presentation in the preliminary budget, he was very clear that this was a cautious budget," he said. "It is a cautious budget. It was cautious on our revenue forecast and our view of the economy. It was cautious on how we presented and how we looked forward on debt service. It was cautious in maintaining historic levels of reserves that the city has never achieved by any measure."
Fuleihan argued that the city has adequate savings and rainy day funds. The city found $1 billion in savings in the November adjustment to the fiscal year 2017 budget, identified about $1.1 billion in the fiscal year 2018 preliminary budget, and the mayor has promised his administration will find another $500 million by the time the executive budget is released early this spring. Another $1.3 billion will come from healthcare savings in fiscal year 2018, the administration has guaranteed.
There is also $5.2 billion in reserve funds, including $1 billion in the general reserve, $250 million annually for each of four years in the Capital Stabilization Reserve, and $4 billion in the Retiree Health Benefits Fund. "Those dont sound like we don't know the numbers," Fuleihan said, "they sound very much like we know the numbers."
After Thursday's initial hearing on the overall spending plan in front of the Council finance committee and whichever Council members chose to attend, the Council will now hold weeks of hearings one or two committees at a time, calling before it the relevant city agencies -- the Council health committee will hear from the Department of Health, for example. Friday will see the higher education committee's preliminary budget hearing.
Besides projected expenditure in the next fiscal year, Thursday's hearing also focused on the city's $89.6 billion preliminary ten-year capital strategy. This is the city's plan for infrastructure spending that is separate from its annual operating budget. A new ten-year capital plan is due every other year.
Council Member Ferreras-Copeland expressed concern that capital appropriations made in excess for the current fiscal year diminish the Council's oversight authority. "Because of the excess appropriations, the administration can add capital projects during the Fiscal Year without Council input or approval," she said, promising to make this a central issue in budget discussions.
Other Council members touched on a broad range of budget items, specifically issues that related to committees which they chair or are members of.
Council Member Helen Rosenthal, chair of the contracts committee, raised concerns that the city must to do more to fund nonprofit human services providers contracted by the city. Fuleihan, in response, pointed to wage raises provided by the city in the past few years, as well as the 6.12 percent salary increase over three years proposed in the new preliminary budget for fiscal year 2018.
Council Member Jimmy Van Bramer, who chairs the cultural affairs committee, asked if the administration had taken into account the tax revenue impact of the city's projected decrease in tourism attributed to Trump administration policies. A recent report by the city foresees a drop of 300,000 tourists this year, meaning $600 million in lost business. "We had assumed that there would be some slowing, if not in the actual numbers then in the amount of spending that may be occurring," Fuleihan said, promising a fuller analysis in coming weeks. "So we will be very cautious in our revenue estimates."
As chair of the health committee, Council Member Corey Johnson naturally inquired about how the city's struggling municipal hospital system, New York City Health + Hospitals, could remain fiscally sound without support from the state, particularly with the Affordable Care Act under attack at the national level. "We're very comfortable that the current fiscal year, Health and Hospitals is within their budget," Fuleihan said, noting that the system had actually seen revenue improvements. Like the city's housing authority, NYCHA, the public hospital system has seen an overhaul of its financial planning under de Blasio, but is still in dire straits, and may be in worse shape based on decisions out of Washington, D.C.
Although Fuleihan promised close collaboration with all the Council members on their budget asks, he didn't provide in-depth responses. Later, after his testimony, he dismissed the idea that he had little to offer to individual Council members. "There are a series of budget hearings with experts, with commissioners who actually know their areas much better than I do," he said. "I want to be careful...Any of the general budget questions I answered, and I answered very specifically...and I'm fine answering those. But if somebody's asking me specific details about an individual project, I want to be careful that I'm giving the accurate information. So that's all that was."
Fuleihan's testimony was followed by that of representatives from the Department of Finance, Comptroller Scott Stringer, and the city's Independent Budget Office, as each gave their analysis of the city's fiscal situation and next year's budget needs.
State Comptroller Thomas DiNapoli also released his report on the city's fiscal health on Thursday, noting the "external threats" that pose a risk to the city's budget, including potential federal and state funding cuts.
Stringer reiterated what he said two weeks ago when he first presented his analysis of de Blasio's preliminary budget, calling on the mayor to add another $1.7 billion to reserves to increase the city's budget cushion from the current 10 percent to the optimal range between 12 and 18 percent. De Blasio has repeatedly said he is very comfortable with the city's savings and does plan to keep adding, but he has dismissed Stringer's calls for a fluffier budget cushion several years running.
The IBO had a somewhat different view of the economy, at least relative to city projections, predicting $262 million more in tax revenues than the administration's forecast but also projecting $308 million in additional expenditure needs for homeless services and education. The IBO's report, released Thursday morning, also stated that budget reserves may not be sufficient for long. "Although these reserve funds would enable the city to weather a small budgetary storm they would not buttress against a much longer budgetary event," it reads. "Nor could the existing reserve funds replace the loss of all current federal funding."
The next city fiscal year starts July 1.
[Read: Several Specific Funding Debates as City Budget Season Begins]